If you love chicken then you absolutely have to try these best chicken dinner recipes of all time at least once in your lifetime, though we're willing to bet that they'll become a staple in your recipe rotation for good. These popular chicken recipes span from classic Sunday chicken dinner recipes to the quick and easy recipes you need to whip up for weekday lunches and dinners. Ready to dive in? Here are 20 top-rated chicken recipes you need to try in 2022.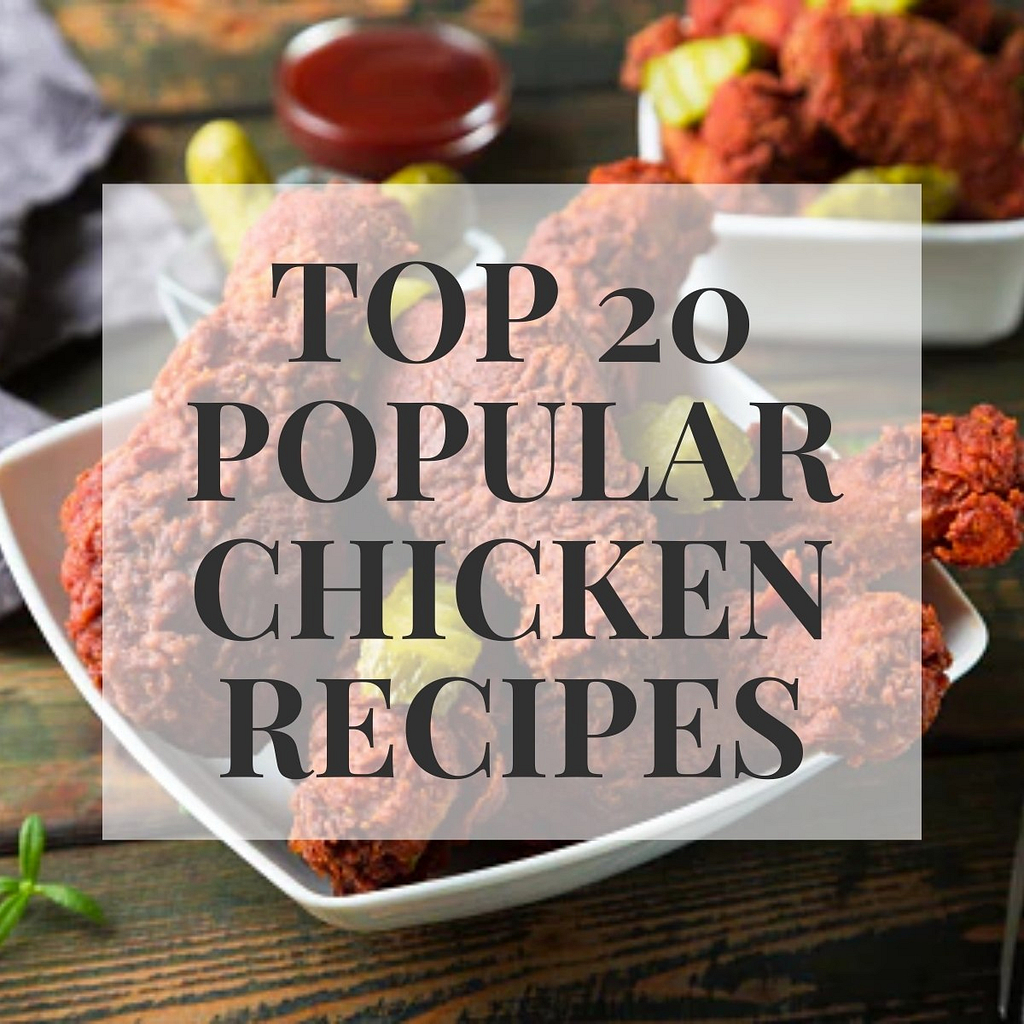 Add a header to begin generating the table of contents
1. Grilled Chicken Kabobs
When you've got a big gathering coming up, you can't be without this recipe. Grilled Chicken Kabobs are easy, crowd-pleasing, and healthy. Add it to other healthy ingredients such rice, couscous, a salad, or other veggies, or use it as a delicious side to burgers and hot dogs. What's not to love?
2. BBQ Smoked Chicken Quarters
When a breast or a leg isn't enough, go for quarters. This delicious smoked BBQ chicken quarters recipe is crammed full of flavor and has a crispy skin you'll mourn as soon as it's gone. It's simple to make and ideal for weekends or weeknights.
3. Honey Sriracha Chicken Wings 
For all the fans of spicy and sweet, you absolutely have to try these wings. They're ideal for Sunday football and won't take you away from the game for very long – just make sure you get some before your guests devour them!
4. Italian Grilled Chicken Wings
Simple, speedy, and flavorful, these zesty chicken wings are a must-try (why not serve with the wings above?). Besides 30 minutes for marinating, they'll only need 10 minutes on the grill and then they're ready to eat.
5. Smoked Nashville Hot Chicken
If you love a good drumstick you'll love this Nashville Hot Chicken recipe. With a combination of spices, hot sauce, and buttermilk, this recipe is totally to die for. Marinate your drumsticks overnight for the best results.
6. Grilled Chipotle BBq Chicken Skewers
These skewers offer the triple whammy of everything you love: they're savory, spicy, and smoky! They're ideal for summer dinners outside served on salad or couscous, or as a side for that big family barbecue.
7. Smoked Chicken Wings
Another must-try wings recipe, this one is simple and sure to please even the pickiest of kids. All you need is wings, a little oil, garlic, and onion powder and you're on your way to flavor street.
8. Whiskey Peach smoked Pulled Chicken
Doesn't the name along get your mouth watering? This recipe is as good as it sounds and is just as good for the whiskey lovers out there to those who would prefer to sip on the peach juice during the preparation process.
9. Smoked Chicken Legs
Another simple chicken recipe, this is just as good for a weekend barbecue as it is for weekday lunches and dinners. Fill the grill with them, smoke for 2 hours, and then store to eat over the week ahead or enjoy immediately.
10. Smoked Chicken Leg Quarters
If you need a little more than a leg, these chicken quarters will fulfill the same itch with just a little more meat to go around.
11. Smoked Beer Can Chicken
We all know chicken and beer work well together, but you've likely never tried it like this! The chicken stands over the beer and is infused with all those good flavors, plus the smoky flavors from the pellets, over about 2 hours. Delicious! 
12. Smoked Buffalo Chicken Dip
Perfect for Sunday football, parties, and get-togethers, this chicken dip is meaty, cheesy, and the mere smell of it is dribble-inducing. Watch it disappear in 2 minutes flat!
13. Grilled Chicken Shawarma
This chicken recipe is ideal for adding to wraps, salads, rice and veggies, or pita bread and has a slightly different flavor profile to the majority of southern and Mexican-inspired flavors on this list (but still just as delicious!).
14. BBQ Smoked Chicken Breasts
The perfect addition to any healthy dinner, these BBQ smoked chicken breasts are super easy and quick to make for any meal – all you need is 30 minutes plus a little for prep and rest time.
15. Smoked Bacon Wrapped Chicken Thighs THIGHS
Chicken and bacon are a match made in heaven and this recipe proves it! Enjoy and serve immediately or add a little cheese when you serve if you're feeling naughty!
16. Smoked Whole Chicken
This recipe will feed you for days and any dogs in your life will be able to enjoy the bits you don't eat. This recipe is perfect for big family meals or meal prep.
17. Crispy Smoked Chicken Wings
This recipe couldn't be simpler but creates truly mouthwatering results. The word "crispy" gets most of us excited and this recipe certainly won't disappoint on that front!
18. Bacon-Wrapped Chicken Bites
Another made-in-heaven combination, these bites are perfect for big family meals, for serving for kids, or for buffets and appetizers. They're easy to make and are guaranteed to make a splash.
19. Grilled Chicken Thighs
These glazed grilled chicken thighs are just what you need when you feel like eating savory comfort food, and while they require a little more prep, are totally worth it.
20. BBQ Chicken Pizza
Ever had smoked pizza? It's a sensation on the tastebuds so make sure you add this to your must-make-soon list! Make the pizza crust yourself or buy one in-store and simply add the toppings – either way, you won't be disappointed! 
Bookmark all these recipes and add them to your meal plan for well over a month's worth of deliciousness! Which of these recipes are you going to try first? Leave a comment below to let me know.