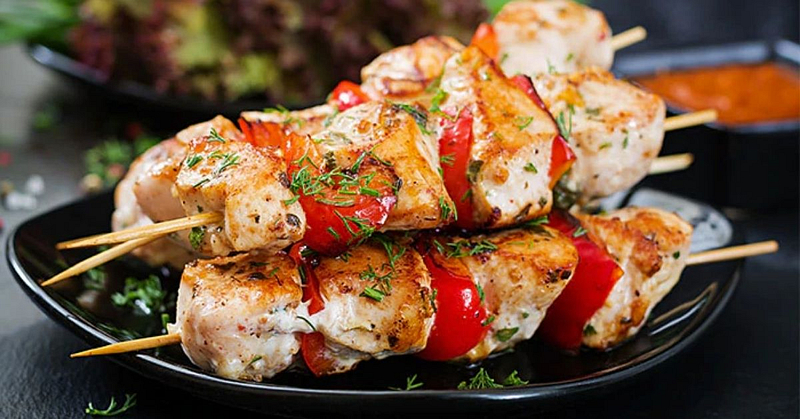 Grilled Chicken Kabobs
When your BBQ buddies are comin' over for some 'cue, amaze them with sweet, savory honey garlic marinaded chicken. These grilled chicken kabobs have pieces of juicy chicken flavored with an easy marinade and a colorful stack of veggies. They are a huge crowd-pleaser!
Equipment
Z Grills Wood Pellet Grill

Z Grills Competition Blend Pellets
Ingredients
1 

pound 

boneless skinless chicken breasts (cut into 1 inch pieces)

1/4 

cup 

olive oil

1/3 

cup 

soy sauce

1/4 

cup 

honey

1 

teaspoon 

minced garlic

salt and pepper to taste

1 

red bell pepper (cut into 1 inch pieces)

1 

yellow bell pepper (cut into 1 inch pieces)

2 

small zucchini (cut into 1 inch slices)

1 

red onion (cut into 1 inch pieces)

1 

tablespoon chopped parsley
Instructions
In a large bowl combine the olive oil, soy sauce, honey, garlic and salt and pepper, and whisk.

Add the chicken, bell peppers, zucchini and red onion to the bowl, tossing to thoroughly coat.

Cover and refrigerate for 1 to 8 hours.

Soak wooden skewers in cold water for at least 30 minutes. Preheat your grill to high heat.

Thread the chicken and vegetables onto the skewers.

Cook for 5-7 minutes on each side or until chicken is cooked through.

To serve, sprinkle with parsley. Enjoy the grilled chicken kabobs!