Whether you want to serve family or guests, bacon-wrapped pork loins are a wonderful treat at any dinner table. Fortunately, with the help of Z Grills, making smoked pork loin is a quick and simple process that is perfect for beginners and requires very few ingredients. You can instantly upgrade your cooking skills with this family favorite!
Add a header to begin generating the table of contents
How to Pick Out a Pork Loin
Before preparing your smoked pork loin, you will need to pick a high-quality pork loin with a pink or red color that stands out. Pale pork loins or pork loins that have darker spots might not be as fresh or delicious, so choose wisely.
For new chefs, it is easy to get confused between a pork loin and a pork tenderloin. Given how close their names are, this is completely understandable. However, if you ever need to spot a pork loin, you can look for a piece of wide, flat meat with bone-in or boneless. By contrast, a pork tenderloin will be narrow and long without any bones. For this meal, you only need a few ingredients—pork loin, bacon, and seasoning, and we recommend that you pick traditional thin-cut bacon that will get nice and crispy as it cooks.
What Temperature Should You Smoke Pork Loin at on a Pellet Grill?
The perfect temperature for smoking pork loin is 275F.
How Long to Smoke a Pork Loin Per Pound at 275°F?
The actual cook time of this dish can vary. For larger pieces of meat, you can expect a longer cook time. On average, pork loin usually takes about 25 minutes per pound to smoke at 275°F.
A standard boneless pork loin comes to around 3 pounds of meat and will take 2 to 2.5 hours to cook. However, you can easily find the right cook time by focusing on the final internal temperature of the meat, which should reach 150°F when it is complete.
What Pellets Should I Use for Smoked Pork Loin?
Pork is always best with fruity flavors, so Apple wood pellets or Fruitwood pellets are favorites. Ensure you buy good quality pellets like ours, as they will burn more evenly and give better flavor.
How to Smoke Pork Loin on a Pellet Grill
Learning how to smoke a pork loin that is bacon-wrapped and full of flavor comes down to a few simple steps. This smoked pork loin recipe is great for beginners because there is so little work involved. Let's explore this in more detail.
Preheat the Z Grills Smoker to 275°F
To begin, you will need to ensure that your Z Grills smoker is set to the appropriate temperature. Before you ever begin any food prep, preheat your smoker to 275°F. While you are working on the other steps involved, your smoker will reach that ideal temperature. Remember, your smoker should be up to temperature before you ever place the meat inside of it.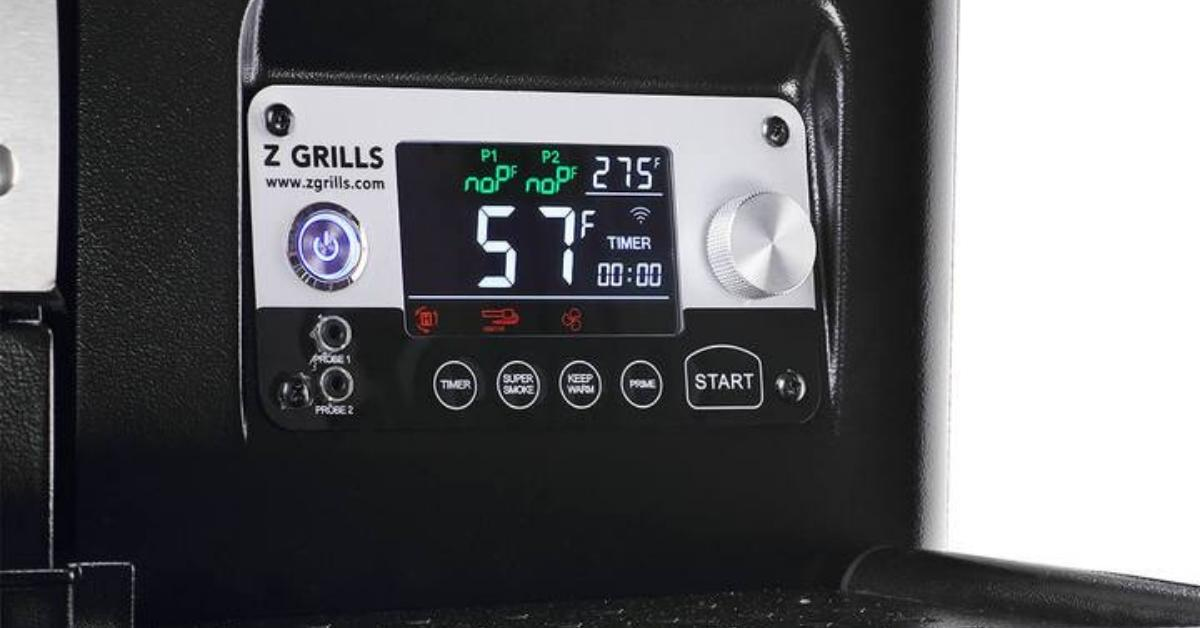 Wrap the Pork Loin
Wrapping the pork loin might take a little work in the beginning, but once you get your process down, you can recreate it easily. For the wrapping phase, you will want to start by laying out a clear layer of bacon across a clean surface. The bacon strips should be vertical and placed side by side, touching.
Next, carefully place the pork loin over one side of the bacon spread horizontally, and leaving a little bacon at the edges can be beneficial to make it easier to wrap.
Then, slowly roll the pork loin up the bacon. After you have made your first move forward, rolling it will be much easier. Continue to roll the pork loin, wrapping it in the bacon until it is fully covered.
Rub the Pork Loin
Creating a bacon-wrapped pork loin that is bursting with flavor involves using the proper seasoning. We recommend the Killer Hog BBQ Rub and the Meat Church Honey Hog for our smoked pork loin recipe. Start with the first seasoning and fully cover the meat on all sides. Then, switch to the second seasoning and repeat this step. You will then gently rub the seasoning into the meat.
Smoke on a Pellet Grill
Place the wrapped pork loin in the center of your Z Grills smoker to provide a nice and even finish, and smoke for an hour.
Increase the Temperature up to 350°F
After the meat reaches 140°F, you will want to raise the temperature to 350°F for about 15 minutes until the internal temperature reaches 150°F. This step will help to ensure that the bacon surrounding the pork loin is perfectly crispy and bursting with flavor.
Allow the Meat to Rest
When it finishes cooking, let the meat rest for a few minutes. The goal is to help the meat cool down and let the juices settle in before serving.
They are So Flavorful!
Choosing Z Grills for this smoked pork loin recipe can help you to achieve a perfectly even finish with delicious, tender meat. Inside, the pork loin will be a cooked white color that is juicy and dripping with flavor. Thanks to the bacon, your bacon-wrapped pork loin now has a nice and subtly crispy exterior.
What to Serve with Smoked Pork Loin?
Even though smoked pork loin is delicious all on its own, it is even better when it is paired with the right combination of sides. The best meals offer a balance of ingredients that is complementary and brings even more color and flavor to a plate!
To bring another amazing flavor to this dish, consider our smoked tomatoes. This sweet and savory side option is perfect for getting veggies on the table to accompany your meat. For a more filling meal, our smoked green bean casserole and smoked cornbread are also perfect for this dish. Don't be afraid to mix and match these to make an even larger meal!
Tips for Smoked Pork Loin
Do I Need to Brine My Pork Loin?
Some people do, but it's not necessary. Unless you're planning to smoke a truly monstrous piece or dialling up the temperature, the marinade will be more than enough to absorb all the flavors and moisture.
Do You Wrap Pork Loin in Foil When Smoking?
Generally, it would be OK to smoke your pork loin uncovered with mild wood pellets. If you only have strong wood pellets, such as Hickory pellets, and don't want the meat over-smoked, you should consider wrapping your pork loin. Besides, if you're working with a lean cut, you may want to wrap it, which will help you have a constantly moist and speed up cooking time.
Can You Freeze Cooked Pork Loin?
Yes! Freezing it will not mess up the dish, and it can be frozen for 3 months. If you can finish it within 4 days, just seal it in storage containers and refrigerate it as soon as possible.
Killer Hogs HOT BBQ Rub | Championship Spicy BBQ and Grill Seasoning for Beef, Steak, Burgers, Pork, and Chicken | 16 Ounce by Volume (12oz by Net Weight)
CHAMPIONSHIP BBQ RUB – This rub is an adaption of our award winning BBQ rub developed and used by the Killer Hogs Championship BBQ team. Everything you want in a rub plus some heat
HIGHEST RATED RUB – We've been making this rub for over 10 years, shipping tens of thousands across the United States, and satisfying professional pitmasters, amateurs, backyard BBQ enthusiasts, chefs, and everyone in between
DESIGNED FOR CONSISTENT RESULTS – We developed this rub so you don't have to worry about seasoning your meat or veggies. The BBQ Rub provides a consistent and delicious flavor you can count on time and time again
NO RISK AND NO HASSLE – For almost a decade, we have been delighting customers. If you are not satisfied with your purchase of any Killer Hogs product, please contact us and we'll gladly refund your money. That's it – no questions, no hassle, no risk.
MADE IN THE USA – We pride ourselves in manufacturing all our products in the USA using the highest quality ingredients