Have you ever wondered how to smoke salmon on a pellet grill? Get ready to launch your taste buds into heaven with the best salmon dish you've ever tried. This brown sugar smoked salmon recipe is easy to make, packed with flavor, and comes together in just 30 minutes.
The best part? Our Z Grills pellet grills ensure that your salmon is cooked to perfection every time for grillmasters and first-timers alike. Keep reading to learn everything you need to know about how to smoke salmon on a pellet grill.
Add a header to begin generating the table of contents
Preparation
Ready to make this delicious smoked salmon recipe? Start by choosing a filet with an even cut; this will ensure that it cooks evenly. Also, check the filet for bones (because biting into a bone-ridden fish just isn't fun). Some folks like to remove the skin, but we recommend leaving it on for added flavor.
What Is the Best Salmon for Smoking?
Sockeye salmon is one of the best fish to smoke. Why? Well, with its incredibly high oil content, the meat absorbs wood smoke quickly. The result is a mouthwatering combination of sweet, salty, and smoky. What more could you ask for?
How to Prepare for Smoked Salmon
Rub the Salmon
After picking your salmon filet of choice, you will need to gently drizzle it with olive oil. Make sure to coat all sides of the filet–even the skin! This will keep it from burning.
Next, rub the salmon with a drool-worthy combination of brown sugar, dill weed, and a pinch of smoked salt. When you rub it onto the filet, shoot for even coverage. This will help with the browning process and ensure that the flavors are evenly distributed.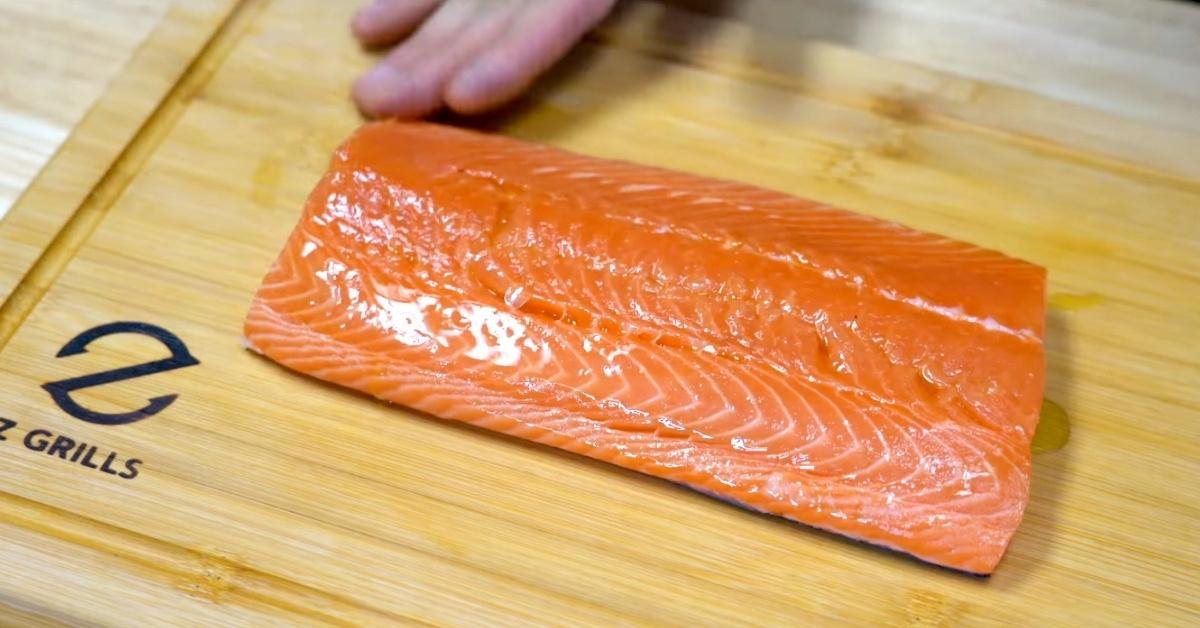 Smoked Salmon Ingredients
To get started, grab the following ingredients:
Fresh salmon filet
Extra virgin olive oil
Dried dill weed
Brown sugar
Smoked salt
Pepper
Fresh sage
Best Wood Pellets for Smoked Salmon
While there are many types of wood pellets you could use, some are going to be better than others. When it comes to smoking salmon, we recommend using any of the following:
Z Grills complete blend pellets. Made from a combination of maple, cherry, and hickory wood, these pellets deliver a versatile flavor that is great for all types of smoking, grilling, or baking recipes.
Z Grills cherry wood pellets. Cherry pellets naturally enhance chicken, pork, beef, and fish with a subtly sweet flavor.
Z Grills hickory wood pellets. Boasting a rich hickory aroma, these pellets are ideal for grilling and smoking beef, chicken, pork, and fish.
How Long Does It Take to Smoke Salmon?
You will want to smoke your salmon at 275°F for about 20 minutes. The FDA recommends your salmon reach an internal temperature of 145°F.
Note: Thicker filets will take longer to cook. Be ready to accommodate accordingly.
Further reading: Smoking salmon time and temperature chart
How to Smoke Salmon on a Pellet Grill
Hungry yet? Follow these easy steps to making this amazing smoked salmon recipe:
Step 1: Preheat the Z Grills Smoker to 275°F
First, you want to preheat your Z Grills pellet smoker to 275°F. This should take about 10-15 minutes, so we recommend preheating the grill while you're making the rub.
If you're looking for a new grill, Z Grills is the ideal choice for your first wood pellet grill. We're a grill manufacturer with over 30 years of experience within the industry. With over 650,000 pellet grills sold and 85 million cooks made.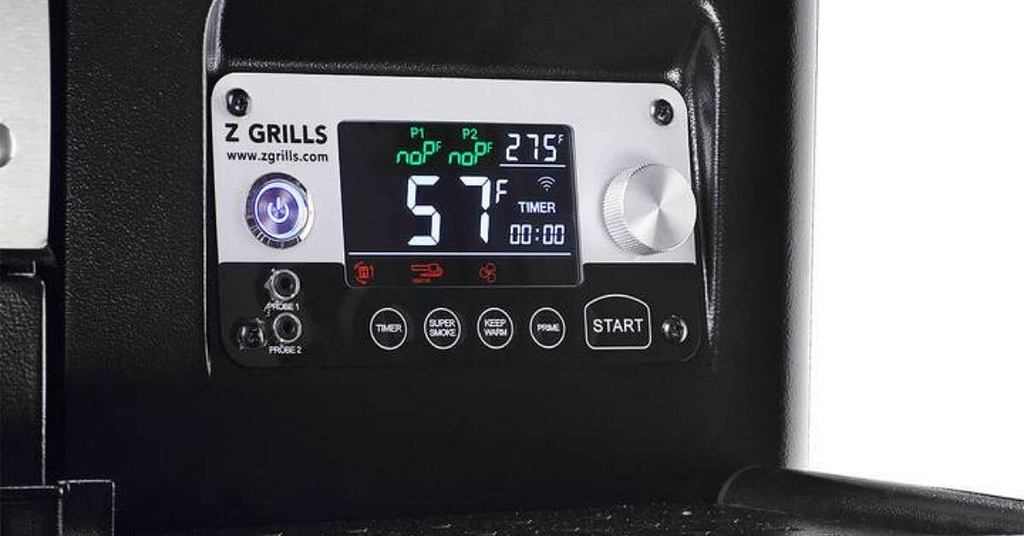 Step 2: Place the Salmon on the Grill
For optimal results, rub or spray some olive oil directly onto the grill grate. Then, place your salmon onto the grill skin-side down.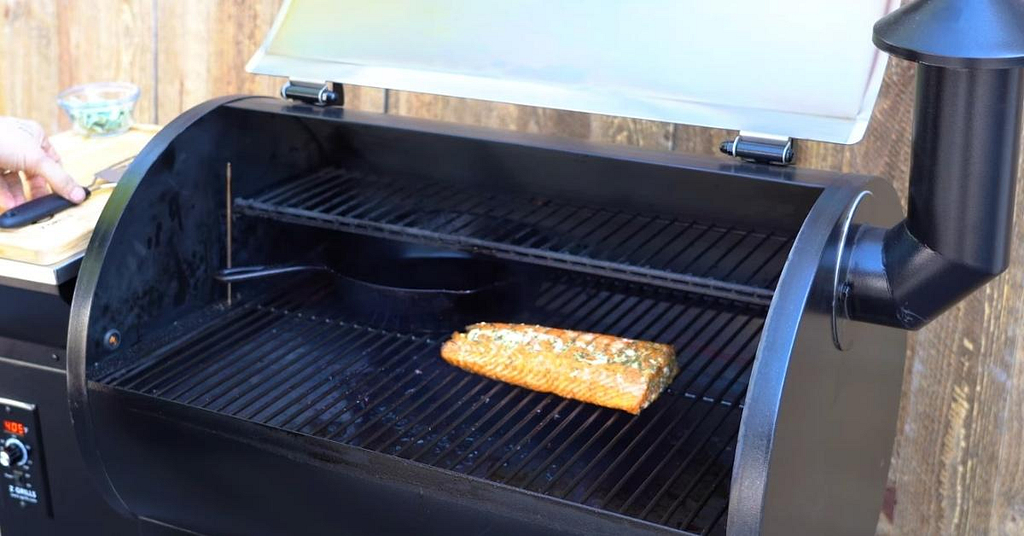 Step 3: Cook the Salmon
Expect your salmon to cook for about 20 minutes. While it's smoking, add some olive oil to a cast iron skillet and place it on the back side of the grill. After 20 minutes have passed, remove the salmon from the grill and increase the heat to 350°F.
When the pellet grill has reached the desired temperature, quickly drop the fresh sage leaves into the hot oil. Frying the sage adds beautiful color and flavor, making it an ideal topping for smoked salmon. You'll know the sage leaves are ready once they have turned bright green.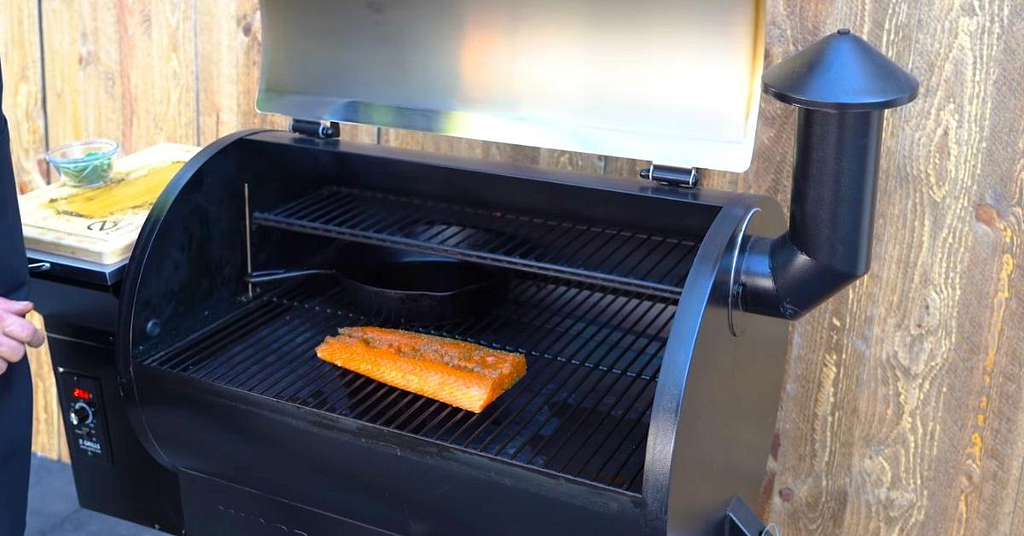 Enjoy!
In under 30 minutes, you should end up with tender, flaky salmon that is jam-packed with flavor. Whether you're a pro on the grill or a first-timer, this smoking recipe is perfect for easy weeknight dinners.
The Z Grills 700 series smokes your dishes to perfection every time. It's equipped with a wide temperature range and dial-in digital control with LED readout that makes it easy to adjust cooking from low and slow to fiery and fast.
If you liked this mouthwatering smoked salmon recipe, there's way more where that came from on the Z Grills YouTube channel. Watch Chef Shain prepare this brown sugar smoked salmon recipe, then check out the other recipes you can whip up on your Z Grill.
What to Serve with Smoked Salmon
Here are a few delicious dishes we recommend serving alongside this brown sugar smoked salmon:
Top Tips for Smoked Salmon
Want to make the best smoked salmon every time? Here are some tips and tricks:
Use the back of the spatula.When you're taking the salmon off the grill, use the back side of your spatula to scrape it off the grill grate. This will prevent you from tearing the filet as you remove it.
Use the right wood chips. For drool-worthy salmon, you should be using cherry wood, hickory wood, or blended wood pellets.
Don't overcook your salmon. The salmon should take approximately 20 minutes to cook on your pellet grill. Pull it off when the internal temperature reaches 145°F.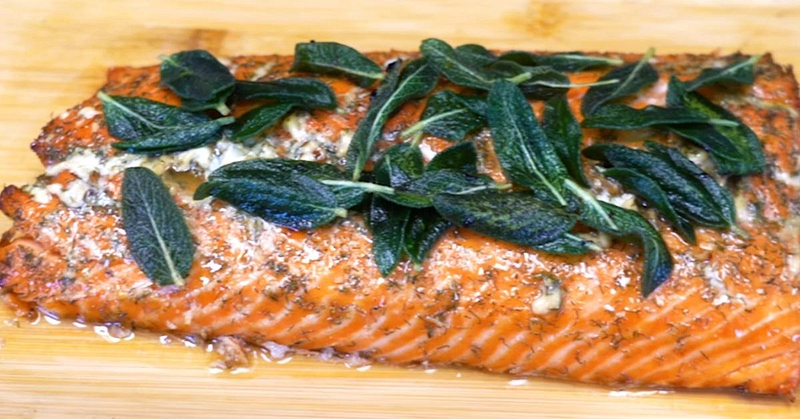 Brown Sugar Smoked Salmon
This brown sugar smoked salmon recipe is easy, flavorful and cooks to perfection in under 30 minutes. Serve it up alongside your favorite side dishes and enjoy your new favorite weeknight meal!
Ingredients
Fresh salmon filet

Dried dill weed

Smoked salt

Pepper

Fresh sage
Instructions
Preheat your Z Grills pellet grill to 275°F. Combine brown sugar, dill weed, and a pinch of salt to form a dry rub. Adjust the amounts to your liking.

Gently drizzle extra virgin olive oil on the salmon filet and coat all sides (skin included). Then, generously coat the salmon filet with your dry rub.

Once the grill has reached the desired temperature, drizzle some more olive oil onto the grill grate and place the salmon on top of it, skin side down. Pour the remaining olive oil into a cast iron skillet and heat it on the back of the grill.

After 20 minutes, remove the salmon from the grill using a spatula. Increase the grill temperature to 350°F.

When the temperature has reached 350°F, quickly drop the fresh sage leaves into the hot oil. Fry the leaves until they turn bright green.

Remove the sage leaves from the oil with tongs, then place them atop the smoked salmon as a garnish. Wait for the filet to cool slightly, then enjoy!
Video