These crave-worthy Smoked Shotgun Shells are made with manicotti pasta stuffed with ground sausage and cheese, then wrapped in flavorful bacon and smoked on the grill. If you were looking for the ultimate bacon wrapped appetizers, look no further.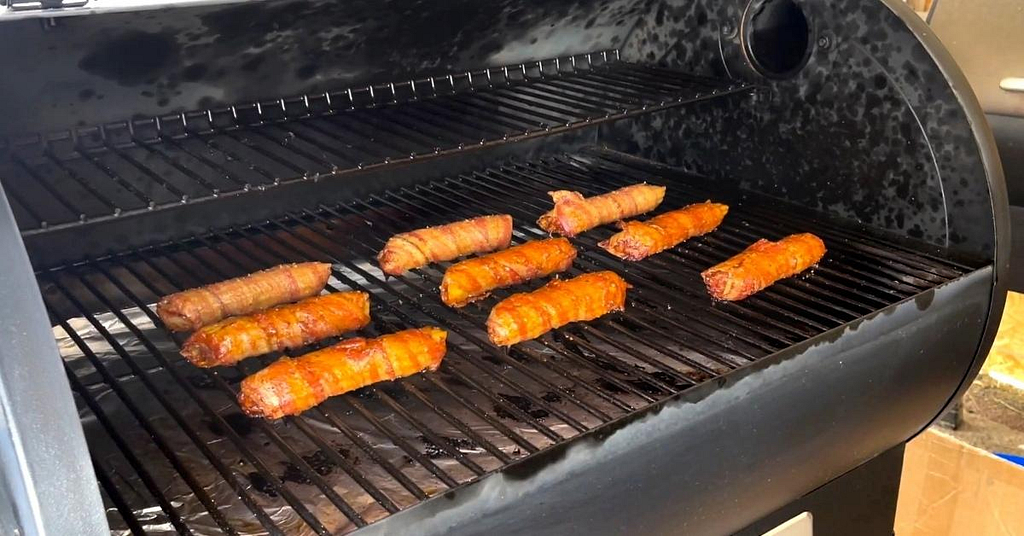 Add a header to begin generating the table of contents
Key Ingredients
Want to know the only way to make bacon wrapped sausage even better? Just add pasta and gooey cheese. These Smoked Shotgun Shells are easy to prep and even easier to cook. All you need to make your own Smoked Shotgun Shells recipe is a few key ingredients:
1 pound of ground sausage
½ cup shredded cheese
9 manicotti pasta shells
Uncooked bacon, thinly sliced (one slice per shell)
Lane's Spellbound Hot Rub (or another rub of choice)
Fresh jalapenos (optional for some heat)
BBQ sauce of your choice
How Long Does It Take To Smoke Shotgun Shells At 300 Degrees?
How long it takes to smoke shotgun shells depends on the amount of meat you stuff them with. For this recipe, we used one pound of sausage and smoked them for an hour. If your shotgun shells are packed with more meat, then you may need to smoke them a bit longer.
Regardless, you'll know your shells are done when the internal temperature reaches a minimum of 160 degrees. Be sure to keep a meat thermometer on hand so you can easily determine whether your shotgun shells are finished.
To prevent your pasta shells from becoming too hard or crunchy, consider stowing the stuffed shells in the fridge for about 6 hours before smoking. This will allow the moisture from the meat to soften the pasta, which helps the pasta cook better on the smoker.
Note: If you're short on time and worried about crunchy pasta, you can try cooking the shells for a few minutes and then cooling them before stuffing them with ground sausage and cheese.
Can You Smoke Shotgun Shells Low and Slow?
If you're not in a rush, feel free to cook these bad boys low and slow by smoking them on 225 degrees F for about 2 hours. At the 2-hour mark, increase the heat to 275 degrees F and smoke them for another 30 minutes. This will crisp up the bacon to perfection. Then, just like the original recipe, brush the shells with barbecue sauce around 10 minutes before they're finished cooking.
Easy Smoked Shotgun Shells
Ready for mouthwatering bacon wrapped appetizers the whole family will love? Let's get into it. One of the best parts about this delicious, smoky recipe is that it comes together with just a few simple steps.
Step 1: Prepare the Shells
Start by preheating your grill to 300 degrees F. Then, combine the ground sausage, cheese, and a pinch of rub in a large bowl. Once the mixture is evenly combined, carefully stuff it into the manicotti shells. Take care to ensure that you don't break your shells.
Pro Tip: If you've never stuffed manicotti shells before, it can be a bit of a challenge. Begin by stuffing half of the shell, then turn it over and stuff the other side.
Step 2: Wrap the Shells in Bacon
Sounds delicious, doesn't it? The next step is to wrap each shell in a thin slice of bacon. Then, season to taste with your rub of choice.
Step 3: Smoke the Shells
Carefully place the stuffed shells onto the grill and smoke for about 50 minutes. At the 50-minute mark, check the shells' internal temperature. If they are at least 160 degrees, brush them in barbecue sauce and cook for an additional 10 minutes. If they aren't quite there yet, check back in about 5-10 minutes.
Step 4: Cool and Serve
After cooking the saucy smoked shells for 10 minutes, they should be ready to go. Remove them from the heat and let them cool for around 10 minutes. Then, dig in!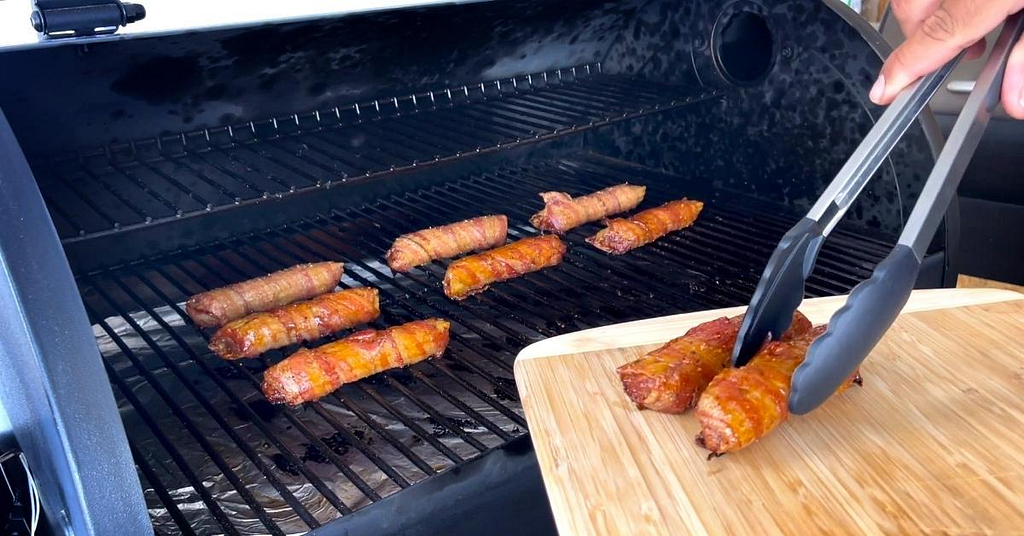 Best-Ever Smoked Shotgun Shells
Searching for the best Smoked Shotgun Shells recipe? When you follow the instructions above, you end up with a delicious appetizer that is guaranteed to be the star of your next cookout. This incredible smoked bacon recipe is crispy and smoky on the outside, yet flavorful and gooey on the inside. Every bite is packed with an explosion of flavor!
These meat-filled pasta shells look just like shotgun shells and taste like everyone's favorite combination of meat, cheese, and bacon. (Seriously, what more do you need?)
For a full recap on how to make Smoked Shotgun Shells, check out the smoked shotgun shells video tutorial posted on the Beginners BBQ Outdoors YouTube channel. RJ walks us through everything there is to know about bringing these Smoked Shotgun Shells to life with the added bonus of showing you how the magic happens.
So, are you ready to test your smoker skills and try out this Smoked Shotgun Shells recipe? You'll want a pellet grill from the Z Grills 700 Series by your side. Not only are these grills easy to use, but they ensure that your smoked shells come out perfectly every single time. No crunchy pasta here!
How do we manage that? Well, that's easy. Operating with fan-forced convection cooking, our grills deliver even heat distribution with no flare-ups. That way, you're guaranteed juicier restaurant-quality food from the comfort of your backyard. Browse our selection of premier pellet grills today!
What to Serve with Smoked Shotgun Shells
Smoked Shotgun Shells are smoky bacon wrapped appetizers that are best served alongside classic cookout dishes. We love pairing this dish with other grilled appetizers so we can multitask and get more out of our time. Here are some of our favorite grilled appetizers to serve with this dish:
What Rub Goes Best with Shotgun Shells?
Not sure what rub to use for your Smoked Shotgun Shells recipe? We'll lend you a hand. Lane's has an excellent selection of rubs that all taste great on Shotgun Shells. However, Lane's Spellbound Rub is easily our favorite. Pair it with Lane's Kinda Sweet Barbecue Sauce for some delicious, melt-in-your-mouth goodness.
How to Store Leftover Shotgun Shells?
Admittedly, we don't often see leftovers of this dish—it's that good. However, if your eyes were a little bigger than your stomach, you're in luck. Like many bacon wrapped recipes, this dish stores well in the fridge. For optimal results, seal up any leftover shells in an airtight container or storage bag, then store them in the fridge for up to 3-4 days.
Can You Make Shotgun Shells Ahead of Time?
If you're looking to prepare this smoked appetizer in advance, simply stuff the shells and wrap them in bacon. Then, stow them in an airtight container or bag and refrigerate them for up to 24-48 hours until you're ready to pop them on the grill.
Fresh Whole Jalapenos (3 Lb)
The jalapeño is variously named in Mexico as huachinango and chile gordo. The cuaresmeño closely resembles the jalapeño. The seeds of a cuaresmeño have the heat of a jalapeño, but the flesh has a mild flavor close to a green bell pepper.
Handling fresh jalapeños will cause skin irritation.
Jalapeño peppers are often muddled and served in mixed drinks.
Note
This post contains affiliate links. Please read my full disclosure here: https://blog.zgrills.com/affiliate-disclosure/