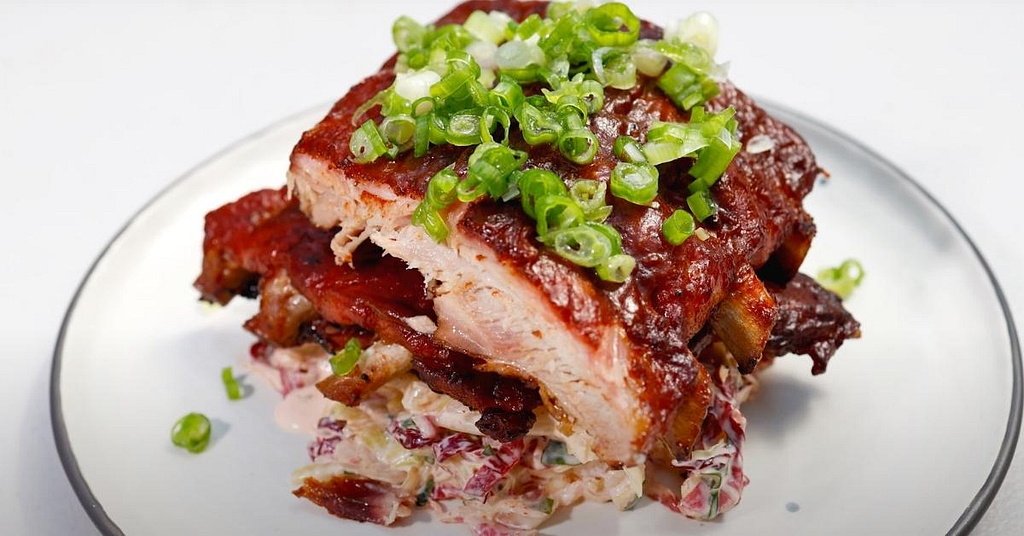 We're diving into creating delicious smoked baby back ribs and a tasty coleslaw on a pellet grill. Smoking ribs is a great way to make flavorful ribs that are fall-off-the-bone tender. Typically, smoked ribs can take about six hours to make, requiring you to plan ahead for a meal.
However, our smoked baby back ribs recipe will allow you to craft a delicious meal in only about three hours. This recipe is great for when you're hosting a backyard party and don't have time to plan. Now you can be BBQ-ready for all scenarios – even last-minute get-togethers.
Add a header to begin generating the table of contents
This Is Not the 3-2-1 Method!
Smoking baby back ribs in this recipe is entirely different than the 3-2-1 method. The 3-2-1 method includes smoking ribs for three hours, steaming ribs for two hours, and then cooking the ribs for an extra hour uncovered to create a crispy exterior. While this is a great way to create ribs, it takes about six hours from start to finish, so it's not a solution for last-minute festivities. Read more on the 3-2-1 method here.  
Our recipe is much quicker and requires only 2 hours of smoking. Then, wrap the ribs in an aluminum foil container (to help tenderize) and cook for another hour. The final step is grilling at a higher temperature for about 10 minutes to create a beautiful char.
While it's best to plan as far ahead as possible, there will be occasions when last-minute hangouts occur. Ultimately, deciding between these methods depends on how much foresight you have on your get-together, what you have on hand, and what you want to achieve.
Z Grills Baby Back Rib Recipe
Let's get into how to smoke baby back ribs without further ado!
Ingredients
For this recipe, you'll need the following ingredients for the ribs and coleslaw:
Barbecue sauce – 750ml
Green onions – 1 bunch
Green cabbage – ½ head
Red cabbage – ½ head
Mayonnaise – 400g
Fresh parsley – 1 bunch
Sugar – 100g
4 Lemons
Start by seasoning the ribs, drizzling them with oil, and adding a small amount of BBQ sauce before putting them in the smoker. While you're smoking the ribs, you can prepare the coleslaw. Refrigerate the coleslaw once it's prepped. Then, you'll place the ribs in a pan with more BBQ sauce and cook the ribs for 1 hour.
Removing the Silver Skin/Membrane
When making this smoked baby back ribs recipe, a key step is removing the membrane before seasoning. Baby back ribs have a silver skin (membrane) on the bone side. This membrane becomes tough, papery, and unappetizing as you cook ribs, so you must remove it beforehand.
Using a small knife, you can help loosen the silver skin from the bone. Then, peel the membrane off using a paper towel (to keep the silver skin from slipping out of your grip). You can discard the membrane and add your seasoning to the baby back ribs.
You can also ask your local butcher to do this step for you before you take the baby back ribs home. Though it should only take a few minutes for you to accomplish this step, it's a relatively easy step.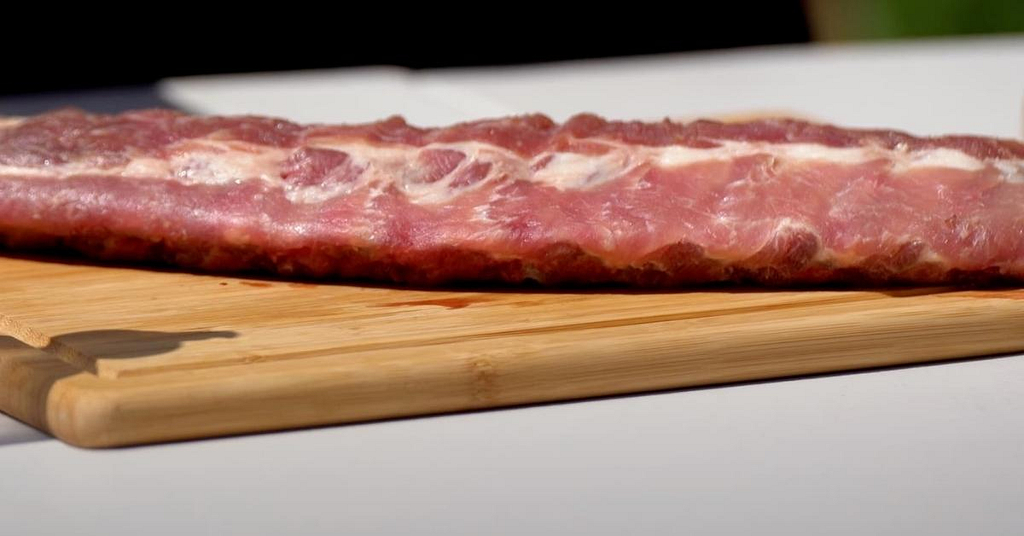 Seasoning
Seasoning is an important step in creating mouthwatering ribs. Here are the steps to ensure your ribs are flavorful crowd-pleasers.
Drizzle a generous amount of oil on top; it can be what you have on hand. In this recipe, we used canola oil. Rub it into the ribs.
Flip the ribs over and add oil to the other side. The oil helps keep the ribs from drying out in the smoker and allows the spices to stick more easily.
Next, generously season with salt and pepper on both sides.
The final step includes brushing a small amount of BBQ sauce onto both sides of the ribs. This step helps create aromatic ribs and begins adding flavor to the ribs. This sauce layer will also help create flavor inside the ribs during the smoking process.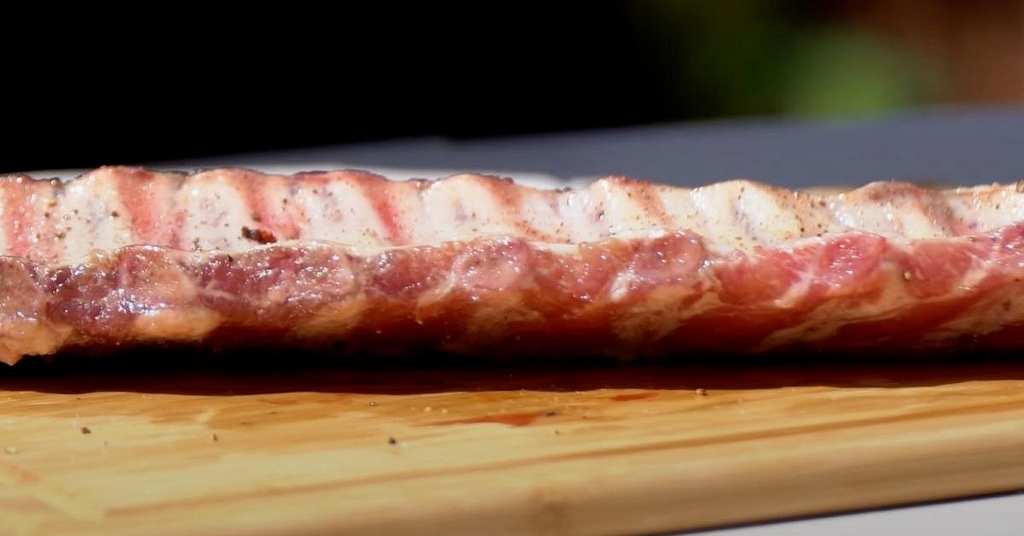 How to Smoke Baby Back Ribs on a Pellet Grill?
Now that your ribs are prepped and seasoned, it's time to run through how to smoke baby back ribs on a pellet grill for fall-off-the-bone meat.
Preparing the Smoker
Before seasoning your ribs, you want to heat the smoker to 225°F. When using a Z Grills pellet grill, it should take about 10-15 minutes for this step. Pellet grills will have a PID temperature controller so you can set the exact temperature you desire and wait until it heats up.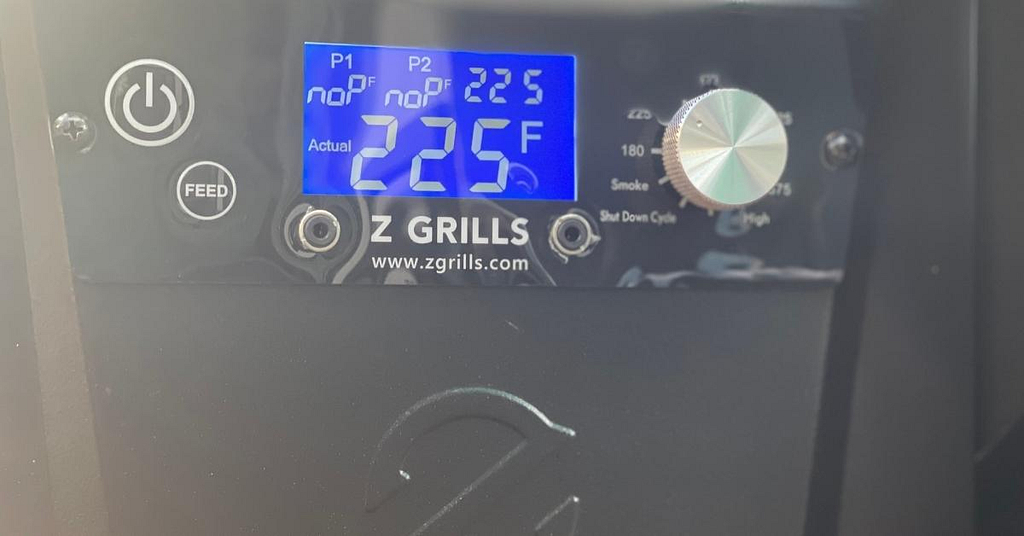 Placing the Ribs in the Smoker with Bone Side Down
Adding the ribs into the smoker with the bone side down allows the baby back ribs on the smoker to stay more flavorful than smoking the ribs on the meat side. The juices will pool down instead of dripping out of the meat when you smoke the ribs with the bone down. This method allows you to have incredibly juicy smoked babyback ribs.
Depending on how thick your ribs are, it will take about 1.5-2 hours total. It's necessary to check your ribs after 1 hour to ensure they are not dried out.
Wrap In Foil Container For 1 Hour
Once you've finished smoking the ribs, you can add them to a separate metal pan with liquids. If the ribs are too long to fit in the pan, you can cut them in half to fit all the spare ribs.
Some ribs recipes use apple cider vinegar for this step. However, we suggest using BBQ sauce diluted with water and apple juice for a sweeter taste. Make sure to wrap the pan tightly before adding the ribs to the grill and cooking for an additional hour at 225°F.
Final Process (Uncover and Grill)
You'll finish the pork ribs by placing them meat side down on the grill and adding a final layer of BBQ sauce. Crank up the heat to 325°F for the last few minutes, so the ribs gain a smoky flavor and crispy outside.
How Long to Smoke Baby Back Ribs at 225°F?
For this recipe, you'll be smoking baby back ribs for 3 hours total. As mentioned, this length of time depends on the size of your ribs. If you have more time, you can smoke ribs for six hours (like the 3-2-1 method). If you want to learn more about how long to smoke baby back ribs, you can check out our article on smoking baby baby ribs times and temperarures chart here. 
What's the Exact Temperature in Every Process?
You'll start smoking the baby back ribs at 225°F. You'll keep the heat the same as you "steam" the ribs. The only temperature change occurs during the final step. During the last 10-15 minutes, you'll change the babyback ribs temperature to 325°F, helping create a nice, toasted color. The baby back ribs internal temp should be around 175°F when done.
What to Serve with Smoked Baby Back Ribs?
You may want to make some sides ahead of time while the ribs are cooking. Here we also include a tasty veggie-based coleslaw recipe. To make sure its flavor and texture work perfectly with the ribs, follow the instructions below. It's quick and easy!
Start by cutting your cabbages in half, salt them, and leave them in water for a few minutes.
Cut the cabbages into quarters, then slice the core off diagonally.
Remove the cabbage leaves, so it's easier to cut. Then, use a rocking motion to slice the cabbage into small pieces.
Repeat step 3 for the red cabbage or radicchio.
Add a generous amount of salt to the cabbage to help draw out excess liquid. Mix and let sit for 10 minutes. When you're ready to serve the coleslaw, there won't be extra liquid at the bottom of the bowl.
Slice the parsley and green onions, and the vegetables and garnish are ready to go.
Is a Smoker Necessary?
Yes, you'll need a smoker for this recipe. You can use any brand you have on hand, as long as you can adjust the temperature. It's also important that the smoker maintains the predetermined temperature during the smoking process.
Save space by investing in Z Grills, as you can smoke, grill, and more all in one spot. Z Grills has multiple probes that allow you to check the internal grill temperature while the pellet grill remains closed so that you can keep the heat inside. Quicker heating means you can have your grill ready to use in no time.
Learn more about BBQ tips and tricks, recipes, and our complete list of grill offerings here.
Sweet Baby Ray's Original Barbecue Sauce (18 Ounce, Pack of 2)
The original sweet and tangy flavor that's won awards – and the hearts of BBQ fans around the world
Pour it onto burgers and brats, or dip with nuggets and fries
The ultimate sauce for BBQ Chicken pizza
Award-winning barbecue sauce that is a sweet mouthwatering blend for any protein
Gluten-free and certified Kosher
Woodstock Sugar Brown Org
Item Package Length: 3.302cm
Item Package Width: 9.906cm
Item Package Height: 22.098cm
Item Package Weight: 0.408kg