Create these soft, fall-off-the-bone country-style ribs with our maple cinnamon recipe. The combined flavors penetrate the meat as deeply as the smoking process. Eat them alone, with your favorite BBQ sauce, or use them as an ingredient in other meals.
Add a header to begin generating the table of contents
What are Country Style Ribs? 
When we hear country-style pork ribs, we often think about the ribs we see in restaurants and BBQ competitions. These would be the ribs with bones that help in the flavor and texture that make it fall off the bone. However, country-style ribs come from the pork shoulder of the pig and can be found with or without the bone. Because of this, you can find well-marbled country-style ribs or some that are leaner with a lot less marble and more of a porkchop texture depending on what section of the pork shoulder you are using.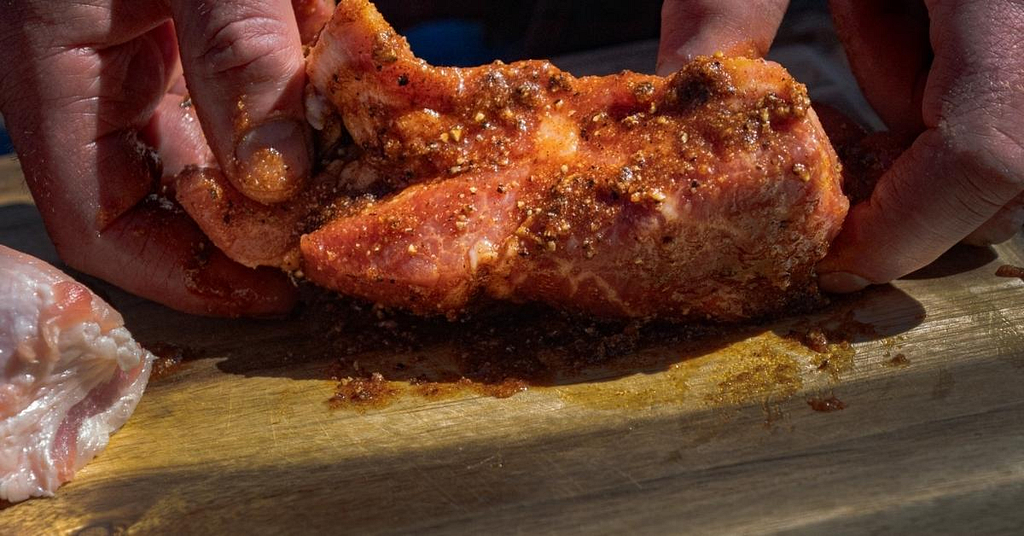 Country Style Ribs On The Grill
Depending on the method, size, and temperature when cooking, country-style ribs can take between 3 to 6 hours of cook time. The benefit of cooking on a pellet grill is the deep smoke penetration and the tender consistency of the meat every time. All you have to do is make sure you fill-up the pellet hopper with enough pellets to last you the entire cooking period, set your temperature, wait ten minutes after it reaches the temperature, place your ribs, close the lid, and set your timer.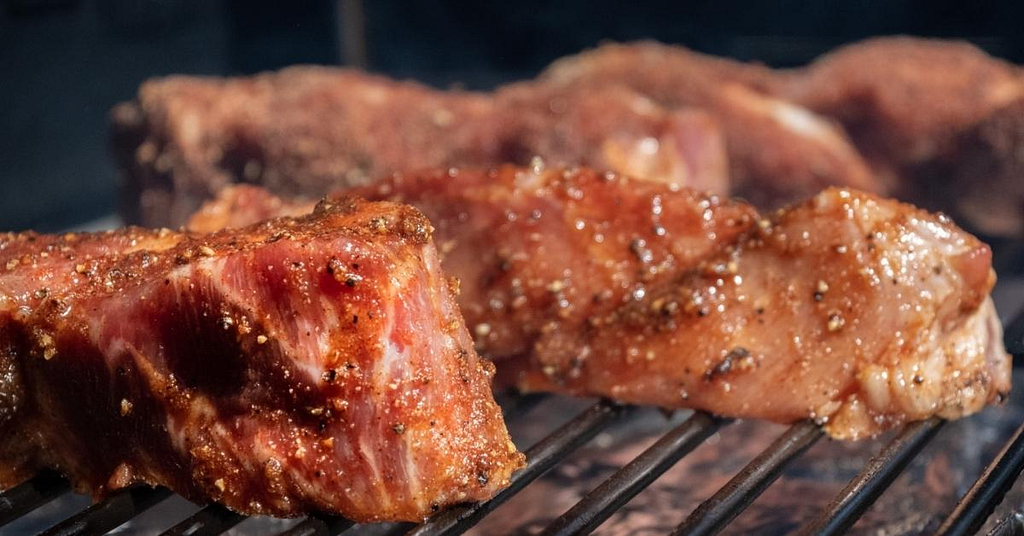 Country Style Rib Preparation
You can find country-style ribs pre-cut into 1 to 2-inch-thick pieces and about 9 to 12 inches long, or you can cut them yourself from the pork shoulder to your desired size. We like to buy the pork shoulder and cut our pieces of meat to 2 inches thick and around 5 to 6 inches long. We find this size gives us about ½ a pound of meat per serving.
For the seasoning, mix the dry ingredients first and then add the maple syrup and mix again. This method ensures an even mixture of all the spices and prevents the lumping of ingredients. Place the seasoned ribs into a ziplock bag or airtight container adding any excess seasoning on top and store them in the refrigerator for at least 12 hours. During this time the flavors will penetrate the meat for a deeper flavor profile.  
When you are ready to cook, bring your pellet grill to 225 degrees Fahrenheit. Once the internal temperature is reached, let the grill stand at temperature for 10 minutes before placing the ribs on the grill. By doing so, the heat loss is minimized when you open the grill to place your ribs, allowing for a more consistent temperature.  
What Temperature to Cook Country Style Ribs
Country-style ribs are best suited to be cooked nice and slow; the longer it's smoked, the more tender it becomes. We have found that the best consistent temperature to cook our country-style ribs is 225 degrees Fahrenheit. This gives the perfect balance of the smoky flavor and the maple cinnamon ingredients to the meat. The temperature also helps in creating the soft fall of the bone texture.
How To Cook Country Style Ribs
We created a wet rub for this easy country-style ribs recipe and let it rest overnight for 12 hours prior to smoking on the grill. The wait time helped penetrate the flavors into the meat and gave it an even flavor profile throughout. The ribs were cooked at 225 degrees Fahrenheit for a total of 2 hours, then we created what is called "en papillote", which is a method of creating a bag that retains heat, and moisture, and helps tenderize the meat. The method is mostly used when cooking fish or poultry, normally with a paper pouch. However, it can be done with aluminum foil, banana leaves, and even vegetables. What we used was a double layer of aluminum foil with four teaspoons of water to help with the tenderizing process with the leaner pieces of meat. This was done for another 2 hours at the same temperature.  Which created the fall of the bone texture and moisture that you get from ribs that include the bone. Once the ribs are done you can use the remaining juice from the ribs and add it to your BBQ sauce for a deeper flavor.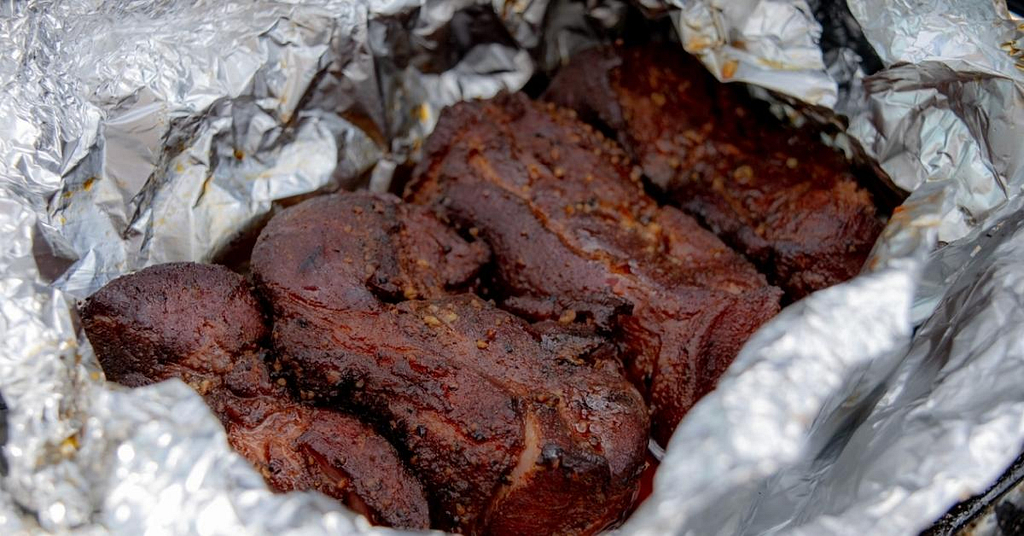 What Sides Go with Country Style Ribs
The grill is not just for smoking, you can also use the grill to cook some wonderful sides, like grilled stuffed jalapeno poppers.  If the grill is the only source of cooking, just crank up the heat and you can even make mac and cheese, a quick BBQ sauce, or just serve with potato salad and coleslaw. While you cook your sides you can keep the food warm in the aluminum foil. If you are just grilling veggies, you can use this time to rest your meat before serving.  We found that setting the temperature at 350 degrees Fahrenheit will cook vegetables within 10 minutes. If you are a meat-loving human you can just enjoy these smoked country-style ribs on their own.
Storing Leftovers and Leftover Meal Ideas
The best part of cooking country-style pork ribs is that you can make extra and save the leftovers. We love to freeze our leftovers for easy ingredients on late nights or for a quick reheated meal. The leftovers and the flavors of this recipe lend themselves well to creating other dinners such as quick tacos, sloppy joe, and stir-fried rice.
If you decide to freeze your leftovers, we recommend setting your freezer to 0 degrees Fahrenheit and using a vacuum sealer to remove all the air from the package. This increases its shelf life and helps keep the fresh taste when reheated or incorporated into other meals. We like to use the Foodsaver bags and their product to do this. Especially because it can be reheated in the same bag used to freeze. By using a Foodsaver product we can freeze our meal ingredients for up to a year. If you don't' have a Foodsaver product or similar, you can also use a ziplock bag making sure to remove as much air as possible when sealing. We would just recommend using your leftovers in less than 2 months.
When thawing you can place it in the refrigerator the day ahead. Need a last-minute meal? Just microwave on defrost, and then heat so it reaches a safe internal temperature of 170 degrees Fahrenheit. When we know we will be going to freeze we often leave some of the liquid in the bag, that way when it reheats in the microwave the moisture is never lost. If you prefer to save for a quick meal during the week, we recommend using an airtight container in the refrigerator at 38 degrees for five days or less.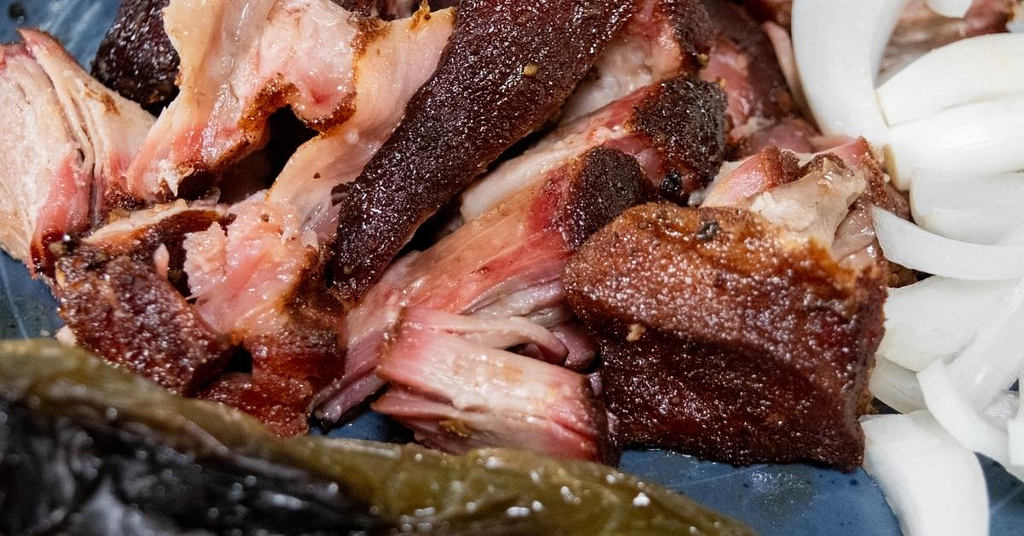 Cooking Country Style Ribs On a Pellet Grill
We hope you love this recipe as much as we did making it and that you use it at your next tailgate party or holiday celebrations. Don't limit yourself to using the ingredients in this recipe only on country-style ribs. It's also great on beef and chicken, just be mindful that cooking times will vary, and safe temperature guidelines should be followed. By using the pellet grill the consistency it provides will be something that you will fall in love with time after time.
If you are in the market for something that gives you consistency in flavor and a fast ignition start when grilling, we recommend you go with  Z-Grills. For travel, we recommend the Z-Grills Cruiser-200A portable pellet grill. The cruiser has side handles that provide easy transport, a lightweight compact size design, and a smoke mode button for easy ignition. With other smokers, you must figure out what the best temperature is based on conditions to begin the igniter properly and come to temperature. This can increase the start time to 30 minutes or more. Having a smoke mode button takes that off your hands and has you ready in 10-15 minutes. Which is the best part for families on the go or when you are on the road and exploring areas a little longer than you expected.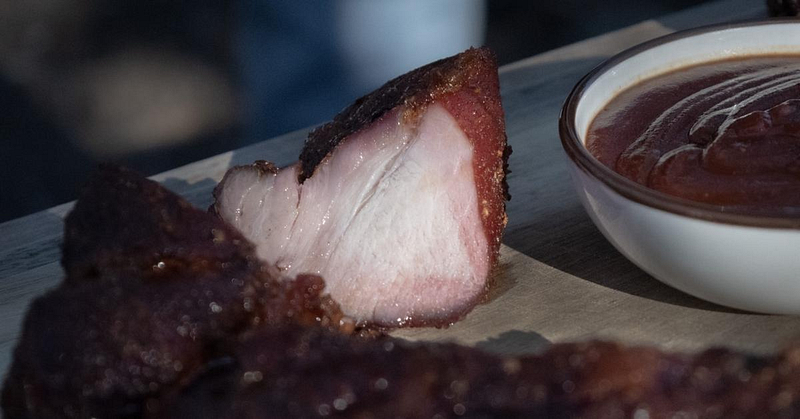 Maple Cinnamon Country Style Pork Ribs on a Pellet Grill
Ingredients
2

lbs

Country Style Pork Ribs

6

tbsp

Maple syrup

1

tsp

Ground Cinnamon

2

tsp

Onion Powder

3

tsp

Garlic Powder

4

tsp

Smoked Ground Paprika

1

tbsp

Salt

1

tbsp

Ground Black Pepper
Instructions
In a small bowl mix your dry ingridients until well combined, add the maple syrup mix again.

Coat your ribs evenly with sauce mix, place in a ziplock bag and add the sauce on top and store for 12 hours in the refrigerator.

Fill your pellet grill and bring up to 225 degrees.

Remove ribs from refrigerator.

Once desired temperature is reached wait for 10 minutes and add your ribs to the grill.

After two hours remove ribs from the pellet grill, wrap in aluminum foil adding four teaspoons of water to the bottom and seal all sides making sure no steam escapes.

Leave on the grill for two more hours.

Remove from the pellet grill and serve with your favorite sides and BBQ sauce.
Nutrition
Carbohydrates:
23.6
g
|
Protein:
53.4
g
|
Fat:
48.7
g
|
Saturated Fat:
17.9
g
|
Cholesterol:
204
mg
|
Sodium:
1903
mg
|
Potassium:
857
mg
|
Sugar:
18.7
g
|
Calcium:
94
mg
|
Iron:
4
mg