Steak is one of the most versatile foods. There are so many things you can cook with it; grilled steak, seared steak, pellet grill steak, steak sandwiches, and even steak pizza.
You don't need to go to a steakhouse every time you want to eat meat. They can be quite expensive. You can make restaurant-quality pellet grill steak from the comfort of your home. It would be cheaper and tailored exactly to your taste.
A delicious steak is dependent on the taste. As such, the steak seasoning can make or break the entire dish. Buying good quality meat is wonderful, but to enjoy it, you must season properly. A lot of people make mistakes when it comes to this.
We are here to guide you through everything you need to know to season steak properly. We are also going to give you an excellent steak seasoning recipe, so sit back and enjoy.
Add a header to begin generating the table of contents
When Should You Season Steak?
The time for steak seasoning is dependent on you. Keep in mind that the earlier you season, the more flavorful the steak will be. This is because the steak seasoning would have time to penetrate the meat. That is especially necessary if the meat is thick.
One way to season steak is to sprinkle a little seasoning on it after cutting. This is great, especially for larger pieces of meat, as it enables the spices to penetrate the cut. 
Some people also season their steak thirty minutes before they grill, but we don't recommend that. Seasoning less than forty minutes before grilling will only remove the meat's juices. 
So slice and season your meat at least an hour before you begin. If you don't have that much time, then season immediately before you toss your meat on the grill. 
What to Season Steak With?
Steak seasoning is a topic that is as controversial as the doneness of the steak. People have different opinions on what steak seasoning recipe should be used to season the steak. And frankly, it is the smoker's choice. 
You can decide to go with the classic salt and pepper, and that is fine. You can also decide to be more adventurous. Whatever you choose, the key to a good steak seasoning recipe is to use fresh ingredients. 
Steak houses baste their meat in butter, and doing so gives it a nice buttery flavor. You can do that too. While basting, you can also add thyme leaves or basil. It is a steak seasoning method that a lot of people love.
Another excellent way to add flavor to your steak is to add garlic to it when it is done. Simply chop a garlic clove into two and place the piece facedown on the steak. You can also grate the garlic onto the meat. 
While your spices are up to you to decide, we'd like to note that Cajun two-step seasoning can give your steak a nice and spicy taste. Here's how to make yours at home. 
How to make steak seasoning
We've got a recipe you can use to make Cajun steak seasoning from scratch. Use this, and you won't need to buy it from the supermarkets. 
The first step is to mix these spices; paprika, garlic powder,  onion powder, freshly ground black pepper, dried oregano, thyme, cayenne pepper, crushed red pepper flakes, white pepper, and kosher salt.
After mixing, store in an airtight container, and you've got your Cajun steak seasoning recipe. It can last for 6 months to a year.
If the Cajun seasoning isn't to your taste, we have another steak seasoning recipe that you might prefer.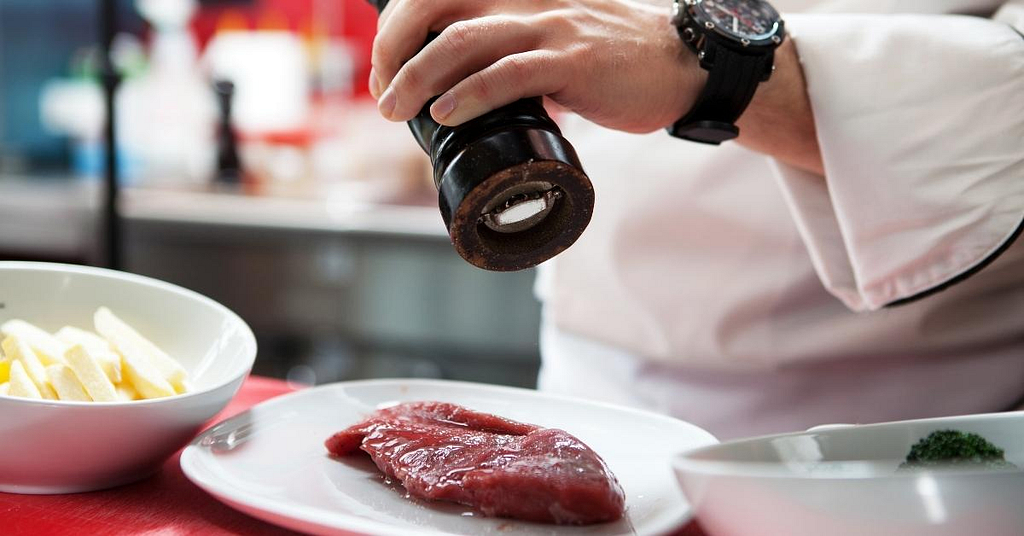 Lemon Pepper Steak Seasoning Recipe
Lemon Pepper Seasoning is exactly as the name implies, a mix of lemon and pepper. This steak seasoning recipe is not only delicious, but it is also very easy.
The ingredients are lemon zest, freshly ground pepper, and kosher salt.
You would need a lot of lemon zest. You can sacrifice six or seven lemons for this one. If you want a lemony tang to your beef, you can add more of the zest to get your desired taste.
This steak seasoning recipe is not only used to season steak. It can also be used on fish and chicken. Here is the recipe:
Grate your lemons to get the zest.
Add your zest to a bowl.
Add your freshly ground pepper. 
Mix the zest and pepper
Line a baking pan with parchment paper.
Spread the lemon pepper mix on the paper.
Put it in the oven at the lowest setting until the zest is completely dry. This should take about an hour.
Keep turning the mix until all sides are dry.
Bring the mix out. Put it in a spice grinder and grind till it is fine. 
Add your kosher salt and mix.
Store in an airtight container. 
This steak seasoning recipe is flavorful and aromatic. The citrus taste is sure to add a special tang to your steak. You should try it out.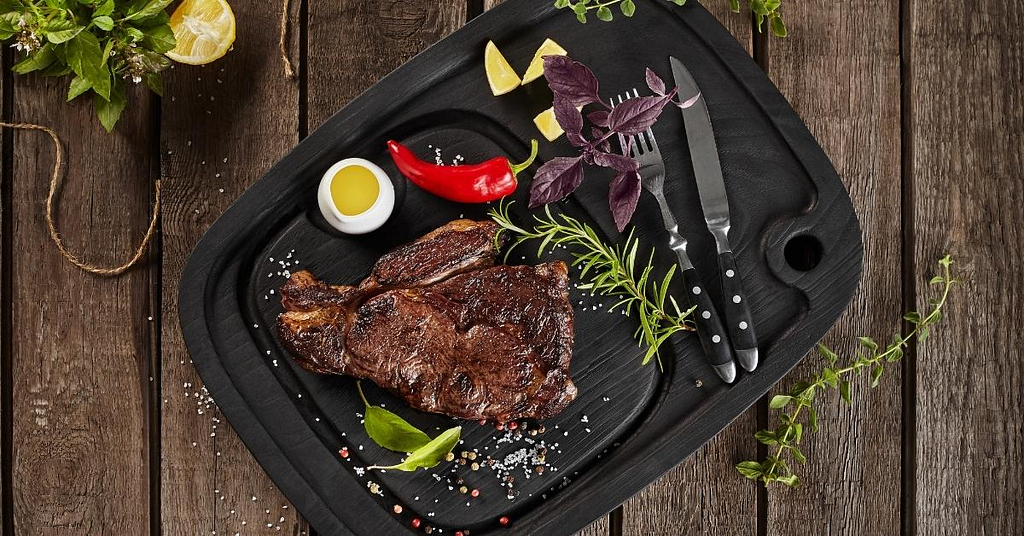 How To Properly Season Steak 
Seasoning steak is not as complicated as you think. You just have to know one rule: Cover all sides of the entire slice. And that's it. Don't be afraid to season steak generously. Red meat requires a lot of it especially large steaks. 
The timing of your seasoning is more important, but we've covered that already. 
Steak Searing Tips
Make sure you dry your meat with a paper towel before searing. Moisture will spoil that perfect brown look that you're going for. You can add butter during the last two minutes of searing for a richer flavor. 
A thermometer would be handy for searing, so you know exactly when your meat is done. Before your steak is done, the thermometer inserted at the thickest part of the steak should read 120F for medium-rare or 130F for medium. 
When you are done cooking, allow the meat to rest so the juices can redistribute. This keeps the meat juicy. 
Conclusion
So that's it, everything you need to know about steak seasoning. Whether it is a pellet grill steak or a steak salad, we are sure you have the confidence to properly season steak now.
Remember that we at Z Grills are here to help. Apart from grilling tips, we also provide high-quality grilling equipment. This includes everything from pellet grills to bamboo boards and searing pans. Check out our store and make your order. We only stock the best at Z Grills. 
More Easy and Delicious Steak Recipes
Morton Coarse Kosher Salt 16 oz. (Тwо Расk)
2 Containers – 16 Ounces Each (Note: Canister Packaging has changed, Morton has phased out the dark blue paper canisters, the new canisters are plastic shakers. Easier to keep clean & sanitary.)
COARSE Kosher Salt
Ideal for Brining, Rimming Margarita Glasses, as Well as Roasting, Marinades & Rubs
Kosher for Passover and Any Time of Year. As noted on every Morton Kosher salt package, this salt is not a source of iodine.
Beef Ribeye Steak Boneless Step 1
Meets standards for animal welfare, feed, and more, so you can know about what you're buying (and eating)
No added growth hormones or antibiotics, ever
No animal by-products in feed
Traceable to farm or ranch.
Animal Welfare Certified by Global Animal Partnership
Note
This post contains affiliate links. Please read my full disclosure here: https://blog.zgrills.com/affiliate-disclosure/