Smoked pulled pork is a must for any BBQ, and it couldn't be simpler to prepare. This recipe calls for pork shoulder cooked on a pellet grill using the 'no-wrap'  technique, meaning that you'll be left with an incredible dark bark packed with flavor. Don't be put off by the long cooking time, the method is super simple and perfect for beginners. It may take time, but the final result will be worth it.
Add a header to begin generating the table of contents
What Is The Best Cut Of Meat For Pulled Pork?
Pork shoulder is perfect for pulled pork as it has an optimum fat content that yields to create tender meat if you cook it right. ¹ We're using a shoulder cut, but you can use the butt, which is higher on the shoulder if you prefer.
How Long to Smoke Pork Shoulder?
We're smoking our 12-pound pork shoulder for 14 hours at 275°F, which might seem extreme, but that is what's going to give you that beautiful dark bark and soft, tender meat that falls apart. Some recipes call for the joint to be wrapped as it cooks, and although this reduces the cooking time, you won't get that amazing bark that is so tasty. You also won't have to tend to the meat for the whole cooking time – it will need a little attention, as you'll see as we move through the recipe, but for the most part, you can leave the pork to do its thing.
How to Smoke Pulled Pork, Step-By-Step
Trim the Fat Off
If your joint has a thick layer of skin and hard fat around it, trim that off using a sharp knife. Don't remove all the fat, though, just the hard fat that won't add anything to the final product. The soft fat closer to the meat will give your smoked pulled pork tonnes of flavor and help keep it moist.
Put Some Cross Scores On The Pork Shoulder
Score the meat to create diamond shapes across the joint. This will help the seasoning and sauce you will add later cling to the joint and penetrate deep into the flesh.
Rub the Pork Butt
Now it's time to add your rub. First, cover the joint in a mix of salt, ground pepper, and garlic granules, followed by a generous amount of Hardcore Carnivore Black seasoning. Make sure you cover the whole joint (top, bottom, and sides), and don't be shy – use as much as you need to give the meat a generous coating.
Set Your Grill to 275°F and Smoke Pork Shoulder for 3 Hours
Now, it's time to get your joint into the smoker. We're using the Z Grills 11002B with apple pellets which is the best grill to give your meat a crispy and delicious flavor throughout. So go ahead and put your joint on the grill and place a tray underneath it to catch the juices that will run off. And that's it, leave it alone for 3 hours.
Spritze With 50:50 Water and Apple Juice  
After 3 hours, check if the meat is cooking evenly. Give it a good spritz with a 50:50 mix of water and apple juice, and smoke for a further hour. Don't forget the back, sides, and bottom. Keep smoking the meat for another hour.
Check and Spritze It Again
After 1 hour has passed, check the meat again and give it another spritz with the water and apple juice mix. Return to the grill for another hour until roasted to perfection.
Check the Pork Shoulder Internal Temperature – 164°F
Your meat will have been cooking for five hours now. This is the time to check the internal temperature, which you want to be around 164°F. Return the joint to the smoker.

Mop
Now it's time to mop the meat – this is what will give your finished smoked pulled pork that delicious dark bark. Mop the whole joint with Killer Hogs Vinegar Sauce. From here on in, you'll want to mop the meat every hour or so. The timing isn't important here, just keep mopping regularly.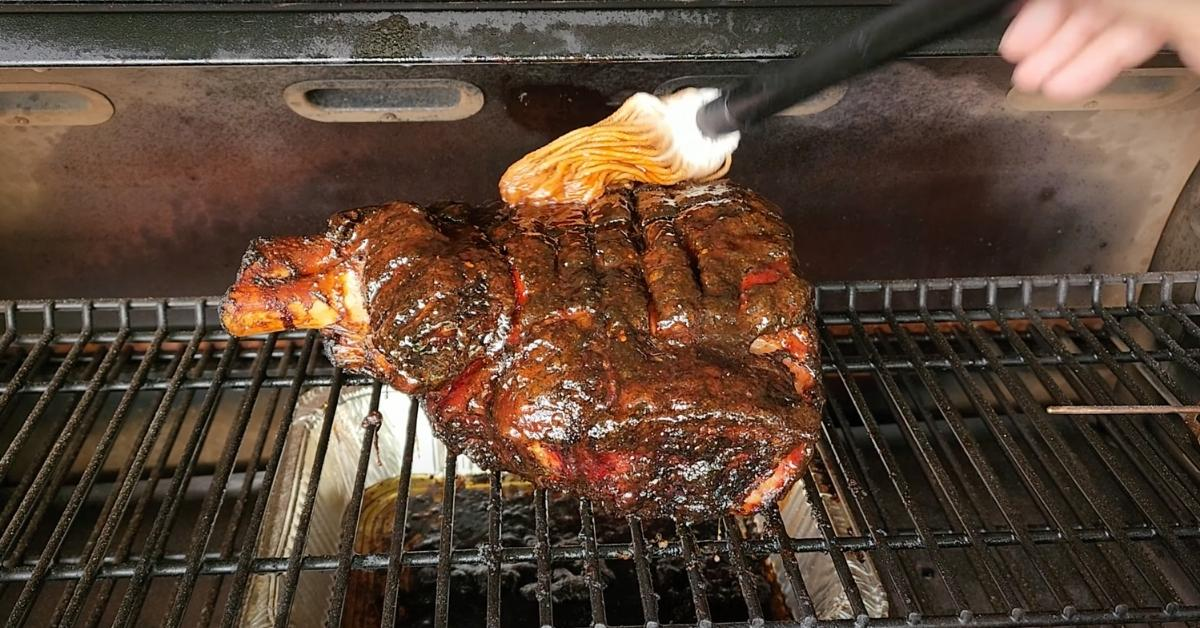 Take the Pork Shoulder from the Grill
When the 14 hours are up, check the internal temperature of the meat again. If it's around  200°F, it's ready. You'll see the sticky bark has developed, and the meat will be lush and tender. Remove from the grill, place in a tray, cover with foil and leave to rest for 1 hour.
Once your meat has rested, tear it apart to create your delicious smoked pulled pork and serve!
Top Tips for Smoked Pulled Pork on Pellet Grill
You can also watch the full video to see how we cook smoked pulled pork on a pellet grill step by step. Now, let's get into some top tips to make the most out of your succulent pulled pork meat!
How to Reheat Pulled Pork?
You can reheat your smoked pulled pork in a hot oven (around 250ºF). To help keep it moist, give it a spritz of your leftover water and apple juice mix. Bake until the pulled pork reaches an internal temperature of 165ºF. This should take around 30 minutes). 
How Much Pulled Pork Per Person?
You'll want to allocate about 5 to 6 ounces of smoked pulled pork per person if you're serving it for lunch and about 7 to 8 ounces per person if it is a dinner party. 
What to Do with Leftover Pulled Pork?
Leftovers will keep in the fridge for a few days, but you can also freeze them. Make sure your smoked pulled pork is room temperature or colder before packing the shredded meat into freezer-safe bags, ensuring you get rid of all the excess air before freezing. Use within 6 months.
What to Serve with Pulled Pork?
Your smoked pulled pork will certainly go well with any of our recipes, but here are our recommendations:
Smoked Pulled Pork
Equipment
Thermoworks Thermapen and Signals

Heavy duty wide aluminum foil
Ingredients
7

lb

Pork Shoulder (Bone-In or Boneless)

Yellow Mustard
Instructions
Add a first coating of salt, pepper, and garlic.

Follow with a second coating of Hardcore Carnivore Black. 

Smoke at 275°F for 3 hours without looking.

After 3 hours, check meat and spritz with 50/50 water apple juice every hour till hour 5.

After 5 hours, the internal temperature should be 160°F or 'in the stall'.

Start to mop with Killer Hogs Vinegar Sauce.

Mop every hour or so until you reach 14 hours.

This smoke took approximately 14 hours with 1-hour resting time.
Video
More Delicious Smoked Pork Recipes