This is the best grilled London broil recipe for grillers who want a juicy, tender steak fresh off their Z Grills pellet grill. When you make this grilled London broil, you'll enjoy a delicious steak infused with savory, smokey flavor.
Add a header to begin generating the table of contents
How to Choose the Perfect Steak for a London Broil
The term London broil actually refers to the cooking method rather than the cut of beef you're cooking with—similar to a pot roast.
The grilled London broil method cooks a somewhat thin cut of beef on high heat, which creates signature crisscross sear marks on the top and bottom of the steak.
When choosing meat for your London broil, look for a flank or top round steak at your local grocery store or butcher. You want a thin cut of beef that is no more than one inch thick.
Thicker meats won't cook properly with the London broil method, so ensure you buy the right one or your butcher cuts it down to size for you.
How to Grill a London Broil Steak on a Pellet Grill
This grilled London Broil recipe is so easy, you'll be done before you know it. In just four easy steps, you'll have a delicious, tender, juicy steak on your plate. And the best part is that this recipe can be modified to be ready in less than 30 minutes.
Marinate Your Grilled London Broil
Marinades make meat great. For this London broil recipe, you'll marinate your steaks in a blend of:
fresh garlic
balsamic vinegar
Dijon mustard
Worcestershire sauce
Italian seasoning
salt
black pepper
crushed red pepper flakes
Although you can marinate your steaks for just one hour, you can prep this recipe a day ahead and allow your steaks to marinate overnight.
Preheat Your Z Grills Pellet Smoker
The London broil method "broils" your steaks on high heat for a short time. For this grilled London broil recipe, you'll want to crank your Z Grills pellet smoker all way up to high heat, around 500°F.
Sear the London Broil
Next, you'll sear your thin steaks on your pellet smoker for 12-22 minutes. Place the London broil at an angle directly on the grill grates. Then, rotate it 90°. Searing your steaks in this manner will give them the classic London broil crosshatch pattern, which tastes as good as it looks.
You'll repeat that for the other side, and you're done! It's that easy.
Let Your Steak Rest
After your steaks reach the desired internal temperature (the USDA recommends beef reach 145° F to be safe for consumption), then it's time to let them rest.
Exercise patience here because allowing your steaks to rest will help them retain their juiciness.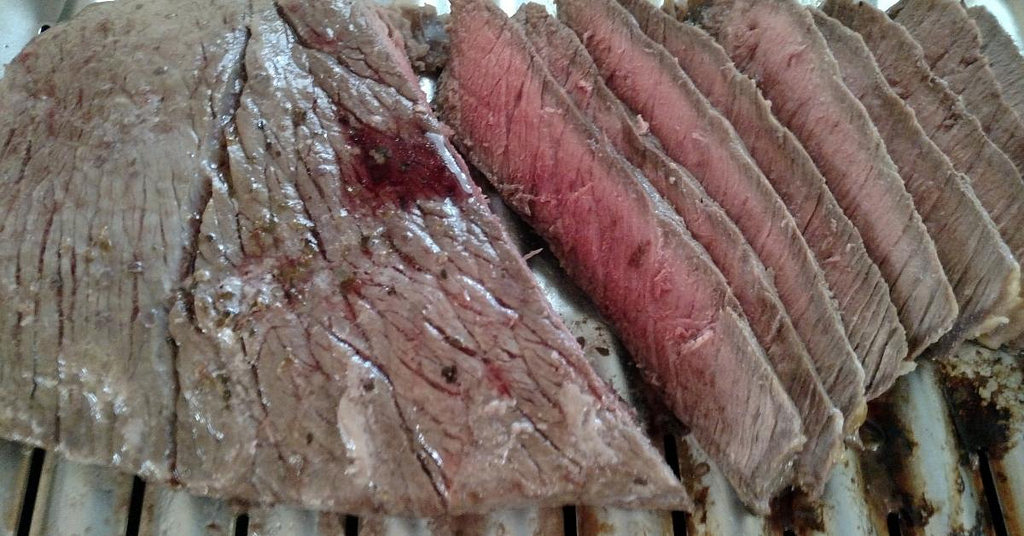 London Broil Temperature Chart
Best Times and Temperatures for Grilled London Broil
A London broil should always be cooked at a high temperature for a short time. We recommend cooking your London broil for just 12-22 minutes at 500°F.
What to Serve with Grilled London Broil
A grilled London broil tastes great with sides like:
roasted or mashed potatoes
a fresh garden salad
blanched broccoli
roasted asparagus
If you want to get some more meals out of your Z Grills pellet smoker, try one of our signature recipes for the grill, like:
Smoked green bean casserole
Grilled spinach
Grilled broccoli
Grilled brussels sprouts
Grilled cauliflower
Grilled potato wedges
Tips and FAQS for London Broil 
Whether your previous experience with London broil wasn't the best or you're cooking a London broil for the first time, here are tips and common questions about making a great London broil.
Why is My London Broil So Tough?
If your London broil became tough, it was probably overcooked. Reduce your cooking time, not your temperature, to help a lean cut of beef become tender and juicy on the grill.
How Long Does it Take to Cook London Broil?
London broil steaks are cooked on high heat for a short time. At 500°F, your London broil will be done in just 12-22 minutes.
How Do You Prevent a London Broil from Drying Out?
Marinating your London broil is the best way to ensure it doesn't dry out. Vinegar tenderizes your meat while the marinade adds flavor and moisture.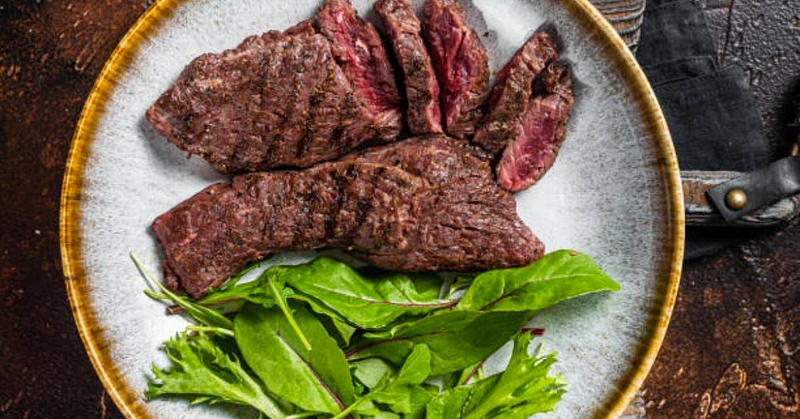 Grilled London Broil Steak
This grilled London broil recipe gives you a beautifully cooked steak every time. This grilled London broil will easily become a family favorite with signature sear marks and juicy, tender meat.
Ingredients
2

pounds

steak (about 4 flank or top round steaks)

cooking spray

4

cloves

garlic, minced

3

tbsp

balsamic vinegar

2

tbsp

Dijon mustard

2

tbsp

Worcestershire sauce

1

tbsp

Italian seasoning

½

tsp

salt

½

tsp

black pepper

½

tsp

crushed red pepper flakes
Instructions
Combine garlic, balsamic vinegar, Dijon mustard, Worcestershire sauce, Italian seasoning, salt, black pepper, and crushed red pepper flakes in a large Ziplock bag.

Add steaks and seal the bag, removing as much air as possible.

Marinate steaks in the fridge for 1 hour or overnight. Pro tip: place your Ziplock bag in a bowl inside the fridge. If it leaks, you'll avoid the mess.

About thirty minutes before you plan on cooking your London broil steaks, remove them from the fridge. Allow the steaks to come to room temperature while still in the Ziplock bag.

Preheat your Z Grills pellet smoker to 500°F.

Once your grill and steaks are ready, lightly grease the grill grates. You can use cooking spray or a paper towel soaked in vegetable oil.

Place steaks directly on the grill grate at a 45° angle. Close the lid and grill for 2-3 minutes. Then, rotate the steak 90° to form the crosshatch pattern of the London broil. Grill for 2-3 minutes more.

Flip the steaks and repeat the previous step for the other side.

Once a meat thermometer reads 145° when inserted in the center of the thickest part of the steak, remove your grilled London broil from the heat. This will yield a medium steak.

Allow your grilled London Broil steaks to rest for 5-10 minutes.
Colavita Balsamic Vinegar of Modena, 17 Ounce
Product of Modena, Italy
Perfect for slow-cooked foods like soups or beans, or use as a deglazing liquid for meat based sauces
Acidity 6%
This Balsamic vinegar is matured in wooden casks to achieve a complex flavor balancing sweetness and acidity.
Note
This post contains affiliate links. Please read my full disclosure here: https://blog.zgrills.com/affiliate-disclosure/