Grilled chicken has it all – flavorful, succulent, high in protein, and low in Caloriess. What's there not to like? Plus it's easy to prepare and cook, and there are so many low-calories chicken recipes. You are almost spoilt for choice.
Chicken on a pellet grill is a sort of culinary perfection and we want to share 10 of our favorite different ways to make chicken with you right here. We guarantee that not only will they excite your taste buds but they can also play a part in any low-Calories or weight loss program you have going.
Add a header to begin generating the table of contents
Grilled Chicken Nutrition: The Facts
Chicken is a great source of protein and protein is essential for a strong and healthy body. We use protein to build and repair muscles, we use the amino acids from protein for essential bodily functions, and it helps maintain bone density too. This becomes increasingly important as we age, and strong muscles and bones help to minimize injuries, speed recovery, and decrease the chances of developing certain diseases such as osteoporosis.
The health benefits of chicken don't end with protein. Chicken meat is also rich in niacin and other B vitamins, such as B12 and B6, which aid the manufacture of DNA, help to provide us with energy and promote brain health.
In addition, chicken is an important source of the trace minerals selenium and phosphorus. Selenium is vital for thyroid health, boosting the immune system, and maintaining fertility while phosphorus is essential for bone and teeth formation.
Chicken provides many other vitamins and minerals that the body needs to thrive, contains very little fat, and has no Caloriess. It is the perfect solution for anyone wishing to cut down on the amount of red meat they consume.
While all chicken has health benefits, breast meat is generally regarded as the most nutritious. A 100 gram (3 ½ ounces) portion of chicken breast contains:
165 calories
31 grams of protein
6 grams of fat
By comparison, the same amount of thigh meat has:
210 calories
26 grams of protein
11 grams of fat
To put that in proportion, 100 grams of beef steak carries:
210 calories
5 grams of protein
9 grams of fat
From the above, you can see that chicken breast is considerably lower in calories and fat than the dark meat or beef steak although of course, in moderation, all three are wonderful sources of tasty protein.
The way chicken is cooked has a massive effect on these figures and is the reason why sometimes chicken is not looked on as a healthy option. Battered and fried, chicken may be gorgeous to eat, but you lose many of the benefits. Grilled chicken, particularly on a wood pellet grill, retains all the health aspects while providing beautifully cooked, tender, moist meat.
Our Favorite 10 Low-Calories Chicken Recipes
Here are our top 10 recipes for grilled chicken that will have you and your guests coming back for more.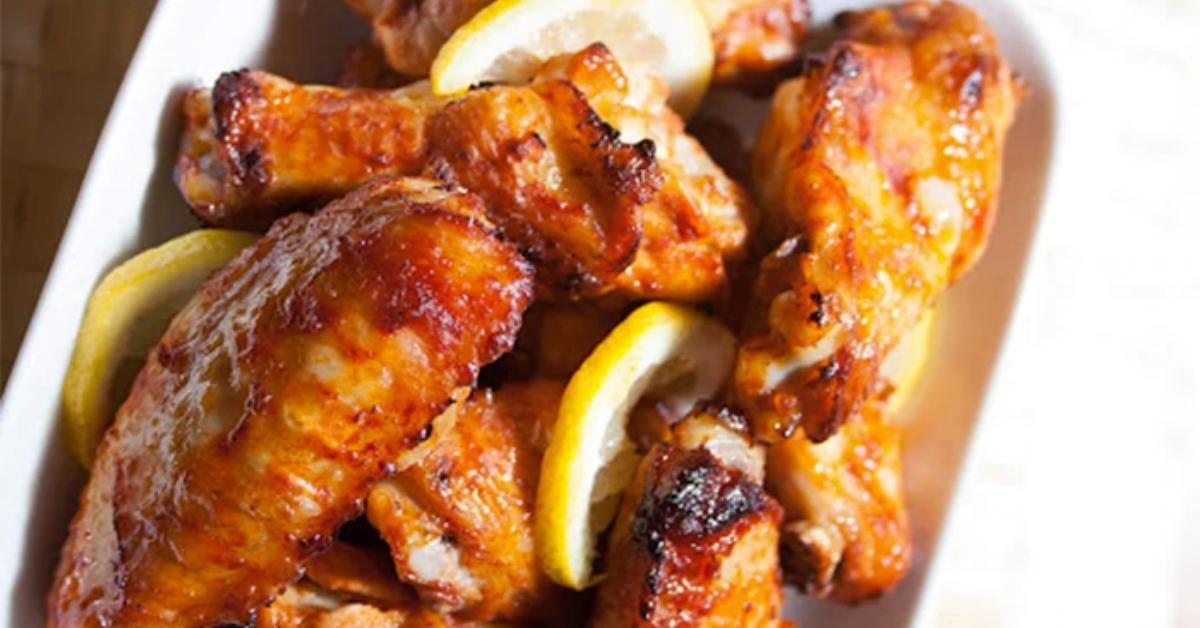 Everyone loves the crunchiness and depth of flavor of chicken wings, which is why we thought of it first when planning this list of low-Calories chicken recipes! When you add in a subtle smokiness from a pellet grill you have a winner. This recipe just adds a little garlic and onion to the mix and transforms this cheap meal into something really special.
Take four boneless, skinless, chicken breasts, add a splash of olive oil and a little BBQ rub, and let your wood pellet grill turn them into a gourmet delight in a little over an hour. Simply stunning! It's by far one of our favorite easy chicken recipes for dinner for families.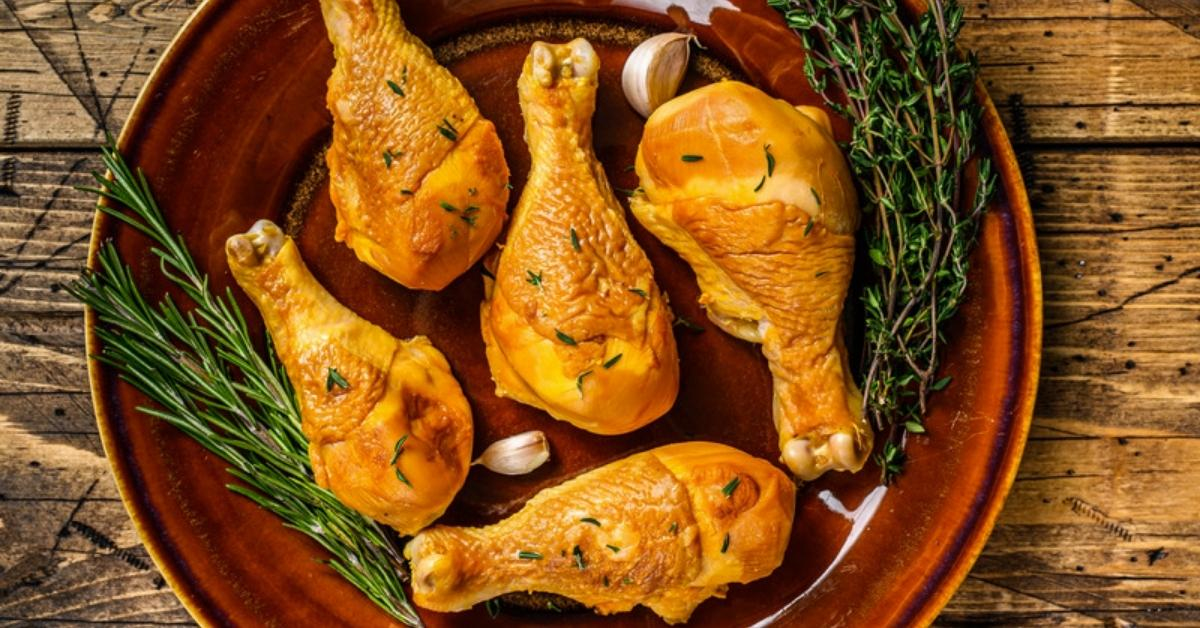 Well-cooked chicken legs are probably the tastiest chicken dinner you can have and nothing beats this pellet grilled recipe. A little oil and a spice rub lifts them to another level and the final basting with barbecue sauce is genius! Depending on the sauce you use, you can make this one of the best low-calorie chicken recipes around, too.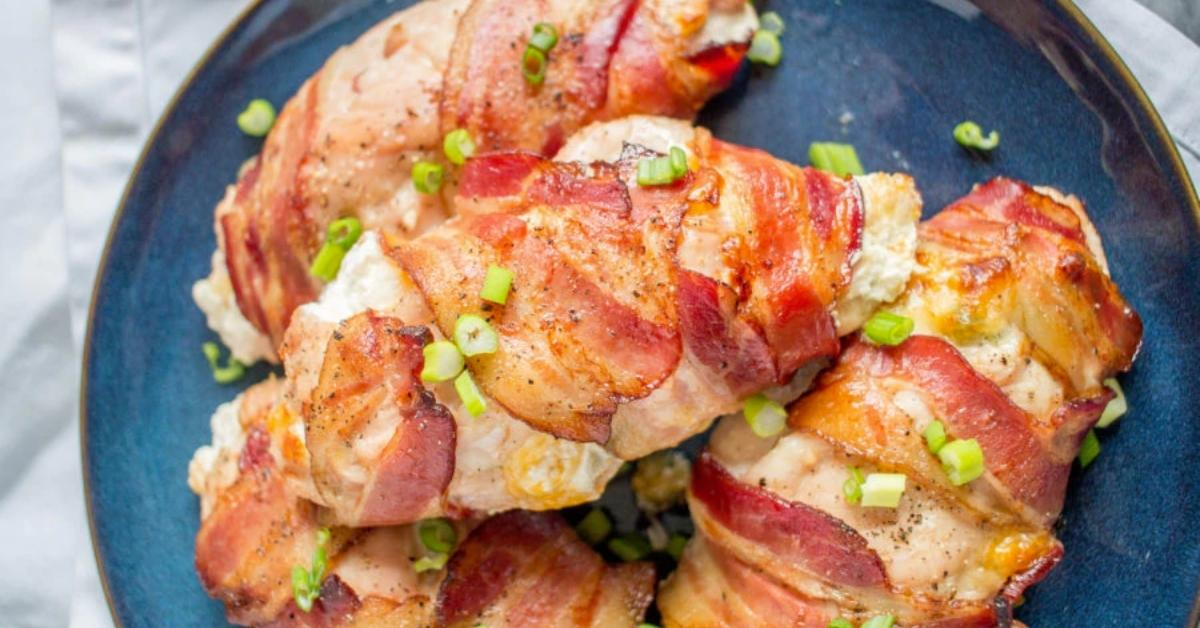 Almost everything is improved by bacon and grilled chicken is no exception. Take bite-sized pieces of chicken breast, wrap in bacon, add a soupcon of barbecue rub, and smoke for around three hours. You won't be able to say no to a second helping of these morsels of scrumminess, but probably not one to add to your list of low sodium chicken recipes!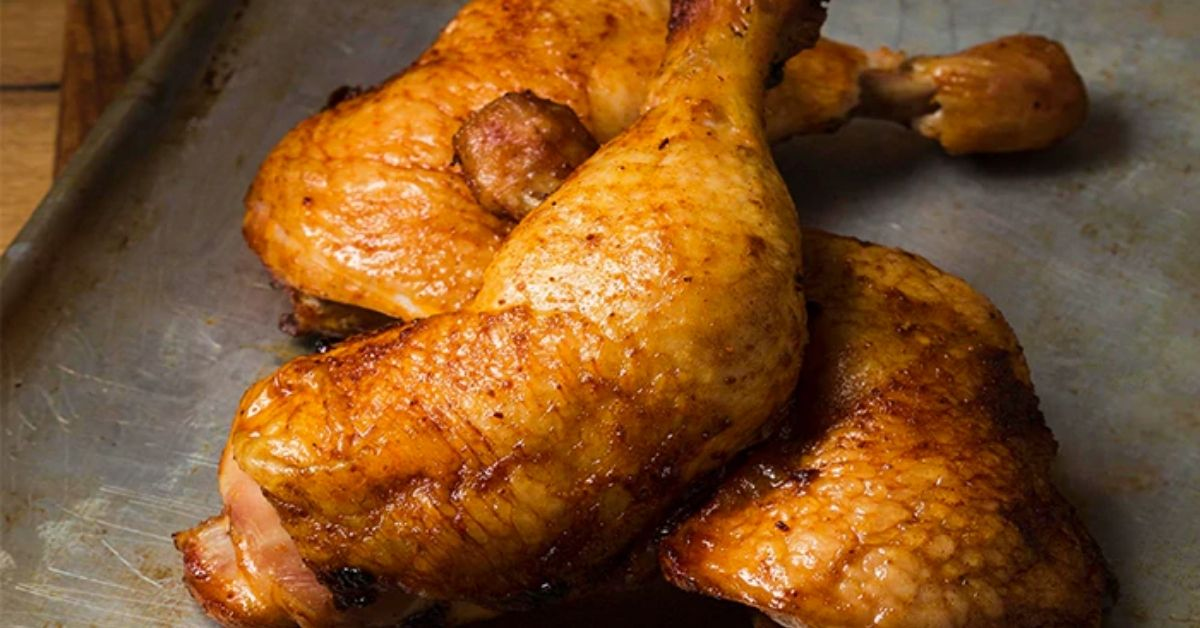 Moist within, crispy on the outside, and packed with mouth-watering flavor, this recipe for chicken quarters is a must-try. A homemade rub completes the picture. This will definitely become a regular on your dinner menu whether it's just you and your family or a party for the whole neighborhood.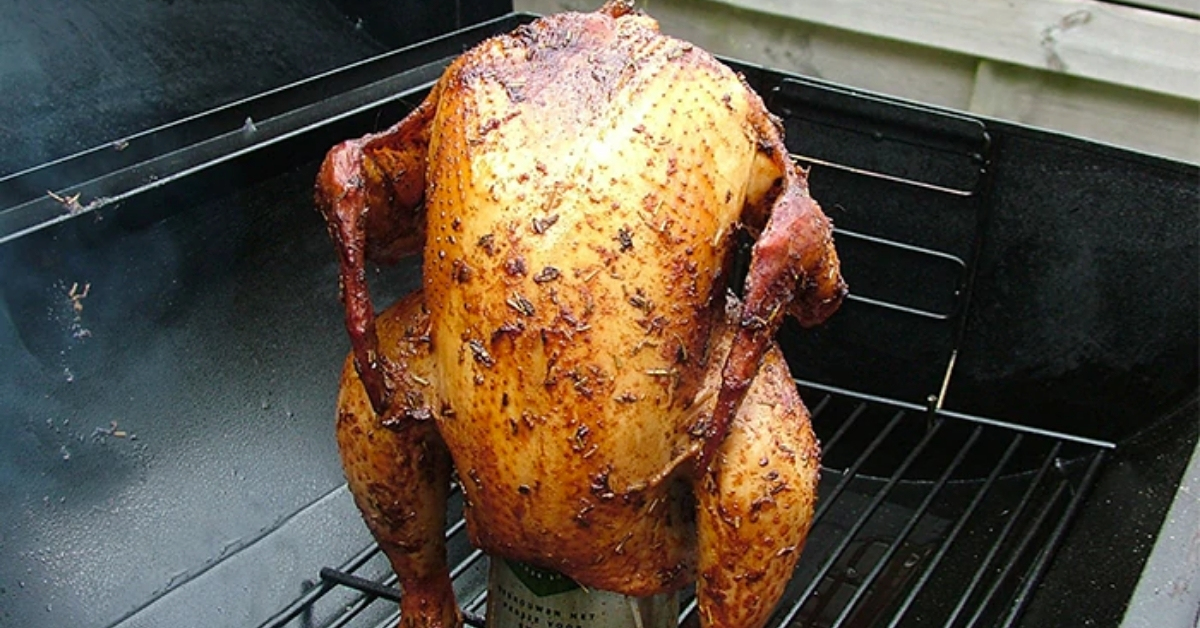 Nothing beats the taste of a whole smoked chicken; add a can of beer and you have perfection. Not only does the finished dish taste great, but it also looks sooo impressive. It's perfect for a dinner party though it's too good to be kept just for a special occasion.
This low-Calories recipe is stuffed with flavor and is so easy to do! It is perfect every time. The whiskey-peach combo is sensational. Serve it to your guests on toasted buns and they will thank you for it and keep coming back for more.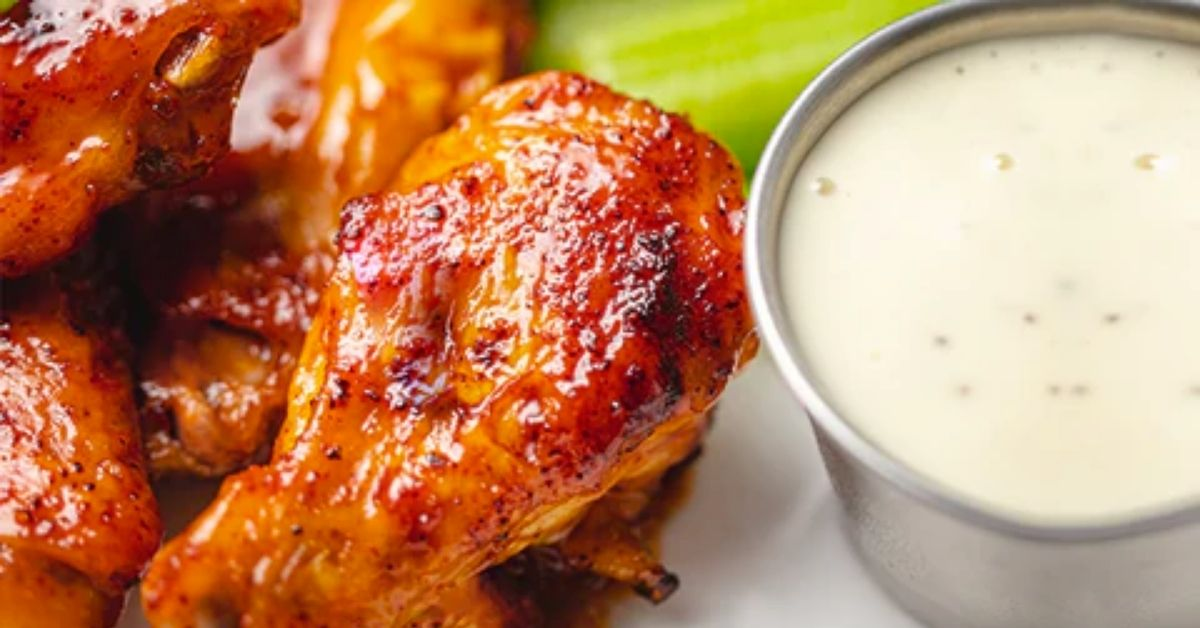 This recipe adds berry flavors to the smokiness and the touch of sweetness is magical. Simple to do and all finished in well under an hour. It's almost worth doing for the appearance alone, the color is stunning.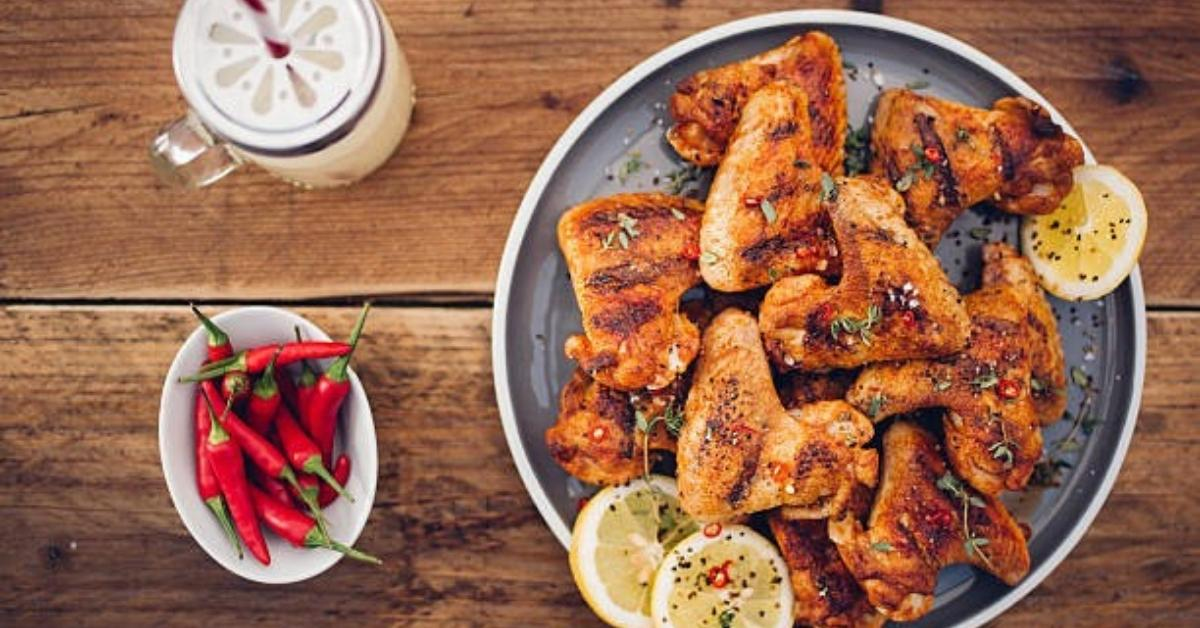 This recipe makes fried chicken wings a thing of the past – all the flavor and almost no fat. It's another super-easy recipe and totally foolproof. With a total time of just 45 minutes, you will be making this low-Calories dinner recipe all the time.
Bring a touch of Middle Eastern cuisine to your home with this wonderful recipe. It's really easy to do and produces a meal of outstanding spicy flavors. Enjoy it in a wrap, with rice or accompanied by a salad.
That's our pick of 10 easy smoked chicken recipes you'll want to eat again and again. Simple, inexpensive, and healthy, what more could you want? And everyone with the extra dimension of smokiness only a wood pellet grill can give. And don't forget – a pellet grill is not just for summer. If you've yet to get your hands on a pellet grill, what are you waiting for? Click here to take advantage of our latest offers.