Heading out into the wilderness this year? It's time to get your camping gear in order and ensure you've got all the camping essentials you need ready to go when you are.
Camping can be one of the most satisfying activities you can do with family and friends. The whole process of getting up early one morning, packing a car with tents, clothes, equipment, and snacks, then making a journey to somewhere remote can be very exciting. Once you arrive at your destination, you set up camp, pitch your tents, and the fun begins!
But without the best camping gear, it can quickly turn into a trip you can't wait to get home from. Read on as we take you through all the camping must-haves, from cooking supplies and camper grills to clothing and footwear.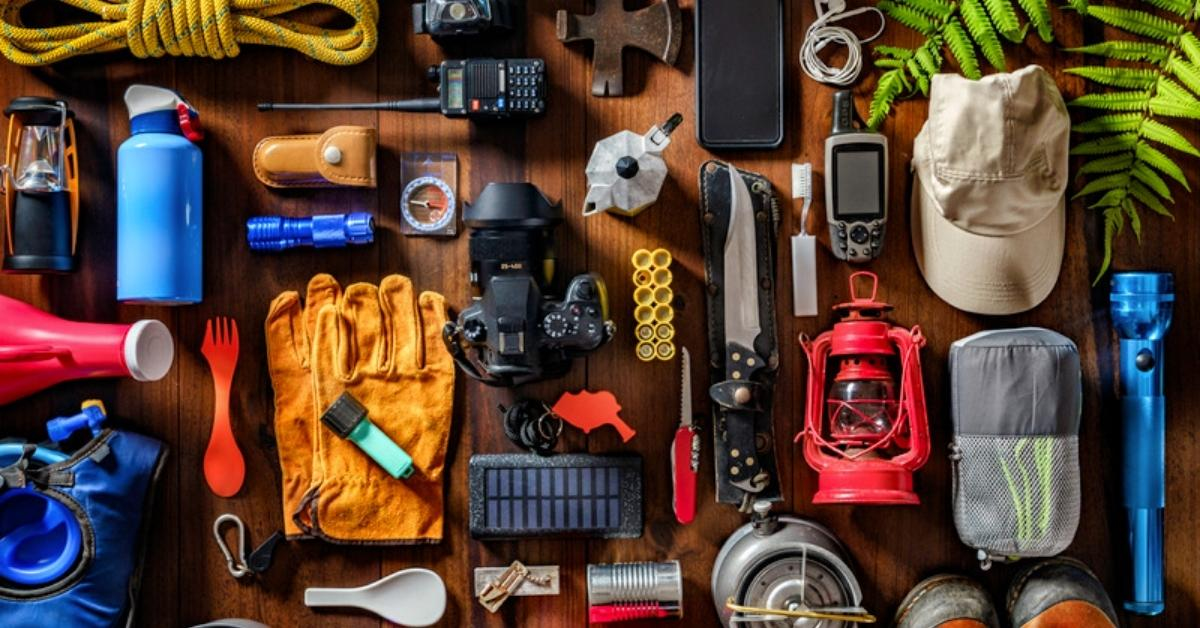 Add a header to begin generating the table of contents
Why is camping so popular and where does it come from?
Camping has always been a way for people to connect with nature, themselves, and each other. It's a way of taking a break from our obsessive relationships with our phones and laptops and treating ourselves to a brief respite from the hustle and bustle of city life. In less populated parts of the country, the air is clearer, the water's cleaner, there's little to no noise and you can wander to your heart's content without stumbling across a nosey neighbor!
The kind of camping holidays we know today involve things like portable stoves, phone chargers, torches, comfortable tents, and water filters. But it wasn't always this easy! Although we now have access to far more modern comforts, certain things about camping will always stay the same. The ultimate draw of camping is to relax, enjoy some green spaces, and bask in the effortless joys of waking up among trees, mountains, rivers, and lakes.
There are three primary types of camping: tent camping, caravan or motorhome camping, and what's come to be known as "glamping," coming from the words "glamorous" and "camping."
Tent camping is the most traditional and involves the most simple of practices like pitching tents, preparing an easy meal over a fire, going for a long walk, and finally curling up in a sleeping bag. It often requires bringing the most camping gear because you'll have access to fewer luxuries like running water, a stovetop, and a well-lit area.
Caravan camping (including RV, van, and car camping) is a little less hardy an activity than traditional tent camping. It combines the adventure of camping with certain luxuries like fold-out beds, a toilet, air conditioning or heating, and a sheltered stove, depending on how big your set-up is.Car camping is perhaps the least convenient of these options, but is a good one if you want to try camping but don't like the idea of sleeping somewhere there's only a thin piece of fabric between you and nearby wildlife. Caravan and RV camping are convenient as they allow you to pull into any safe area and sleep without pitching tents or setting up a fire. Many RVs have additional luxuries such as TVs and wifi so you can relax in the evenings with a movie.
Finally, "glamping" is the most opulent of all. It's popular among those who like the idea of experiencing nature without the slightly less comfortable elements of camping. In some cases, glamping sites are more like resorts than areas with rows of tents. Some sites have camping pods, while others favor yurts, which are round, semi-permanent tents complete with self-supporting roofs, solid walls, and a door frame. People may consider glamping to be a form of camping for beginners as it serves as an easy entry into the world of camping, but it generally offers an entirely different experience. Many glamping sites offer some catering so guests can sit and eat together in a mess hall or informal lounge.
Whether in a yurt, self-pitched tent, or a campervan, camping activities usually include things like card games, campfire songs, sunset watching, meat grilling, and beer sipping!
Now that we've explored the types of camping and why people love it let's look at the all-important list of things to pack on your trip.
Camping Essentials Checklist
To help you ensure your next camping trip goes as smoothly as possible, we've compiled a list of all the essential camping gear you need, whether you're a beginner or an experienced camper.
Here's the first part of the list of camping essentials to bring- you can use this as a checklist to make your next trip run smoothly:
Camping Must-Haves: Camp Kitchen and Cooking Supplies
When you've been hiking, fishing, swimming, or just exploring the local area, food is one thing you don't want to be short on. With the right camping kitchen set up, you'll be able to prepare, cook, and eat almost any meal you can dream up. Here are the essentials:
A good pot and pan
Spatula, tongs, wooden spoon, kitchen scissors
A good knife or knife set
Mugs and/or cups
1-2 cutting boards (having one for meat and one for everything else is always a good idea)
A high-quality, portable pellet camping grill – this will seriously uplevel your whole camping experience. Why settle for charred hot dogs each night when you can eat smoked-to-perfection meals instead? We created the 200A Cruiser Portable Pellet Grill for people like you – who want to eat well on the go. The 200A is the size of a suitcase and only weighs 40 lbs, so it's ready to go with you anywhere. (Read about how to choose the best camping grill – or get your hands on the

200A Cruiser Grill here

.)
A bottle opener
Food wraps, plastic containers, Tupperware, and aluminum foil
A tablecloth or picnic blanket
Plates, bowls, and cutlery
Portable power (read about the best portable power supply options here)
Wood pellets, particularly oak, applewood, or cherry wood pellets(or you can read our blog about choosing the right type of wood pellets)
A cold box, if you do not have a portable fridge with you
Water purification tablets if you are camping where there isn't freshwater – this is a good idea, even if it's just to keep in the bottom of your backpack in case of an emergency

Make sure you have a good plan of action for storing your food – the last thing you want is to invite a hungry bear or coyote into your camp at night. If you've not yet thought about this, click here for the best US National Park Service advice.
Toiletries, First Aid, and Camping Essentials for Women
Hand sanitizer or hand wash
Toothbrush and toothpaste (or chewable toothpaste tabs to save on backpack space)
A toiletry kit with deodorant, sunscreen, face wash, moisturizer, and sanitary products if necessary
A first aid kit with antiseptic cream, band-aids, and bite and sting cream
Quick-dry towels and face cloths
Any necessary prescription medications
Baby wipes
Bug repellent
Must-Haves for Camping: Clothing and Footwear
Moisture-wicking underwear and T-shirts
Quick-drying pants/shorts
A sunhat or waterproof cap
Breathable, weather-appropriate sleepwear
Rainwear (waterproof jacket and pants)
Warm insulated jacket or vest
Hiking boots or shoes suited to the terrain you'll be exploring
Sunglasses
Thermal vests and socks if necessary
Other Must-Haves for Camping
Here are a few other things that may make your camping experience easier and more comfortable:
Garbage bags
Bottled water or filters
Matches or a lighter
A map of the area (good as a backup, even if you have GPS equipment)
Thick blankets if the temperature drops at night and you want to sit outside under the stars before bed
Food and Camping Recipes
Once you've packed all your best camping gear, it's time to start thinking about what you'll want to eat. If you're going with a large group, you'll want to factor in any dietary requirements plus how you're planning to prepare each meal. Will you have access to a stovetop or microwave inside a campervan or RV? Or will you simply have a portable pellet grill? 
It's worth making an open menu for each meal of the day to accurately estimate how much of each food item you'll need. Plan a shopping list for breakfast, lunch, and dinner each day.
Breakfast Camping Essentials
Your breakfast shopping list could look something like this:
Cereal (enough for each person each morning)
Long-lasting milk like a plant-based or powdered milk
A few loaves of bread (if you have access to a grill, toast is an easy option)
Peanut butter and/or another spread that will last
Some easy-to-eat fruit with removable skins, like bananas or oranges
Lunch Camping Essentials
For your lunch shopping list:
Hot dogs
Burgers
Fish
Hot dog buns or crusty bread
Corn on the cob
Cauliflower
Bell Peppers
Portobello mushrooms
Beef tomatoes or any other vegetables you like to grill
Dinner Camping Essentials
Protein sources, such as burgers, chicken wings, pork chops, steak, tofu, fish, or shrimp
Baking potatoes – nothing beats a fluffy jacket potato with all the fillings!
Some easy vegetables for grilling – aubergines, carrots, peppers, onions, and asparagus are all great options
Butter and/or oil
Fruit for dessert- grilled, caramelized bananas are an easy and delicious option, just make sure you pack a small container of cinnamon/sugar mix!
More ingredients
Other Top Camping Food Tips
Food is particularly important if you've planned a weekend filled with activities. All that moving around will likely make you work up an appetite, so bring slightly more food than you'd usually eat on a normal day.
In addition to each meal, don't forget drinks and snacks. Beers are a popular choice among campers (mainly because they go down very easily alongside a freshly grilled burger) but wine, cider, juice, soda, and seltzers, hard or otherwise, are also great options. You'll also want to bring portable, non-perishable snacks like trail mix, granola bars, dried fruit, and chips.
Don't forget condiments: ketchup, mustard, barbecue sauce, mayonnaise, and/or honey mustard. Or, if you like to try more adventurous dishes, why not use some soy sauce and sriracha? If you're going to make the most of your portable pellet grill, plan ahead and make sure you have the right rub or sauce you need to make each meal.
If you're taking your portable camping grill, we highly recommend you dive into our archive of recipes and put together a menu that will wow your tastebuds at the end of each day. Our list of 15 Easy Camping Recipes is by far the best to start!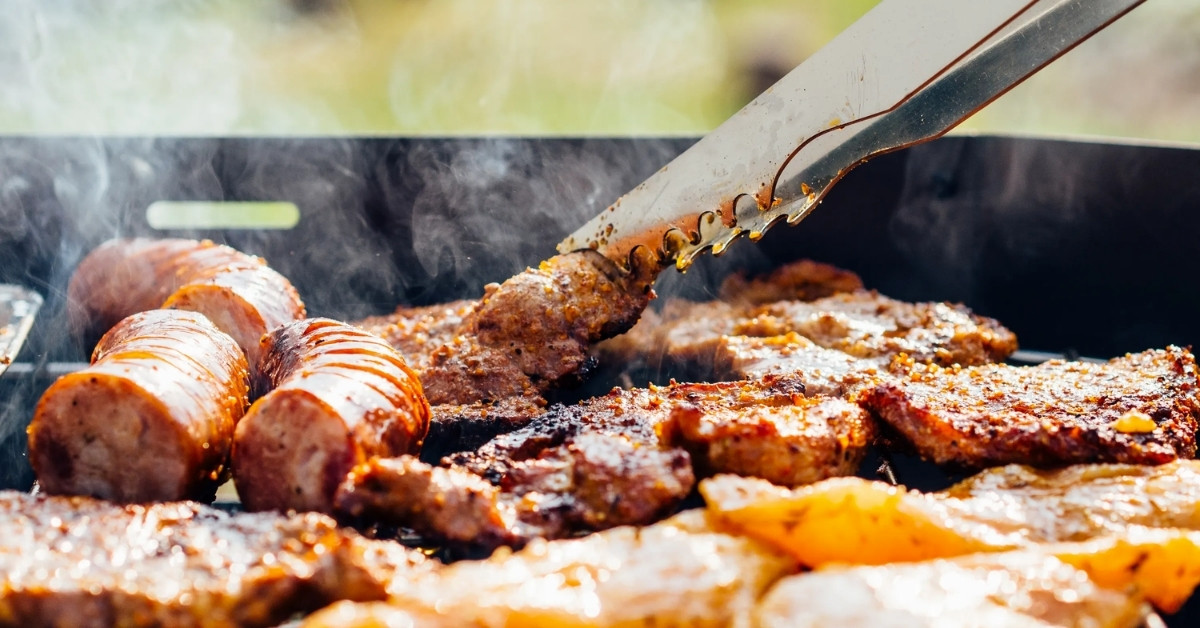 Camping Checklist – Final Thoughts
There's something very gratifying about a successful camping trip, particularly if you're well-prepared. You've made it all the way out to your chosen spot or campsite, settled into your temporary base, unpacked all your camping essentials, and can relax knowing you've got everything you need. When the weather's good, the food is delicious, and the world around you is quiet, there's no better place to be!  
From that delightful scent of smoking meat and barbecued veggies to the crackling of a fire, few things beat that peaceful content of a camping trip. So why not use our exhaustive list of what you'll need to bring and start planning your next camping trip now? Don't forget to grab your 200A Cruiser Portable Pellet Grill before you head out!
Sleepingo Large Sleeping Pad for Camping – Ultralight Sleeping Mat for Camping, Backpacking, Hiking – Lightweight, Inflatable & Compact Camping Air Mattress – Backpacking Sleeping Pad – Sleep Pad
2" THICK SLEEP SUPPORT – Want to sleep comfortably anywhere? Then you will love this backpacking sleeping pad! No need to suffer with a cheap, flimsy, and undersized outdoor sleeping pad! This quality portable camping pad is perfect; super sturdy and extremely comfortable – great for any sleep position!
LIGHT & PORTABLE – Weighs only 14oz and packs down to the size of a thin water bottle, these are the perfect sleeping pads to accompany you on your next backpacking trip! These ultra-light and super-portable sleeping pads will fit in any backpack and won't cause backaches from its weight. You'll wish you found this years ago. Very convenient to carry and comes with a sleek storage pouch.
TEAR-RESISTANT WITH HEAVY-DUTY RIPSTOP NYLON FABRIC – These lightweight sleeping pads are made of super strong, waterproof, camping-grade ripstop nylon fabric. With 20 denier thickness, these sleeping pads are designed to last a lifetime in the most severe conditions.
SIZE – Able to accompany you on any type of adventure, these camping mattress pads inflate to an impressive size of 74" X 22" and will give you the comfort you need.
oaskys Camping Sleeping Bag – 3 Season Warm & Cool Weather – Summer Spring Fall Lightweight Waterproof for Adults Kids – Camping Gear Equipment, Traveling, and Outdoors
USED FOR 3 SEASONS:Our Sleeping Bags can be used for 3 seasons.They are designed for 10~20 Degrees Celsius. Moreover, these bags also have a weather-resistant design to keep you warm even in extreme conditions and prevent you from any dampness – this is achieved through double-filled technology.our sleeping bags are designed to ensure that after a tiring day of trekking, hiking, travel or any other exploration you can get a good and relaxing night's sleep.
DESIGN: Separated zipper at the bottom can also make your feet often come out through the wind. Half-circle hood with adjustable drawstring keeps your head warmer even in extreme conditions.Our sleeping bags are designed to provide much needed rest after a full day of outdoor activities.
MATERIAL:Outer Cover Material-premium 210T Anti-tearing Polyester Fabric which is waterproof and Breathable; Lining Material:190T polyester pongee
SIZE&EASY TO CARRY:(190 + 30)cm x 75 cm.Can be wiped clean making it versatile and convenient. Each sleeping bag comes with a compression sack with straps, allowing for super convenient storage and easy carry maneuverability
100% SATISFACTION :100% NO QUESTIONS ASKED, no hassle money back or replacement .We try over very best to make sure every customer is completely satisfied. If there's a problem, message us! Order now!At your service,dear.Anyway,thanks for your coming
Kijaro Portable Camping Chairs – Enjoy the Outdoors with a Versatile Folding Sports Chair for Outdoor & Lawn – Dual Lock Feature Locks Position – Hallet Peak Gray
Unique Locking Feature – Great for Mobility! Just lock open for extra stability so you can relax and enjoy your time outside. When it's time to leave, the locks shut quickly for easy transport.
Comfortable Outdoor Chairs – Get comfortable with this foldable chair featuring no-sag seating, durable diamond ripstop polyester, and breathable mesh on the seat back.
Portable Chair – Take these camp chairs with you for a comfortable seating experience wherever you go – whether it's tailgating, camping, or watching your favorite sports teams.
Heavy Duty Folding Chair – Foldable camping chairs for adults who love the outdoors. With a weight capacity of up to 300 pounds, these chairs are strong and durable, allowing you to enjoy camping and activities with ease.
Unique Features – Folding camping chairs that come with convenient features like 2 cup holders, an organizer with zip and mesh pockets, a carry strap attached to the chair, and a carry bag.
Note
This post contains affiliate links. Please read my full disclosure here: https://blog.zgrills.com/affiliate-disclosure/