If you have dreams of heading off into the wilderness to go camping (or simply spending a few days tailgating) with a portable pellet smoker, you're going to need to figure out how you're going to power that thing.
Pellet grills rely on an auger, fan, and (most of the time) a digital temperature control that all work to deliver that delicious smoky flavor and cooked-to-perfection results, which all require electricity. Today, we're going to guide you through everything you need to know and consider when choosing the best portable power supply options for your portable smoker grill.
Add a header to begin generating the table of contents
How much power does a pellet grill need?
A normal-sized household outdoor pellet grill requires the voltage of a normal outlet: 110V.
This doesn't necessarily mean you need to stay close to a mains power outlet, however. There are some options available to you that will allow you to convert a vehicle's 12V outlet to 110V. The biggest challenge here is actually moving your full-sized grill. If you want to head out with a grill, 99 times out of 100, you'll be better off with a portable pellet smoker like our Cruiser 200A travel pellet grill.
How much power does a portable pellet grill need?
A camping smoker like our Z Grills Cruiser 200A has similar power needs to a full-sized grill. Any pellet grill uses the majority of the power it needs for ignition: a normal-sized pellet grill draws anywhere between 300W to 500W for the short ignition time and then drops to 30W-60W for the remaining time it's on. An outdoor portable grill like our Cruiser pulls 280W for ignition and then runs at 60W for the remaining time.
To operate our Crusier 200A Camping Pellet Grill, you'll need at least a 300W output. Don't panic, however, because it will work with a 12V to 110V power inverter which you can use with any car or 12V leisure battery.
The power specifications of the Crusier 200A are:
Voltage: 110V AC
Wattage: 280W on start up, 60W thereafter
Igniter: 110V/200W
How long will my pellet grill run on portable power?
The solution you choose to power your pellet grill will need to have the ability to power your grill for the duration it takes to cook anything you plan to take with you. If your plan is to set your grill up and then go a ways away to your deer stand for the majority of the day, you need to be sure your grill will continue to cook until you get back.
The wattage of any potential power source is what you need to pay attention to here. I'm afraid we have to do some math here! The equation you need to know is:
Operating Time = (Total Wh * 0.85) divided by the operating power of your grill
For example, a 500W power inverter would power a portable pellet smoker for (let's do the math):
500 * 0.85 = 425
425 / 60 = 7 hours
So, with a 500W power inverter, you'll have around 7 hours of running time.
Recommended Portable Power Solutions + Their Pros & Cons
Best Low-Cost Option + Best for Day Trips:
The lowest-cost option here will be using an inverter, small marine battery, and battery box. If you shop right, you can put together your own portable power solution for around $100 – less if you decide not to bother with the battery box.
Pros:
Cheap
Easy to put together at short notice
Provided you choose the right inverter, you'll be able to cook a wide range of meals
Cons:
Won't last as long as some of the more expensive options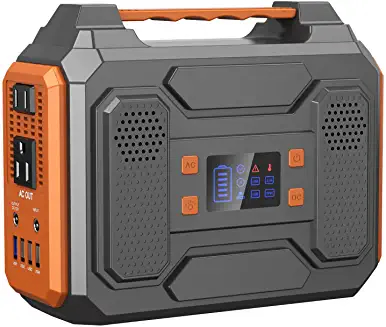 Best High-Cost Option + Best for Long-Term Traveling:
If you want an option that will last for days or weeks, you'll need a much bigger piece of kit (unless you're willing to carry around a ton of spare batteries).
For this, you'll need a portable power station plus solar panels.
These pre-built portable power stations use lithium-ion batteries and are very versatile, often providing you with a 110AC outlet, USB outlet, and so on. They're built for charging devices and powering even mini-fridges while out on the move.
In general, these pre-built portable power stations won't provide you with much extra cooking time than our budget home-built power station we talked about above, but they will if you add solar panels.
If you're willing to pay for plenty of power, there are some pretty serious portable power stations out there, but you'll need a budget of $1,000 – $2,000.
Pros:
All-in-one solution
Useful for other applications
There are some big options out there that will provide you with plenty of power
With solar panels, you'll have plenty of freedom (provided the weather is good enough)
Cons:
Any power station less than 500W isn't going to be suitable
Gets expensive fast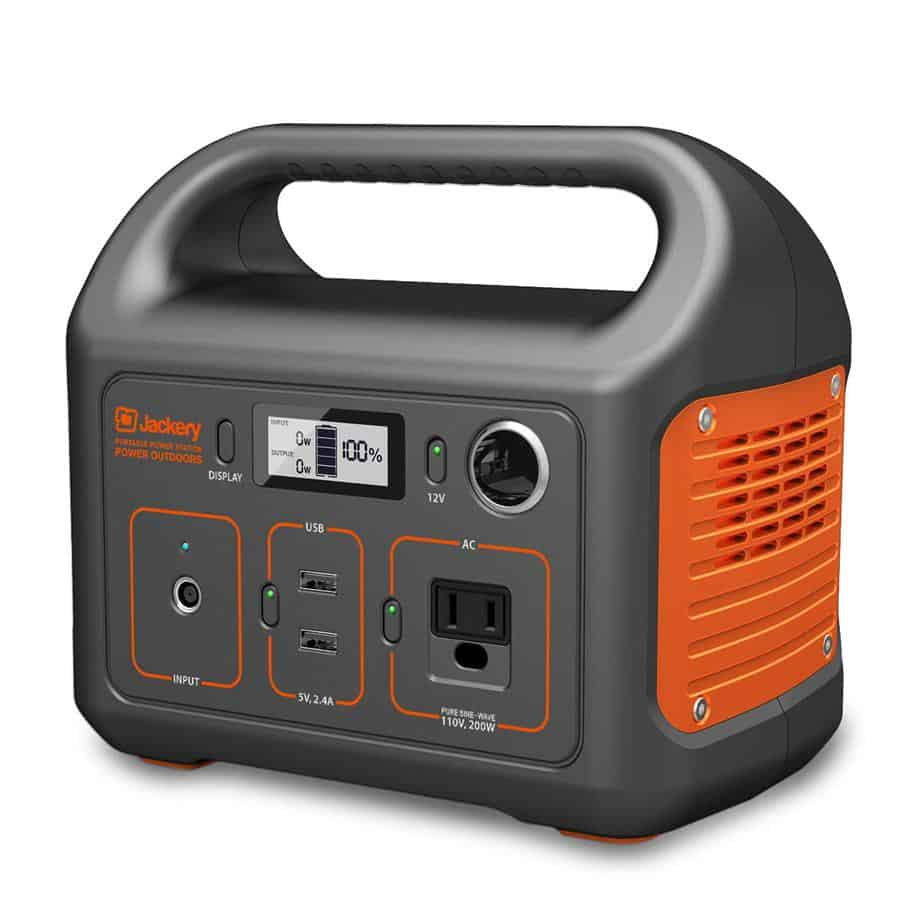 Alternative Option: Use a Generator
Of course, we also have to mention the possibility of using a generator. In most cases, a generator just isn't necessary. They're bulky, limited by how much fuel you have, and not great to be around. If you've already got one you use for traveling, then by all means use it, but if you're looking to buy a solution, a generator probably isn't going to be the best one for you.
Pros:
If you've got easy access to a fuel source (such as camping not far from a town) they can last indefinitely
Cons:
Expensive to buy
Very noisy – not great if you plan to hunt nearby, have neighbors, or just want to enjoy where you are
Moving them is a pain in the you-know-what
Hauling around gasoline is dangerous as well as impractical
How to Put Together Your Low-Cost Portable Power Solution
Portable Pellet Grill Power Kit Part 1: the Inverter
The first thing you're going to need to put your low-cost portable power solution together is your inverter. This is the piece of kit that converts the DC power in your battery to the AC power portable pellet grills need.
The inverter has two clamps that connect to the positive and negative on your battery, or into the cigarette lighter on your car – also called a DC port. The danger of using your car's DC port is you're much more likely to drain your vehicle's battery by accident and leave yourself stranded.
Portable Pellet Grill Power Kit Part 2: the Battery
Since we don't recommend using your vehicle's battery, you'll need another battery to power your grill. Any car/marine/leisure 12V battery rated for 200 minutes discharge at 23A will give you plenty to work with – they can usually power our portable camping grill for about 15 hours before needing a recharge. The battery will cost you $50 – $100, depending on what you choose.
You'll also need to get a battery charger (also known as a trickle charger) to recharge the battery after use and before you head out on a trip. They're generally very affordable, and will only set you back $20 – $40.
Optional Portable Pellet Grill Power Kit Part 3: the Battery Box  
You don't need a battery box to power your pellet grill, so if you want to throw together a cheap solution you can skip this step. However, a battery box does make using your battery much easier and many have additional features that are ideal for hunting, camping, and tailgating trips and will ensure no one makes a painful mistake around your battery (ideal if you have little ones or pets around).
Final Advice on Portable Power Solutions for Pellet Grills
If you aren't sure how often you're going to head out with your portable pellet grill, don't be afraid to opt for a "cheap" option at first. Provided it gives you the power your pellet grill needs to cook your food properly (so for the correct duration), it will do all you need it to.
That said, if you're investing in a portable camping grill like our Cruiser 200A and already regularly go camping, then looking into some of the more advanced options may be well worth the money.
Whatever you choose, make sure you do a practice run (or two!) at home before you head out. You really don't want to be figuring this all out when you're already out in the sticks with your stomach rumbling. Make sure you know how to set it up, how long it will power your outdoor portable grill and any equipment you need to take with you that you wouldn't have thought of before trying out your equipment.
If you're looking to buy the best small pellet grill on the market, make sure you check out our latest grill: the Cruiser 200A Portable Pellet Grill. This grill embodies our years of grill-manufacturing excellence and compacts it into a pellet grill that delivers all the delicious flavor you get from one of our full-sized grills but is the size of a small suitcase. It's the ideal solution for a grillmaster looking to take their passion on the go or for someone just getting into grilling and is not yet ready to invest in, or doesn't have the space for, one of our full-sized pellet grills.
Read our full Z Grills Cruiser 200A review.