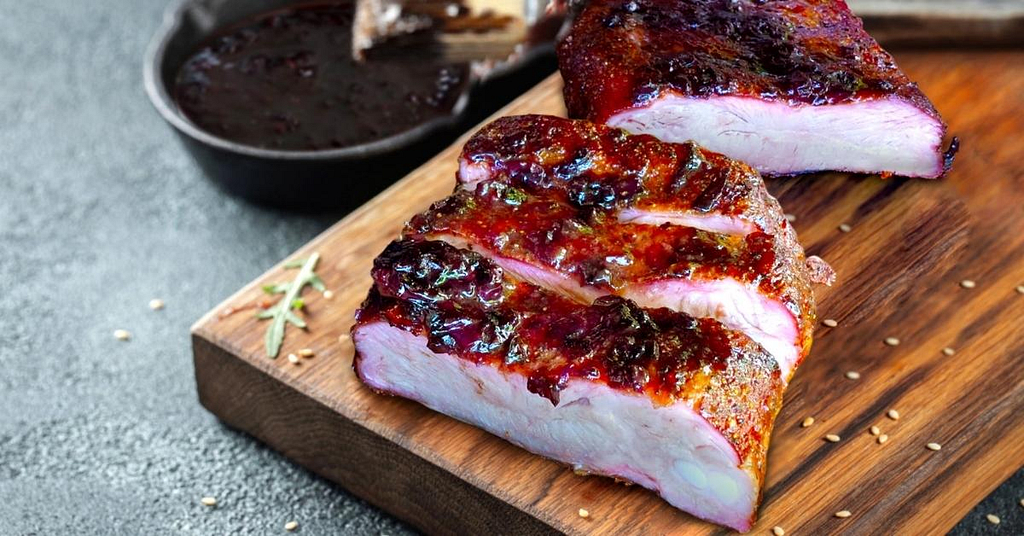 Hey guys, so in this article we are going to share with you an amazing smoked pork ribs recipe that will take your tastebuds to another level. The key ingredient is blueberries, and we couldn't think of a better recipe to create than some juicy pork spare ribs with a beautiful homemade blueberry BBQ sauce.
Add a header to begin generating the table of contents
Are pork ribs and spare ribs the same?
There is a lot of confusion about spare ribs and pork ribs, so the golden question is are pork ribs and spare ribs the same? First of all, these ribs, when divided horizontally, are made up of two types of cuts: baby back ribs and spare ribs. But let's explore the differences.
Baby back ribs are the curved portions of the ribs that connect to the spine below the loin muscle and are related to the backbone. They are known as "babies" because they are shorter than spare ribs; at their longest point, they are approximately 6 inches, and at their shortest point, they are around 3 inches. They might have about a half-inch of loin meat connected to the top, depending on how they were butchered. Compared to spare ribs, baby back ribs are usually more expensive and more tender.1
From the ends of the baby back ribs, spare ribs are cut, and they run along the pig's breast bone. When the baby backs meet, the exposed bone on one side is where the rib tips are located, a flap of meat with some tiny bones and cartilage inside it. The rib tips are located on the side closest to the breast bone. Spare ribs contain more flesh between the bones and less meat on top than baby backs, and that meat typically has greater marbling (and more flavor).
Learn more about how to Smoke St. Louis-Style Ribs vs. Baby Back Ribs on a Pellet Grill: a Comparison
For this recipe, we are using the Z Grills 11002B, and have chosen St Louis Ribs. These are essentially spare ribs that have been "spiffed up," meaning that the chewy cartilage and hard breastbone have been removed. St. Louis style ribs are uniformly shaped, like a lovely rectangle, unlike spare ribs. Additionally, they are a little simpler to work with.  Compared to baby back ribs, they have less meat, but the flesh is fattier. They also brown more evenly as they are flatter and thinner.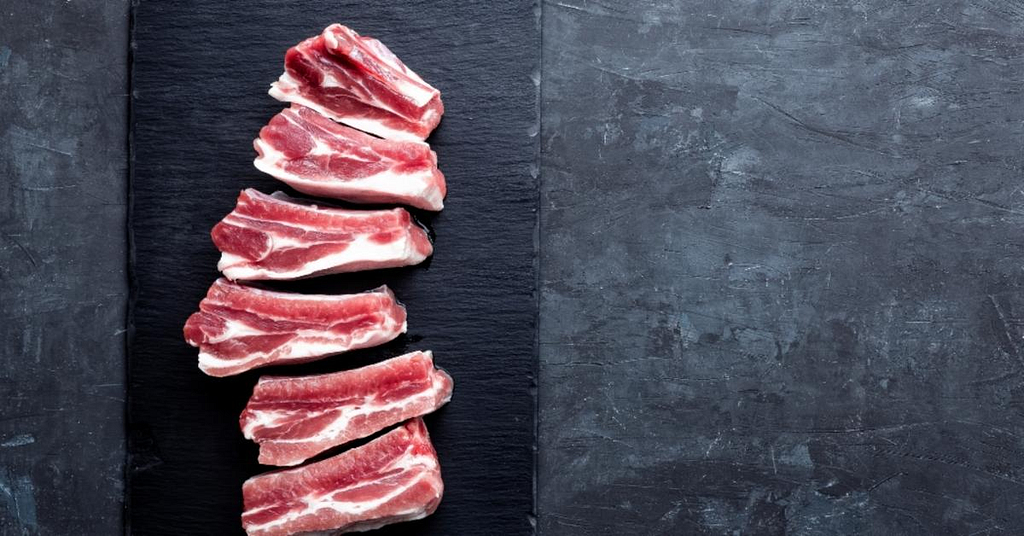 What is the easiest way to remove the membrane from ribs?
Get rid of any excess fat that is hanging off. You should also always remove the flap on the back, including the membrane. Sometimes they are simple to remove; sometimes they are not, but they always come off. What you want to do is essentially square out the rack. There is some loose, flat meat there that has to be removed; feel for a good bone, then slice.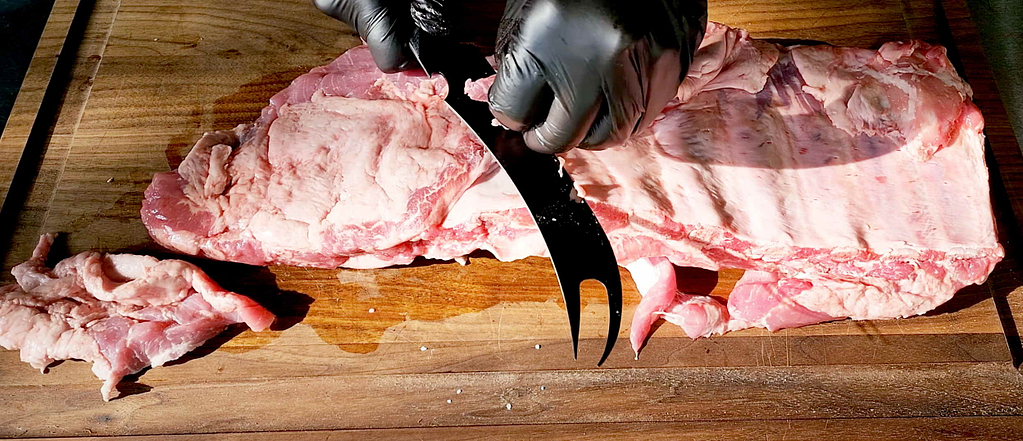 Is it OK to leave the membrane on ribs?
We would advise you to remove it! While it doesn't do any real harm keeping it on, when you cook it, however, it can be very tough and rubbery which can get pretty unpleasant when eating.
Ingredients:
1 Rack of Saint Louis Ribs
The Rub:
1/4 cup brown sugar
3 teaspoons Kosher salt
3 teaspoons black pepper
2 teaspoons smoked paprika
1 teaspoon garlic powder
1 teaspoon onion powder
Blueberry BBQ Bourbon Sauce:
1 pint of fresh blueberries, picked over
1/2 cup Jim Beam or any Bourbon
1/4 1/2 cup ketchup
1/2 cup brown sugar
1/4 1/2 cup apple cider vinegar
1/2 cup bourbon
1 small red onion, diced
3-4 cloves garlic, minced
1 jalapeño, diced
1 teaspoon crushed red pepper
How to make the rub?
Combine all the rub ingredients listed above into one pot and give it a good mix. This is a great rub that will complement the blueberry bourbon barbecue sauce very nicely.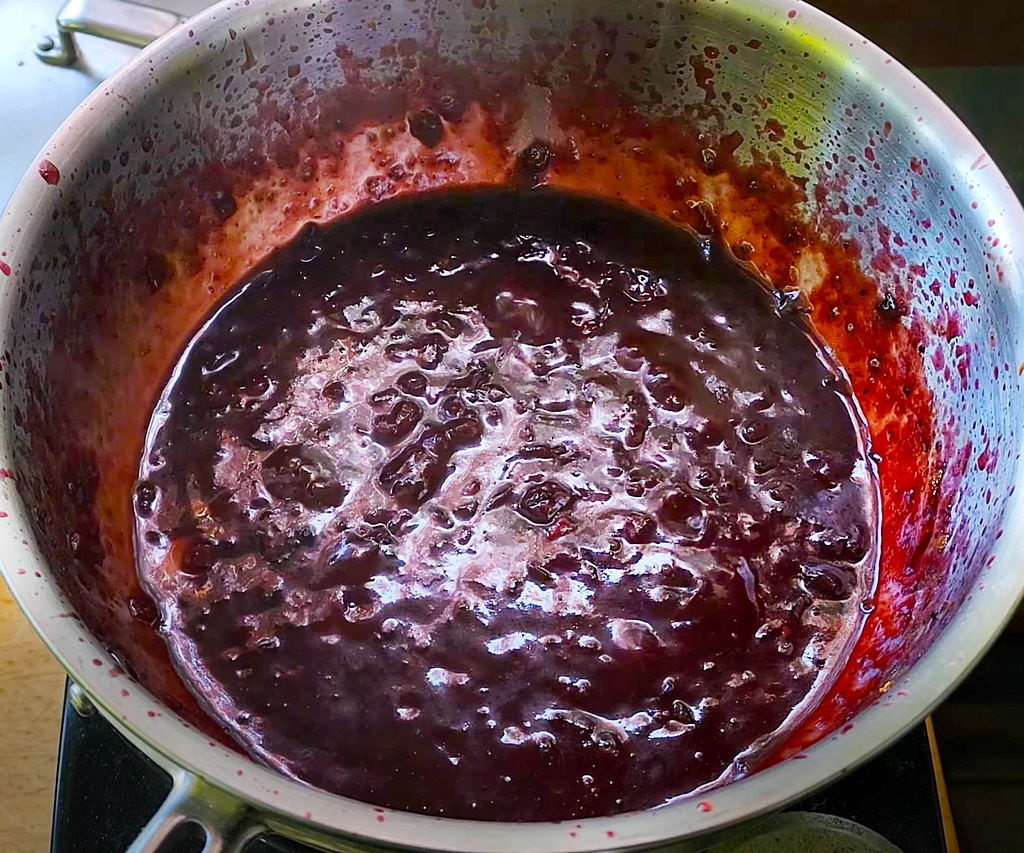 How to season the pork ribs 
You can apply the rub up to 3 hours before smoking, which will pull the moisture out and take the taste to another level. We did it for a 1/2 hour. Add the rub generously to the front and back of the ribs.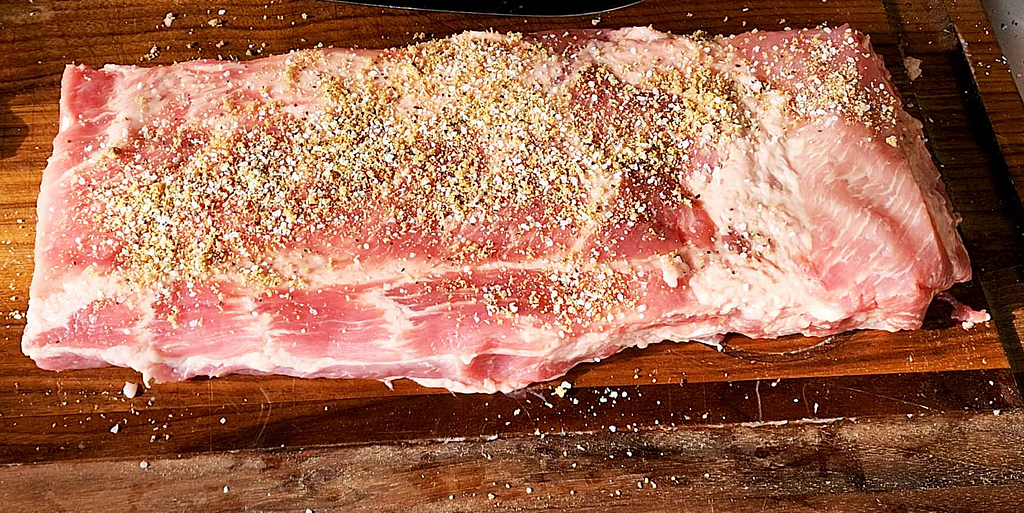 Set up the pellet smoker
Once your BBQ is all fired up, set it to 250f and smoke the ribs for up to 2 hours, without opening up the hood and checking them! (We will tell you when to check them in the next step).
Easy no-fail Pellet Smoker Ribs
Once you're at about 1hr 45 minutes in, check the ribs
Check there are no hot spots anywhere in the pit
Make sure the ribs are cooking nice and evenly
Make sure the ribs are nicely coated with the rub
If everything looks good and the rub is set, spritz with water or apple juice and let them continue smoking
At around 4hr/4hr20, check the ribs again.
You want to probe the meat, if there is no resistance and you can probe the meat between the bones just like butter, you know they are ready! The temperature should be at around 195-200f
If all checks out okay, baste your ribs for the last 15 mins with the blueberry bourbon BBQ sauce so it thickens nicely over the smoked pork ribs
Taste test & final tips
Time to taste the delicious ribs! How are they? Are you liking the sweetness of that rub against the tanginess of the BBQ sauce? Plus the fiery taste of the jalapeño and red pepper flakes balances perfectly with the blueberries! These ribs are off the charts!
This incredible taste was achieved thanks to the impressive Z Grill. We also used an external temperature gauge, incrementing 10 degrees up or down. Every time a pellet grill fluctuates up and down that's when more smoke is released. You don't want a pellet grill just to go sit on 250f continuously as you'll never get smoke, the key is it has to go up and down a little bit for that smoke to release.
It's your turn to give these bad boys a go! You won't regret it! BBQ smoked pork ribs are a winner every time, especially when you cook them on the amazing Z Grills wood pellet grill.
Creekstone Farms Natural Duroc Pork St. Louis Ribs (4 Racks)
Free next business day delivery.
PROGRAM: Premium Natural Duroc Pork. Antibiotic free and humanely raised in USA. 100% vegetarian fed.
PACKAGING: Product ships frozen and individually vacuum sealed. (May arrive partially thawed)
WEIGHT: Product weights do vary, but the average weight is 2.5-3 lbs. per rack.
McCormick Paprika, 6.62 oz
Fruity, slightly sweet and toasty flavor
Vivid red color makes it the perfect garnish for deviled eggs and pasta salads
Always starts with whole, ripe peppers
Add to Hungarian favorites like chicken paprikash and goulash
Use paprika as base for your own spice rubs for barbecued meats
Note
This post contains affiliate links. Please read my full disclosure here: https://blog.zgrills.com/affiliate-disclosure/