If you love ribs served to you in a restaurant then you have to try smoked St. Louis ribs prepared at home on your own pellet grill St. Louis ribs are meatier than baby back ribs (the kind we are usually served in restaurants) and oh-so-satisfying. They're tender, easier to share, and are perfect for that classic St. Louis style barbecue.
Today, we'll guide you through everything you need to know to prepare delicious, succulent St Louis ribs at home – you'll never want to go out for ribs again!
Add a header to begin generating the table of contents
How to Choose the Perfect St. Louis Ribs for Smoking?
When possible, head to the butcher for the highest quality St. Louis ribs, but when that's not possible you can usually find them in your local supermarket. We always recommend you buy the best quality ribs you can.
St. Louis Style vs Baby Back Ribs
The difference between St. Louis-style ribs and baby back ribs is where the rib is cut. To learn more, you can check out our St. Louis Style Vs Baby Back Ribs article.
Equipments for Smoked St. Louis Ribs
You don't need much in the way of equipment or ingredients to prepare delicious smoked St. Louis-style ribs. A quality wood pellet grill is a must, and the higher quality of your grilling accessories, the better. Our Wood-Fired Chef Bundle is ideal for new grillers and those looking to upgrade their equipment, as it includes the following:
Ingredients for Smoked St. Louis Ribs
What rub you choose to use is up to you, and if you have any tried-and-true favourite rubs for smoked pork dishes, you will never go wrong with a simple BBQ rub. Mix equal parts smoked paprika, brown sugar, garlic powder, onion powder, and salt together for a rub that never disappoints, whether you eat them as-is or add BBQ sauce. A tbsp of this rub is usually enough for one rack, so you can save the rest for the next time you prepare smoked St Louis ribs.
Best Wood Pellets for Smoking St. Louis Ribs?
We love that deep smoky flavor, so give Hickory a try if you love a deep smoky flavor too. If you're not sure or are feeding people with a milder pallet, Oak pellets are always a safe bet and produce delicious results.
Best Pellet Grill for Smoking St. Louis Ribs
The 

Pioneer 450B Wood Pellet Grill

 is one of our most popular models and the perfect choice for those new to pellet grilling. With easy-to-use digital temperature controls and heavy-duty steel construction, the Pioneer 450B offers consistency and effortless cooking at an incredibly affordable price point.  
Our new arrival, the 2022 upgraded 700D4E Pellet Grill is a great option for those that want more features but aren't ready to invest in our largest models. This model offers extreme accuracy with its PID controller and built-in temperature probes.
If you're ready to invest in your grilling future, you need the Multitasker 11002B Pellet Grill With Wi-Fi. This grill represents the future of grilling with wifi controls that allow monitoring and controlling your grilling from anywhere.
How to Smoke St. Louis Ribs on a Pellet Grill?
Remove the membrane from the ribs using a blunt knife to run along under it to lift it away with some paper towel.
Trim any excess fat or meat that will dry out during the cooking process.
Apply your rub.
Set your pellet grill to 225 °F.
When it reaches temperature, add your ribs to the grill directly on the grates (you can cut your ribs into smaller sections if your grill is small).
Allow to cook for 3 hours.
Remove from the grill, wrap in tin foil and return to the grill to cook for another 2 hours at 250 °F.
Uncover the ribs, baste with your favorite BBQ sauce, and allow to cook for a further 10 minutes until sticky.
Remove from the heat entirely, allow to rest for 15 minutes, and then serve.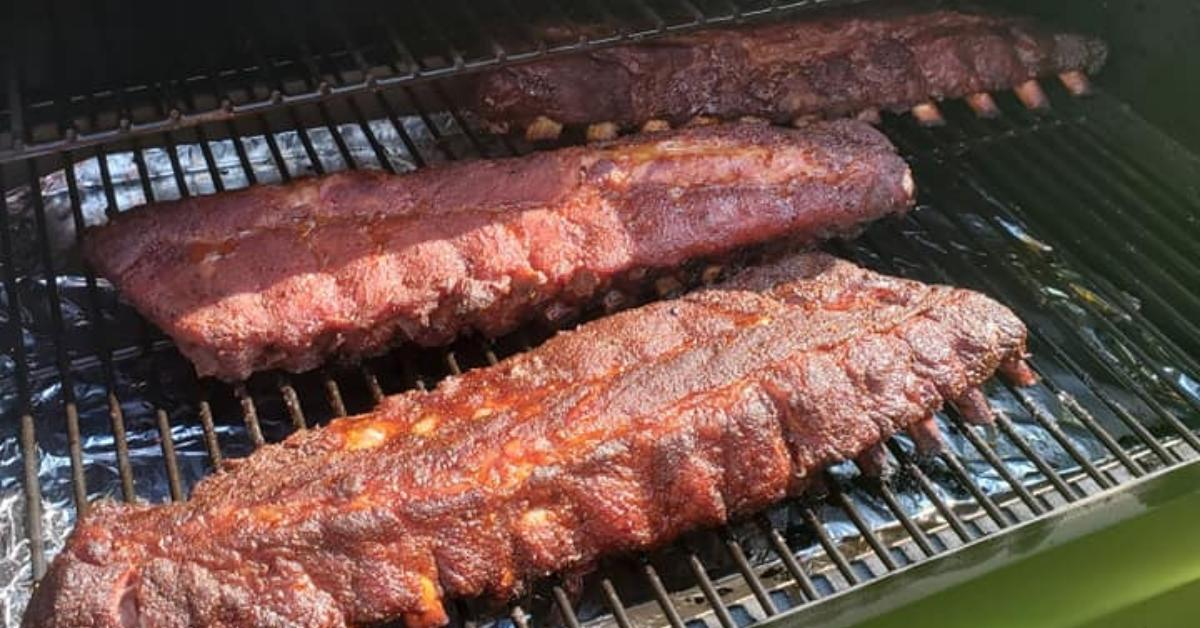 How Long Should You Smoke St. Louis Ribs on a Pellet Grill?
The answer to this question depends on who you're asking, the recipe they like to use, how well done they like their ribs (fall off the bone and melting or a little chewy), but all will cook for 4-6 hours on a pellet grill. If you're using a lot of liquid to keep the ribs moist, you'll be closer to 4 hours, while simply wrapping and sticking to a low temperature will take 6 hours.
What Temperature Should You Smoke St. Louis Ribs at?
Most recipes will suggest you set your pellet grill to 225 °F. Some recipes suggest you turn the heat up to 250 °F for cooking once you've wrapped your ribs in foil, so you'll likely find the method that works best for you when recreating smoker St. Louis ribs recipes in the future.
What to Serve with Smoked St. Louis Ribs?
Any of the BBQ classics go well with smoked St. Louis Ribs, including coleslaw, pasta salad, mac n cheese, fries, baked potato, and so on. For a healthier option, serve with smoked corn on the cob and a salad. Here's one of our best grilling tips: cook smoked baked potatoes and smoked corn on the cob so there's no extra clean-up to do!
Smoked St. Louis Style Ribs
Here's a delicious and easy smoked St. Louis style ribs recipe.
Instructions
Trim ribs, remove the membrane, and apply your rub generously to front and back and allow it to sit for 1-4 hours.

Set your pellet grill to 225 °F

Place ribs bone-side-down directly on the grates, spray or brush apple juice onto the ribs.

Allow to cook for 1 hr then remove from the grill and wrap in a foil boat.

Fill the boat with the remaining apple juice and close the foil.

Return to the grill and smoke for another 3 hours, until they reach an internal temperature of 200 °F.

Remove from grill and foil, brush with BBQ sauce and return to the grill for a further 10 minutes.

Remove from the grill, allow to rest for 10 minutes, then serve.
Final Thoughts
When it comes to barbecue, you can never go wrong with ribs – they'll please every meat-eater at the table and you can easily change up the rubs and sauces you use to create new and interesting flavors.
If your pellet grill overcooks, undercooks, or otherwise leaves you wanting when all is said and done then it's time for an upgrade. We are dedicated to bringing our customers best-in-class grills at affordable direct-from-manufacturer prices, so price doesn't have to be a barrier between you and legendary smoked meals.
We hope this article helped you with how to smoke st.louis ribs on a pellet grill. If you have any question, let us know in the comment section below.
McCormick Paprika, 6.62 oz
Fruity, slightly sweet and toasty flavor
Vivid red color makes it the perfect garnish for deviled eggs and pasta salads
Always starts with whole, ripe peppers
Add to Hungarian favorites like chicken paprikash and goulash
Use paprika as base for your own spice rubs for barbecued meats
Woodstock Sugar Brown Org
Item Package Length: 3.302cm
Item Package Width: 9.906cm
Item Package Height: 22.098cm
Item Package Weight: 0.408kg