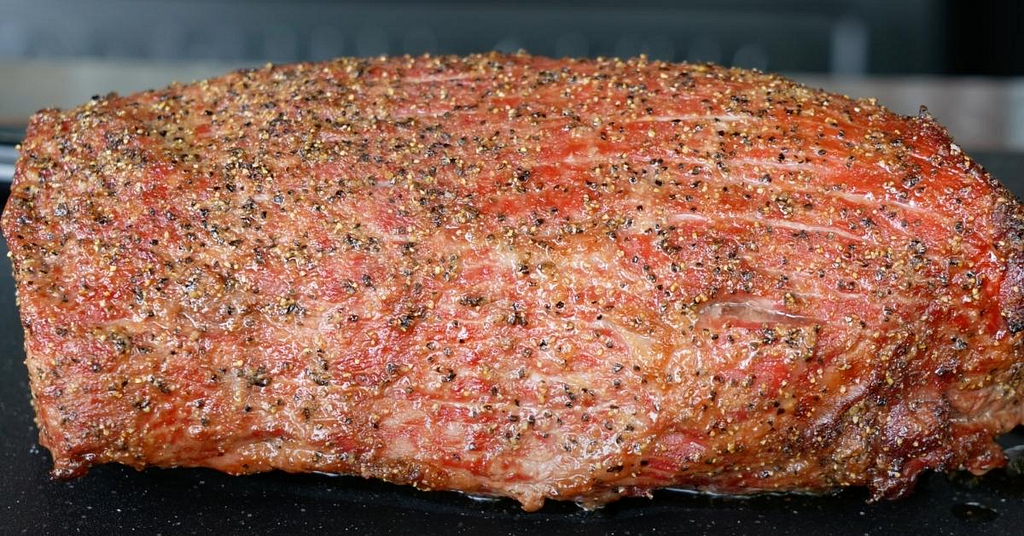 Are you on the hunt for an easy-to-follow summer dinner recipe that will send your taste buds on the ride of their lives? Allow us to introduce you to the Smoked Eye of Round. This summer grilling recipe is relatively lean, packed with flavor, and works excellent for grill masters and beginners. Let's dive right in! 
Add a header to begin generating the table of contents
How to Prepare Whole Eye of Round Roast for Smoking
Because the eye of round is a lean roast, you want to make sure to trim all the fat and silverskin beforehand. Additionally, we recommend trimming the tapered end. Why? Well, since the tapered end is much thinner than the rest of the roast, it will overcook if smoked with the rest of the meat. Trimming it allows you to smoke it separately, ensuring it cooks perfectly. 
Note: If your local butcher has already trimmed the membrane, you don't have to worry about this step.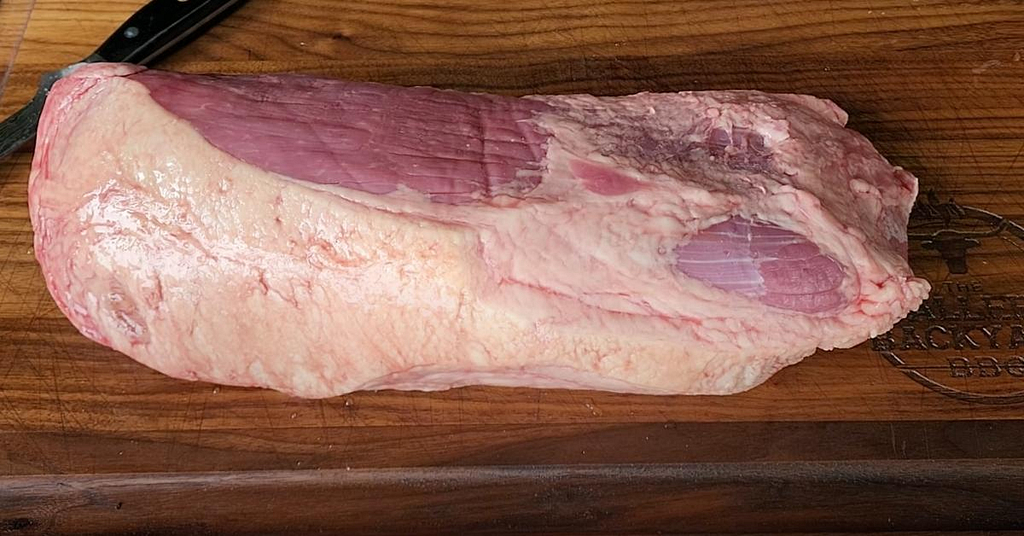 What Is the Best Way to Season Eye of Round?
It's true: the rub makes the roast. As grilling experts, we're here to help you make a rub that is savory, simple, and jam-packed with flavor. How will we do that? We like to start with 2 tablespoons of olive oil to use as a binder. Spread the oil evenly across the meat, then cover with an even combination of kosher salt, black pepper, brown sugar, garlic powder, and onion powder. The result? Mouthwatering perfection. 
Which Wood Pellets Are Best for Smoking Eye of Round?
If you're looking for the best wood pellets to smoke eye of round, look no further than Z Grills wood pellets. We offer fruitwood, oak, apple, hickory, and cherry pellets that provide ideal smokiness for various meats. We prefer our oak or hickory wood pellets for a smoked eye of round roast.
If you're ready to experience the best-ever tasting meat, browse our premium selection of wood pellets today. 
How Long Does It Take to Smoke Eye of Round on Pellet Grill?
The amount of time it takes to smoke an eye of round steak depends on the size of the roast. It takes a pellet grill about 30 minutes to preheat to 250°F, and then it will take the most eye of round roasts around 20 minutes per pound to smoke. This means that a 3-pound roast will cook in roughly 1-1.5 hours. For this recipe, we opted for a 7-pound eye of round steak, and we smoked it at 250°F for 2.5 hours.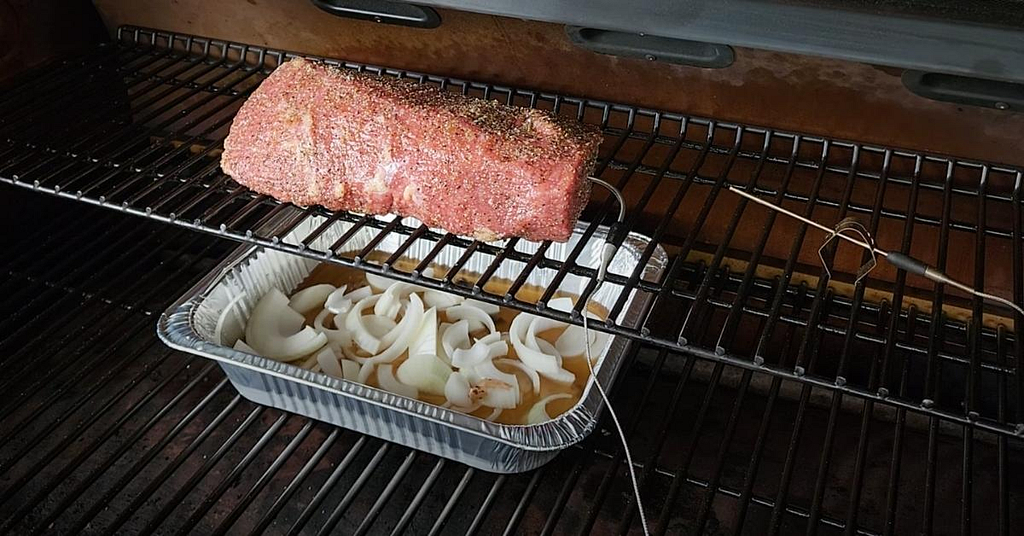 Smoked Potatoes Recipe: Amazing Summer Side Dish
Need a quick and easy dish to compliment your smoked eye of round? Try this easy smoked potatoes recipe. All you need to do is chop 5-10 new red potatoes and place them in a muffin pan. Then, sprinkle them with kosher salt, black pepper, a sprinkle of minced garlic, and a dab of butter. 
Cook the potatoes in the smoker at 250°F until they've browned. Trust us on this one: your kids are going to love them. Watch the smoked eye of round tutorial we mentioned above for a closer look at how to cook smoked potatoes. If you're looking for a delicious summer dinner idea that guarantees to please, this smoked eye of round is the one.
Smoked Eye of Round Recipe Tips
Preparing the perfect smoked eye of round is easier than you might think, as long as you know what you're doing. Here are some of our top tips for smoking an eye of round: 
Use a Water Pan
A water pan will stabilize your smoker's cooking temperature. We recommend filling it with one cup of water, beef broth, and a few roughly sliced onions for optimal results. It helps to infuse tons of flavor into your meat. Then, place the water pan underneath your roast to catch all the drippage.
Check the Temperature
You'll want to smoke your roast at 250°F until it reaches an internal temperature of 120°F. Not sure how to keep track of that? Don't worry. Our Z Grills products have integrated meat probes in the LCD digital control systems, so you can check the roast's internal temperature without lifting the lid. Not only that, but our fan-forced convection cooking delivers even heat distribution with no flare-ups. 
Make a Summer Side Dish
Looking to elevate your eye of round steak recipes? That's easy: add a side dish. One of our favorites is smoking a perfectly-seasoned batch of potatoes alongside the eye of round roast. If this sounds good to you—and trust us, it is—checks out the smoked potatoes recipe below. 
How Often Should You Check Smoked Eye of Round?
We recommend checking your roast around the 1.5-hour mark. You're looking for whether the roast has started taking on a nice color and crust. If you think your roast could use a bit more color, go ahead and turn the pit up to about 500°F. Then, use the internal temperature of the meat as a gauge. For a rare to medium-rare roast, the meat is finished cooking when the internal temperature hits 120°F. 
Want to check your roast's temperature without having to lift the lid? Z Grill's internal gauges make that possible. By integrating meat probes into the LCD digital control system, Z Grill allows you to check your meat's temperature anytime you like.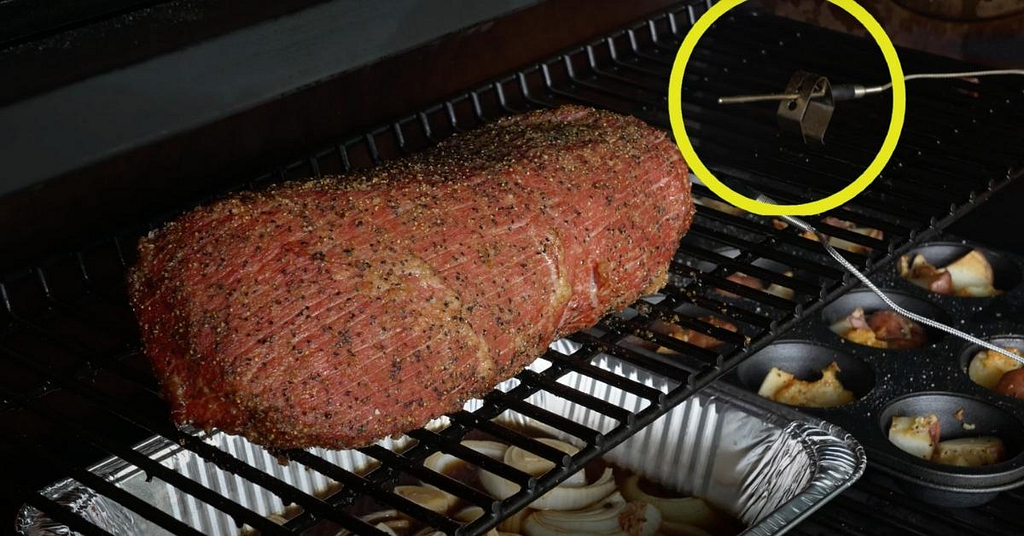 The Reveal
Wondering how this smoked eye of round recipe turns out? How does tender, juicy, and insanely flavorful beef sound? Z Grill's Multitasker 11002B makes that happen by locking in both smoke and heat. While your eye of round roast maintains a crusty, flavor-packed exterior, the inside will come out ultra-juicy and cooked to perfection. 
Want to learn more about this recipe? Tommy shows us the ins and outs in the full smoked eye of round tutorial posted on The Gallery Backyard BBQ & Griddle YouTube channel. Check it out in the recipe below!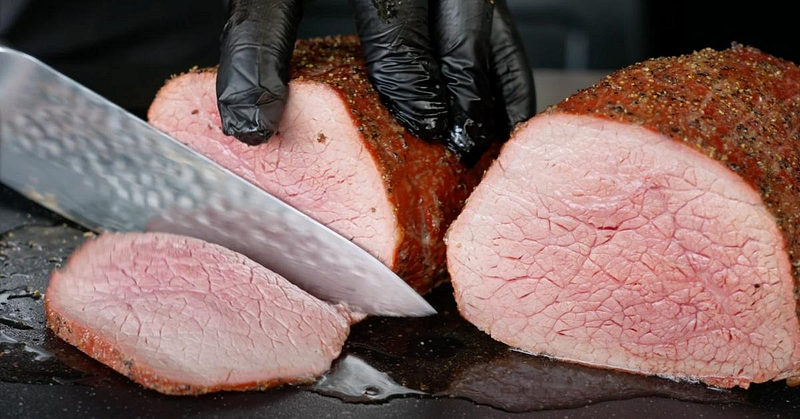 Smoked Eye of Round Recipe
This mouthwatering smoked eye of the round recipe comes together in just a few easy steps.
Instructions
Make the Rub
This crave-worthy rub is made from a combination of kosher salt, black pepper, brown sugar, garlic powder, and onion powder. We will use olive oil for the binder.
Clean the Meat
Give your eye of round a quick pat-down, then use a filet knife to remove any fat or silverskin from the roast (technique-wise: imagine you're skinning a fish). Seeing that this is lean roast beef, you aim to remove around 95 percent of the fat. 
Apply the Rub
We recommend slicing off the thinnest part of the roast and cooking it separately. (If you try to cook the entire thing at once, the thin part will overcook.) Then, rub olive oil over all sides of the beef and cover with your steak rub. If you have some leftover rub, don't worry—it will keep in your pantry until next time. 
Smoke the Eye of Round
Preheat your pit to 250°F. If your pit isn't ready yet, the rubbed roast will keep it at room temperature for about 30 minutes. Fill a water pan with one cup of water, Better than Bouillon beef base, and one or two onions sliced thick. Then, place the roast directly onto the grill grates with the water pan right below. 

Smoke the eye of round roast until its internal temperature reaches at least 120°F (this is rare to the medium-rare range). After reaching your desired temperature, let the meat rest for 10-20 minutes before slicing it. 
Video