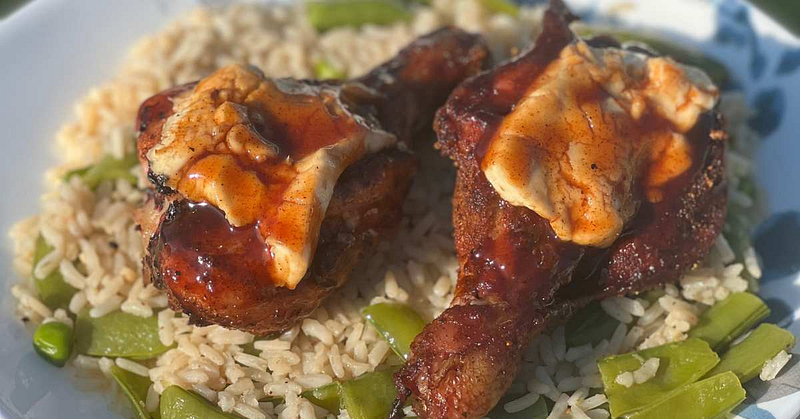 Butterflied Chicken Legs with Smoked Cream Cheese
If you're craving a flavorful and unique twist on traditional grilled chicken, look no further than butterflied chicken legs topped with smoked cream cheese. This mouthwatering dish combines juicy chicken, BBQ seasoning, creamy cheese, and a peach barbecue sauce to create a culinary experience that will leave your taste buds begging for more.
Equipment
Z Grills 700D3 Wood Pellet Grill

Z Grills Hickory Wood Pellets
Ingredients
12

Chicken Legs

Cream cheese

BBQ Seasoning, such as Redbeardseasonings bbq rub

BBQ Sauce, such as Grown Folk Sauce Pleasure Peach liquor-infused barbecue sauce
Instructions
Butterfly the legs and season with Red Beard Seasoning BBQ Blend for maximum flavor.

Preheat Z Grills to 300°F. Grill the butterflied legs for 25 minutes, then flip.

Place cream cheese on the butterflied side. Let it melt into the chicken.

Glaze the legs with Pleasurable Peach sauce by Grown Folk Sauce. Cook for 15 more minutes.

Rest the chicken legs, garnish with fresh herbs, and serve. A unique and delicious dish awaits!
Video