In the world of grilling, you will find that seasoned grill lovers often have a very strong opinion about what kind of grill they prefer. Many prefer the classic flavor and style of charcoal, while others believe that propane provides a better finish. Pellet grills have recently begun to take the world by storm, offering more benefits than the average Grillmaster knew was possible! In this article, we will discuss these three grill types and the experiences that they offer.
Here are the different types of grills that we have compared: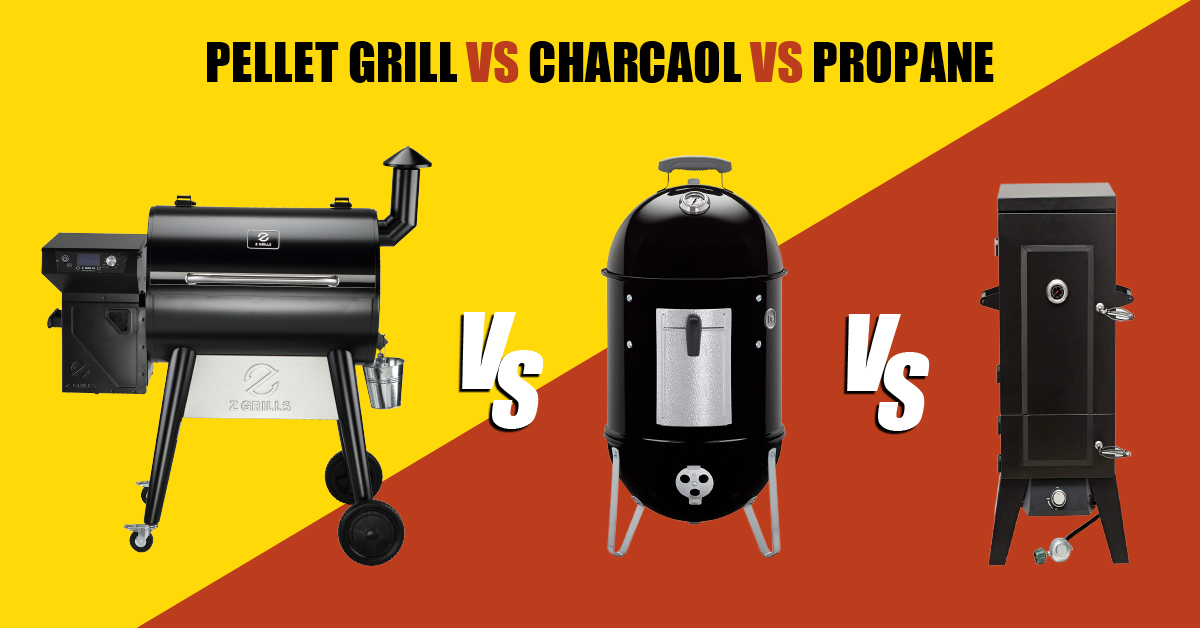 Add a header to begin generating the table of contents
Why Are Pellet Grills More Popular?
Pellet grills are more popular than other grill types for quite a few reasons. They have a versatile design that allows you to cook different kinds of food in different ways. Compared to other grills, they are also incredibly easy to use—especially for beginners. Add in their ever-changing capacity for new flavors, and it is easy to see why people love these grills!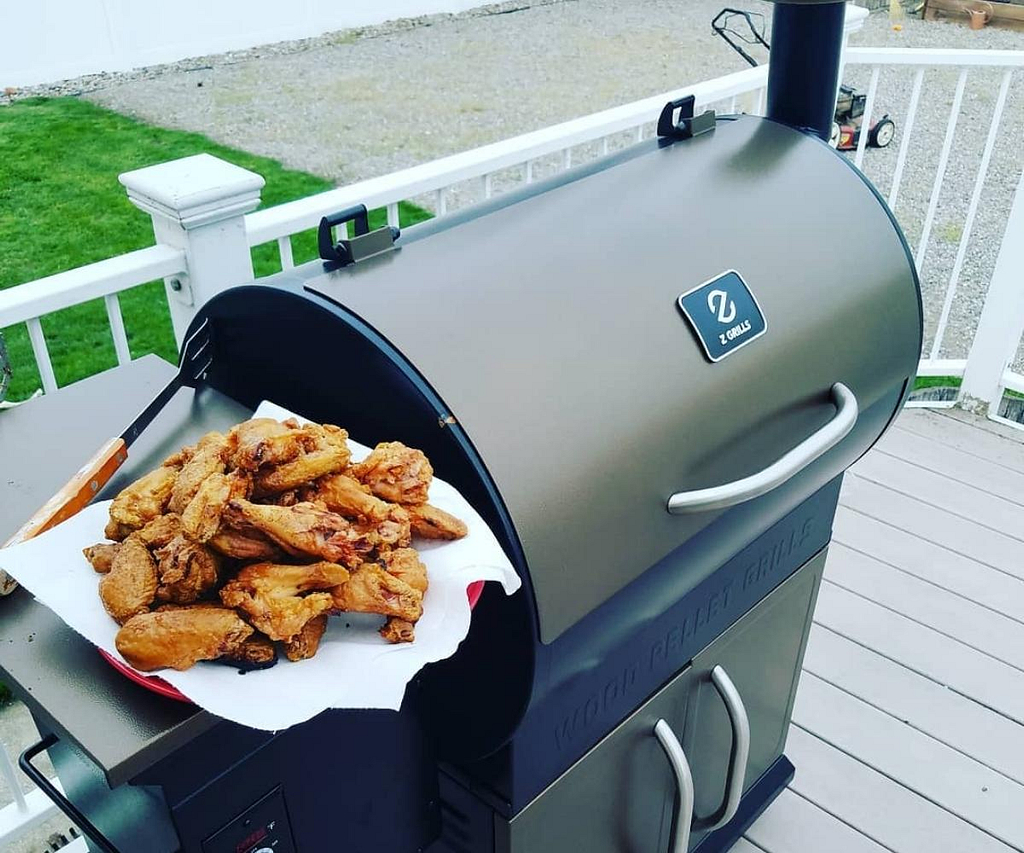 Pellet Grills vs. Charcoal vs. Propane: Which is Better?
There are three popular grill types—pellet, charcoal, and propane. Each of these grills takes a different approach to cooking and can offer different results. Let's break down some of the key differences between these grills.
Pellet Grills vs. Charcoal Grills
Pellet grills are grills that use 100% natural hardwood pellets and a separate chamber to heat up the system while cooking. Charcoal grills require the use of charcoal and an open flame while cooking. Both of these types of grills will help you to prepare your food—but how do they compare to each other?
Taste
Pellet grills provide an exceptional wood-fired flavor while cooking. While charcoal grills bring that distinct charcoal flavor, pellet grills allow you to choose the flavor you want to impart to your food. Many find that pellet grills give more hardwood flavor to food.
Convenience and Ease of Use
Charcoal grills are fairly easy to see, but they do require more setup than pellet grills. Using a charcoal grill can be a little intimidating for beginners, but pellet grills are incredibly beginner friendly. Both can be used with practice and experience. However, charcoal grills come with a steeper learning curve and can make it difficult to regulate the inside temperature. Pellet grills, on the other hand, often have a digital temperature controller or PID controller that allows you to set the temperature and forget it. Check out our how to use a pellet grill article to learn more.
Versatility
Charcoal grills are great for low and slow smoking. Wood pellet grills, on the other hand, are known to be highly versatile. From grilling to smoking, pellet grills give you the power to explore many different cooking styles and food options.
Safety
Many families throughout the years have kept kids away from charcoal grills at all costs, and the open flame is to blame. Though these grills can be used safely, they can bring more risk for this reason. In fact, some areas completely ban them for this added risk. Pellet grills, however, do not have an open flame and are generally considered safer to use.
Cost
You can purchase a charcoal grill for less than $100 in some cases, which is great if you're worried about your budget. However, if you want consistent cooking temperatures and a higher quality experience, their prices quickly jump over $300. Pellet grills can be more expensive than charcoal grills, but they do also come with more functionality in many cases. These grills range from $400 to $1500 or more. They are better for people who have a larger budget, want more functionality, and want completely consistent cooking.
Pellet Grills vs. Propane Grills
While pellet grills rely on pellets and a separate chamber, propane grills use gas to turn up the flames inside the system. Both of these grill types can provide delicious food and are available with interesting upgrades. Let's explore how they each rank in different categories.
Taste
Propane grills are notoriously criticized for the lack of flavor that they offer while cooking. Though you can purchase extras to try to impart flavor, propane grills really are just good for cooking, not adding anything extra. Pellet grills are designed to impart a wide range of flavors depending on the pellets that you choose.
Convenience and Ease of Use
Both pellet and propane grills can be easy to use depending on what you are comfortable with. Propane grills bring their own style, and they require you to learn how to manage propane tanks in order to cook. Each propane grill can offer a different experience. A pellet grill just lets you jump right into cooking.
Versatility
You can buy propane grills with all kinds of bells and whistles. There is a lot of upgrade potential as long as you are willing to pay the right price. Pellet grills are highly versatile in general, supporting different cooking styles at first use. They are good at low-and-slow smoking, grilling, and general cooking as well.
Safety
When it comes to safety, propane grills bring a little extra concern. Since you have to manage a propane tank—which can explode—it is very important to know exactly how to use them. A pellet grill is generally considered a much safer alternative.
Cost
A quality propane grill will cost you well into the hundreds—and if you want anything extra, you can expect that number to keep on growing into the thousands. Pellet grills are mid-to-high-range systems that can bring a great price given their functionality. Both propane and pellet grills can be purchased starting at around $500 for a quality grill. For those who want a great product that can do more than just grills, a pellet grill is well worth the investment.
Charcoal Grills vs. Propane Grills
Charcoal grills and propane grills have been in competition for quite a while. Many people consider charcoal grills the "classic" and propane grills to be the more modern model. Both can be great for a BBQ—but they differ in quite a few ways.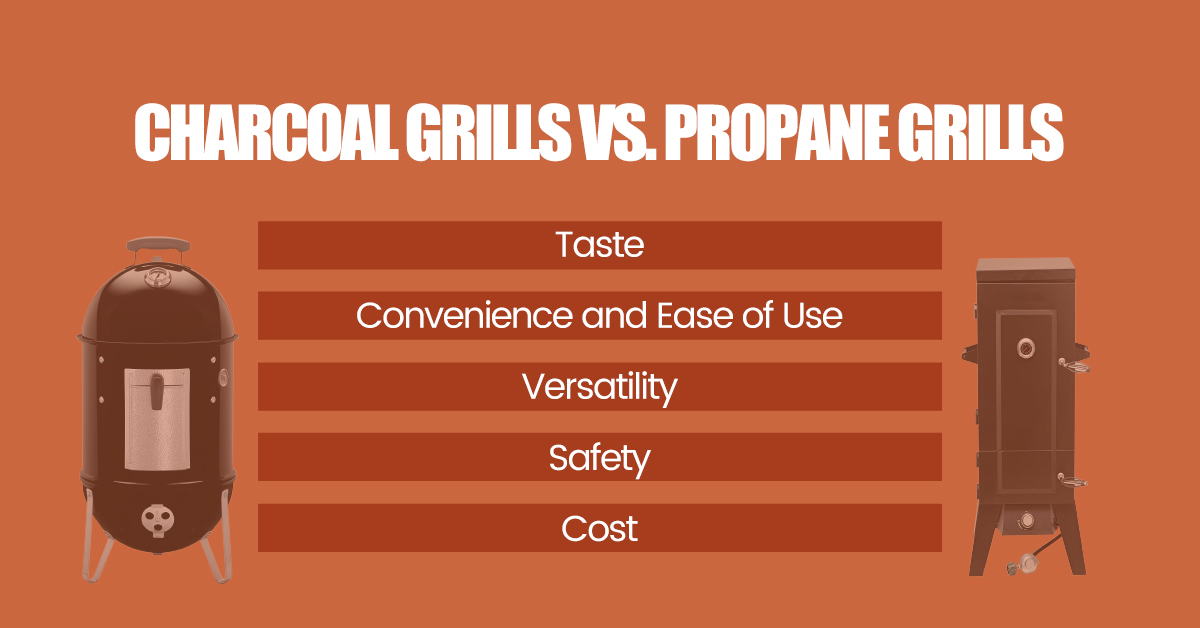 Taste
When comparing charcoal grills and propane grills, the flavor is always brought up. It is generally believed that charcoal grills provide a much better flavor. This is because they impart flavor, while propane grills do not.
Convenience and Ease of Use
A charcoal grill is much easier to use than a propane grill for most people. Charcoal grills require minimal setup, while propane grills generally require a trip to the gas station or hardware store to be able to use them—especially if you don't know how to maintain your propane tanks. Adding in the importance of managing the propane in a safe way, propane grills are less user-friendly. However, some say they can be easier to use during the actual cooking process.
Versatility
Both propane and charcoal grills can be purchased with upgrades and added perks. Still, at the end of the day, their primary task is simple grilling. Consider the additional costs that come with investing in more versatile grills.
Safety
Both of these types of grills use open flames, which makes them a fairly big safety risk. Propane grills come with the risk of propane tanks—like a potential explosion. However, charcoal grills are known for spreading fires, which is why they are banned in many places.
Cost
Without question, charcoal grills are the more cost-effective option between the two. A simple charcoal grill can come in under $100—though you probably want to go with one that is a little nicer. Propane grills, on the other hand, can stem into the thousands depending on what they offer. If budget is your biggest concern, a charcoal grill is a wonderful option. For those looking for a better experience, propane grills are a better option.
Why Should I Try Pellet Smoking?
Pellet smoking is the new and modern approach to cooking amazing meals. These versatile machines allow you to embrace a variety of different cooking styles, so you can use them for every single meal. Let's explore some of the key benefits that pellet grills offer.
Pellet Grills Making Grilling Easy—Even for Beginners
Ease of use is a huge consideration when it comes to grilling. If you love grilled food but aren't quite sure about the process, a pellet grill can be a great choice. You can learn about cooking food in an easy and much safer environment.
You Don't Have to Babysit Them—Spend Time with Friends and Family
Propane grills and charcoal grills rely on a lot of back and forth during use. Most people find themselves stuck next to the grill just to make sure that the food won't burn. Pellet grills, on the other hand, are designed to sit and cook all on their own. Instead of standing by the grill, relax with the people you care about.
They Cost Very Little to Run
The ongoing cost is a huge consideration for grills. A pellet grill requires very little energy and minimal supplies to receive the full experience.
Pellet Grills Offer a Rich Flavor
The flavor is one area where pellet grills really shine. Since the pellets that you choose can each offer a different flavor, there are a lot of different options to try. Many people find this is a good way to spice up their favorite meals.
They Heat Up Fast
A pellet grill heats up quickly, making it possible to jump right into cooking—even when your meal requires minimal prep work. Just turn your pellet grill on, give it a few minutes, and jump right in.
Pellet Grills Are Easy to Clean
Since pellet grills generally don't cook over an open flame, they are much easier to open up and clean. If you like a simple cleaning process, these low-maintenance machines are a wonderful option.
They Offer 8-in-1 Cooking Versatility
Pellet grills offer eight different kinds of functionality, making them highly versatile. You can use them as an oven, a smoker, a grill, and more! They can be used to grill, sear, bake, barbecue, smoke, braise, roast, and char-grill—the possibilities really feel endless with these grills.
So, you've already heard about pellet grills – the hottest trend in backyard grilling and decided to buy one. Now you've come to the most exciting and harrowing part – choosing your first pellet grill. But don't worry, you don't have to go through the harrowing process of research as we've done that for you, and we are proud to tell you that Z Grills is the ideal choice for your first wood pellet grill. Z Grills is a grill manufacturer with over 30 years of experience within the industry. With over 650,000 pellet grills sold and 85 million cooks made.
Our Z Grills 10000D3E and 7002C2E models are perfect for adding and maintaining flavor and jumping right into cooking—even for a beginner! To learn more about our grills and how they can help you to upgrade your meals, explore our models today!
Weber Original Kettle 22-Inch Charcoal Grill
Stay true to the modern version of the kettle that started it all—the Original Kettle, invented by Weber's founder, and loved around the world. Its ultra-durable, porcelain-enameled lid and bowl retain heat, while the damperseasily adjust for precise temperature control. With a One-Touch cleaning system for easy cleanup after a long day of grilling, the Original Kettle will always be the grill built for everyone
Holds up to 13 burgers made with a Weber burger press
One-Touch cleaning system provides hassle-free ash cleanup.Removable, aluminum ash catcher
Porcelain-enameled lid and bowl Retain heat, and won't rust or peel
Use the lid hook to avoid placing the lid on the ground while grilling
American Gourmet 463773717 Char-Broil Classic 360 3-Burner Liquid Propane Gas Grill, Black
360 square inches of cooking space over porcelain-coated grates. Convectional cooking system
170 square inch porcelain-coated swing-a-way rack for warming
Three stainless steel in-line burners for cooking performance
Porcelain-coated steel lid and firebox stand up to weather and the elements
Metal side shelves measure 12-inches w x 13-inches l providing extra storage and prep space