Back in the days, many people especially those hardcore BBQ'ers thought that pellet grills were a fad. But now, wood pellet grills are one of the hottest trends in the industry, offering users the primal flavor of wood smoke coupled with the turn-of-a-knob convenience of gas. But how? And what else they can offer? In this article we will walk you through the basics of a pellet grill. So if you are new to pellet grilling or smoking and want to learn how a pellet grill works, here we can help.
Add a header to begin generating the table of contents
What Is a Pellet Grill?
Pellet grills are outdoor cookers that combine elements of charcoal smokers, gas grills, and kitchen ovens. They are powered by electricity and fuelled by hardwood pellets that smoke foods at constant temperatures using a fire fed by wood pellets, with their temperature controlled by the volume of pellets burned. 100% all-natural hardwood pellets are their fuel, allowing them to provide direct or indirect heat. With a wide temperature range, a pellet grill smoker can help you cook up the finest ribs, briskets, or foods that begin with other letters using different cooking methods even if you're not a Pro griller or an expert. You can check out our article on pellet grill vs. charcoal grill vs. gas grill. 
How Do Pellet Grills Work?
The wood pellets are poured into a container called a hopper. The pellets are moved by a rotating auger into a fire pot that is powered by electricity. In the fire pot, a hot rod ignites the pellets, causing them to burn and produce heat and smoke.
Next, the induction fan brings in air to aid in combustion. Above the fire pot, a heat baffle rests to disperse any direct heat evenly throughout the grill rather than allowing it to burn your food. A grease drip tray sits above that to catch any grease drippings and further disperse the heat.
Finally, the induction fan circulates the smoke and heat from the fire pot throughout the grill chamber, cooking your food via convection-style cooking.

About Wood Pellets
Wood pellets are uniquely designed for fueling pellet grills. Z Grills wood pellets are formed from 100% all-natural wood dried, ground, and dyed into sawdust. The dust is then exposed to extreme heat to create closely and neatly packed together pellets coated and held together with the lignin. Wood pellets are referred to as the easiest fuel to use. They give great flavor, burns cleanly, and produces little ash. This means clean up is easy. Plus, Z Grills pellets are calibrated for maximum consistency so you get perfect results every time.
If you ask how long do the pellets last in a pellet grill? Under normal circumstances, a pellet grill will use about 1/2 pound of pellets per hour on the smoke setting and 2-1/2 pounds on high. 
A 22 lbs bag of pellets will last 10-25 hours depending on the cooking temperatures. Cold and windy outdoor conditions will also increase the amount of wood pellets used due to more heat loss. And the grilling surface also matters. If you don't know to choose affordable wood pellets, check out our guide on how to choose the best wood pellets for your grill.
Advantages of Pellet Grills
Pellet grills offer many advantages over traditional charcoal and gas grills. They are easy to use, require less maintenance, and produce a consistent heat source. They also offer a unique smoky flavor that can't be replicated by other types of grills.
What to Cook on a Pellet Grill
Pellet grills can be used to cook a wide variety of foods, including meats, vegetables, and even desserts. Some popular options include smoked brisket, grilled salmon, roasted vegetables, and even apple pie. Find more delicious pellet grill recipes in our Z Grills recipe collection.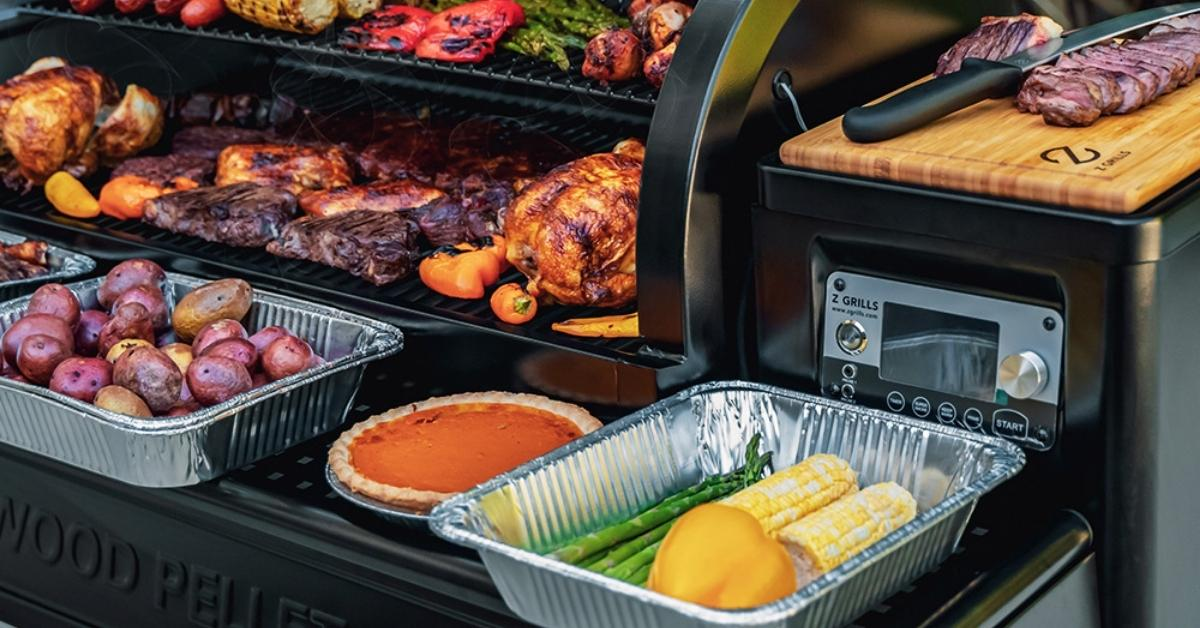 What Are the Differences with Pellet Grills and Other Types of Grills?
When it comes to outdoor cooking, there are several types of grills to choose from. Here's how pellet grills stack up against charcoal, gas, and electric grills.
Pellet Grills vs. Charcoal Grills
Charcoal grills are a classic choice for outdoor cooking, but they can be time-consuming and messy to use. Pellet grills, on the other hand, offer the convenience of being able to set the temperature and walk away. They also produce less ash and require less maintenance than charcoal grills.
Pellet Grills vs. Gas Grills
Gas grills are another popular option for outdoor cooking. They offer the convenience of being able to start cooking quickly, but they can be less flavorful than other types of grills. Pellet grills, on the other hand, offer a unique smoky flavor that can't be replicated by gas grills. They also produce a consistent heat source and are easy to use.
Pellet Grills vs. Electric Grills
Electric grills are a convenient option for those who don't have access to an outdoor space for cooking with gas or charcoal. However, they can be less flavorful than other types of grills. Pellet grills offer a unique smoky flavor and the convenience of being able to set the temperature and walk away.
Why Choose Z Grills Pellet Grills
Wood pellet grills are taking off in the market and quickly becoming the preferred choice over charcoal, propane, and gas grills. Gas grills overtook charcoal for their ease of use and heating speed but, the advantage of convenience came with a disadvantage in taste. But pellet grills take the ease of grilling with gas but give your food that awesome flavor of real wood. One of the iconic features of pellet grills is the set and forget control, which enables everyone to prepare delicious meals with wood-fired smoky flavor with a push of a button. There are no learning curves to getting started with a wood pellet grill. Anyone knows how to operate an oven can master the art of pellet grilling and smoking. There is no need to carry and store huge propane tanks, and no risk of flare-ups or over-smoking your food thanks to the pellet grill's fan forced convection heating.
Smoking on a Z Grills takes your outdoor cooking experience to the next level. With the burning of all-natural wood pellets, everything you put on a Z Grills pellet grill will taste better with a real hardwood smoky flavor. Its 8-in-1 versatility means you can grill, smoke, bake, roast, braise, barbecue, char, or even sear all your favorite foods. Some models (L600 Series) of Z Grills pellet grills offer direct flame searing for steak, or deep-down professional smoke flavor throughout your meat. With the easy to read digital control pad, quick dial-in temperature range, and precise temperature management, smoking meats to tender perfection has never been more convenient. Z Grills pellet grills are built-to-last. Every Z Grills is made from heavy-duty steel with superb craftsmanship. Last but not least, with our factory-direct pricing, you won't find more bang for your buck anywhere.
If you're hunting for a pellet grill that gives you authentic smoked barbecue flavor, offers 8-in-1 versatility, features extreme ease of use, and is built rock-solid without breaking the bank, you've come to the right place.
Z Grills is a grill manufacturer with over 30 years of experience within the industry. With over 650,000 pellet grills sold and 85 million cooks made.
How Long Do Pellets Last In A Pellet Grill?
Pellets can last anywhere from 6-24 hours depending on how often you use your grill.
Can I Use Wood Chips In A Pellet Grill?
No, you should only use wood pellets in a pellet grill.
Are Pellet Grills Easy to Clean?
Yes, pellet grills are easy to clean. Simply use warm soapy water and a grill brush to clean the grates.
Can I Use A Pellet Grill In Cold Weather?
Yes, you can use a pellet grill in cold weather. However, it may take longer for the grill to reach the desired temperature.
Can I Use A Pellet Grill for Baking?
Yes, you can use a pellet grill for baking. Just make sure to adjust the temperature accordingly and keep an eye on your food.