Choosing between an offset smoker and a pellet smoker isn't always easy at first glance – they look similar, but use different fuels and often come in at different price points. So, how do you choose which is best? This article will guide you through the pros and cons of each so you can—finally!—make that all-important purchase.
This is part of a series of articles where we compare different types of smokers:
Add a header to begin generating the table of contents
What is an Offset Smoker?
Let's start by clarifying what the differences are. An offset smoker is a traditional and basic smoker, also known as a stick smoker, barrel smoker, or pipe smoker. They're relatively basic, but that's not necessarily a bad thing. They cook meat at low temperatures for long periods and allow smoke and heat to escape out of the chimney.
Offset smokers usually run off of pure wood (hence the name "stick smoker"), though people sometimes use charcoal with wood chips. An offset smoker contains two chambers; one where you place your food, and the other which contains the firebox. You light a fire in the firebox and then heat and smoke flow through the food chamber and out through the chimney. They have "dampers", which allow you to control the flow of air and thus the temperature.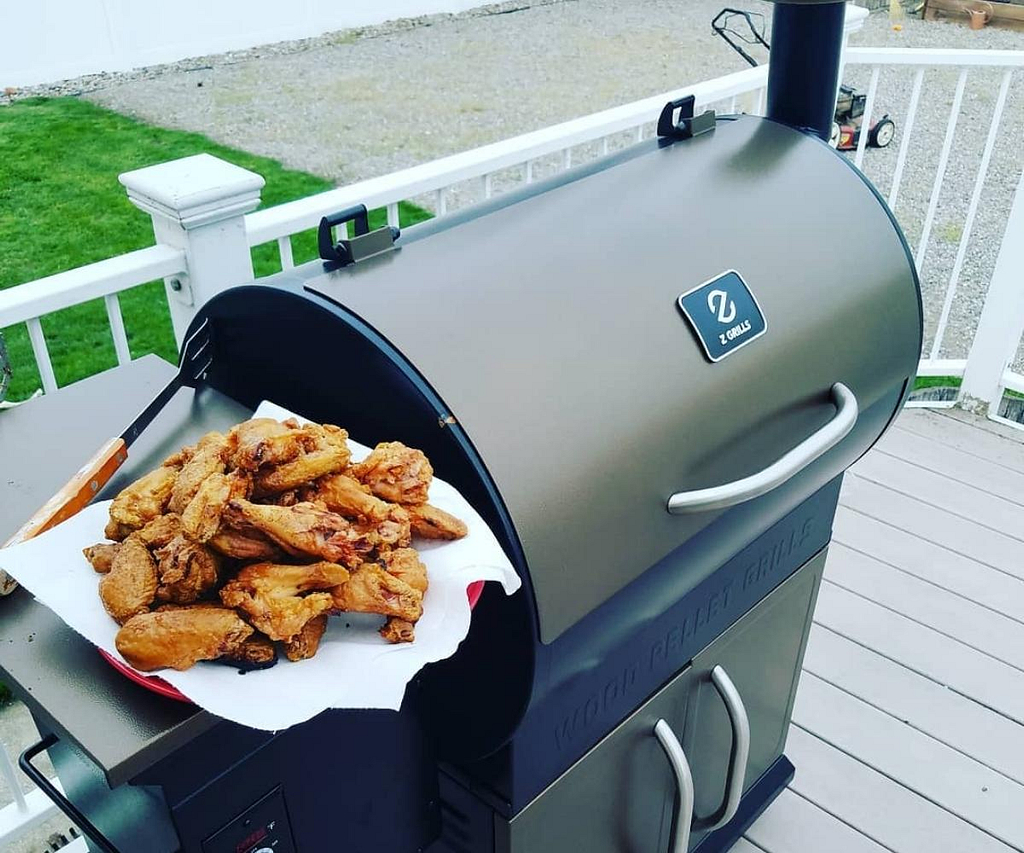 A pellet smoker, known commonly as a pellet grill, is an offset smoker that has been optimized in all the right places to ensure anything cooked in it tastes its best. Instead of throwing pure wood sticks as you would with an offset smoker, a pellet smoker drip-feeds pure hardwood pellets into the firebox to automatically maintain the temperature you've set.
A pellet grill works by loading wood pellets into a hopper (like a chute), and a motorized corkscrew (also known as an auger) feeds them into the firepot when the internal system notices the temperature is dropping. The pellets in the firepot contact an ignition rod which sets them alight, and a fan circulates the air and feeds oxygen to the fire. You can check out our article on what is pellet smoker.
You can get whatever style of smoky barbeque flavor you prefer because you can use whichever fuel you like.
You have some flexibility, so you can grill over the fire or use charcoal at the bottom of the chamber.
They're generally cheaper than pellet smokers (between $100 – $2,000).
They don't require electricity, so you can move them anywhere.
You need to babysit them to check they're maintaining temperature, and make adjustments as necessary.
Because your fuel can vary, so can your flavor. If you use the wrong fuel or try something new, your food won't taste the same as it did last time, which can result in plasticky tastes.
You have to hone your craft, it's much easier to end up having to throw away a cut of meat or be disappointed with what you've cooked than if you use a pellet smoker.
You can, somewhat, set and forget it. Because they're programmed to maintain temperature, you can go off to play baseball or have a beer by the pool and come back and find that your barbeque is still cooking to perfection. Some people even set them up before bed and leave them overnight to wake up to cooked-to-perfection meat!
You can attempt more difficult cuts of meat – a brisket is notoriously difficult to get right, but a pellet smoker will get you most of the way to brisket perfection provided you've chosen the right temperature and cut.
You don't get severe temperature changes. Barbequing and smoking are all about maintaining the right temperature, and big temperature swings can spell disaster. With a pellet smoker, that's not a concern.
It's difficult to burn or char your meat, so you won't have a bitter taste.
They're easy for beginners to use and pros to master, which means you have a great grilling and/or smoking experience every time.
Require electricity. This is rarely an issue but is worth noting.
Generally more expensive since you've got all that extra technology in there doing a lot of the difficult work for you. (Between $300 – $5,000, though our Z Grills are usually around $400 – $900, which makes them extremely affordable.)
If you like a very intense smokey flavor, you may prefer an offset smoker. Most people cannot tell the difference or prefer the slightly less intense flavor of pellet grills, so this is unlikely to be an issue.
Pellet Grill vs. Smoker: Which is Better for Beginners?
If you're a beginner choosing your first smoker, you'll be doing yourself a favor by choosing a pellet grill. Many experienced smokers are now using them simply because they're so much easier to use – you set the temperature you need and then you walk away, free to relax or get on with chores. If you want to smoke those cuts that are more difficult to smoke well, choose a pellet grill.
Pellet Smoker vs. Electric Smoker: Which is Best?
An electric smoker is another kind of smoker that uses hot electric rods as a heating source. They come in a wide range of sizes and settings, but the biggest difference is in the flavor. Electric smokers generally give the meat a much more subtle taste than pellet grills and don't often compare on taste to an offset smoker, which some find too intense. The main benefit of electric smokers is they can be small and portable, which isn't usually what you're looking for when you're looking for a smoker for your home. If you're thinking of taking your smoker on the road for vacation in your RV, then an electric smoker could be a good addition so you can leave your pellet smoker at home.
Pellet Smoker vs. Offset Smoker: Which is Best?
For most people, a pellet smoker will win every time. Why? Because they're so user-friendly and make it easy to enjoy delicious meals without constant management. While you may think that you want to work for your food, the reality is that if you want to use your smoker weekly, you're soon going to want to be able to get on with other things.
A pellet smoker will give you the freedom to smoke a whole chicken on a Sunday while you're watching football so you have your lunches prepped for the week. It also gives you freedom at family gatherings – you can set it up early in the day, prepare for your guests, and then actually enjoy being with them.
They also offer the best and most reliable flavor time after time and are affordable. Offset smoker enthusiasts often argue about price, but you don't need to choose a pellet grill with wifi – Z Grills offer affordable high-quality pellet grills at prices for both those who just want to use them for family events, and those who want to use it twice a week. Plus, because you only use the fuel you need, you'll spend less on fuel. With Z Grills, you can have the best of all worlds. If you'd like to explore the full range of Z Grills, click here.
The Best Budget Pellet Smokers
Dyna-Glo Signature Series DGSS1382VCS-D Heavy-Duty Vertical Offset Charcoal Smoker & Grill
Features five chrome-plated cooking grates and a total cooking space of 1382 square inches
Heavy-Gauge Steel Body Construction. The temperature gauge features a smoke zone which indicates the ideal temperatures for infusing the perfect amount for smoking flavor. Also, the cool to touch handles, allow you to access fuel and food safely.
Cool-touch spring lid grip provides safer access to food
Stainless temperature gauge with "Smoke Zone" indicates the ideal temperature for infusing smoke flavor
Oversized steel wheels for mobility before and after use
Masterbuilt MB20072918 40-inch Digital Electric Smoker, Black
Over 970 square inches of cooking space
Cold-rolled steel body, and four cooking racks
Removable grease tray for easy cleanup
Locking door and easy-access wood chip loader
Adjustable thermostat and electric timer help you master the art of smoking