In the world of classic cooking techniques, many options never fail to impress guests but most often topping this list is smoking meat and vegetables. Whether you're looking to impress guests with an offering that has been slowly and carefully prepared over the course of several hours in a fine dining setting or you prefer a little more of a rustic outdoor option, the versatility of this way of preparing delicious food really can't be beaten! However, when it comes to the world of smokers, many experts will claim there is a clear winner for the horizontal vs. vertical smoker, yet it is not quite so simple when making your purchase choice. With many different issues to consider when making the big decision, it begs the question, what is the best type of smoker for you? In this guide, we will reveal the key differences between the two.
This is part of a series of articles where we compare different types of smokers:
Add a header to begin generating the table of contents
What's the Main Difference Between A Horizontal And Vertical Smokers?
On the face of it, the main difference between a horizontal smoker and a vertical smoker is what it says on the tin. The first has a horizontal orientation, while the latter smoker stands upright. The two different visual presentations may seem simple to choose from- but it is, in fact, those specific styles that create a large list of feature differences that will split the smoking community.
Pros And Cons Of Horizontal Smokers
Horizontal smokers, including offset smokers:
Pros Of Horizontal Smoker
Cons Of Horizontal Smoker
Horizontal Smoker Recommendation for Beginners
Pros And Cons Of Vertical Smokers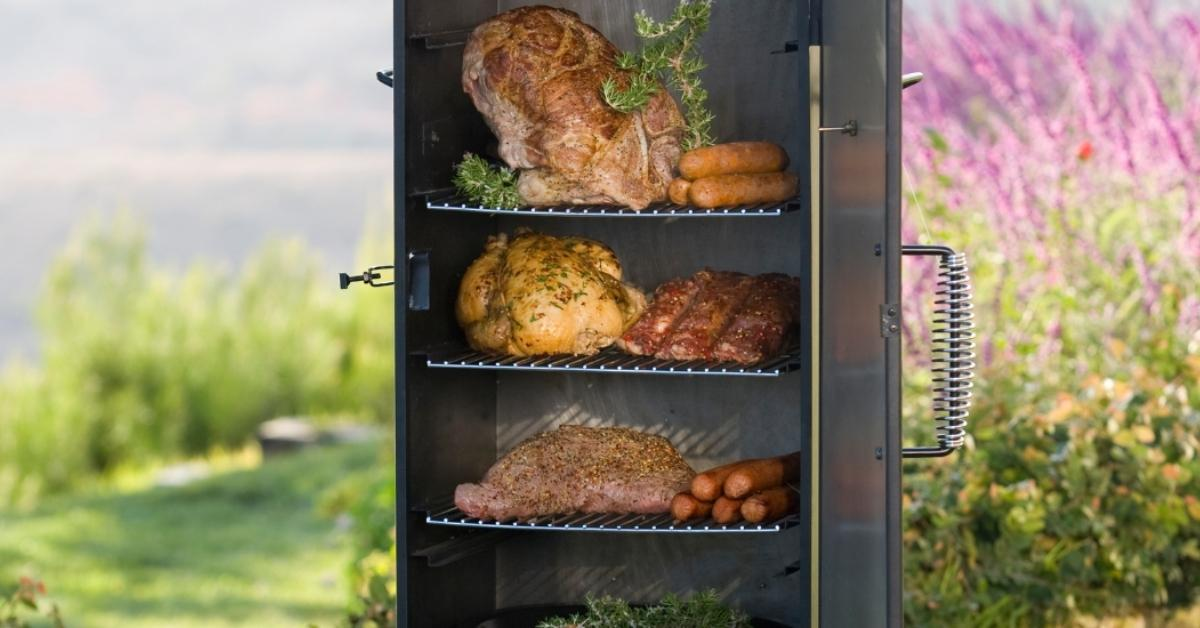 Vertical Smoker Recommendation for Beginners
Dyna-Glo DGX780BDC-D 36" Vertical Charcoal Smoker Black
4 cooking grates
784 square Inch of total cooking area
Charcoal & ash management system includes charcoal chamber, charcoal grate & removable ash pan
Protect your smoker with a custom-fit Dyna-Glo premium cover – Model DG784GSC (Sold Separately)
Stainless temperature gauge with smoke zone indicates the ideal temperature for infusing smoke flavor
How To Choose Whether To Buy A Vertical And Horizontal Smoker?
All these facts are fantastic, yet they can still cause confusion when making your own personal choice. Although there will be features of both smokers that you may feel are important, let's see if we can advise that little more.
If you are a beginner in smoking or wish for your smoker to be portable because of travelling or wish to cook at different locations, the vertical smoker is probably the most sensible choice for you. With a cheaper start-up cost and a much simpler option to transport, this style of smoker gives a great flavor and an enjoyable cooking experience.
For smoking experts and those that know already that they want their smoker to be set up in one area and not moved around, the horizontal smoker is a perfect choice. Offering a wider area for cooking, a grilling area as well as smoking, and an easier process for adding additional fuel, this option offers a much more involved process and experience for cooking.
Final Thoughts
If you now feel you are armed with the knowledge to make your decision, make sure you take into account these three main factors:
     Budget
     Capacity
     Space
These three points will help you make the correct decision.
What is the best type of smoker? When it comes to horizontal vs. vertical smokers, there is no simple, clear-cut way to tell which is the perfect choice for you. As you can see from the comparisons above, there are a lot of factors to take into consideration, as well as looking at the type of meat you wish to prepare. Regardless of your skill level or smoking style preference, make sure you head to our product pages to select a smoker made with high-quality material, not only making sure safety is a top priority but also offering quality insulation offering the best possible results in all choices.