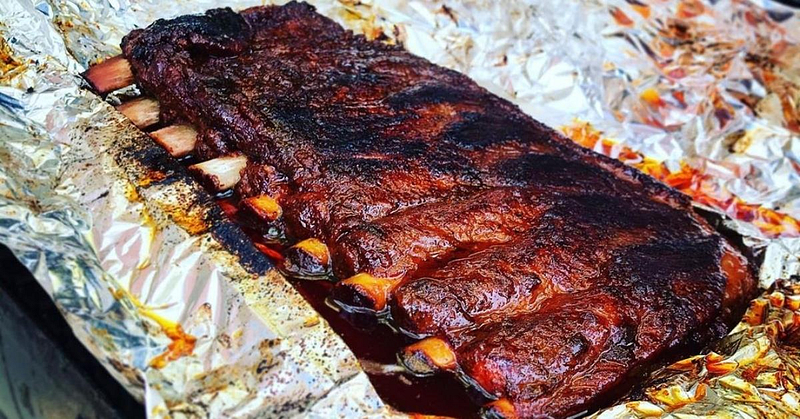 3-2-1 Baby Back Ribs
If you love ribs where the meat falls off the bone, look no further than this 3-2-1 baby back rib recipe. This method is easy and generally fool proof. It creates ribs that are juicy and so tender that you can pull the meat off the bone with your fingers.
Equipment
Z Grills Wood Pellet Grill

Z Grills Hickory Wood Pellets
Ingredients
6 

racks of pork ribs

1 

cup 

yellow mustard

1 

cup 

apple juice

1 

cup 

brown sugar 

light

1/2 

cup 

honey

3/4 

cup 

butter

2 

cups 

of your favorite BBQ sauce 

1/2 

cup 

Roasted Chipotle Garlic seasoning

1/2 

cup 

Maple Bacon seasoning

1/2 

cup 

Bourbon Molasses seasoning
Instructions
Pat-dry your ribs with a paper towel, then peel the membrane off the back of each rack of ribs. Flip your racks to trim any loose ends and excess fat. Tip: Over the middle bones of the rack, slide a butter knife under the membrane. Left and loosen the membrane until it tears. Grab the edge with a paper towel and pull it off.

Coat both sides of the ribs with yellow mustard.

Sprinkle and pat your rub (Roasted Chipotle Garlic seasoning, Maple Bacon seasoning, and Bourbon Molasses seasoning blend) on all sides of the meat.

Set your Pellet Grill at 225 °F.

Place the ribs on your grill and smoke them meat-side up for 3 hours.

After 3 hours, transfer the ribs to a large, rimmed baking sheet and increase the grill temperature to 275°F.

Take 2 long strips of heavy-duty aluminum foil for each rack. Place the ribs bone-side down on the foil and cover all the ribs with brown sugar, butter, honey, and apple juice. Wrap and return them to the grill for another 2 hours.

Take the foiled ribs off the grill and carefully remove the foil as the steam will be extremely hot.

Generously coat the ribs in your favorite BBQ sauce and return the ribs to the grill for the last hour.

Take out the ribs and serve.