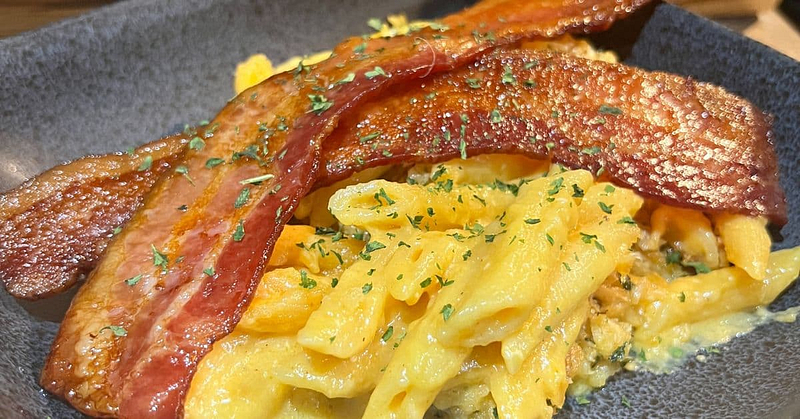 Smoked Mac and Cheese
This smoked mac-and-cheese is one of those dishes that immediately envelop many people in a warm, comforting embrace of nostalgia. You'll be blown away by the smoky, cheesy flavors in this Smoked Mac and Cheese. 
Equipment
Z Grills 700D3 Wood Pellet Grill

Z Grills OAK Wood Pellet

Aluminum Foil
Ingredients
16

oz

Velveeta

1

box

pasta

4

cups 

milk

1

lb

shredded white cheddar cheese

1

lb

shredded colby jack cheese

BBQ seasoning of choice to taste

Hot sauce of choice to taste

1

tsp

ground mustard

2

tbsp

kinder's SPG

2

tsp

paprika

(for color)
Topping
1

sleeve

crushed Ritz crackers

8

oz

shredded Parmesan cheese

4

tbsp

melted butter

1 

tbsp

parsley
Instructions
Prepare the Cheese Sauce
First, take a 9×13 grill-safe tray and gently smear it with a thin layer of grease.

Next, place a generous amount of Velveeta and pasta into the tray, and then proceed to pour milk over the pasta.

As if that wasn't perplexing enough, add a layer of white cheddar and colby jack, followed by sprinkling all kinds of seasonings and hot sauce on top.

But wait, there's more! In a separate bowl, combine various topping ingredients and mix them all together to create a bewildering concoction.
Smoke the Mac and Cheese
Preheat your smoker to a scorching 350 degrees F。

After that, place the cast iron pan with the mac and cheese on the smoker grate.

Close the lid and let the smoker work its magic for one hour.

Be sure to stir the mixture at the 30-minute mark to ensure maximum mind-bending flavors.

As the smoking continues, the mac and cheese will take on a deeper and more mysterious smoky flavor, and the cheese will bubble and ooze in a truly captivating manner.

At the 55-minute mark, add the topping mixture to the already confounding recipe.

Switch to the smoke setting, smoking at a perplexing 500F for the last 5 minutes.

Finally, remove the enigmatic smoked macaroni and cheese from the smoker and let it rest for 10 minutes before serving. (Optional: broil for desired crunch)

If you are feeling particularly adventurous, you may even store leftovers in the fridge and continue to ponder the incomprehensible flavors and textures of this dish in the days to come.
Video