You'll love this grilled tomahawk steak because it is both impressive and incredibly easy to make. You and your guests will love the presentation, tenderness, and great taste of this large cut of beef.
This grilled tomahawk steak recipe will help you deliver a restaurant-quality meal in the comfort of your own home—or backyard!
Add a header to begin generating the table of contents
How to Choose the Perfect Tomahawk Steak
When shopping for a tomahawk steak, use the same guidelines for buying any steak. You want to see great marbling, which looks like bright white lines of fat running through the meat.
You should also be mindful to choose a steak with a shorter bone and lots of meat. You're paying by the pound, so get the most out of your money! 
How to Clean a Tomahawk Steak
When you purchase a tomahawk steak, the butcher will have cleaned it for you—most of the time. If your butcher hasn't done this, you might want to consider buying your steaks somewhere else for this grilled tomahawk steak recipe.
When you bring it home, the prep is easy. Simply pat it dry with paper towels and allow it to rest at room temperature for 30 minutes before cooking.
Equipment and Ingredients for Smoked Tomahawk Steak
For this grilled tomahawk steak, you'll only need five simple ingredients:
A Z Grills pellet smoker
High-quality Z Grills wood pellets
A meat thermometer
A tomahawk steak
Salt and pepper
Yes, that's it! We told you this recipe was easy, didn't we?
Why Choose Z Grills Pellet Grill and Wood Pellets
To ensure your grilled tomahawk steak comes out as good as possible, we recommend using a Z Grills pellet smoker along with Z Grills wood pellets.
Why a Z Grills Pellet Smoker is Worth it
Z Grills pellet smokers are the best because they:
Are incredibly versatile.
Deliver authentic wood-fired flavor.
Provide precise temperature control.
Maintain excellent quality at affordable prices.
Include a wide range of pellet grills for grillers of all experience levels.
We love the Multitasker 11002B Pellet Grill, which includes:
Fast 7-10 day delivery.
Wi-Fi compatibility.
Six bags of Z Grills wood pellets.
Hexagon tube smoker.
Stainless steel cleaner brush with a scraper.
This package includes everything you need to smoke this tomahawk steak—and thousands of other recipes.
Wood Pellets
If you're unfamiliar with the best types of wood pellets to use for beef, check out this guideline for choosing the best wood pellets.
No matter what flavor you choose for your grilled tomahawk steak, be sure to use Z Grills wood pellets, which are the only kind we use for smoking. Z Grills wood pellets:
are American made
contain 100% all-natural hardwood with no additives
have a low moisture content
burn cleanly and efficiently
We recommend using our custom-made Competition Blend Pellets for this grilled tomahawk steak recipe.
Best Times and Temperatures for Smoked Tomahawk Steak
The best times and temperatures for your smoked tomahawk steak depend mostly on the size and shape of your specific cut of meat.
However, here is a general guideline for cooking tomahawk steak.
You'll want to sear the steak on high heat to develop a nice crust, then reduce the heat to medium (about 350°F) to finish off the grilling.
Although the internal temperature of beef should always reach at least 145 for safe consumption, here are the different internal temperatures for each desired doneness:
Rare: 125°F
Medium-rare: 135°F
Medium: 145°F
Medium-well: 155°F
Well-done: 165°F
How you prefer your steak will determine how long it will take to cook. Here are some estimates of the total time it will take to grill a tomahawk steak, including searing:
Rare: 18-22 minutes
Medium-rare: 22-24 minutes
Medium: 24-26 minutes
Medium-well: 26-28 minutes
Recommended reading: Steak internal temperatures and cooking times
How to Grill Tomahawk Steak on a Pellet Grill
Smoking a tomahawk steak on your pellet grill is relatively easy. You only need a few simple ingredients and about an hour to create the juiciest and most tender smoked steak. Here's how.
Prep the Steak
Thirty minutes before you plan to cook your tomahawk steak, remove it from the fridge. You want to give your steak time to rest at room temperature, so it cooks evenly. If you skip this step, the inside of your steak will be too cold, resulting in an overcooked exterior and an undercooked interior.
After it rests, pat the steak dry and season it with salt and pepper.
Preheat Your Z Grills Pellet Smoker
Although you'll grill your steak on medium heat, you'll begin by searing it on high. Preheat your Z Grills pellet smoker to 450°F to get things started. You can check out this article on how does a pellet grill work.
Sear the Tomahawk Steak
Sear your tomahawk steak for 6-10 minutes, turning a quarter of the way three times. Searing your steak will form a nice crust on the tomahawk steak's exterior. It will also help keep the juices inside—which is exactly where we want them.
Reduce the Heat and Grill Your Steak
Once your steak sears, reduce the heat on your Z Grills pellet smoker to about 350°F. Grill the stead for 10-25 minutes longer, flipping halfway through. Refer to our full recipe for the best times and temps for your desired doneness.
Let it Rest
Resting your steak is essential to allow it to finish cooking. This step also ensures that the juices remain inside the steak instead of spilling out.
This smoked tomahawk steak recipe is incomplete without resting, so don't even think about skipping this step.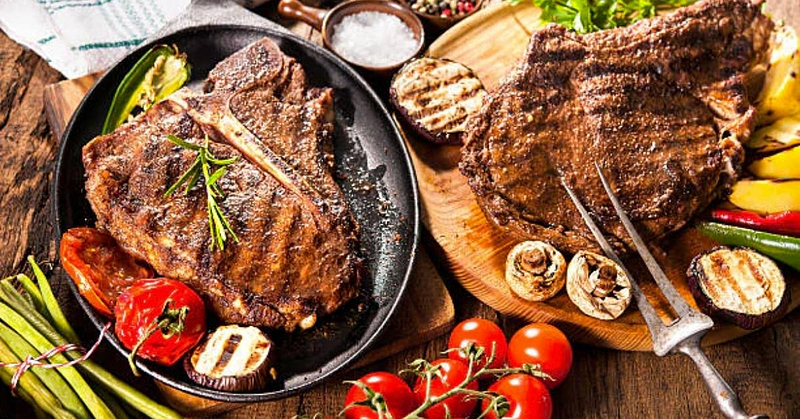 Grilled Tomahawk Steak
This grilled tomahawk steak is both impressive and easy to make. You and your guests will love the presentation, tenderness, and great taste of this large cut of beef.
Instructions
Remove the tomahawk steak from the fridge and allow it to rest at room temperature for about 30 minutes.

Preheat your Z Grills pellet grill to high heat, about 450°F.

Pat the tomahawk steak dry using paper towels. Then, season it with salt and pepper.

Sear your tomahawk steak on high heat for 3-5 minutes on each side, turning a quarter of the way to develop a nice crust on the entire surface of the steak. This step will take between 6-10 minutes total, and each quarter will be done in 1 ½ to 2 ½ minutes.

Reduce heat to medium, about 350°F.

Cook the steak for 10-25 minutes, flipping once halfway through.

Remove the steak from the grill when the meat thermometer reads 140°F* when inserted into the center of the thickest part of the steak. Please note that 145°F is the recommended temperature to cook beef for safe consumption by the USDA.

Tent the steak with aluminum foil. Allow the steak to rest for 5-10 minutes. During this time, the steak will continue cooking. The temperature will rise to 145°F, resulting in a medium steak.
Notes
Removing your steak at an internal temperature of 140°F will yield a medium steak. Remove your steak at these temperatures if you want a different desired doneness—and do not skip resting.
Keep in mind that the USDA does not recommend eating beef that has not reached an internal temperature of 145°F or higher.
What to Serve with Grilled Tomahawk Steak
This tomahawk steak is so good that you can serve it alone, and no one will complain.
But, if you need some recipes to pair with your smoked tomahawk steak, try these:
Pro Tips for Grilled Tomahawk Steak
You'll love everything about this smoked tomahawk steak—including how easy it is to cook.
If you've ever eaten a tomahawk steak before, it was probably at a nice restaurant. Now you can bring the quality of a fine-dining experience to your backyard with your Z Grills.