For over 50 years, going out to buy a grill for your backyard meant making the choice between a gas grill and a charcoal grill. Charcoal grills were, and still are messy, and a gas grill can be costly to set up and is difficult to use as a smoker. While both types of grills have their benefits, they're not perfect.
Grill manufacturers came up with something even better about 30 years ago: a wood pellet grill. Wood pellet grills changed the grilling game but for a time were only available at speciality retailers and came with a big price tag, but they've recently become affordable, more mainstream, and more accessible than ever.
This is part of a series of articles where we compare different types of smokers:
Add a header to begin generating the table of contents
What is a pellet grill?
A pellet grill is a type of grill that uses hardwood pellets to fuel it. So, instead of loading up your grill with messy charcoal or connecting a gas line, you fill a "hopper" with mess-free wood pellets. They're designed to cook food in a chamber (with a lid down over the grill) and infuse your food with a delicious smoky flavor that varies in intensity depending on the type of pellets, how you cook it, and how long you cook it for.
A pellet grill offers one of the easiest forms of grilling imaginable – you load it up with your choice of wood pellets, set the temperature you need it to cook at, and once it's reached the right temperature you add your food, close the lid, and walk away. Depending on the recipe, the next time you come back to it your food may be ready to cool and serve! Check out our what is a pellet grill article to learn more.
Why have pellet grills become so popular?
Pellet grills have become one of the most popular types of grills and types of smokers because they're so easy to use and they're versatile. Let's break it down:
They're so easy to use: Unlike other types of grills, pellet grills are designed to be easy to use and essentially do all the hard work for you. Pellet grills have an internal temperature monitor which feeds the fire with more pellets when the temperature drops.
Incredibly consistent temperatures: Because of the way pellet grills work, they offer a consistent cooking temperature that's unrivaled outside the kitchen. With a pellet grill, you really can put your food in to cook and walk away to do chores or socialize with your guests, just as you can with a traditional oven in the kitchen.
They're efficient: Because they only ever use more pellets if they're actually needed, they're incredibly efficient.
They're great for beginners and experts: There's almost no learning curve with a pellet grill – so beginners can start cooking delicious meals from the first time they fire up their wood pellet grill. Once you've got a handle on the basics of grilling and smoking, you can uplevel your grilling game and try more complex recipes.
They're high-tech: Unlike a charcoal grill, which you have to babysit for the entire time your food is cooking, modern pellet grills are essentially hands-free. Our latest wifi pellet grill model allows you to monitor and adjust the temperature with an app on your phone, so you can be busy elsewhere and have the assurance of knowing your food is still cooking at the perfect temperature.
They're versatile: With most models of pellet grill, you can do it all: grill, bake, braise, sear, smoke, and more.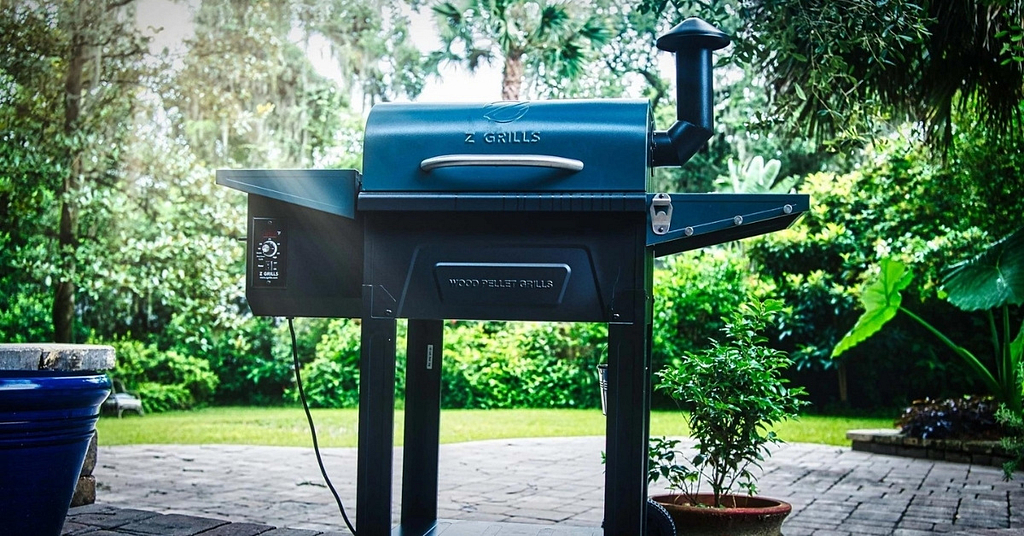 What are the different types of grills?
There are 3 main types of grills:
Pellet grills – which we've discussed above
Gas grills – which run on the same gas you use in your home and may be connected to the mains gas or use bottled gas
Charcoal grills – are fueled with the kind of charcoal you buy at the store in large bags.
Pellet Grill vs Gas Grill vs Charcoal Grill
So, how do these 3 most popular types of grills compare?
First, we'll discuss cost, then we'll jump into the pros and cons of each.
Pellet grills are often the most expensive of the three options, with prices ranging from $400 – $1,600. The grills at the higher end of this price range use the best quality materials and have the latest technology – such as wifi monitoring.
Gas grills are usually found in the mid-range, between $250 – $1,200, on average. The price is usually dictated by the build quality and cooking area. Most gas grills do not have any helpful technological features.
Charcoal grills are the cheapest option, though only if you're willing to have a basic grill with a small cooking area. You can pick up a charcoal grill for as little as $150, but generally, they'll be in the range of $200 – $800.
Pellet Grill vs Gas Grill vs Charcoal Grill: Pros and Cons
Let's break down their pros and cons:
Pellet Grill Pros
Unrivaled steady cooking temperatures – you simply can't get the same level of accuracy with any other grill.
Incredibly even cooking – no burnt on the outside here!
No grill can out-compete them on their ability to cook low-and-slow.
Most collect fat drippings in an easy to throw away bucket.
Temperature-control technology is standard, and there are some incredibly sophisticated models out there with apps you can use to control them from your phone.
Delicious smoky flavor.
Lots of sizes available, including portable pellet grill sizes.
Pellet Grill Cons
If you're looking to cook at temperatures over 500F, you'll have to shop more selectively to get one that can sear at the heat you need.
You can't "turn off" the smoky flavor (though you can control it using certain types of pellets and wrapping your food in foil).
Some people don't like things when they're this easy!
Gas Grill Pros
Gas is usually relatively inexpensive once you have a few tanks to get refilled.
Easy to buy with a small footprint.
Simple to use.
Gas Grill Cons
If you're using propane tanks, you may run out of gas mid-cook, and you've got to haul them around to get refilled.
Smoking food on a gas grill is difficult – you have to put wood chips in a foil packet.
You need to mind the temperature.
Low-cost models are typically low-quality.
Charcoal Grill Pros
Charcoal is cheap to buy.
Often space-efficient.
Grills are usually cheap.
Charcoal Grill Cons
Charcoal is messy to work with.
"Smoky flavor" is usually more burnt than smoky.
There's a big learning curve to get it to the point where your meals are delicious and not cooked unevenly.
They usually don't have a big cooking area.
Which grill is right for me?
A charcoal grill is right for you if you're looking for cheap and cheerful. If all you care about is getting a few burgers and hot dogs cooked this summer at the lowest price you can, a charcoal grill can fulfill your needs.
A gas grill is right for you if you have a home with space for a grill to hook up to your mains, and you're happy to stand nearby and babysit your food while it cooks.
A pellet grill is right for you if you're looking for the easiest way to cook with the best smoky flavors available. If you want high-quality food every time without a lot of effort, a pellet grill is right for you.
Why are people making the switch to pellet grills?
As you can see from our pros and cons section, people are switching to pellet grills due to their ease, being the best smoker for beginners, and offering the best smoky flavor. They're also often affordable and the ability to buy wood pellets in a range of flavors means there's room for a lot of experimentation. A grillmaster's time can be spent perfecting the taste of recipes, rather than perfecting how the food cooks in the first place. Have a confusion about pellet grills and pellet smokers, read our article to learn more.
Should I give a pellet grill a try?
If you've been holding back on buying a new grill because you're not sure what type to go for, a pellet grill is a right choice. Z Grills offers pellet grills for all levels. We're a grill manufacturer with over 30 years of experience within the industry. With over 650,000 pellet grills sold and 85 million cooks made. Start small with our new portable pellet grill, try our base model (but ever-popular) 450B pellet grill, or get the best-in-class wifi pellet grill.
Weber Original Kettle 22-Inch Charcoal Grill
Stay true to the modern version of the kettle that started it all—the Original Kettle, invented by Weber's founder, and loved around the world. Its ultra-durable, porcelain-enameled lid and bowl retain heat, while the damperseasily adjust for precise temperature control. With a One-Touch cleaning system for easy cleanup after a long day of grilling, the Original Kettle will always be the grill built for everyone
Holds up to 13 burgers made with a Weber burger press
One-Touch cleaning system provides hassle-free ash cleanup.Removable, aluminum ash catcher
Porcelain-enameled lid and bowl Retain heat, and won't rust or peel
Use the lid hook to avoid placing the lid on the ground while grilling
Char-Broil 463354021 Performance 4-Burner Cabinet Style Liquid Propane Gas Grill, Stainless Steel
435 square inches of cooking space on durable porcelain-coated, cast iron grates plus a 130 square inch swing-away warming rack ideal for sides and buns. Porcelain-coated cast iron grates offer superior heat retention & are rust-resistant. Main cooking surface measures 24.5-inches wide x 17.1-inches deep and provides ample cooking space for about 24 burgers, while the warming rack measures 21.6-inches wide x 6-inches deep & includes the Chef's Delight tray for greater grilling versatility.
Exclusive stainless-steel finish for increased style and durability with LED-illuminated control knobs for ambient light and sophistication. The two-door cabinet design offers storage space for not only the propane tank, but grilling tools and accessories as well.
Electronic ignition for fast and reliable burner lighting at the push of a buttom. Convenient stainless steel side shelves offer added work and prep space, and are Gear Trax enabled for a custom setup, (Gear Trax accessories sold separately). Features a 10,000-BTU lidded side burner ideal for sauces and sides or boiling water. When the side burner is not in use, the lid folds down to provide additional work or prep space.
Powered by liquid propane, (LP), gas, the stainless steel burners offer long-lasting performance and emit flames from the top for even heat with no hot or cold spots.
Lid-mounted temperature gauge to easily monitor the inside temperature of your grill without opening the lid. Also features an easy-to-access, durable porcelain-coated grease pan- which can be removed for cleaning or rinsing.
George Foreman, Silver, 12+ Servings Upto 15 Indoor/Outdoor Electric Grill, GGR50B, REGULAR
George Tough Nonstick Coating – There's a lot to love about this nonstick coating; it's durable, easy to clean, and removes the need for butter and oil
Indoor or Outdoor Removable Stand – Don't let the weather keep you from the glory of grilling; the easy-to-remove stand takes you from patio to countertop in no time
Adjustable Temperature Control – The temperature probe lets you choose from five heat settings to get the best results on any kind of food
Apartment-Approved – Your landlord will love this grill just as much as you do because the fully electric system gives you high-quality grilling with no charcoal, no propane, and no flare-ups
Included components: Use And Care Manuals
Note
This post contains affiliate links. Please read my full disclosure here: https://blog.zgrills.com/affiliate-disclosure/