Chicken legs are one of the most commonly enjoyed parts of the chicken. When chicken legs are split up for eating, they are separated into thighs and drumsticks. Chicken drumsticks are found on the bottom half of the chicken's calf and are enjoyed by people around the world. This smoked chicken drumstick recipe is perfect for beginners and only takes about an hour to cook on Z Grills pellet grill!
Add a header to begin generating the table of contents
Ingredients for Smoked Chicken Drumsticks
To make a standard amount of delicious smoked chicken drumsticks, you will need a few essential ingredients in addition to your preferred Z Grills model. The recipe calls for only three ingredients to create its incredible flavor.
Chicken Drumsticks (12)
Seasoning (to taste—don't be shy!)
Vegetable Oil (amount may vary)
Seasoning
The incredible flavor behind these tasty smoked chicken drumsticks is Lane's BBQ Sweet Lemon Pepper Rub/Seasoning. This delicious seasoning blends together lemon, pepper, and a hint of honey that provides a surprising amount of flavor. Even better, it can be used on a variety of foods with different results—not just smoking chicken drumsticks!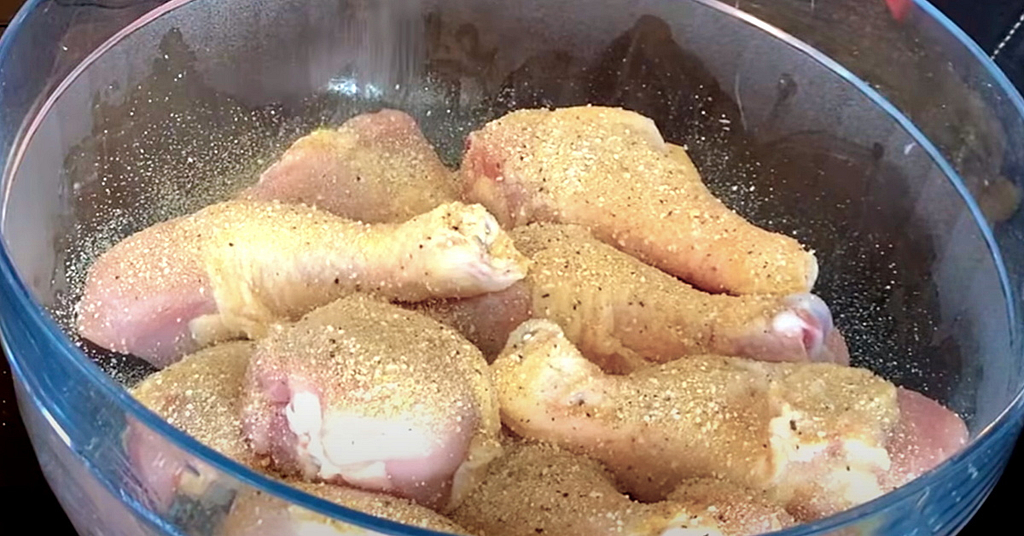 How to Make Smoked Chicken Drumsticks on a Pellet Grill
Making the smoked chicken drumsticks is a quick and simple process. You will need to begin by assembling all of the ingredients, as well as your Z Grills and cooking grate.
Cooking Instructions
1. Begin with a large bowl. You will want to ensure that the bowl is big enough to hold all 12 of the chicken drumsticks comfortably.
2. Place the chicken drumsticks inside of the bowl, spreading them out as evenly as possible.
3. Add the vegetable oil. The amount that you use may vary, but it should be enough to lightly coat all of the drumsticks evenly.
4. Add the Lane's BBQ Sweet Lemon Pepper Rub/Seasoning. Once again, the amount that you use may vary. Apply the seasoning to taste, ensuring that each drumstick has an adequate amount of coating across it. With how great this rub tastes, many people find that adding more can provide a wonderful flavor boost.
5. With a pair of gloves, rub the seasoning over the chicken drumsticks and toss until they are evenly coated.
6. Move your grates close to the bowl for easy transportation of the chicken drumsticks to the grates.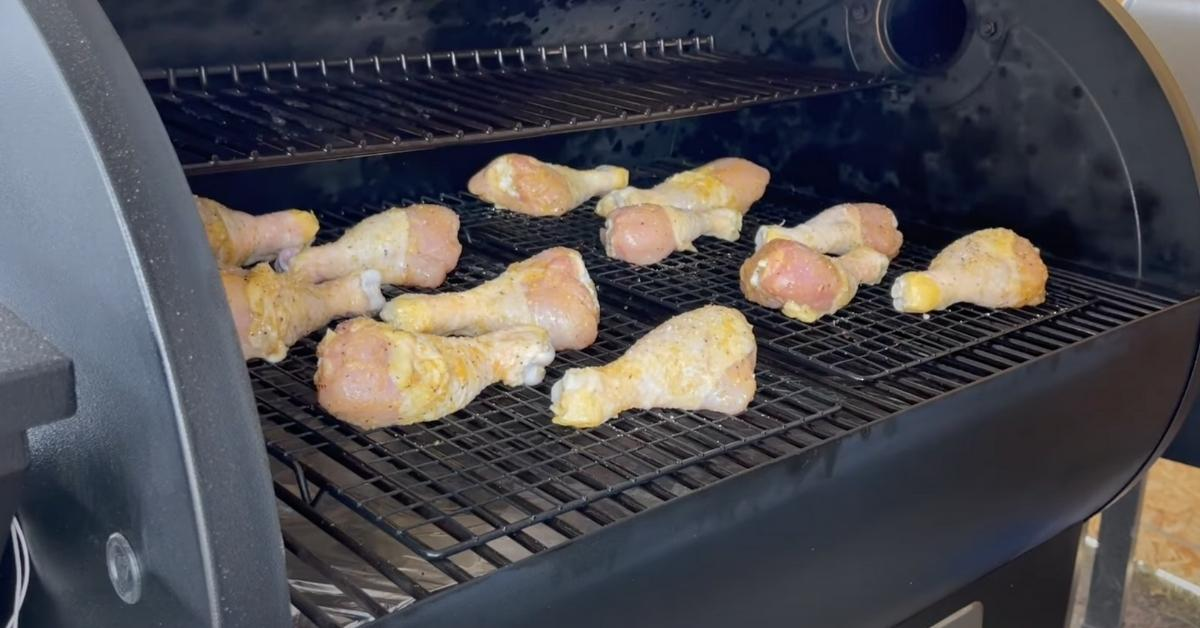 7. Using a fresh pair of gloves to avoid contamination and mess, carefully grab each chicken drumstick one drumstick at a time and set them down in a simple and organized fashion on the grate. Be sure to avoid putting the chicken drumsticks too close together, and try to separate them evenly.
8. Preheat your Z Grills to 275 degrees using Competition Blend Pellets. This will provide your smoked drumsticks with an added flavor that blends nicely with the seasoning.
9. When the Z Grills is up to temperature, add the chicken by carefully spreading out the grates inside the grill.
10. Close the lid of the Z Grills to ensures even cooking.
11. To begin, check on your chicken drumsticks after 1 hour to assess how they are cooking.
12. Using a meat thermometer, determine the internal temperature of your chicken. The ideal internal temperature for your chicken drumsticks is 180 degrees. Your reading should come from a thick piece on the chicken to get an accurate gauge of the internal temperature of other pieces. You will need to do this step each time that you make these smoked drumsticks since cook times can vary from one batch to the next.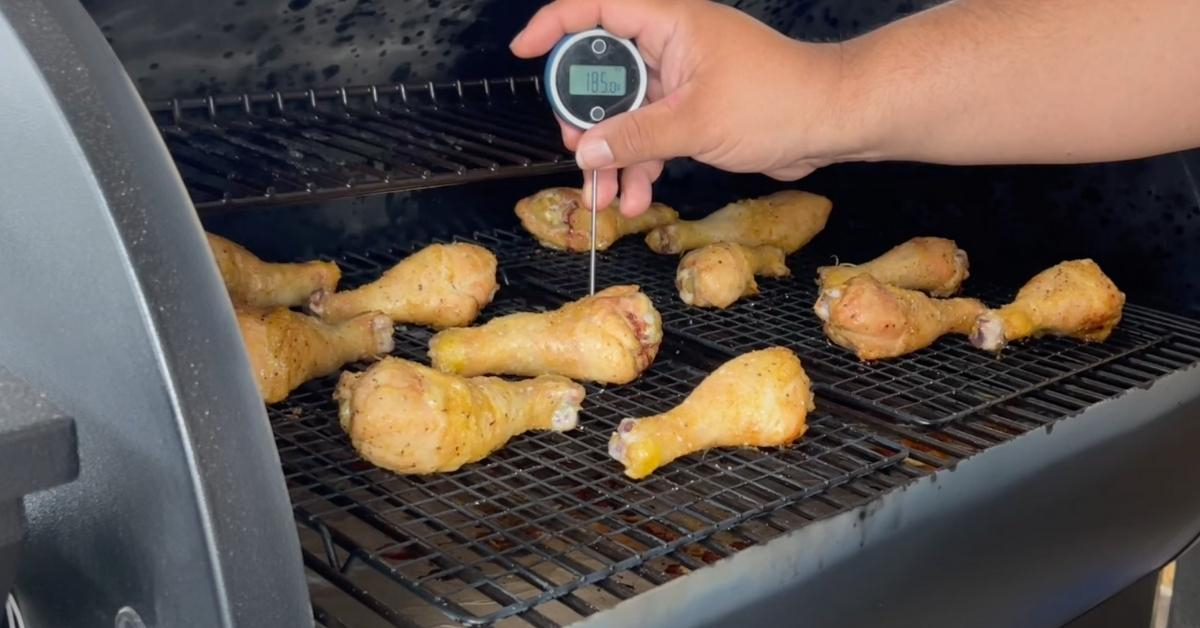 13. It is possible that at this time your internal temperature might be fairly close to the desired temperature. Continue to cook the chicken in 5 to 10-minute intervals in order to see how they are progressing, testing the internal temperature each time.
14. When the chicken drumsticks meet or pass the desired temperature, remove them from the pellet grill and place them on the counter or a comparable clean surface.
15. Turn off your Z Grills pellet grill, then get ready to enjoy your chicken drumsticks.
16. Be sure to let the drumsticks cool down to some extent to avoid burning your mouth prior to eating. Remember that the chicken drumsticks that have more meat will take more time to cool and will remain hot for longer than the others.
17. Enjoy your smoked chicken drumsticks!
Timelines
Knowing how long to smoke chicken drumsticks is an important step. The cook time for these chicken drumsticks is roughly 1 hour. After the first hour, you will begin to check the temperature of the drumsticks for 5 to 10-minutes to ensure that the ideal internal temperature is reached.
Estimated Cook Time: 1 Hour
Temperature
When cooking these drumsticks, you will need to consider two important temperatures. Your Z Grills should be set to 275 degrees for cooking. When your chicken drumsticks are done cooking, they should be 180 – 185 degrees.
Cooking Temperature: 275 Degrees
Internal Temperature for Drumsticks: 180 Degrees
Competition Blend Wood Pellets
For the best flavor, you will want to use the Z Grills Competition Blend BBQ Grill Pellets. These delicious pellets infuse incredible wood-fired flavor directly into the smoked chicken drumsticks. This blend provides a combination of maple, hickory, and cherry woods for a smooth and enjoyable flavor.
Conclusion
When cooking these smoked chicken drumsticks, it is important to remember that the internal temperature of the chicken can vary depending on the external temperature of the area as well. During different seasons, it might take different amounts of time, though this is not common with the Z Grills.
With how easy these chicken drumsticks are to make, you can get them on the table for dinner today! These are guaranteed to be a hit at home, especially if you make them a part of a larger meal. To enjoy them as a part of a balanced meal, consider pairing them with Grilled Butternut Squash with Arugula Salad, Smoked Brussels Sprout with Bacon, Smoked Mashed Potatoes, or Smoked Mac and Cheese.
More Delicious Smoked Chicken Recipes
Wise Organics Double Certified Organic Bone-in Skin-on Chicken Leg Quarters, Glatt Kosher, Non GMO, Free Range (8.00-8.50 Pounds, 12 Pcs Approx.)
TENDER. DELICIOUS. PURE. Raised on an organic, vegetarian diet and raised free range in the USA with access to pasture and fresh air, our wholesome poultry is full of exceptional flavor that raises the bar on "tastes like chicken".
PACKAGE CONTENTS: 7-8  1-1.5 pound packs of raw, ready-to-cook chicken leg quarters, sealed in leak-proof and freezer-burn-proof packs and frozen in enough dry ice to last 72 hours – with delivery to your door.
LEAVE A GOOD TASTE IN YOUR MOUTH: Raised humanely by experienced family farmers certified by Global Animal Partnership and packed in eco-friendly tray-less casings – because we believe premium quality goes beyond premium meat.
NO ANTIBIOTICS OR HORMONES – EVER. Our birds – chickens and turkeys alike – are given only organic, vegetarian feed that is free of synthetic pesticides & genetically-modified grains, and allowed to roam free in open pasture on family farms.
A PREMIUM BRAND TRUSTED NATIONWIDE – Deli counters and natural grocery stores trust Wise Organics to deliver the cleanest, tastiest, ethically raised poultry meat. Your soups, pot pies, Thanksgiving dinners, and grilled dishes will never be the same.
365 by Whole Foods Market, Oil Vegetable, 32 Fl Oz
365 by Whole Foods Market products give you that dance-down-the-aisles feeling, virtual aisles too! Our huge range of choices with premium ingredients at prices you can get down with makes grocery shopping so much more than tossing the basics in your cart.
Lane's Sweet Lemon Pepper Seasoning – Incredible Chicken Wing Seasoning | Hint of Garlic | Lemon Garlic Pepper Seasoning | For Chicken, Pork & Seafood | 100% Natural | Gluten Free | No MSG | 4.6oz
THIS AIN'T YOUR MOMMAS LEMON PEPPER: This lemon seasoning rub will roundhouse kick your taste buds straight in the mouth with its incredible mix of citrus, pepper and honey. Nothing like it out there
YOUR NEW GO-TO WING SEASONING – Incredible Lemon Pepper Seasoning for Wings. The slightly sweet kick against the citrus and pepper flavor makes this one of the most flavorful lemon pepper seasonings
NOT JUST FOR WINGS!! – Try this on Pork Beef and just about any kind of Seafood you can think of. This gluten free lemon pepper seasoning will have your friends and family coming back for more
TOTALLY UNIQUE FLAVOR – Move over plain ole' Lemon Pepper Seasoning. Lane's Sweet Lemon and Pepper Seasoning adds a flavor prolife that's unexpected, and irresistible. Try it!
NO GARBAGE: 100% All Natural. Gluten Free. No Preservatives. Made in the USA!
Note
This post contains affiliate links. Please read my full disclosure here: https://blog.zgrills.com/affiliate-disclosure/