Add a header to begin generating the table of contents
How to Prep a Brisket?
Before we get into how to smoke a brisket on a pellet grill, you'll want to make sure you choose the best quality meat you can afford. You'll want to use a cut of brisket that has good marbling. Keep in mind the grading system which will help you know the quality of the meat you're buying. The most common grades, in order of lowest to highest, are select, choice, and prime. Aim for a prime cut for a smoked brisket recipe to make sure you have a good cut.
How to Trim a Brisket?
How you trim your brisket depends on your personal preferences but there are a few simple rules to follow. You'll want to remove any 'hard fat' from your brisket – this won't render down during smoking and will add nothing to the finished dish. You should also aim to remove any fat that will prevent you from directly seasoning the meat.
Tools needed for trimming brisket:
Powder-free nitrile gloves
Fillet knife
Trash bowl
How to Season a Brisket for Smoking?
For this smoked brisket recipe, we use a dry rub to season the brisket. Our rub is made up of the following:
Garlic powder
Onion powder
Paprika chili powder   
Ground black pepper  
Ground salt    
Brown sugar
Ensure you cover every part of the brisket with this mixture. Rub it in thoroughly to ensure even distribution. You'll also want to pay particular attention to the fat side, as this is what will go onto the pellet grill first.
What Temperature Should You Smoke a Brisket in a Pellet Grill?  
For smoking a brisket on a pellet grill, we recommend preheating your grill to 225°F before you begin. Use a meat thermometer to monitor the brisket internal temp throughout the cook – you're aiming for around 160°F for the first stage of cooking, and around 200°F for the second stage, where you'll wrap the brisket and turn the heat up to 250°F. 
How Long to Smoke a Brisket on a Pellet Grill?
The length of time it takes to smoke your brisket will depend on the temperature of the grill and the size of your brisket. We recommend smoking your brisket at 225°F for around 6-7 hours for 10lbs and up to 15-16 for 20lbs. For this smoked brisket recipe, we're using 4lbs of brisket with a total cooking time of around 4 hours, which is 1.5-2 hours with the grill set at 225°F, followed by 2 hours with the grill set at 250°F.
Recommended reading: Smoking Brisket at 250 vs 225 Degrees
How to Smoke a Brisket on a Pellet Grill
Preheat the Z Grills Pellet Smoker to 225°F 
Start by preheating and setting the pellet grill smoker to 225°F with your favorite wood pellets.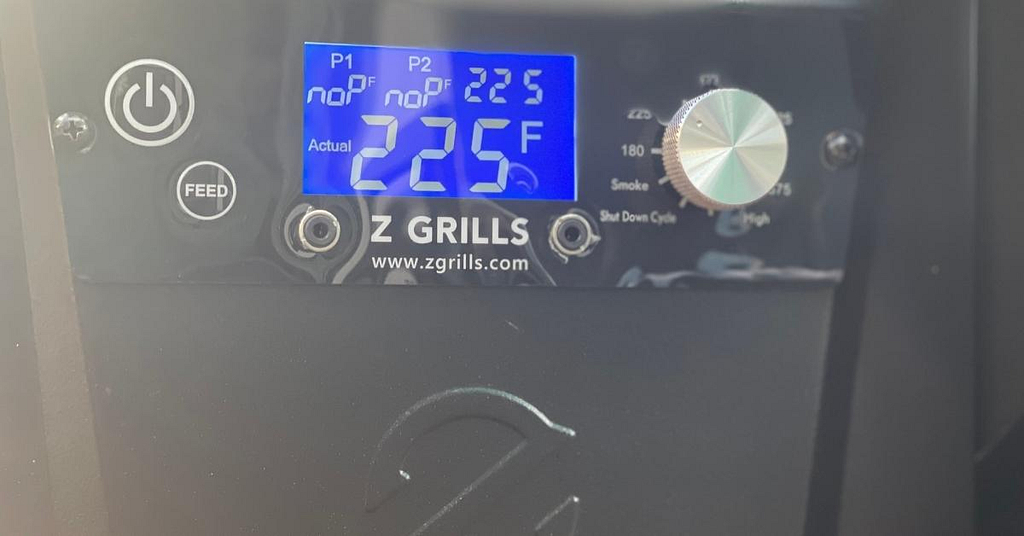 Place the Brisket Fat Side Down on the Grill
Place your brisket on the grill fat side down. The fat acts as a heat shield for the meat and will give you the best finished result.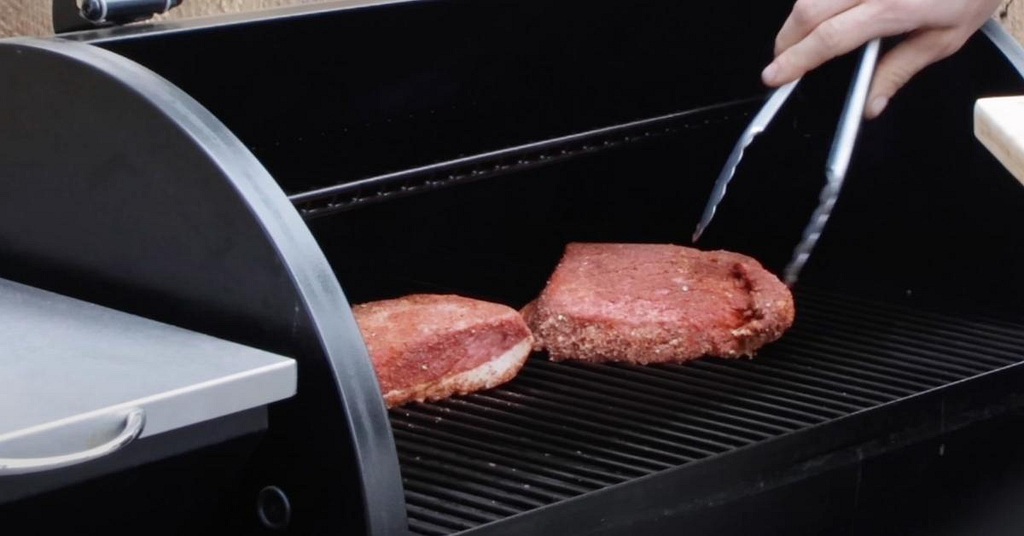 Cook at 225°F
Cook the brisket at 225°F until the brisket's internal temp reaches 160°F.
Place in the Deep Pan
Remove the brisket from the grill and place it in the deep pan lined with aluminum foil and prepare the beef stock and light beer.
Pour the Sauce Right into the Pan
Pour the sauce into the pan, making sure the liquid comes up to the top of the brisket but below the top of the pan.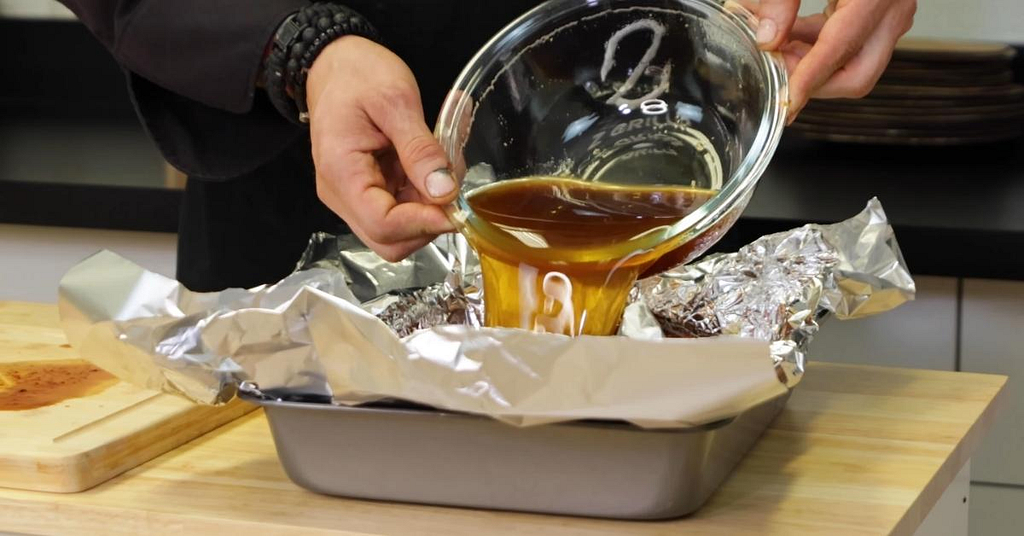 Take Extra Edges and Fold Them Over
Take the extra edges of aluminum foil and fold them up over the pan to partially cover the brisket and sauce.
Use a Piece of Aluminum Foil and Cover the Top
Take an extra piece of aluminum foil and cover the top of the pan. Wrap it loosely around the pan, leaving some space for air to vent. This will help regulate the internal temp and retain moisture which will make your smoked brisket tender and luscious.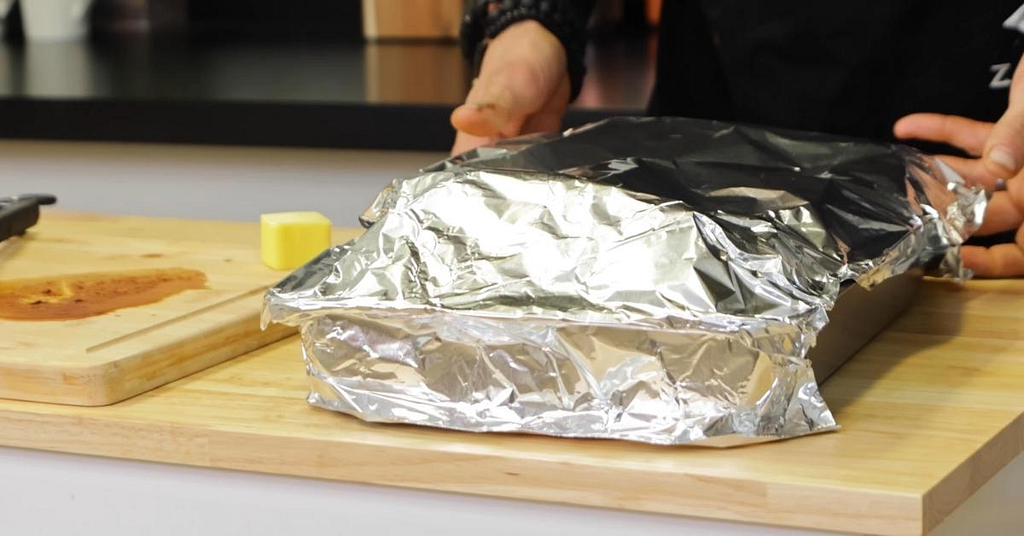 Place It on the Grill Again
Place your brisket back on the grill again and cook at 250°F until the brisket's internal temp is 200°F.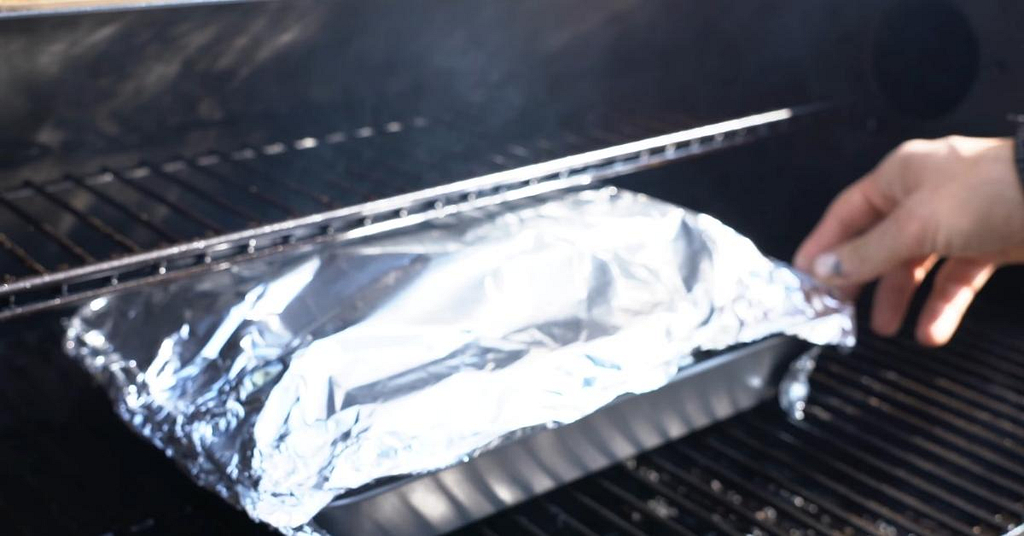 Check the Temp
Use the meat thermometer to check the brisket internal temp. When it reaches 200°F, remove the brisket from the smoker and let it rest for around 10 minutes.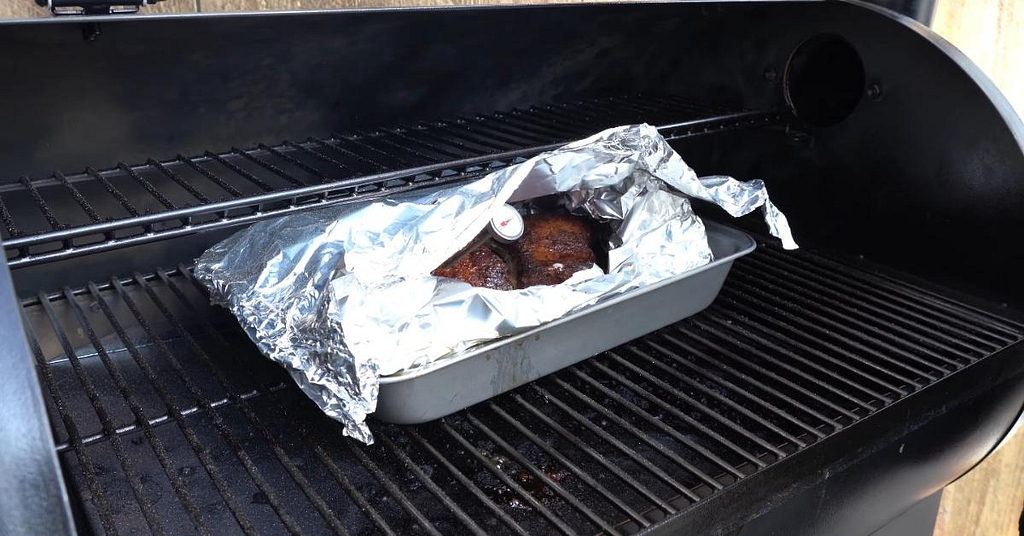 Slice the Brisket
After the smoked brisket has rested, slice longways, going against the grain of the meat. You'll notice a smoke ring around the edges of the meat – this means the smoke has penetrated the meat and it will taste fantastic.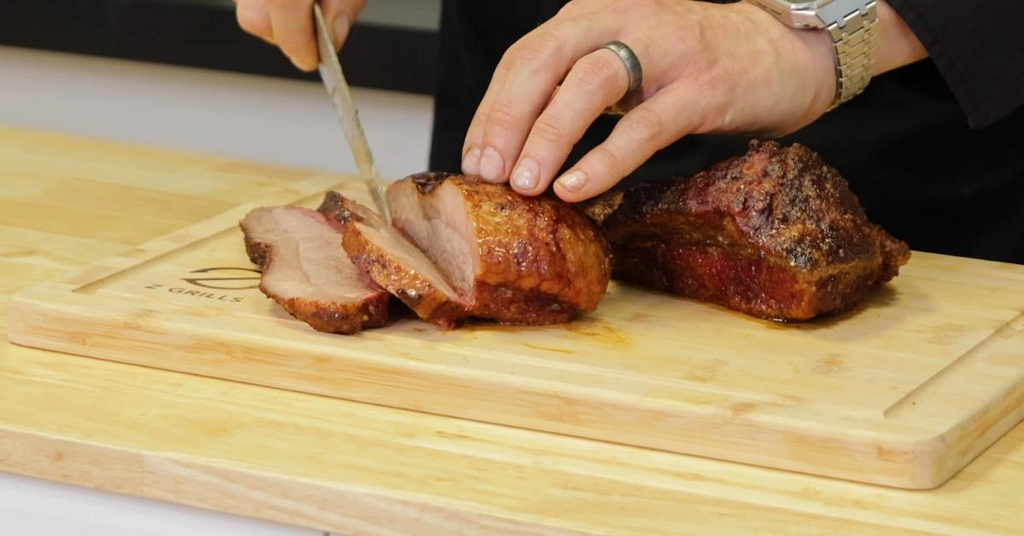 What to Serve with Smoked Beef Brisket?
Your smoked brisket will be superb on its own, but if you want to treat your family and friends to a feast, here are our recommendations of what to serve with your brisket:
Final Thoughts
Our Z Grills 700 Series is a firm favorite with our customers because they are so easy to use yet produce fantastic results. It allows you to cook dishes packed with wood-fired flavor in the comfort of your own home.
If you want to learn more about this recipe, watch the full video on YouTube.
Smoking Brisket FAQs
Best Wood Pellets for Smoking Brisket
You can use any wood pellets you want for your smoked brisket, but we recommend using hickory pellets for a strong, rich flavor.
Grill a Brisket Fat Side Up or Down?
You should always cook your brisket fat side down. The fat acts as a heat shield, protecting the delicate meat and keeping it moist. Cooking fat side up will cause the fat to drip down the meat, washing away that delicious rub, undoing all your hard work. It also makes the finished product look amazing.
How to Tell When the Brisket is Done?
You can't always tell if your smoked brisket is done just by looking at it. As it cooks, it will develop a bark where the sugars inside the meat have caramelized. When you cook meat at high temperatures, this happens very quickly. When smoking meat at low temperatures, it takes longer to occur. So trust in your meat thermometer to tell you when your smoked brisket is done – you're aiming for an internal temp of 200-205°F.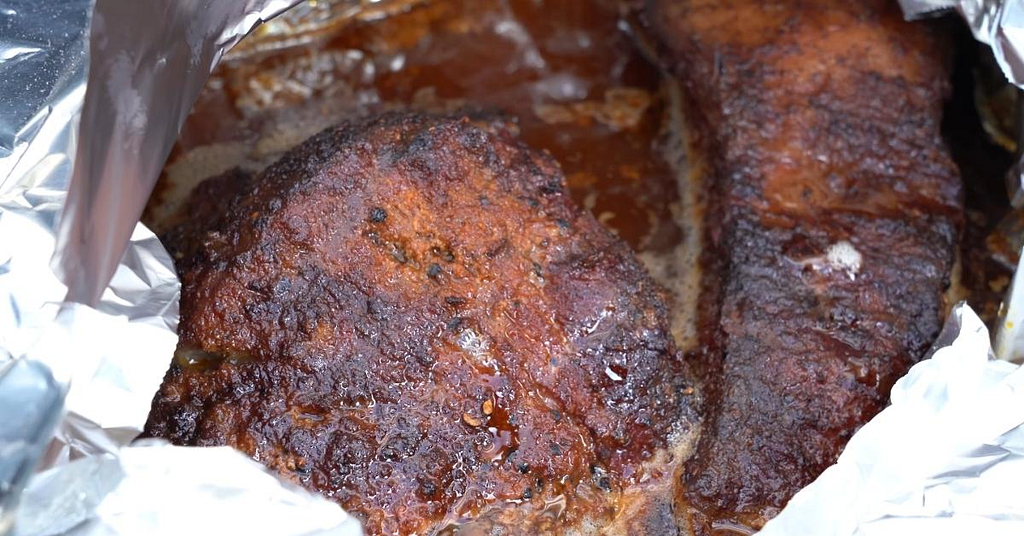 More Brisket Recipes and Guides
Explore our best brisket recipes and guides for anyone who plans on smoking a brisket.
Smoked Brisket
It's easier than you think to get a perfectly cooked, flavorful, tender, and fall-apart brisket when you try this smoked brisket recipe on a Z Grills pellet grill.
Instructions
Preheat the Z Grills pellet smoker to 225°F.

Place the brisket fat side down on the grill.

Cook at 225°F until brisket internal temp is 160°F.

Remove from grill and place in a deep pan lined with aluminum foil.

Pour beef stock and light beer sauce into the pan, making sure it comes up to the top of the brisket.

Take extra edges of foil and fold them over.

Use a piece of foil and cover the top.

Place it on the grill again, cook at 250°F until brisket internal temp is 200°F.

Check brisket internal temp.

Once internal temp reaches 200°F, remove from the smoker.

Rest for 10 minutes before slicing.
Video
MedPride Powder-Free Nitrile Exam Gloves, Large, Large (Pack of 100)
MEDICAL-GRADE, PUNCTURE-RESISTANT NITRILE GLOVES: These premium medical examination gloves are made of great quality nitrile that is proven to be more resistant and durable than latex or any other type of gloves. Waterproof and puncture-resistant, they can fully shield your hands from needles, drugs, blood or any other potential threat so you can examine your patients with peace of mind.
THE MOST PROTECTIVE EXAM GLOVES FOR ANY MEDICAL USE: Our single-use, heavy-duty disposable nitrile gloves feature textured fingerprints for excellent tactile sensitivity. Ideal for anyone working in the healthcare field including: doctors, nurses, paramedics, first-aiders, dentists, at-home caregivers and even aestheticians and tattoo artists. Great for food prep, professional food services, labs, factories, cleaning and so much more.
LATEX & POWDER-FREE FOR IRRITATION-FREE WEAR: These non-sterile safety gloves feature a latex and powder free synthesis to provide unparalleled comfort even after many hours of use. While most people are easily irritated by latex and powder, our skin-friendly hospital gloves get the job done without causing any discomfort. Suitable even for people prone to skin sensitivities.
MANY SIZES TO CHOOSE FROM | YOUR SATISFACTION IS GUARANTEED: Available in 4 different sizes [Small, Medium, Large and Extra Large], and a great value pack [Box of 100 disposable, latex-free gloves], you can definitely find the perfect match for all your needs. Backed up by an Unconditional Money Back Satisfaction Guarantee, you can order your protective gloves today completely risk-free!
ORDER WITH PEACE OF MIND: Medpride is your trusted supplier of effective, top quality medical products that you can count on to equip your personal or professional medical kit. Backed by a 30-Day Money Back Guarantee, you have every good reason to choose Medpride for all your personal care supplies!