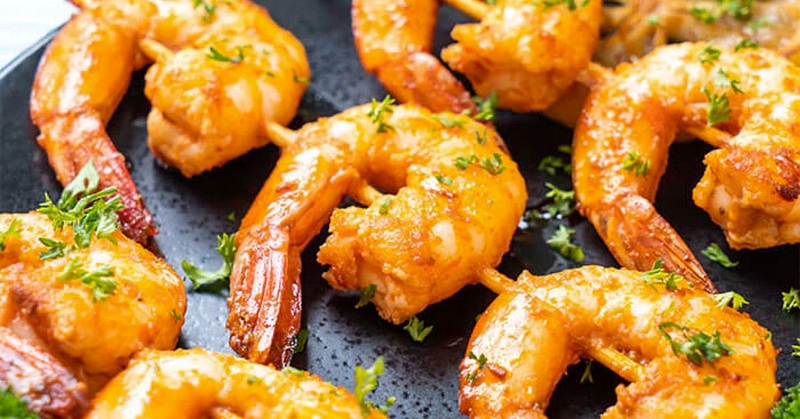 Garlic Grilled Shrimp Skewers
Garlic grilled shrimp skewers are what summer is all about. Savory, sweet, with plenty of heat – this grilled shrimp recipe has it all. It's easy to make yet flavorful enough to serve at your next party.
Ingredients
1 

pound 

large shrimp

1/4 

cup 

olive oil

1/4 

cup

fresh cilantro, finely chopped

1/4 

cup 

fresh parsley, finely chopped

4 

cloves

garlic, minced

1 

tablespoon 

lemon juice

1/2 

teaspoon 

salt

1/4 

teaspoon 

black pepper

Pinch cayenne pepper, adjust to spice preference
Instructions
Add the olive oil, herbs, and spices to a small mixing bowl and whisk together.

Place the shrimp in a bowl and pour 3/4 of the marinade on top of the shrimp. Mix together gently to coat the shrimp evenly.

Cover the bowl and marinate the shrimp for 30 minutes to an hour.

Thread the shrimp on the skewers and make sure to get all the good garlic and herbs from the bowl and spread on to the shrimp.

Heat a grill on medium high heat (around 400°F).

Once the grill is hot, arrange the shrimp skewers on the grill and cook for 2-3 minutes per side, or until they turn pink and opaque.

Remove the shrimp skewers to a plate and spoon the remaining marinade on top before serving.