Filet mignon and New York strip steaks are both great cuts of meat, especially when cooking on a pellet grill. However, these two cuts need special care on your pellet smoker.
In this article, we'll cover all the differences between a filet mignon and a NY strip, including price, anatomy, fattiness, flavor, and most importantly, how to cook them.
We also include two recipes for a smoked NY strip and a smoked filet mignon, so there's no guesswork when it's time to slap your steaks on the grill.
Add a header to begin generating the table of contents
Tip 1. What is a Filet Mignon?
A filet mignon is a steak that comes from a gently used muscle on the cow, the psoas major or tenderloin. Since the muscle the filet mignon comes from isn't used often, it delivers the most tender cut of beef you can possibly.
Filet mignons are known for their tenderness, juiciness, and phenomenal taste.
Tip 2. What is a New York Strip?
Although New York strips are delicious, they can't compete with a filet for flavor or tenderness. They're a bit chewier, with more fat on the sides and less marbling throughout the meat.
A New York strip with a bone is also known as a Kansas City strip, and a porterhouse (or T-bone) steak contains a NY strip. If the T-bone steak only has a New York strip, it may also be referred to as a shell steak.
You might also know the infamous New York strip steak as a:
boneless club steak
top loin
strip loin steak
hotel style steak
sirloin
veiny steak
Omaha strip
Tip 3. Beef Basics: Where Filet Mignon and New York Strip Steak Are from on the Cow
Although filet mignon and NY strips are both beef steaks, where they come from on the cow has a major impact on the taste, texture, tenderness, and juiciness of the steak itself.
A New York strip comes from the lower half of the cow's ribs—you might recognize this portion of the cow by the name short loin. It's located right next to the tenderloin muscle of the cow, which is the most tender cut of meat on the animal.
That tenderloin is where the filet mignon comes from. Filet mignon is the most tender cut of beef you can get because it's from a rarely used muscle along the cow's back.
Now, if you want to eat both a filet mignon and a NY strip steak, order a porterhouse steak, which has both. The filet is the portion of meat on the smaller side of the T bone, while the NY strip is the largest portion of meat on the other side of the bone.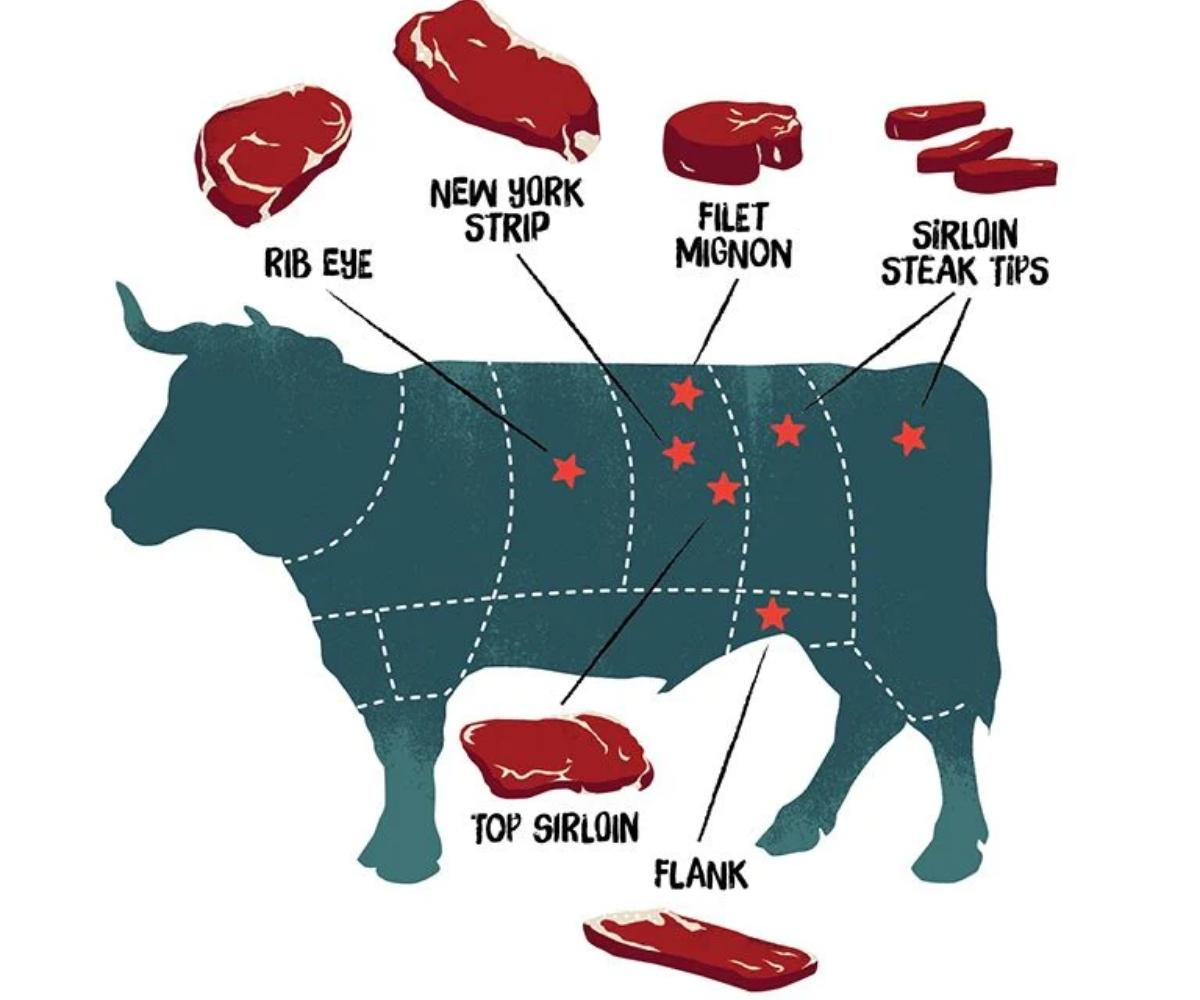 Tip 4. Filet Mignon vs. New York Strip Steak: Taste, Texture, and Fattiness Comparison
Filet mignon is heralded as the best cut of beef you can possibly get. It is juicy and tender, with great marbling throughout. You could even describe it as buttery.
Compared to a filet, a New York strip steaks contain less marbling in the meat and more fat around the sides. Once cooked, a NY strip steak is chewier than a filet mignon with slightly less flavor.
Tip 5. Price of Filet Mignon vs. New York Strip Steak
Of course, the price of your filet mignon and NY strip will vary depending on the grade of meat you buy (choice, select, or prime). For comparison purposes, we're looking at prime steaks only.
You can purchase prime filet mignon from Omaha Steaks for $14 per ounce, while a New York Strip will cost you $2.50 per ounce.
New York strip steaks are larger than filet mignons since the short loin is larger than the tenderloin. So, although the price per ounce is lower, you can expect to pay more (and get more) when you purchase a NY strip.
Tip 6. How to Smoke Filet Mignon vs. New York Strip Steak on a Pellet Grill
The key to grilling an amazing steak is searing it.
For the filet mignon, all you need is a quick sear, and the steak is ready. On the other hand, we'll be smoking our New York strip for about one hour on low heat before searing it on high heat for a few minutes.
Both smoked steaks taste wonderful, tender, and juicy by the end—but the cooking methods are distinct.
To smoke these steaks, you'll need a few simple ingredients:
your steaks
some salt, pepper, and garlic powder
butter
You'll also need the right equipment.
Tip 7. Choice of Z Grills Pellet Grill and Wood Pellets
Choose Z Grills pellet smokers and signature wood pellets, which easily out-smoke the competition.
You'll love our high-quality products, which include six flavors of the best wood pellets that:
burn cleanly
leave minimal ash to clean up
contain no additives
consist of 100% hardwood
are American made
They even include an easy guide for choosing the right wood pellets for every occasion.
If you want to smoke the best meals, you also need a Z Grills pellet smoker. We offer models for everyone from the affordable pellet grills 450-550 series to the high-end pellet grills 1000 series. Whether you're a novice cook without much experience or an expert grill master, there is a Z Grill pellet smoker out there for you that will deliver authentic wood-fired flavor with precise temperature control.
Tip 8. Smoked Filet Mignon and Smoked New York Strip Recipes
Since filet mignon and New York strip steaks are so different, they require different cooking methods. Check out these recipes if you want to make the best steak you've ever tried smoked on the pellet grill.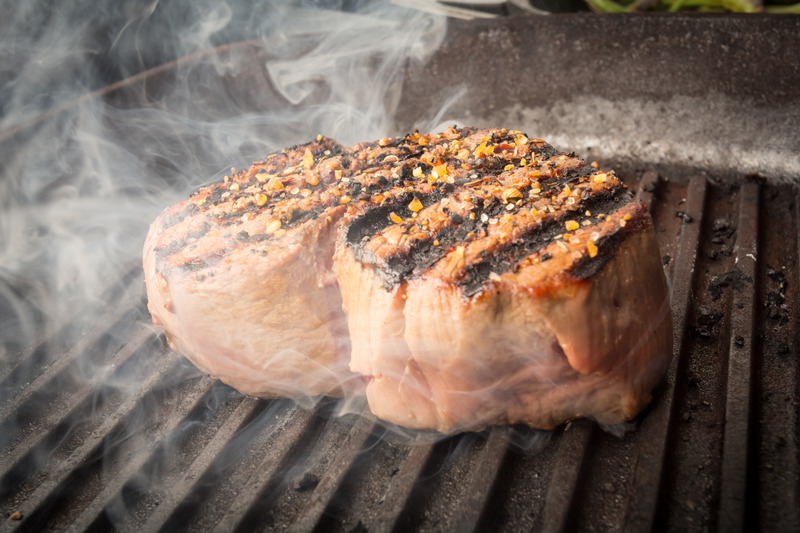 Smoked Filet Mignon
This smoked filet mignon recipe is one of the simplest and fastest recipes you'll find for your Z Grills pellet smoker—and it's also one of the most delicious.
Instructions
Preheat your Z Grills pellet smoker to 450°F.

Prepare your steaks by patting them dry with a paper towel.

Season the filet mignons generously on both sides with salt, pepper, and garlic powder.

Once the grill is preheated, sear the steaks for 5-8 minutes on both sides (10-16 minutes total).

Remove the filet mignons when they reach an internal temperature of 130°F. Although the USDA recommends you bring beef up to an internal temperature of 145°F, filet mignons tend to lose their tenderness and flavor when overcooked past medium-rare.

Allow the filet mignon steaks to rest for at least 5 minutes before serving. Finish filets with butter while resting, or serve filets with butter.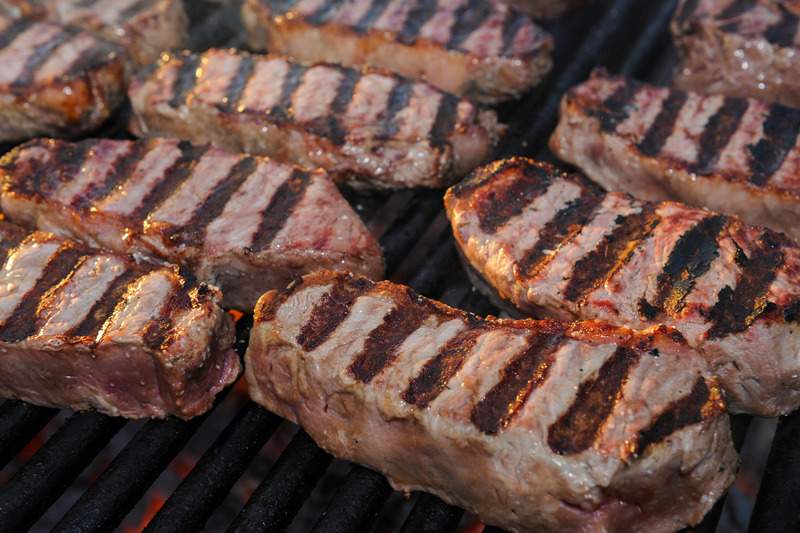 Smoked New York Strip Steak
Although the New York strip steak and the filet mignon come from similar parts of the cow, these two distinct cuts of meat require different cooking methods.
Ingredients
1

tsp

kosher salt

1

tsp

Black Pepper

1

tsp

garlic powder, or to taste

2

tbsp

butter

4

New York strip steaks (about ½ to 1 inch thick)
Instructions
Preheat your Z Grills pellet smoker to 225°F.

Pat your steaks dry and season both sides generously with salt, pepper, and garlic powder.

Smoke the New York strip steaks until the internal temperature reaches 105°F, about 60 minutes.

Remove the steaks from the grill and allow them to rest for 15 minutes while you preheat your Z Grills pellet smoker to 500°F.

Return the NY strips to the grill and sear both sides for 4 minutes. Remove the steaks when they reach your desired internal temperature: 145°F for a medium-well steak (recommended for food safety), 130°F for a medium-rare steak (recommended for best taste), 120°F for a rare steak.

Add butter to the warm steaks and allow them to rest under foil for at least 5 minutes. The internal temperature will rise about 5°F in this time.

Serve and enjoy your smoked New York strips!
What's your favorite steak? Let us know in the comment section below!