Bacon wrapped jalapeno poppers are an incredible food option that can bring so much flavor and fun to your table. While traditional jalapeno poppers are delicious, these spiced and smoked bacon wrapped jalapeno poppers are a treat that brings a whole new twist to an old classic. This recipe is perfect for beginners and easy for anyone to make–but they are guaranteed to satisfy everyone at your table during mealtime! From barbecues to family dinners, these poppers are always well-received!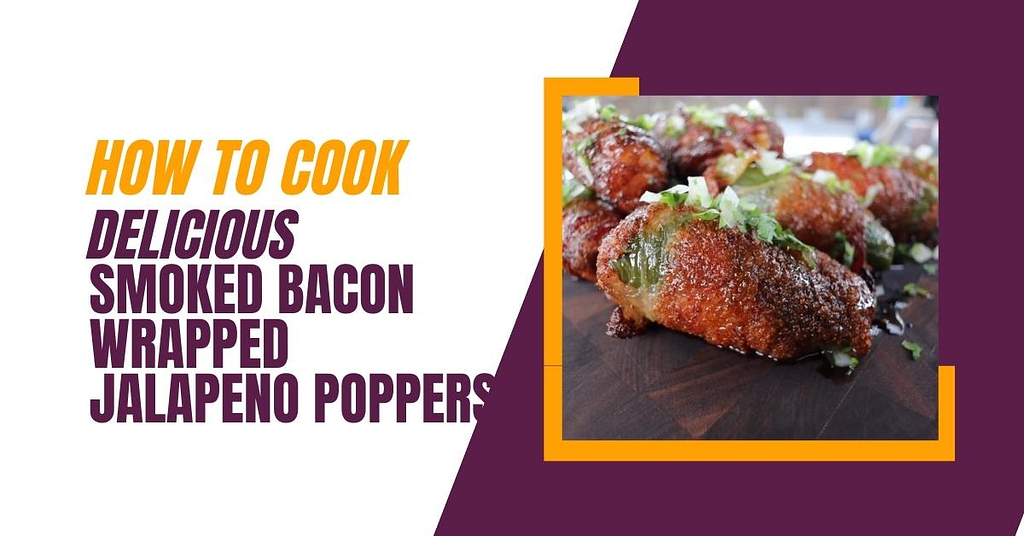 Add a header to begin generating the table of contents
Prep the Jalapenos
To prepare the jalapenos for this recipe, you will need to begin by cutting them. Slice the jalapenos in half the long way (lengthwise). When the cut is made, scoop out the insides using a spoon or paring knife to remove the seeds and excess.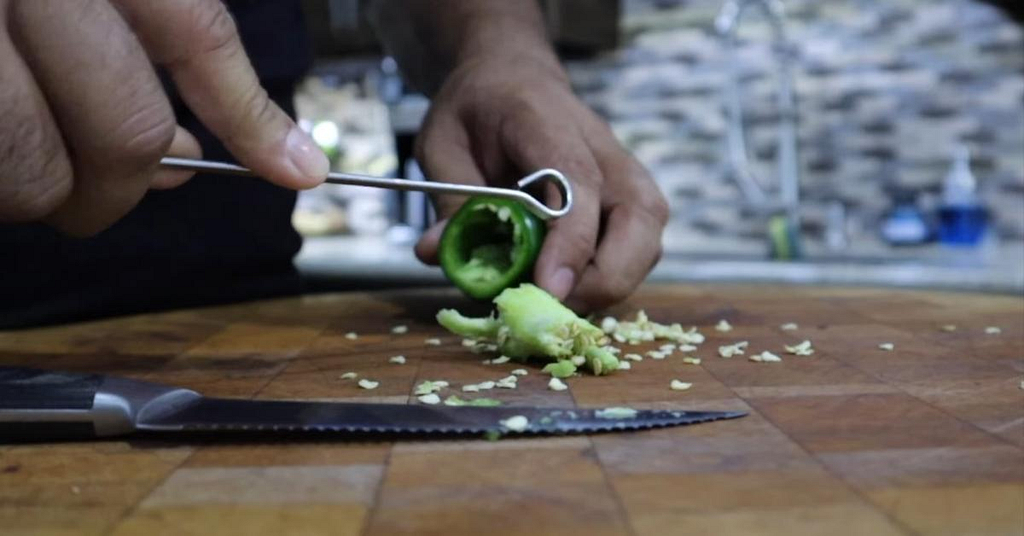 Mix the Stuffing
The stuffing in these jalapeno bites plays a key role in their delicious flavor. For this recipe, you will want to mix a combination of ingredients in a bowl. The stuffing will include Johnsonville smoked sausage, jalapenos, cilantro, onions, and cream cheese.
Stuff the Peppers
After the stuffing is prepared, take care to fill each pepper boat with a good amount of stuffing. Use all of the stuffing for poppers that are bursting with flavor.
Wrap Them in Bacon
The bacon is the cherry on top of this recipe, so make sure to choose your favorite bacon for these poppers. Wrap each stuffed jalapeno boat with a single slice of bacon. When the poppers are all wrapped, take the poppers and place them in the refrigerator overnight.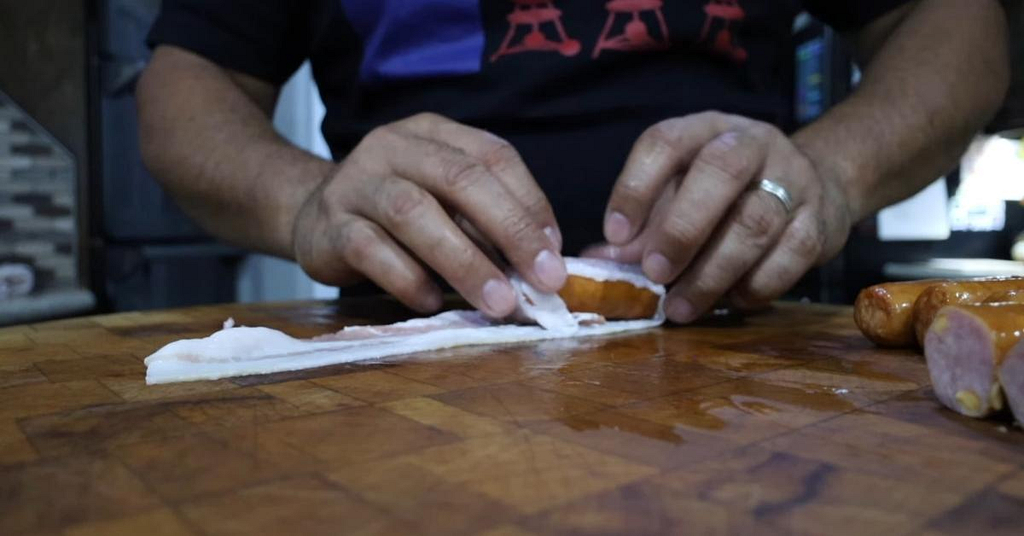 Smoked Bacon Wrapped Jalapeno Poppers: Step-By-Step Instructions
With these simple steps, you can take your smoked bacon jalapeno popper prep and turn it into a delicious meal. Let's explore how to cook this exciting snack.
Step 1: Preheat the Z Grills Smoker to 350°F
Before you cook the smoked bacon jalapeno poppers, you will want to get the smoker up to temperature. For these poppers, your Z Grills Smoker must be preheated to 350°F. Be sure to let it reach this temperature before cooking.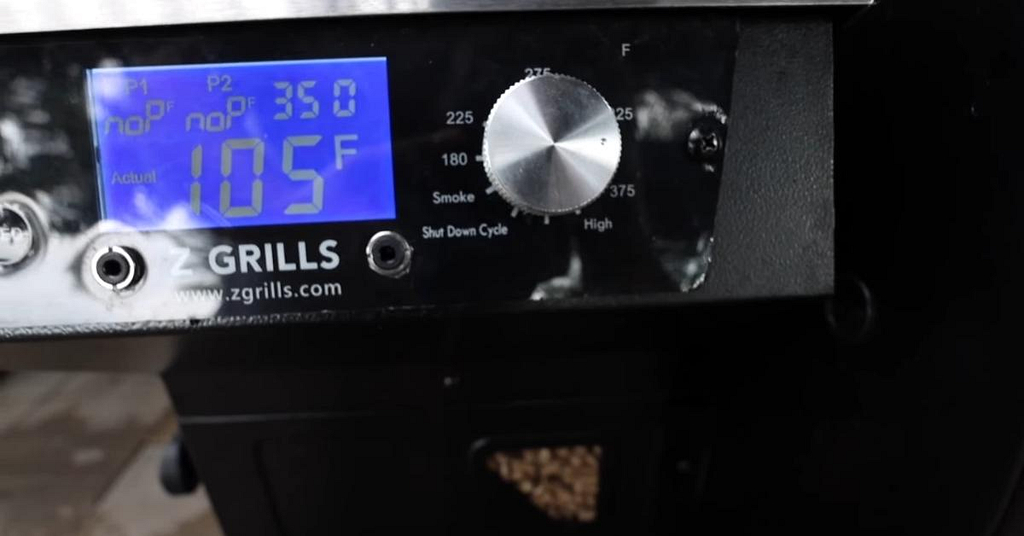 Step 2: Season the Poppers
These smoked bacon wrapped jalapeno poppers are already full of flavor, but a little seasoning can bring even more. Sprinkle seasoning across the poppers. You can use as much or as little as you want based on your preferences. We recommend using the Crave's Ancho Love and Craves Rosie's Gold seasoning for these poppers.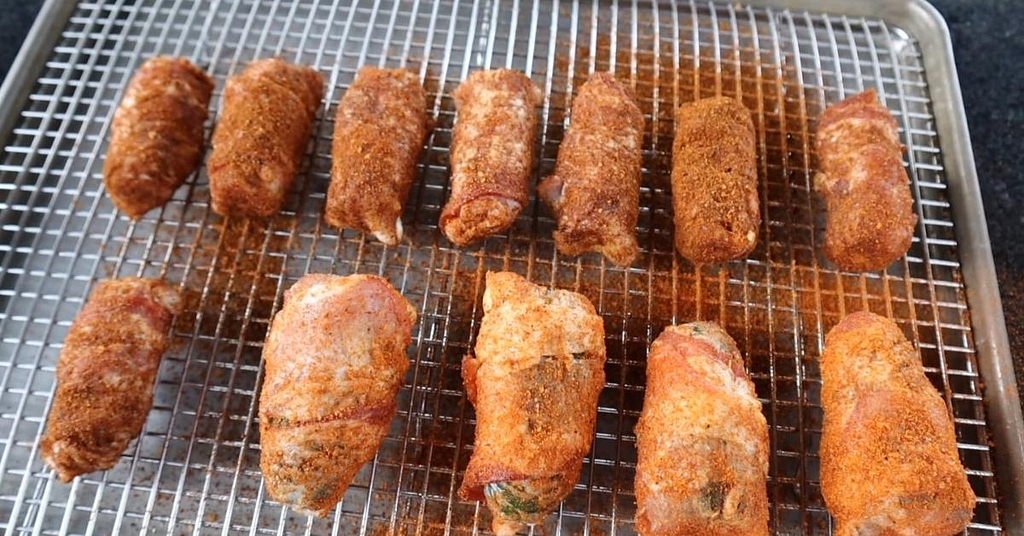 Step 3: Place Jalapeno Poppers on the Smoker
Once your jalapeno poppers are properly seasoned, you will want to start cooking. Begin by placing the jalapeno poppers inside of your Z Grills Smoker at 350°F for 15 minutes. During this time, do not open the smoker.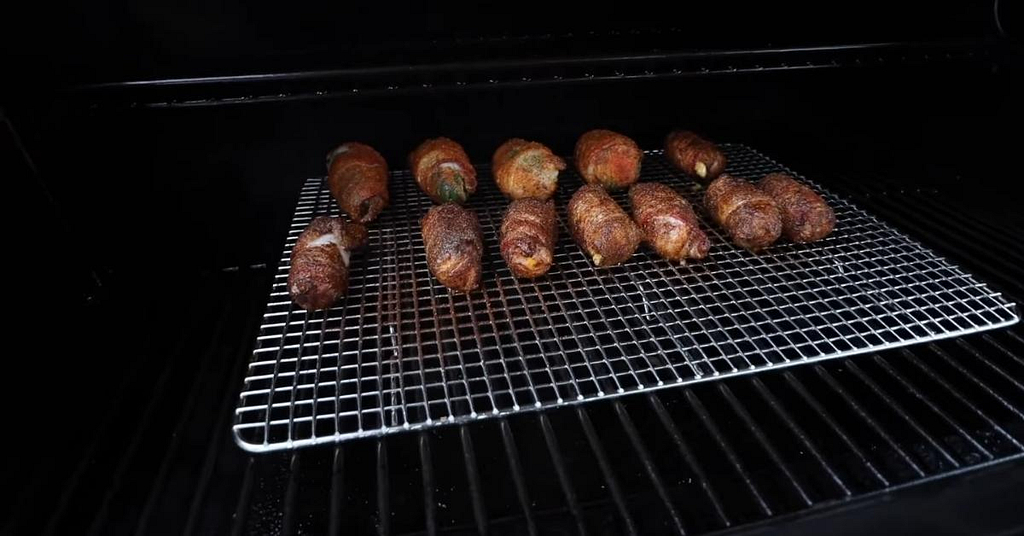 Step 4: Add Hot Honey to the Poppers
After the initial 15 minutes of cook time, it is time to add even more flavor. For one final touch, add some hot honey to the poppers. You can add the hot honey to taste. Some people like a little drizzle, while others prefer even more flavor! Be sure to rotate the baker's grid before you continue cooking.
Step 5: Smoke the Bacon Wrapped Jalapeno Poppers for Another 5 Minutes
Place the smoked bacon wrapped jalapeno poppers back inside your Z Grills at 350°F once again. This time, allow the jalapeno poppers to cook for an additional 5 minutes of cook time–or until they are crispy and glazed.
Step 6: Remove and Serve
When the poppers have finished cooking, it is time to remove them from the smoker. Allow the poppers to rest for 5 minutes. Garnish the poppers with any additional flavor adds to suit your preferences. We recommend hot honey jalapeno, onions, and cilantro. The jalapeno poppers should have a crisped bacon exterior in a reddish brown color, and the jalapenos should be a deeper green. Each bite should be bursting with sweet and spicy flavor. Thanks to the consistency offered by Z Grills while cooking, every popper should be a perfect masterpiece!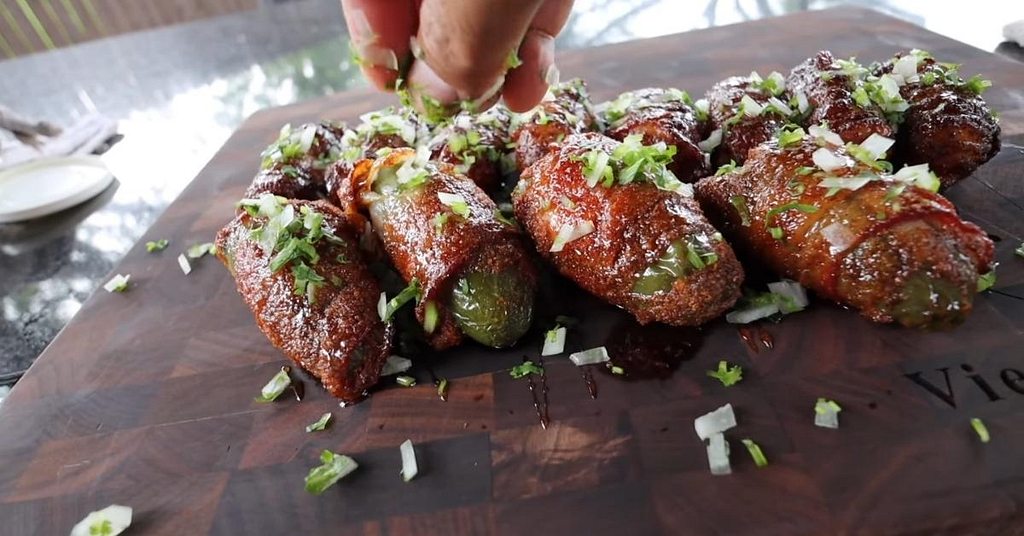 Pro Tips for Smoked Bacon Wrapped Jalapeno Poppers
You can take your smoked bacon wrapped jalapeno poppers to the next level with these insider tips. Be sure to follow these rules for jalapeno poppers that have a perfectly balanced flavor!
How Long Should You Smoke Bacon Wrapped Jalapeno Poppers?
The amount of time that it takes to cook your jalapeno poppers can vary depending on the number of poppers you are cooking and how close they are together while cooking. However, for our recipe, we recommend cooking them for 25 to 35 minutes at 350°F.
Should I Wrap Jalapeno Poppers in Bacon?
Jalapeno poppers are delicious all on their own, but they can really be improved with some added flavor. You can choose whether you want crispy bacon or soft bacon, but we highly recommend wrapping these poppers in bacon for even more flavor.
Can You Freeze Jalapeno Poppers?
Smoked bacon wrapped jalapeno poppers are delicious on day one, but what happens if you want to enjoy more later? Fortunately, freezing these poppers and heating them back up later is definitely an option. While we believe that these are best served straight out of the smoker, they can be frozen and eaten at a later time.
Conclusion
Making smoked bacon wrapped jalapeno poppers is something that anyone can do, and it can even be a fun meal to make with family and friends! Everyone you serve will absolutely love these crispy and delicious poppers with their delicious, cheesy interior. The real key is to combine the right ingredients and cook them to perfection. For best results, we recommend you try out our Z Grills 7002C2E, which offers perfectly balanced heating and locks in all of that delicious flavor!
What to Serve with Bacon Wrapped Jalapeno Poppers?
These jalapeno poppers can be used as a main course or as a side depending on your preference. There are some meal additions that can take these flavor-filled poppers and balance them with even more delicious flavor. If you plan to use your smoked bacon wrapped jalapeno poppers as a side dish, we recommend our grilled Mahi Mahi tacos. You can also pair these delicious poppers with our grilled steak kabobs to bring more balance to your table. For a sweeter addition to your meal, consider these grilled stuffed peaches as well!
More Delicious Bacon Recipes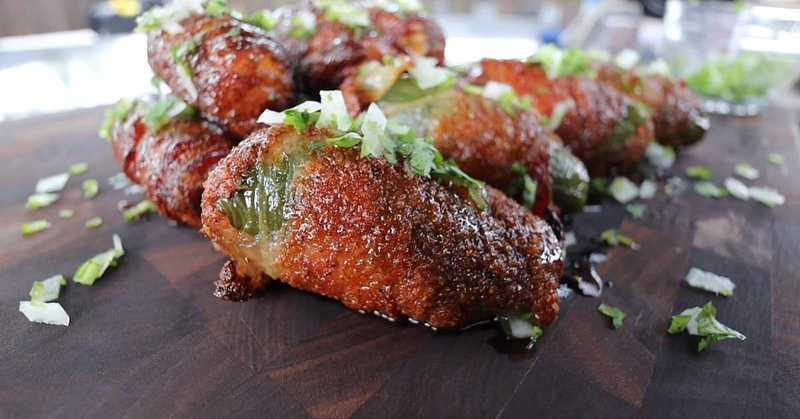 The Best Smoked Bacon Wrapped Jalapeño Poppers
Equipment
Z Grills 7002C2E Wood Pellet Grill
Ingredients
Johnsonville smoked sausage

Mike's Hot Honey

Jalapeños

Cilantro

Onions

Crave's Ancho love

Craves Rosie's Gold
For rub
3

parts

kosher salt

2 parts coarse ground pepper
Instructions
Preheat your pellet grill to 350°F.

Prepare all ingredients as outlined in the video.

Place your poppers on a baker's grid, then place them on the center grate of your pellet grill.

Set a timer for 15 minutes and allow the poppers to cook.

When 15 minutes have passed, rotate the baker's grid and add seasoning. Cook the jalapeno poppers for an additional 10 minutes.

After 10 minutes, check to see if the bacon has finished cooking. If not, set a cooking timer for 5 additional minutes and check again.
Video