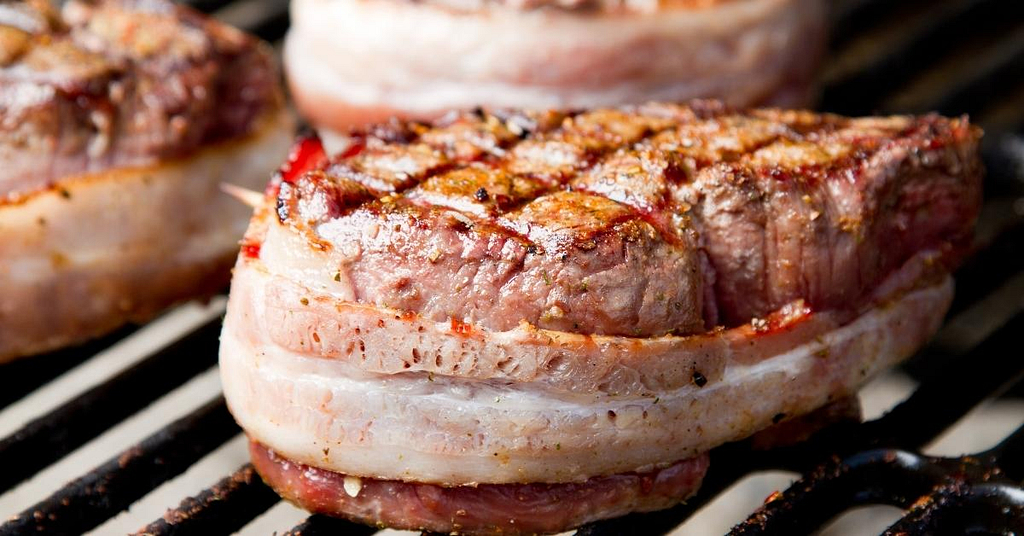 Opinions differ on what is the best steak but few would argue that filet mignon is the most tender. Sometimes regarded as a 1990's throwback, classic cuts like the filet mignon never go out of style – it's hard to beat a succulent filet mignon, cooked to perfection on a pellet grill.
Unless that filet mignon is wrapped in bacon, of course! The marriage of beef steak with the loved-by-everyone sleeve of bacon always goes down well. And if you add the subtle smokiness of a wood pellet grill… Wow! If you've been wondering about the best way to cook bacon-wrapped filet mignon, you're in the right place. Today we'll guide you through all the things you need to know to cook bacon-wrapped filet mignon on your grill.
Add a header to begin generating the table of contents
What's the difference between filet mignon and tenderloin?
What kind of meat is filet mignon? Both the tenderloin and filet mignon come from the same part of the animal – the tenderloin, right below the sirloin. Yes, the tenderloin is the name for a piece of the cow. But the tenderloin of a cow is actually divided into two – the longer end where the tenderloin cut comes from and the shorter end – the filet mignon. So, a filet mignon is part of the tenderloin, but a tenderloin is not a filet mignon.
The muscle that becomes the filet mignon is little used, hence its tenderness. A tenderloin is tender but a good, properly cooked filet mignon is cut-with-a-fork tender.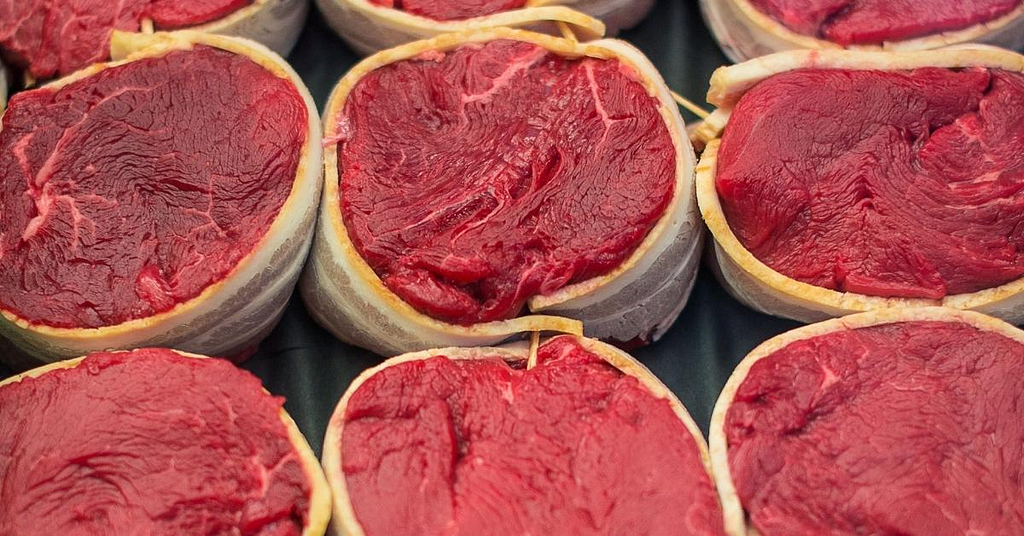 How to Prepare Filet Mignon
One of the great things about filet mignon is that it rarely requires any preparation as there is no bone and virtually no fat and definitely no sinew or chewy bits! Sometimes there is a little silver skin, a sort of tough membrane, which requires removal with a sharp knife. All you need to do is lift the membrane with your fingers (and a little paper towel for grip) and pull it away as you run the knife below to free it.
What You Need to Grill Bacon-Wrapped Filet Mignon: Equipment
All you need for perfect bacon-wrapped filet mignon is some toothpicks or butcher's twine to secure the bacon. Oh, and a pellet grill! We also recommend you have some good heatproof gloves to hand and a pair of tongs.
What You Need to Grill Bacon-Wrapped Filet Mignon: Ingredients
First, you're going to need a steak for each person. Ask your butcher for good thick ones, say 2-2½ inches. That way you get the perfect combination of a crusty caramelized top and bottom and a delicious moist pink interior. Get the best quality meat you can afford. Yes, this is an expensive cut of meat, after all, there isn't much filet mignon on a cow, but sometimes it's worth pushing the boat out.
You will also want a slice of medium-thick bacon for each steak, or thick, or thin, it's up to you and how "bacony" you want to make it. For particularly big steaks, one slice might not be enough, so have a little more available just in case.
The only extras you need are kosher salt, freshly ground black pepper, and some good olive oil or melted butter.
How to Season Bacon-Wrapped Filet Mignon
The only seasonings bacon-wrapped filet mignon needs are kosher or sea salt and freshly ground black pepper. Simply mix a teaspoon of each with some olive oil or melted butter and rub onto both sides of the steaks before you grill them. You could add a little garlic powder to the mix or rub the steaks with a cut clove or two for a little garlic magic.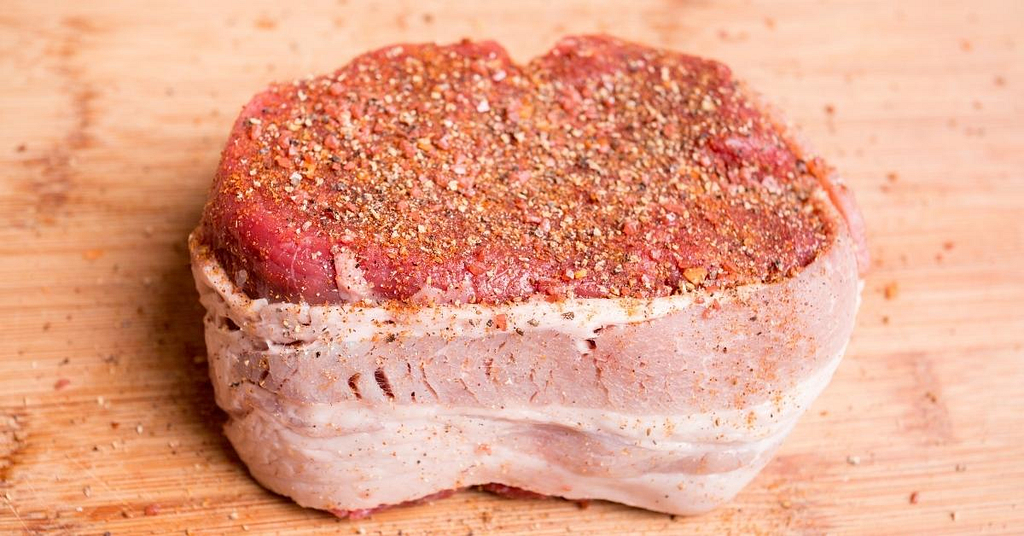 How to Cook Bacon-Wrapped Filet Mignon on a Pellet Grill
Wrap each steak tightly in bacon, securing the bacon with a toothpick or butcher's twine.
Allow to come up to room temperature – around 20 minutes.
Preheat your pellet grill to 450F.
In a small bowl combine salt, pepper, and olive oil and rub into the exposed surfaces of the steaks.
Place on the grill and cook for between 5-8 minutes, turn over and repeat.
Allow the steaks to rest under foil for 5-10 minutes.
What to Serve with Bacon-Wrapped Filet Mignon
There's nothing better than a crisp salad and the potatoes of your choice as sides for your filet mignon. Alternatively, creamed spinach, grilled tomatoes, or vegetable kebabs sit well on the plate with maybe some crusty bread instead of the potatoes.
What are the best wood pellets to use for filet mignon?
For filet mignon, the go-to pellets are Oak, Hickory, and Competition Blend with its mix of maple, hickory, and cherry woods. If you feel like experimenting you can try fruitier woods like apple and cherry too. Always make sure you get good quality grill pellets like Z Grills pellets, all-natural and free of binders and fillers.
What internal temperature should bacon-wrapped filet mignon reach?
Bear in mind that the steaks will continue to cook while resting and that the internal temperature will increase by between 3F and 5F. So you want to remove the meat from the grill while it is still just a little underdone.
The final internal temperatures you are looking for are:
Rare 120F – 125F
Medium rare 130F – 135F
Medium 140F – 145F
Well done 155F – 160F
How long should you cook bacon-wrapped filet mignon?
Cook for 5 minutes per side and check the internal temperature. The actual time will vary depending on the size of the steaks. You will need between 10 minutes and 16 minutes total cooking time.
How to Reheat Filet Mignon
Reheating steak is tricky – it's so easy to end up with a hockey puck. The best way is to preheat your grill to 250℉ and heat the steak for 30 minutes until the internal temperature reaches 110℉. Then remove them from the grill and sear them in an oiled seriously hot skillet for just a minute per side.
Filet mignon may be a little expensive to have often but it is well worth splurging out for on special occasions. There is no more succulent "melt-in-the-mouth" cut of beef available and your taste buds deserve being given a treat.
A pellet grill is the best way to cook bacon-wrapped filet mignon, adding just that hint of smokiness to the beefy, balcony flavor. If your grill isn't giving you the best results or you've yet to invest in a pellet grill, what are you waiting for? We offer premium pellet grills at direct-from-manufacturer pricing, so there's no reason not to get a grill that gives you results.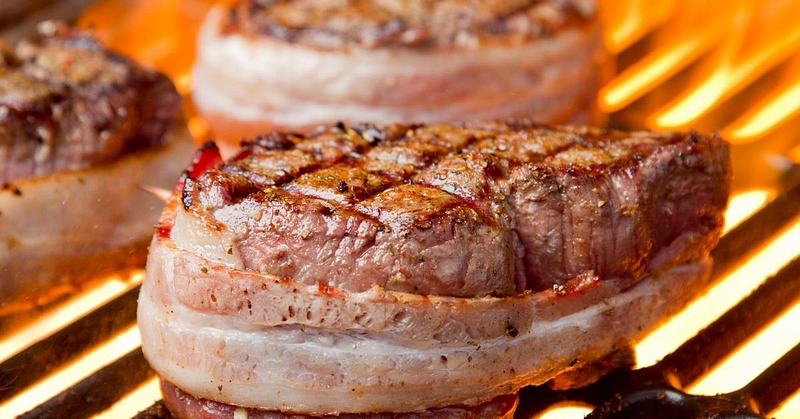 The Best Bacon-Wrapped Filet Mignon Recipe
The best bacon-wrapped filet mignon recipe is delicious and easy.
Ingredients
4

filet mignon steaks, 2 - 2½ inches thick

4

slices

bacon

1

clove

garlic, cut in two

1

teaspoon

kosher or sea salt

1

teaspoon

freshly ground black pepper

2

tablespoons

olive oil
Instructions
Wrap the steaks in bacon, securing with toothpick or butcher's twine.

Allow to come up to room temperature – 20 minutes.

Preheat your pellet grill to 450F.

Rub the steaks with the cut clove of garlic.

In a small bowl, mix together salt, pepper, and olive oil and rub into the steaks.

Place the steaks on the hot grill. Cook for 2½ minutes, turn to give a criss-cross effect and cook for another 2½ minutes. Flip the steaks and repeat.

Check the internal temperature and cook for a little longer if needed.

When done to your liking, remove from the grill, cover with foil, and allow to rest for 5-10 minutes before serving.

Tuck into a taste sensation.
Morton Coarse Kosher Salt 16 oz. (Тwо Расk)
2 Containers – 16 Ounces Each (Note: Canister Packaging has changed, Morton has phased out the dark blue paper canisters, the new canisters are plastic shakers. Easier to keep clean & sanitary.)
COARSE Kosher Salt
Ideal for Brining, Rimming Margarita Glasses, as Well as Roasting, Marinades & Rubs
Kosher for Passover and Any Time of Year. As noted on every Morton Kosher salt package, this salt is not a source of iodine.