A London broil is a delicious way to enjoy a steak that is juicy and rich in flavor. Even though this recipe is perfect for beginners, it is one luxury meal option that is always going to make you look like a 5-star chef when you serve it up–whether you are feeding family or guests. In this article, we are going to discuss how to effortlessly make the perfect reverse-seared London broil!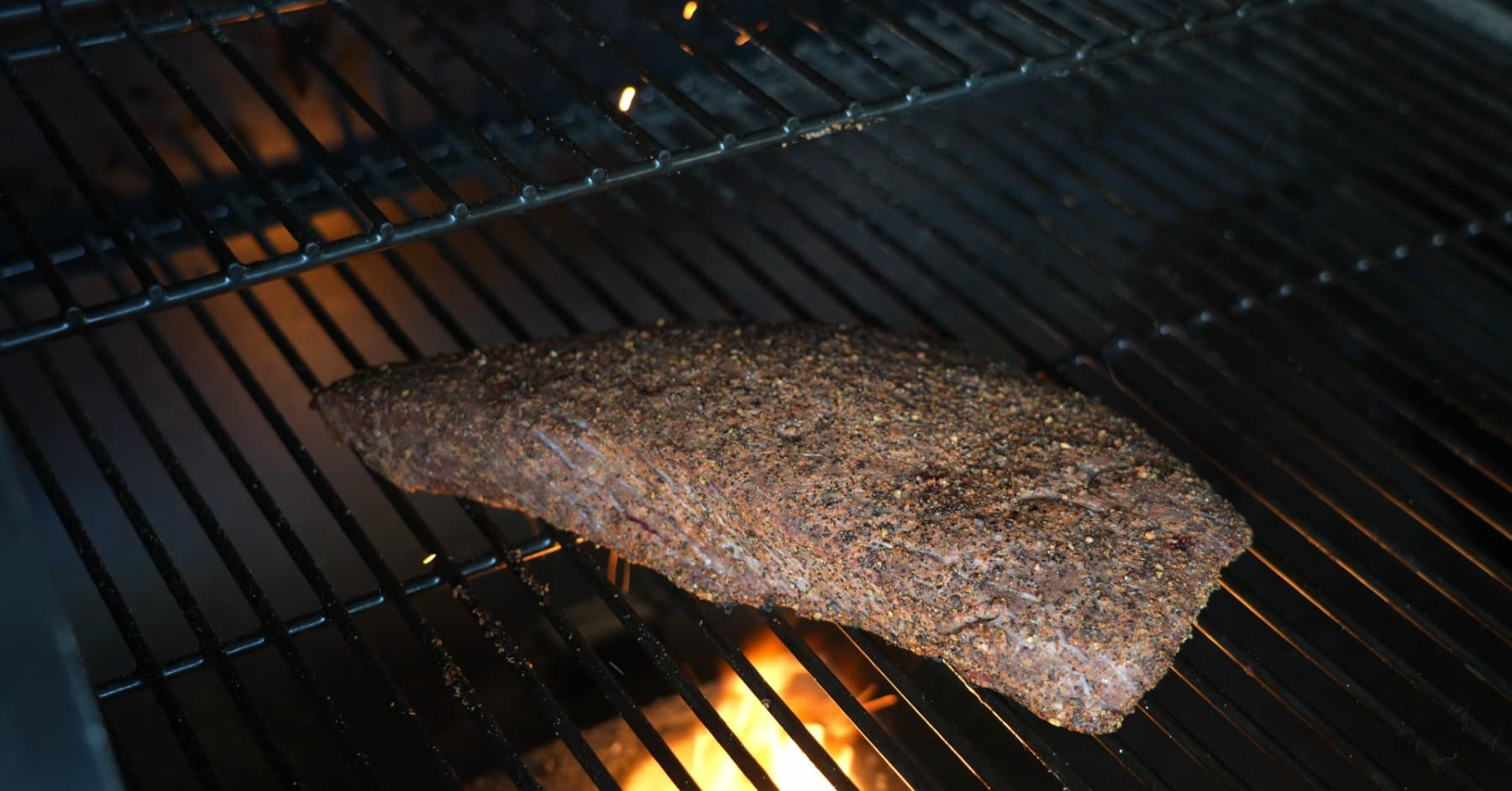 Add a header to begin generating the table of contents
Reverse-Seared London Broil (Step-by-Step Guide)
Learning how to reverse-sear isn't that hard when you use the right tools. In this case, all you need is your favorite Z Grills model to reverse-sear London broil for the entire family. Let's take a look at how to reverse-sear this delicious kind of steak!
Preheat the Z Grills Smoker to the Smoke Setting
When it comes to preparing meat, few factors are more important than getting your cooker up to the right temperature. For this recipe, you are going to heat up your Z Grills pellet grill to the smoke setting. If your grill doesn't have a smoke setting, we recommend heating it up to 200F. This is the ideal temperature for slow-cooking your delicious London broil. Be sure to allow the grill to heat up to the full temperature before you place the meat inside to cook.
Season Your London Broil
A London broil is so delicious that it can be seasoned a wide variety of ways. This is one style of meat that is a good fit for a lot of different flavors. The great thing about this is that it is the perfect candidate for your favorite steak seasoning. Choose a seasoning that you love, or go with a simple salt, pepper, and granulated garlic seasoning–just be sure to cover the entire cut of meat.
Place the Steak on the Grill
Once your meat is seasoned and the grill has reached the right temperature, it is time to start cooking. For your next step, you will take the seasoned steak and place it on the grill. During this time, you want to cook it at the lowest setting.
Allow your meat to cook until it reaches 100F to 105F internally at its thickest part. When it reaches the right temperature, it is time to move on to the next step. Be sure to use a reliable meat thermometer for the best results!
Remember, when you cook low and slow, you can always go a little undercooked during the slow cooking session. Going over can actually lead to the meat being overcooked in the end. As you sear it, you can get that desired temperature where you want it.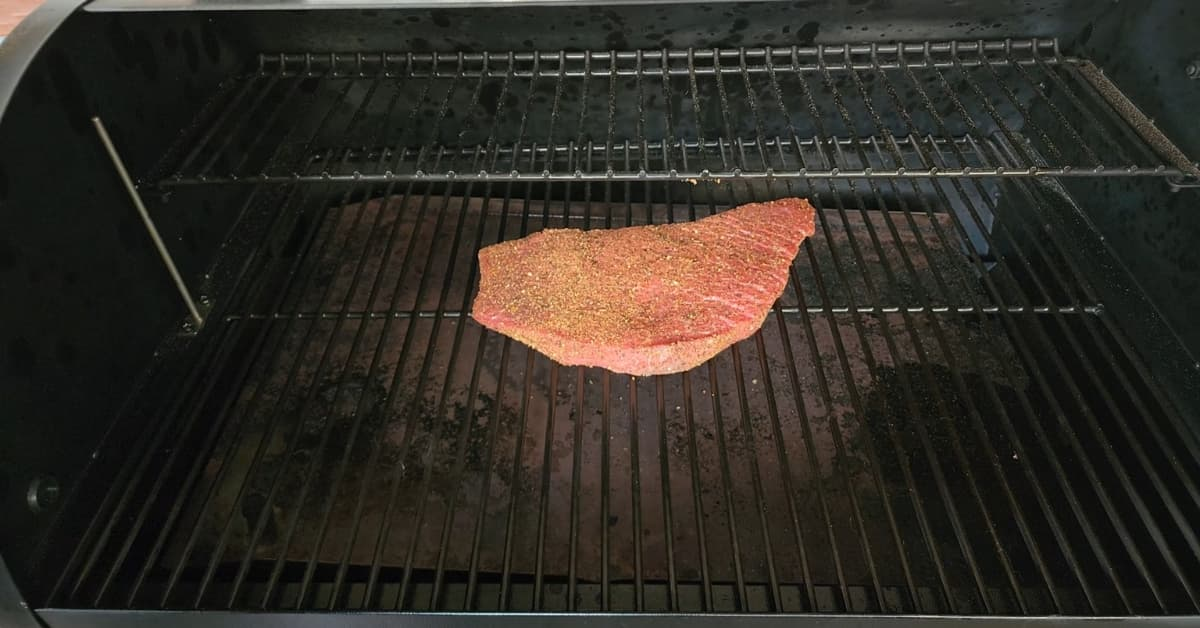 London Broil Sauce Recipe
While the London broil is cooking, make the sauce. Start by browning garlic cloves, then combine Worcestershire sauce, ketchup, and vinegar in a skillet. Allow the sauce to thicken while it cooks. Add in some salt and pepper, granulated garlic, and a couple of dabs of hot sauce. Remove it when it is done cooking and place it in a separate dish to avoid burning. The full recipe with amounts can be found in the recipe card below.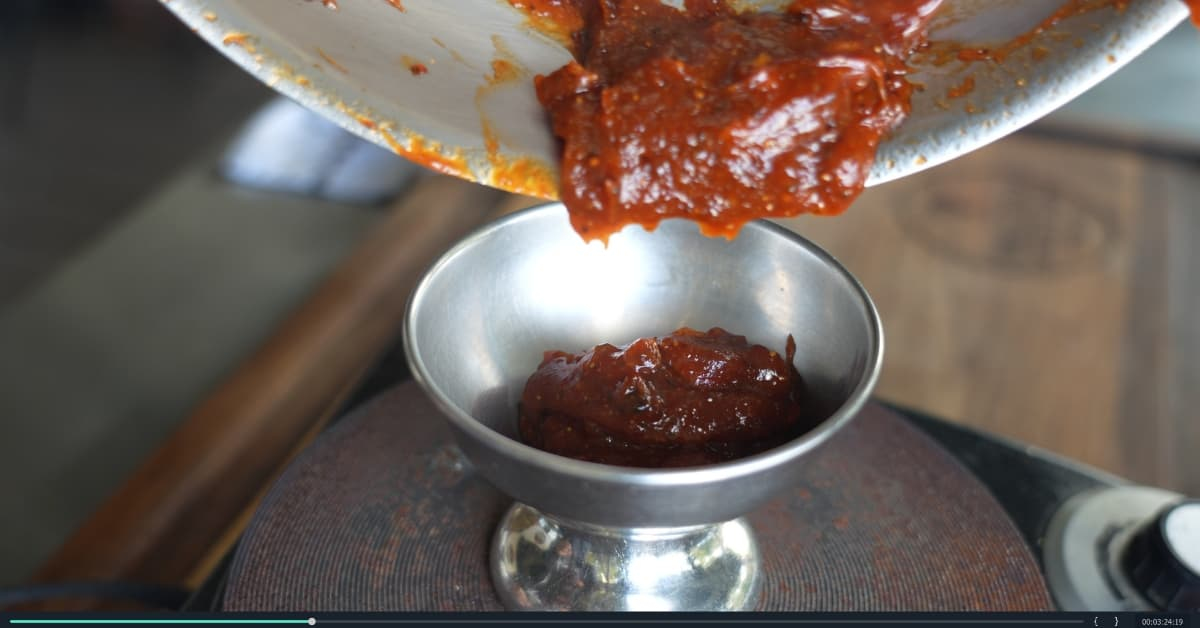 Remove the London Broil to Rest
When the meat reaches its ideal internal temperature, it is time to pull it out to rest and get ready to sear the meat. The meat should be visibly cooked, but it will not be cooked completely or charred on the outside.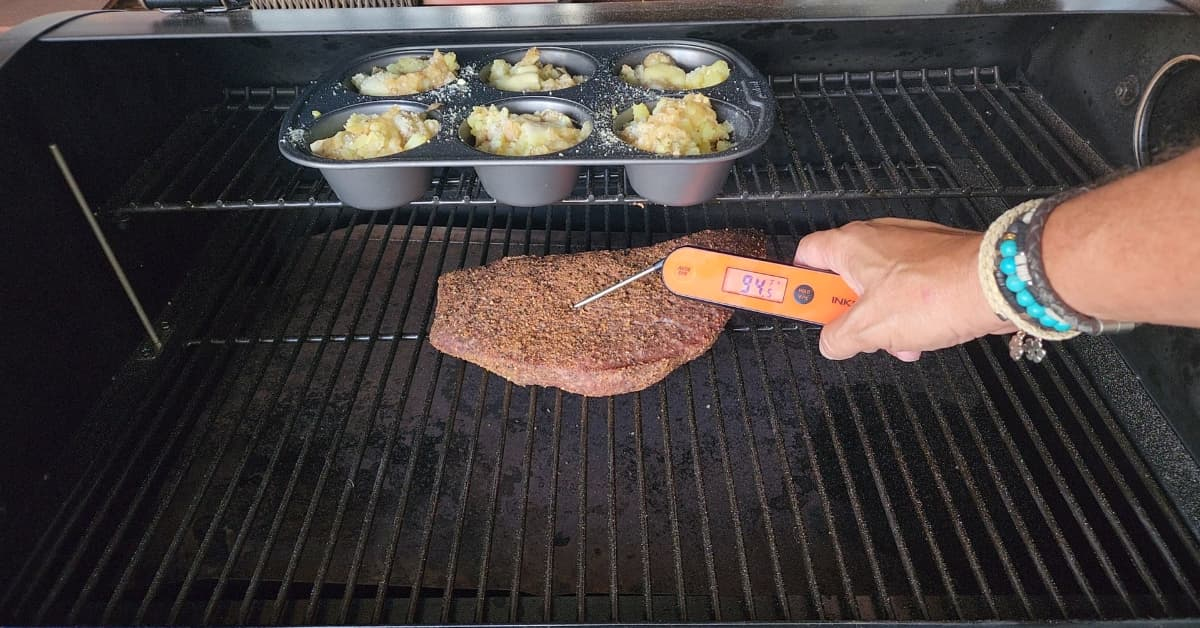 Turn Your Z Grills to the Highest Setting
Now that your meat has had time to rest, it is time to really turn things up. Set your Z Grills pellet grill to the highest temperature that it can reach so you can get that perfect sear. Be sure to take extra care while cooking–your grill will be hot!
There are two popular methods. The first is to set it on the board and to rest and then move it onto a skillet. You can then simply sear it to your preference on the skillet.
Chef Tommy recommends making a fire pit in your Z Grills pellet grill. Remove the heat baffle and replace the grate. Place the steak directly over the fire and allow it cook for a minute or two. Look for char on the bottom, then turn it by a quarter. When the bottom is nice and charred, flip it over and repeat the process.  
Allow the London broil to continue to cook until it reaches 125F to 130F at its thickest part for medium rare. To learn how to prepare it at different internal temperatures to match your preferences, check out Chef Tommy's pro tips!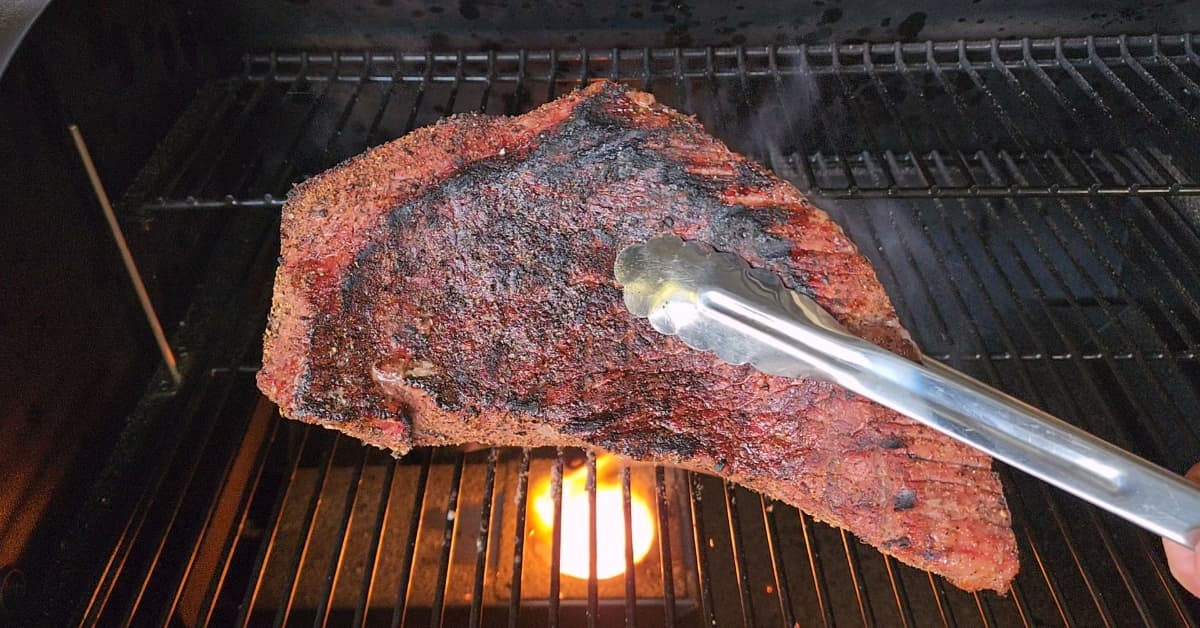 Rest, Slice, and Enjoy
Once your London broil reaches that perfect internal temperature, it is time to let it have a brief rest. Your London broil should rest for roughly 5 to 10 minutes. After it has taken its rest time, you can slice it up and add the sauce to create that signature London broil look and serve it to the people you love.
For the best results, we recommend using the Z Grills 7002C pellet grill. With this grill and this recipe, you can create a dazzling London broil with a perfect brown exterior and gentle red interior, preserving the natural juices and flavors. Take care while serving this delicious meal up. This is one dish where a great presentation can have a huge impact!
To learn how to make the very best reverse-seared London broil, head over to Chef Tommy's channel and watch the full video on this recipe!
If you're looking for a new grill, Z Grills is the ideal choice for your first wood pellet grill. We're a grill manufacturer with over 30 years of experience within the industry. With over 650,000 pellet grills sold and 85 million cooks made.
Chef Tommy's Pro Tips for Reverse-Seared London Broil
Cooking up the perfect London Broil requires a few insider tips and tricks to make sure everything comes out great. Chef Tommy recommends following these helpful tips to get that perfect finish!
How Long Does it Take to Sear London Broil at 200F?
When preparing a seared London Broil at 200F, we recommend cooking the steak for approximately one hour. This will cook the meat thoroughly and allow everything to stay nice and juicy.
Should London Broil be Cooked Fast or Slow?
When cooking with a pellet grill, low and slow is often the best approach to take. Pellet grills and anything you cook will come out much better when you allow it to cook slowly with time. We recommend allowing your meat to cook for roughly one hour.
What Temperature is London Broil Done at?
The internal temperature of the London Broil will let you know when it is finally done cooking. Be sure to check the temperature of the meat at the thickest part for accuracy. The meat should be 125F to 130F when it is done to achieve that perfect medium-rare flavor and texture.
You can learn more about internal cooking temperatures for steak here.
What to Serve with Reverse-Seared London Broil
Dress up your London broil with a delicious collection of side dishes. For this tasty dish, we recommend savory partners to create a complete meal that is loaded with flavor. Our smoked sweet potatoes are flavorful and savory with just a hint of sweetness. For a cooler alternative, consider trying out our smoked potato salad instead. To enjoy a delicious and vitamin-packed starter, try out our grilled acorn squash (with salad).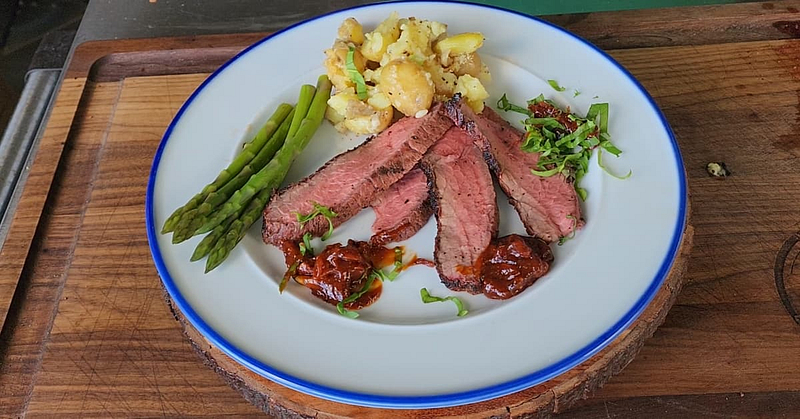 Reverse Seared London Broil
Ingredients
London Broil
S&P&G or your favorite seasoning
For Steak Sauce
oil

2

cloves chopped

3

tbs

Ketchup

1

tbs

Worcestershire

1

tbs

red vinegar

Dash garlic powder

1

tbs

Franks Hot sauce 
Instructions
Preheat your Z Grills pellet smoker to the smoke setting.

Season your London broil with your favorite steak seasoning or S-P-G mixture.

Sautee garlic until it is lightly browned, then add ketchup, Worcestershire sauce, granulated garlic, and vinegar. Follow this up with salt and pepper, as well as a couple of dabs of your favorite hot sauce. Carefully whisk the combination until it is thick, then remove to cool.

Smoke the meat at your lowest setting until an internal temperature of 100F to 105F is reached at the thickest part of the meat.

Remove the London broil to rest and carefully remove the heat baffle of your Z Grill to expose the fire pot, then replace the grate.

Turn your Z Grills to the highest setting.

Sear until the desired internal temperature is reached. For the best flavor, we recommend 125F to 130F for medium rare.

Allow the meat to rest for 5 to 10 minutes before slicing, and enjoy!
Video