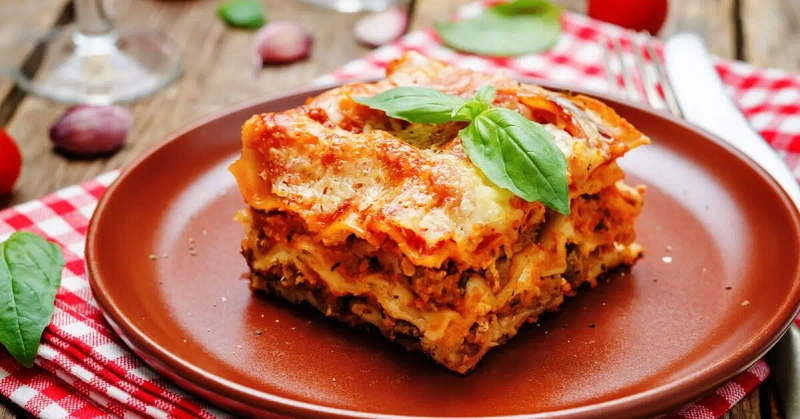 Smoked Lasagna
This smoked lasagna strays from the classic lasagna you know and love. First, there's no ricotta in sight. Moreover, the lasagna is infused with hickory wood smoke which gives it an intense bacon-like flavor, the sauce is all beef, plus the lasagna is made in a loaf pan. Yes, you read that right. Prepare your taste buds!
Ingredients
1

tablespoon

olive oil

12

ounces

ground beef chuck, 80% lean

½

teaspoon

kosher salt, or to taste

¼

teaspoon

black pepper, or to taste

¼

teaspoon

chili powder

¼

teaspoon

onion powder

¼

teaspoon

garlic powder

1

yellow onion, finely chopped

3

garlic cloves, minced

3

cups

tomato sauce

¼

cup

water

6

lasagna noodles, not the oven-ready kind

¼

teaspoon

dried oregano

2

tablespoons

chopped fresh basil

2

tablespoons

chopped fresh parsley

1 ½

cups

shredded mozzarella cheese, divided

½

ounce

freshly grated parmesan cheese
Instructions
On the stove top, bring a large pot of water to a boil.

Meanwhile, heat the oil in a large skillet over medium heat.

Add the beef once the oil is hot. Brown the meat as you gradually break it apart with a wooden spoon.

Once the beef is no longer pink, spoon any excess fat out of the skillet if needed. Sometimes there is a little too much in the skillet.

Season the beef with salt, black pepper, chili powder, onion powder, and garlic powder. Follow with the chopped onion and minced garlic.

Continue to cook while occasionally stirring until the beef is brown and the onions soften.

Stir in the tomato sauce, followed by the water.

Bring the sauce to a gentle boil.

Reduce to a simmer, cover, and leave to simmer for 10 minutes.

Meanwhile, cook the lasagna noodles according to the packaging instructions. Drain and set them aside. Do not drizzle them with oil to prevent sticking. Instead, reserve a little pasta water and toss them with that.

Uncover the sauce, stir in the oregano, basil, and parsley, then leave to cook for 5 more minutes or until thickened.

Preheat your Z-Grills (preferably with branded wood pellets) or other wood pellet grill to 350 degrees Fahrenheit.

Lightly grease the loaf pan and spoon a little sauce into the bottom of the pan.

Top the sauce with two lasagna noodles. Trim the ends if needed.

Add a third of the remaining sauce and top with ½ cup mozzarella cheese.

Repeat with two more noodles, followed by sauce and mozzarella cheese.

Top with a final layer of noodles, the last of the sauce, and the remaining mozzarella cheese. Also, finish with parmesan cheese.

Transfer the loaf pan to the grill, close the lid, and smoke for 30 minutes.

Remove from the grill and set the smoked lasagna aside to cool for 30 minutes.
Notes
Although not required, leaving the lasagna to cool for 30 minutes is highly recommended. Otherwise, the smoked lasagna will fall apart when you plate it. That said, it will still be delicious.
Nutrition
Serving:
442
g
|
Calories:
400
kcal
|
Carbohydrates:
32
g
|
Protein:
22
g
|
Fat:
21
g
|
Saturated Fat:
8
g
|
Polyunsaturated Fat:
1
g
|
Monounsaturated Fat:
8
g
|
Trans Fat:
1
g
|
Cholesterol:
60
mg
|
Sodium:
1040
mg
|
Potassium:
620
mg
|
Fiber:
3
g
|
Sugar:
7
g
|
Vitamin A:
1000
IU
|
Vitamin C:
12
mg
|
Calcium:
250
mg
|
Iron:
3.4
mg