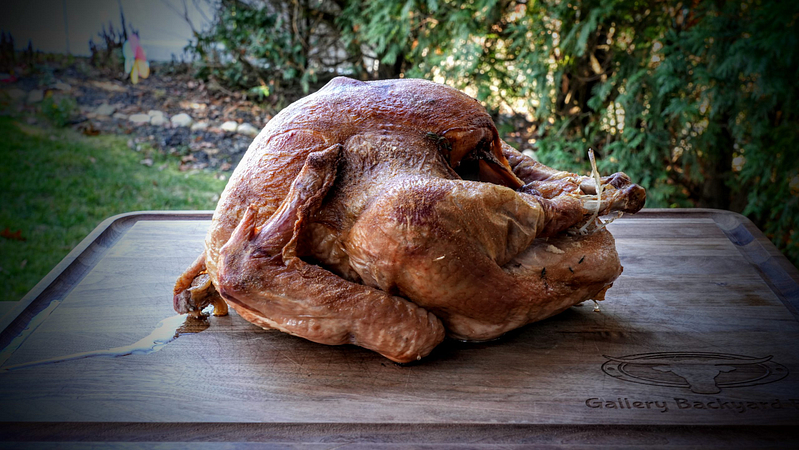 Smoked Dry Brined Turkey
Learn how to smoke the dry brined turkey, a main dish perfect for thanksgiving table.
Equipment
Z Grills Smoker Grill

Cheery pellets
Ingredients
10-15

lb

Turkey

1/2

cup

Kosher salt

1/4

Cup

brown sugar

2

TBSP

thyme

Granulated Garlic
Onions,Celery,Apples,Carrots,Thyme
2-1 Salt Brown Sugar ratio:1/2 cup salt,1/4 cup brown sugar,2 TBS thyme
Instructions
Unpack the bird and remove the giblet and neck

Mix together 2-1 kosher salt, brown sugar, and thyme

Make sure the bird is dry

Pull back the skin above the breast

Massage the breast under the skin and all parts outside the bird

Put in a trey on a rack and in the fridge for 24/48 hours. 48 hours is preferred.

After the 48 hours remove the plastic wrap and let air dry in the fridge for another few hours.

Remove and allow to come up to room temperature for 1 hour.

Load the pit with cherry pellets by z grills

While the pit is coming up to temperature, stuff the cavity with the following. Onions, Celery, Carrots, Apples, and thyme.

Once covered with your favorite rub. Make sure NO SALT is used. I'm using granulated garlic only

At the 1 hour mark check that the bird is cooking evenly across the surface. Turn or rotate as needed. Do that for an hour 2-3 until an internal temperature of 165 breast, 185 leg, thigh is reached.

Remove once your temp is reached. Let rest slice and enjoy!