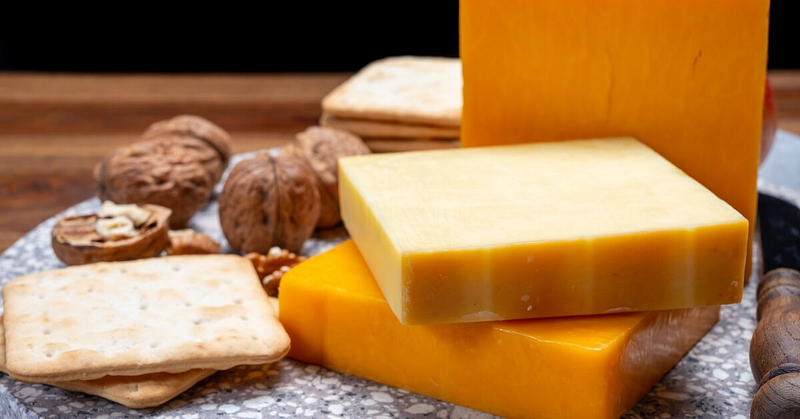 Smoked Cheddar Cheese
Smoked cheddar cheese is tasty on burgers, in quesadillas, queso, and more. Since cheddar's melting point is 150 degrees, cold smoking is required. If you want to learn how to cold smoke in your Z Grills Pellet Grill, you're in luck because we're covering the process step-by-step. Grab a smoke tube, and let's get started!
Ingredients
1

pound

block of cheddar cheese
Instructions
Cut the cheese into 1-inch thick blocks. Arrange the blocks on a baking rack or heat-safe cooling rack.

Fill the smoke tube with apple wood pellets and place it onto the grates.

Light the pellets in the tube and wait about 10 minutes. Ensure the pellets are burning continuously and emit clean, steady smoke.

Transfer the rack with the cheese to the grill grates of your Z-Grill. This recipe does not involve turning on the grill. Instead, it is used as a vessel to cold smoke the cheese.

Close the grill's lid and cold smoke for 1 hour.

Open the grill, flip the cheese, and close the grill again—cold smoke the cheddar for another hour.

Remove the smoked cheddar cheese from the grill, let it sit at room temperature for an hour, then use as desired or store it.
Notes
If you live in a warm climate, you may have to place the rack with the cheese over a pan filled with ice to keep the grill temperature below 90 degrees Fahrenheit.
To store, wrap in plastic and refrigerate or vacuum seal. If vacuum sealed, the smoked cheddar cheese can be kept for up to a year.
Nutrition
Serving:
28
g
|
Calories:
110
kcal
|
Carbohydrates:
1
g
|
Protein:
6
g
|
Fat:
9
g
|
Saturated Fat:
5
g
|
Monounsaturated Fat:
2.5
g
|
Cholesterol:
30
mg
|
Sodium:
190
mg
|
Potassium:
20
mg
|
Vitamin A:
366
IU
|
Calcium:
200
mg