Turkey and bacon are both delicious individually, but when you combine them, they taste even better. Smoked bacon wrapped turkey breasts are an incredible addition to your weekly menu, offering both flavor and a simple dish that is perfect for beginners in the kitchen. In this article, we are going to provide you with the steps you need to bring this amazing meal to your table with the help of your favorite Z Grills model!
Z Grills is the ideal choice for your first wood pellet grill. We're a grill manufacturer with over 30 years of experience within the industry. With over 650,000 pellet grills sold and 85 million cooks made.
Add a header to begin generating the table of contents
What You Need for a Smoked Bacon Wrapped Turkey Breast?
One of the best parts about this recipe is just how simple it is. With only a few ingredients, you can prepare a dish that is absolutely bursting with flavor. Your work will be divided into prep time and then simply waiting for this delicious meal to finish cooking.
For the Turkey Breasts:
Boneless turkey breast (2 pounds)
Bacon
For the Dry Rub Seasoning:
San Antonio Premium Coarse Ground Black (2 cups)
Diamond Crystal Kosher Salt (1 ¼ cup)
Granulated Garlic (1 ¼ cup)
How to Make Smoked Bacon Wrapped Turkey Breast
Making this incredible dish takes only a few steps. The hardest part of this recipe is just waiting for the turkey to finish cooking while its delicious smell fills the air! Let's take a look at the step-by-step process to make your very own smoked bacon-wrapped turkey breast.
Preparation
First, you will need to prepare the turkey breasts themselves. During this time, you will begin by removing any skin from the turkey. You want to have a smooth finish of the meat so your seasoning really blends in. Remember, the turkey will also be wrapped in bacon, allowing even more flavor to seep in.
Mix all of the ingredients into a bowl and add them to your shaker, taking care to cover the meat with plenty of seasoning. Once it has been seasoned, take time to wrap bacon strips around the turkey until the turkey meat is completely covered.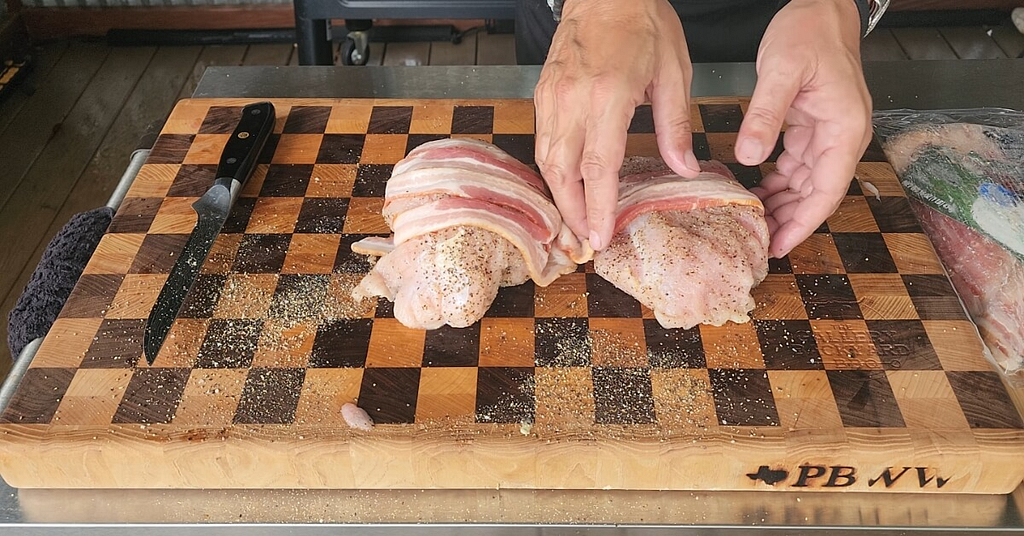 Preheat Your Z Grills Pellet Grill to 250F
Getting the perfect finish on your turkey means having your Z Grills pellet grill at the right temperature. Start by setting the grill to preheat to 250F with the Z Grills Cherry Wood Pellets. Wait for the grill to heat up completely to the appropriate temperature before moving on to the next step. This is one step that is always worth the wait!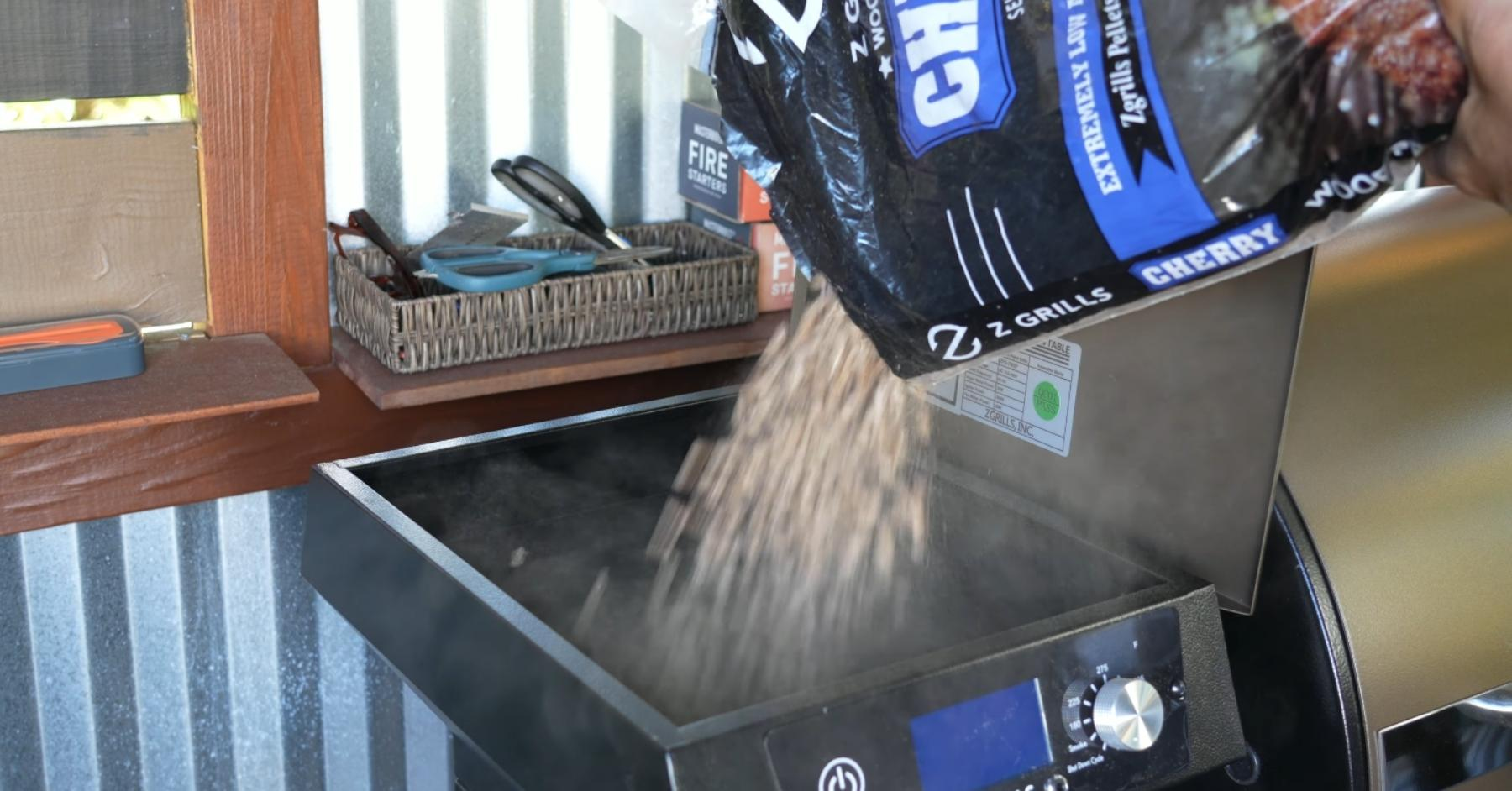 Place the Turkey Breast On the Grill
With your perfectly heated grill, you can now begin to actually cook your turkey breasts. Place them directly onto the grate in the grill (make sure that your grates are completely clean before cooking). Place a catch tray underneath the grate to catch any grease to ensure a fast and effective cleanup process. Close your Z Grills smoker and allow the meat to smoke for 1 hour and 45 minutes.
Check Your Turkey Breast
After the turkey has cooked for 1 hour and 45 minutes, it is time to check on your turkey breast. Carefully open the lid to your Z Grills model and check the temperature of the meat. The internal temperature should be 160F at the thickest point when the meat is done cooking. If your turkey is not up to temperature, close the lid and check back again in a few minutes. Cook times can vary depending on how thick the meat is, as well as how much meat you decide to prepare. Keep checking back to get that perfect finish!
Remove the Turkey Breast from Your Pellet Grill
Once your turkey breast is done cooking and has reached that final temperature of 160F, you can safely remove the turkey breasts from the smoker. Place the turkey breasts out on a clean surface and allow them to rest at room temperature for 15 minutes before serving them up. Once the meat has rested, you can slice up and plate your smoked bacon wrapped turkey breast and pair it with the perfect sides!
Getting that delicious finish with this recipe all comes down to using the right Z Grills model. For this recipe, we recommend using the Z Grills 11002B, which is great for even and consistent cooking, food that is packed with flavor, and a nice and crisp finish at the end too.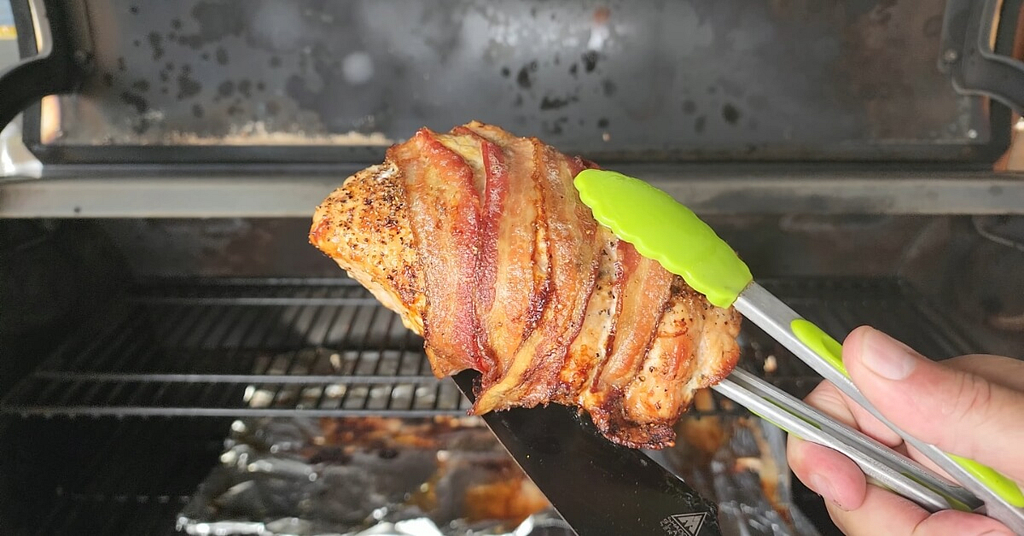 What to Serve with Smoked Bacon Wrapped Turkey Breast?
When you serve up smoked bacon-wrapped turkey breast as the main course, you need to pair it with some delicious sides. This particular dish gets even better when you serve it next to smoked artichokes, smoked potato salad, or peppery grilled okra!
Chef Tommy's Tips for Smoked Bacon Wrapped Turkey Breast
Preparing this smoked bacon wrapped turkey breast is a breeze when you follow these top tips from Chef Tommy. These are the most important steps to get the best results while cooking.
How Long Should You Smoke Turkey Breast for at 250F?
Smoked bacon wrapped turkey breast should take roughly 1 hour and 45 minutes to cook at 250F. However, final cook times can vary. For this reason, it is important to cook the turkey until it reaches an internal temperature of 160F.
The Best Wood Pellets for Smoked Turkey Breast
Different wood pellets bring a different flavor, and there is simply no denying that turkey mixes great with Z Grills Cherry Grill Pellets. These offer a subtly fruity flavor that pairs well with the natural flavor of turkey.
When is Smoked Turkey Breast Done?
Smoked turkey breast is generally done cooking when it reaches an internal temperature of 160F at its thickest parts. Digital thermometers can alert you when your meat is done cooking as well.
Smoked Bacon Wrapped Turkey Breast
Ingredients
For the Turkey Breasts
2

pounds

Boneless turkey breast

Bacon
For the Dry Rub Seasoning
Instructions
Preheat Your Z Grills to 250F using cherry pellets.

Remove the skin and clean up the breasts by removing anything loose or hanging on the meat.

Mix all of the ingredients into a bowl and add to a shaker for easy and convenient use.

Smoke the turkey for approximately 1 hour and 45 minutes or until the internal temperature reaches 160F.

Remove the turkey from the grill and allow it to rest.

Slice up the turkey and enjoy!
Video