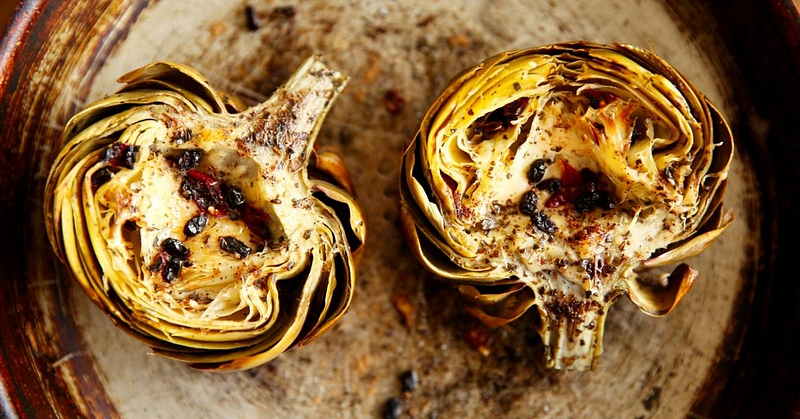 Smoked Artichokes
Smoked artichokes are deliciously vegetal with an almost meaty texture that makes them super satisfying. These are served with a white wine butter sauce featuring minced garlic and currants. The fruity tart burst of flavor currants have to offer pairs well with applewood's sweet smoke and brings something unexpected (and delicious) to the immature flower buds.
Equipment
Z Grills 1000D3E Wood Pellet Grill

Z Grills Apple Wood Pellets

Large Pot

Kitchen Scissors

Saucepan

Tongs

Pastry brush
Ingredients
Artichokes
4

fresh artichokes

2

tablespoons

olive oil

1

tablespoon

fresh lemon juice

1

teaspoon

kosher salt, plus more for boiling

¼

teaspoon

black pepper
Sauce
1

tablespoon

olive oil

3

garlic cloves, minced

½

cup

dry white wine

6

tablespoons

unsalted butter, cut into small cubes

3

tablespoons

fresh lemon juice

¼

teaspoon

black pepper

1/8

teaspoon

kosher salt

2

teaspoons

currants
Instructions
Bring a large pot of water to a boil.

Cut the tips off the leaves with kitchen scissors to remove the thorny tips.

Slice ¾ inch off the top of each artichoke (not the stem end).

Pull off any small leaves at the base of each artichoke and discard them.

Remove the excess portion of each stem. You want to cut about an inch off the top of each one.

Rinse the artichokes under cold water. Be sure to clean under the leaves.

Generously salt the water in the pot once boiling, then add the artichokes to the boiling water.

Reduce the water to a simmer, cover the pot, and cook the artichokes for 25-30 minutes or until the outer leaves are tender and easy to remove.

As the artichokes simmer, make the sauce. To start, heat the olive oil in a small saucepan over medium heat.

Add the garlic and sauté for 30 seconds or until softened and fragrant.

Slowly pour in the wine as you stir. Bring to a simmer, decrease the heat, and reduce the wine by about half.

Reduce the heat, then whisk in the butter, lemon juice, black pepper, and salt.

Remove from the heat and stir in the currants. Set the sauce aside.

Remove the artichokes from the pot with tongs and place cut-side down on paper towels to drain.

Cut the artichokes in half lengthwise and remove the choke with a spoon or melon baller.

Preheat your Z-Grill (preferably with branded applewood pellets) or other wood pellet grill to 350 degrees Fahrenheit.

Stir the oil, lemon juice, salt, and black pepper in a bowl.

Brush the artichokes with this mixture, then transfer the halves to the grates. Place them cut-side down.

Close the lid and smoke for 10 minutes.

Uncover, flip the artichokes, and grill for 5 more minutes.

Remove the artichokes from the grill, plate, drizzle with the sauce, and serve. Serve any remaining sauce on the side.
Notes
When removing the choke, only remove the inedible spiky portion. Do not remove the heart.