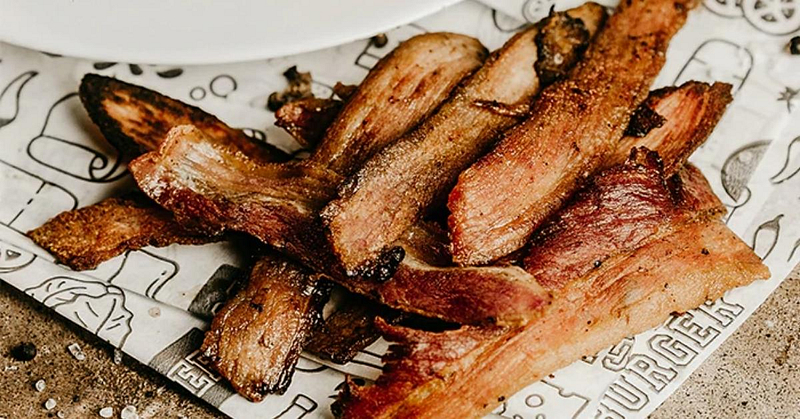 Pellet Grilled Jerky
The pellet grilled jerky recipe is perfect, Enjoy the depth of beef and REAL smoke flavor! 
Ingredients
1/2

cup

Low-Sodium Soy Sauce

2

tablespoons

Worcestershire Sauce

2

teaspoons

Coarsely-Ground Black Pepper

4

shakes

Your Favorite Hot Sauce, Optional

1

teaspoon

Onion Powder

1

teaspoon

Seasoned Salt

1/2

teaspoon

Garlic Powder

1/2

cup

Spiced Rum, Optional

2

pounds

Top Sirloin
Instructions
Thinly-slice the sirloin into 1/16- 1/8-inch thick strips, either with the grain (which will result in a chewier beef jerky) or against the grain (which will be more tender). If you are slicing it yourself, pop the steak into the freezer for 15-30 minutes before slicing so that it is easier to slice.

Put the strips of steak to a large zip top bag or a big mixing bowl that you can seal tightly.

In a separate small mixing bowl, whisk together the remaining ingredients until combined. Pour the mixture into the zip top bag or bowl with the steak, seal the bag or bowl, and toss until the steak is evenly coated.

Refrigerate for at least 24 hours.

Lay the strips out in a single layer on the grill and stack on a cooling rack (the type of rack that you would use for cooling muffinsor cookies).Smoke until the beef jerky until it is dry and firm, yet still a little bit pliable, about 4 hours (Cooking times will vary based on the thickness of your meat and grill).

Remove jerky and transfer to a sealed container and store in a refrigerator. Enjoy!