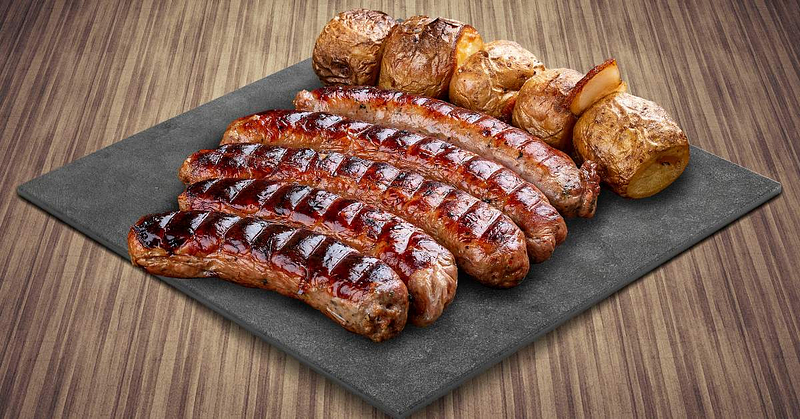 Jalapeno Cheddar Sausage
This jalapeno cheddar sausage is crafted with a perfect blend of pork butt, bacon, and beef chuck, all seasoned to perfection with herbs and spices. The smoky flavor from being cooked in a pellet grill takes this sausage to the next level, adding a depth of flavor that is truly irresistible.
Instructions
Soak the hog casing in lukewarm water for 30 minutes.

Meanwhile, cut the beef and pork butt into pieces small enough to feed through the grinder's chute.

Fit the grinder with a 3/8 inch plate and grind the beef. Transfer it to a large, chilled bowl.

Swap the 3/8 inch plate for a ¼-inch plate and grind the pork butt with the bacon. Add the pork to the bowl with the beef.

Sprinkle the seasonings over the ground meat. Toss to distribute evenly, then pour in the water as you mix until everything is sticky and well combined.

Add the jalapenos and cheddar. Fold them into the meat mixture.

Slide a casing strand onto a ¾-inch-thick funnel and load the sausage filler with the jalapeno cheddar sausage mixture.

Pinch the casing between your thumb and forefinger as you fill the casing. Twist into 6-inch links.

Pop the sausages into the fridge.

Preheat your Z-Grills (preferably with branded wood pellets) or other wood pellet grill to 225 degrees Fahrenheit.

Transfer the sausage to the grates, close the lid, and smoke for 1-1 ½ hours. The internal temperature should be 165 degrees Fahrenheit.

Remove the sausages from the grill, cool for 10 minutes, then serve.
Notes
To make it a meal, thread scrubbed creamer potatoes onto skewers and cook with the sausage.
Nutrition
Serving:
138
g
|
Calories:
290
kcal
|
Carbohydrates:
1
g
|
Protein:
21
g
|
Fat:
9
g
|
Saturated Fat:
9
g
|
Polyunsaturated Fat:
2
g
|
Monounsaturated Fat:
8
g
|
Trans Fat:
1.5
g
|
Cholesterol:
80
mg
|
Sodium:
710
mg
|
Potassium:
330
mg
|
Vitamin A:
300
IU
|
Vitamin C:
4
mg
|
Calcium:
150
mg
|
Iron:
1.5
mg