Beef short ribs are one of the easiest and most delicious recipes that you can learn to make at home. It does take some time, but the overall effort is very low—and the flavors just can't be beaten. This recipe is easy for everyone!
Smoked beef short ribs are great whether you're making an everyday family dinner or inviting company over to celebrate something. These short ribs are always a hit—no matter what table they land on! The flavorful ribs are perfect for cooking on our beginner-friendly Z Grills.
If you're looking for a new grill, Z Grills is the ideal choice for your first wood pellet grill. We're a grill manufacturer with over 30 years of experience within the industry. With over 650,000 pellet grills sold and 85 million cooks made.
Add a header to begin generating the table of contents
How Long Does it Take to Smoke Beef Short Ribs at 275°F?
Timing for ribs is something that you will have to explore on a meal-by-meal basis. The actual final cook time will always vary depending on the size of the ribs. Thicker ribs will need more time to cook thoroughly. However, you can safely assume that the ribs will take between 5 and 8 hours to cook.
For this recipe, we are using 6 pounds of ribs, and they are smoked using our Z Grills at 275°F for a total of 5 ½ hours. However, there are certain ways for you to ensure that you always get the perfect cook time.
The ideal internal temperature for short ribs is a range of 200 to 207 degrees on your meat thermometer. With these ribs, you want to focus on going low and slow. It means keeping them at a low temperature and letting them take their time to cook.
Smoking Beef Short Ribs: Step-by-Step
Cooking your beef short ribs is a straightforward process. With how little effort it takes, don't be surprised if you find yourself turning this recipe into a weekly staple. Making beef short ribs on pellet grills is one of the best ways that you can make them!
Step 1: Preheat the Z Grills Smoker to 275°F
Don't forget to preheat your grill because the wrong temperature can differentiate between success and failure. The first step you will want to take is to turn on your Z Grills smoker and set it to 275°F. While you continue with the other preparation steps, your Z Grills will reach its ideal temperature so that you can jump right into cooking. Your grill must be at the correct cooking temperature range before you place the ribs inside.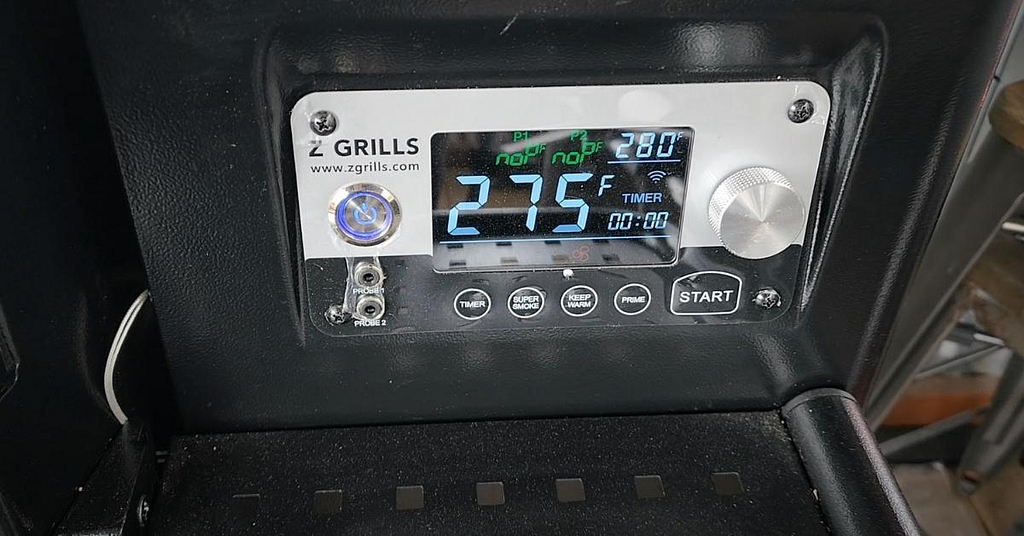 Step 2: Trim the Membrane
This step is one that you might be able to skip in the event that your local butcher trims the membrane off for you. Some ribs come with the membrane; others do not. You can choose which ribs to buy if you have a specific preference. If the membrane is already trimmed, you will need to score the back to help the seasoning work more effectively.
To trim the membrane, you will use a sharp knife. You can begin by inserting the knife's tip under the membrane layer (a visible white layer on the meat). Using the knife, separate the membrane, then pull it away. You may repeat this step a few times as you move along.
Step 3: Rub the Ribs
The rub is where the flavor boost on your ribs will come from. We recommend using Hardcore Carnivore Black and Uncle Steve Shake Comp Cow Powder to create an incredible flavor. However, you can choose your own spices or rubs as well. Be sure to cover the ribs on all sides with plenty of seasoning and rub it in.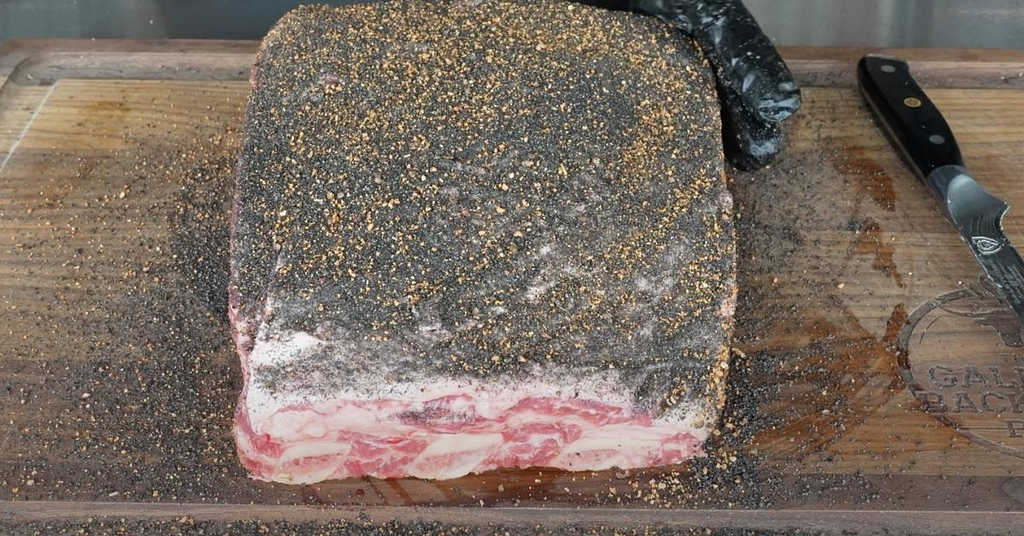 Step 4: Place the Ribs Into the Smoker
Place a pan of water underneath the meat on the level below. This will keep the ribs moist while they cook. The temperature should be between 250°F and 270°F. Once they are in place, you can close the top of your Z Grills.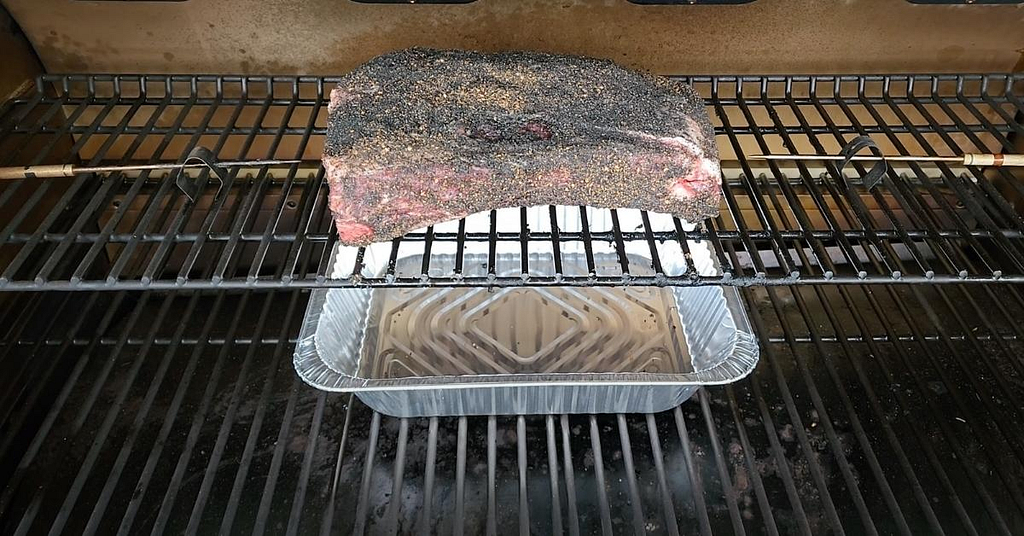 Step 5: Spritz the Smoked Beef Short Ribs
After 2 hours, you will want to check on the ribs. Make sure the bark is nice and set before you spritz the ribs. Carefully use your finger to touch the seasoning. If it stays put and doesn't come off on your finger, it is time to spritz the meat.
To spritz the meat, you will want to use a combination of 50% apple cider vinegar and 50% water in a food safe spray bottle. Spray across the surface of the ribs.
After 4 hours, you will want to check the temperature of your meat. At this point, you will begin to spritz the ribs every two hours.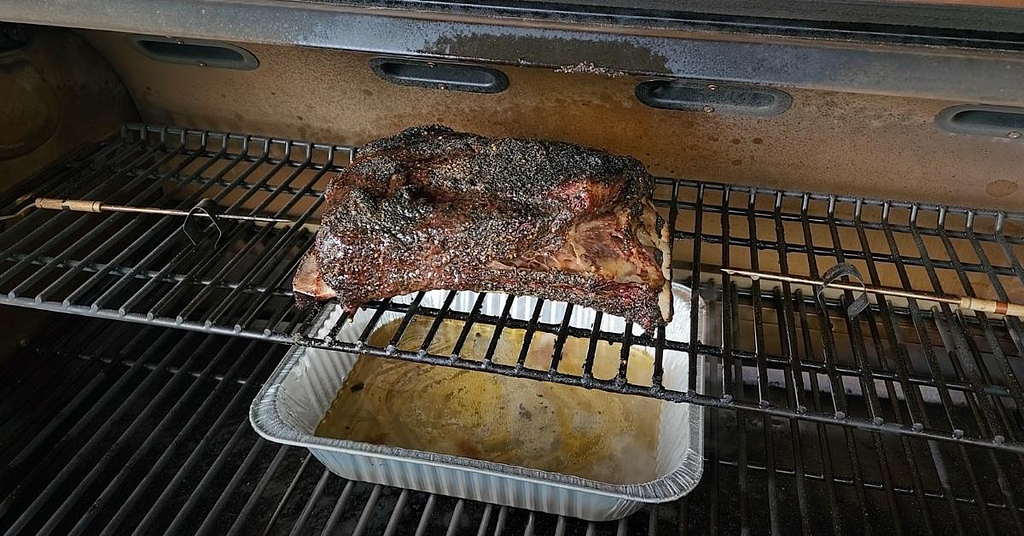 Step 6: Rest the Short Ribs
When you have reached 5 ½ hours of cook time, it is time to check the meat's internal temperature. If the temperature has reached 200 to 207 degrees, your ribs are done cooking. You will remove the ribs from the smoker and allow them to rest for half an hour.
Step 7: The Juiciest Beef Ribs
These juicy and tender ribs should have a perfectly crisp bark exterior. When cooked correctly, you should be able to see the juices flowing. The flavor is robust and carries right through these ribs. Due to the added moisture and the perfectly even temperature from the Z Grills, the meat should be moist and ready to fall right off the bone.
For the best smoked beef short ribs, we recommend our Z Grills 1000 Series. If you are looking for a visual guide, you can follow along with Tommy in the full video at The Gallery Backyard BBQ & Griddle on YouTube. He can teach you all about how to use your Z Grills to make incredible meals, including smoking beef short ribs!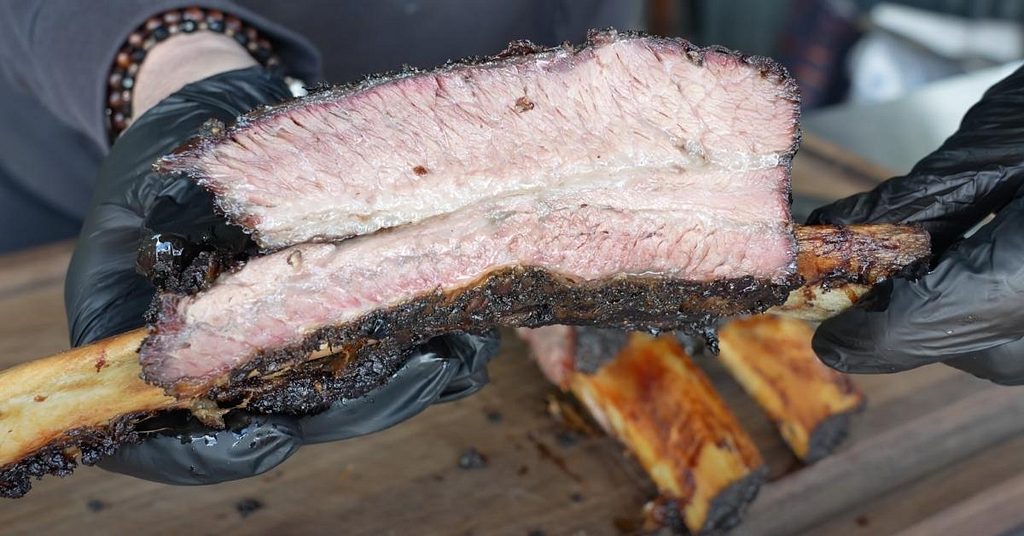 What to Serve with Smoked Beef Short Ribs?
These smoked beef short ribs are an excellent meal addition whether you serve them as the main course or as a delicious side dish. However, most people prefer to eat their smoked beef short ribs with other tasty foods as well.
For an excellent starter pair, you can combine the smoked beef short ribs with our Grilled Acorn Squash with an amazing salad. For a great side dish, our bacon-wrapped grilled carrots will be a perfect match too. If you are looking for something else that tastes great off the grill, our grilled vegetable skewers go great with smoked beef short ribs too!
Smoked Beef Short Ribs
Short ribs are a cut of beef taken from beef cattle's brisket, chuck, plate, or rib areas. They consist of a short portion of the rib bone and the surrounding meat, varying in thickness. There are two major types of cuts: the "flanken," which is cut across the bone and leaves the bone just 1 to 2 inches (2.5 to 5.1 cm) or less in length, and the "English," which is cut parallel to the bone and leaves the bone up to 6 inches (15 cm) in length. English cut short ribs may be served individually, or three or four may be served connected (a style known as the "plate"). Smoked short ribs are famous in many international cuisines.
Ingredients
Hardcore Carnivore Black Dust to cover ribs

Uncle Steve Shake Comp Cow Powder Dust to cover ribs
Instructions
Preheat the Z-GRILLS smoker to 275F.

Score the membrane cross to score the backside of the membrane.

Prepare the ribs for smokingApply a generous amount of rub! I like to buy layers of flavor. Cover the front side with the Hardcore Carnivore Black, then repeat with Steve Shake Comp Cow Powder or your favorite rub!

Apply the spirit and combine the apple juice and water 50/50 in a food-safe spray bottle. You can also use apple cider vinegar and water 50/50. Spritz every hour after hour 2!

Smoke the ribs; you should be able to pierce the meat with little resistance. Ribs shout take anywhere between 5-8 hours, depending on size! Smoke to toothpick tender or 200F and 207F.

Rest your Z Grills smoked short ribs Remove the smoked beef short ribs from your Z Grills and rest 1/2 hour before serving!
Video
If you like this recipe or have any questions, please let us know in the comment section below!