Most families make their holiday meals in their oven—and while that's a great way to do it, using your pellet grill smoker to cook classics like holiday hams is an even better idea.
Whether you need a twice smoked ham for Christmas, Easter, or another festive celebration, this double smoked ham is the juicy, flavorful, and delicious recipe you're looking for. With a brown sugar glaze on the outside, your ham's exterior develops a sweet and crispy caramelization.
But the best part of all? It's simple and easy to make because your twice smoked ham needs little attention while it smokes on your pellet grill.
Add a header to begin generating the table of contents
What is a Twice Smoked Ham?
Twice smoked ham that is bought pre-cooked and then smoked again on your grill to give it added flavor and texture.
What Kind of Ham to Buy for Twice Smoked Ham
When you purchase a ham in the store, you have the option to purchase a pre-cooked ham or a raw ham.
Pre-cooked hams are also referred to as City Hams, smoked hams, cured hams, or baked hams, and they're the most popular option. All hams are cured, and the most popular way of curing ham is a "wet cure." That just means the hams are soaked or injected with brine, a solution of salt, sugar, and spices.
These cooked hams are safe to eat cold right out of the package (but that's not how you're going to serve it on Christmas or Easter day). To find pre-cooked hams in the store, you can also look for these labels:
fully cooked
ready to serve
ready to eat
Raw hams may also be labeled as fresh ham—and that's not the kind we want for this twice smoked ham recipe.
For this recipe, you'll only be smoking your ham once. That's because when you buy it, it will have already been smoked once, ideally. If you can find a "smoked" ham in your grocery store, buy that one. If you can't, any pre-cooked ham will work for this recipe.
Ham With Natural Juices vs. Ham With Water Added: Which is Better?
Since pre-cooked hams are usually wet cured, it's common for water to be added to the hams. But more water means less flavor.
If you want the highest quality twice smoked ham, here's what you should buy in order from best to worst:
Ham (with no water added)
Ham with natural juices
Ham with water added (with a high protein rating between 17% to 18.5%)
Ham with water added (with a low protein rating below 17%)
Boneless Hams vs. Bone-in Hams: Which is Better?
Now, hams are also sold bone-in and bone-out. You can use either for this recipe, but I recommend going for a bone-in ham because you'll get more flavor.
Boneless hams are easier to cut, but you need to decide if that convenience is worth sacrificing flavor.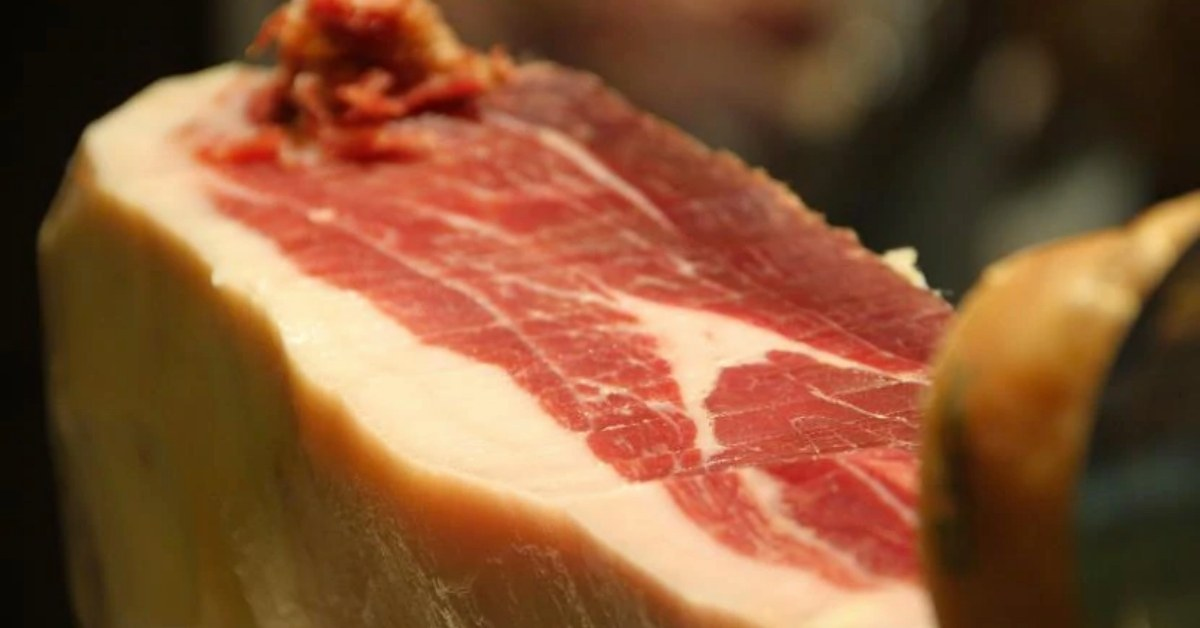 How Much Ham is Enough?
When buying a ham, you need to consider how many people you're feeding and how big their appetites are.
While there are different-sized hams, you'll also need to decide if you want a whole ham or a half ham. Whole hams (also labeled "leg of ham") consist of the butt and shank and usually weigh between 15 to 20 pounds. A half ham generally weighs 7 to 12 pounds.
If you're getting a bone-in ham, you'll want to portion a ½ pound to ¾ pound of ham per person. Consider if you're feeding a lot of hungry adults with big appetites, if you'll have a lot of other food, and if some of your guests are unlikely to eat much of the ham (like small children or vegetarians).
Here's a quick guide for you:
10 people could finish a 5-to-7-pound ham
15 people could finish an 8-to-11-pound ham
20 people could finish a 10-15-pound ham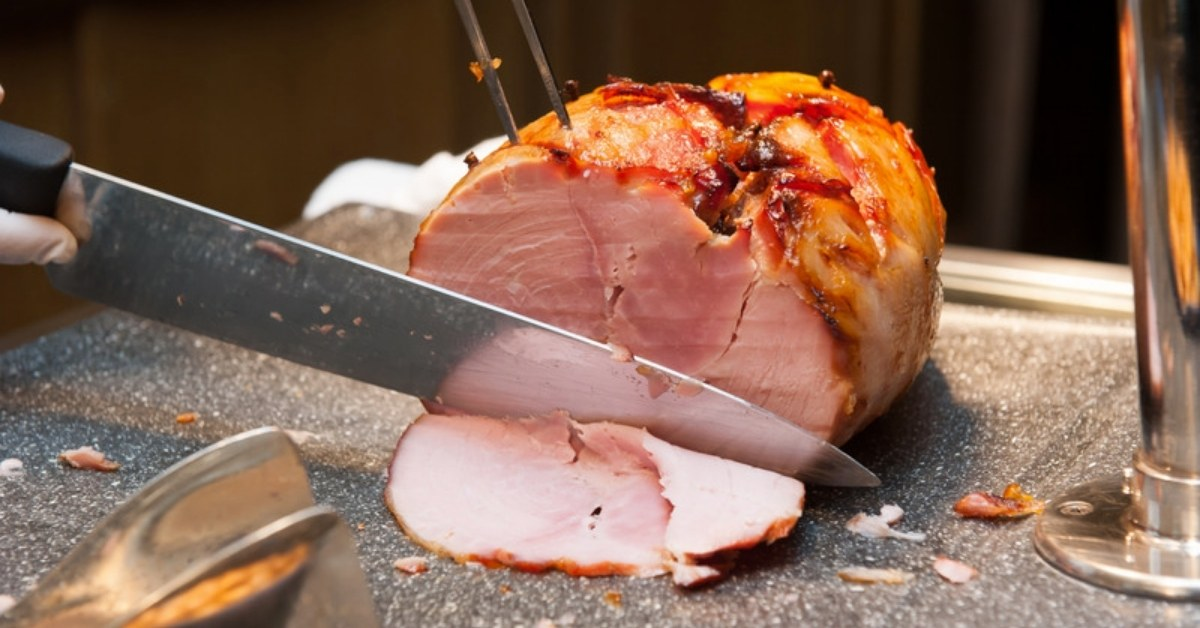 How Long to Smoke Ham on a Pellet Grill
The time your ham takes to cook is determined by how much it weighs. Generally, your ham will take 10-12 minutes to cook per pound of meat when smoked on a pellet grill at 225°F.
So, a 10-pound ham will take about 100-120 minutes to cook, which is 1 hour and 40 minutes or 2 hours.
How to Smoke Ham on a Pellet Grill
When smoking a ham on a pellet grill, you want to make sure you have the right equipment—and that includes a Z Grills pellet smoker and a meat thermometer to know the internal temperature of your meat.
With those two things, you'll love how easy this ham on a pellet grill recipe is.
You'll start with preparing the ham by drying it off and scoring it. Then, you'll leave it to smoke for 1-2 hours.
While the ham is cooking, you'll prepare a simple yet sweet brown sugar glaze to brush on during the last hour or less of cooking. Then, you'll let your twice smoked ham on a pellet grill rest for 10-30 minutes.
Yes. It's that simple!
If you want to know all the finer details of how to smoke a ham on a pellet grill, check out our full recipe for ham on a pellet grill below.
Recommended reading: Smoking ham basics
What Side Dishes Go Well With Twice-Smoked Ham?
Since your twice smoked ham will be sweet and salty, I recommend pairing it with side dishes that will ground the meal, like: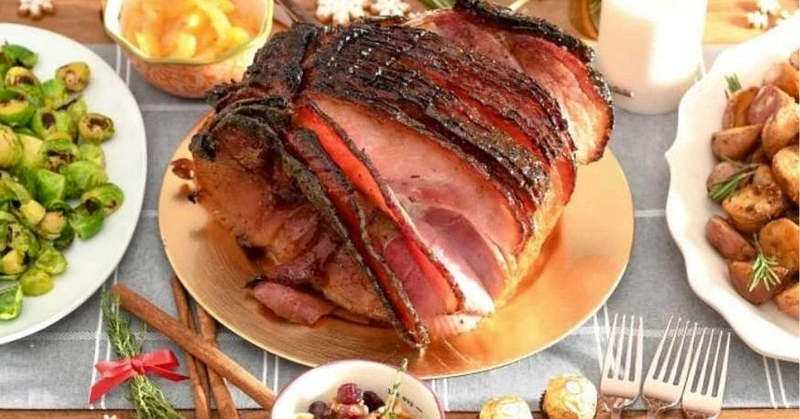 Best Twice Smoked Ham Recipe
Ingredients
One pre-cooked ham (smoked ham is ideal) For the glaze

½

cup

packed brown sugar

½

cup

of pure maple syrup or honey

2

tablespoons

Dijon mustard

½

teaspoon

ground cinnamon

¼

teaspoon

of ground allspice, nutmeg, or ginger
Instructions
Preheat your Z Grills pellet smoker to 225°F.

While your grill preheats, remove your smoked ham from the package. It may be pre-glazed. In this case, rinse it off. Pat the ham dry with paper or cloth towels.

Score the ham's exterior by cutting the skin in a crisscross pattern. If your ham is spiral cut, you can skip this step.

Place a temperature probe inside your unglazed ham, and then put both inside your pellet grill. Close the lid.

Smoke your unglazed ham until the internal temperature reaches 130°F to 135°F, about 1-2 hours or 10 minutes per pound of ham.

While your ham is smoking, prepare the glaze. Mix all glaze ingredients (brown sugar, maple syrup, Dijon mustard, cinnamon, and allspice) in a saucepan until well incorporated.

Heat the glaze over medium heat, frequently stirring until the sugar completely dissolves and the glaze becomes a syrup-like consistency. If you accidentally make the glaze too thick, add a tablespoon of liquid (like apple juice, root beer, or beer) to the glaze to thin it out.

Remove the ham from the grill (after it reaches an internal temperature of 130°F). Place it in a grill-safe dish (like an aluminum pan or cast-iron skillet).

Brush on the glaze evenly across the entire ham. If you don't use all the glaze, that's okay.

Place the glazed ham back in your 225°F pellet smoker.

Every 10 minutes, apply or reapply more glaze. Use your reserved glaze or hot glaze from your pan drippings.

Remove your ham when the internal temperature reaches 140°F.

Lightly cover the ham with foil and allow it to rest for 10-30 minutes before serving.
Essentials for Making Smoked Ham
French's Dijon Mustard, 105 oz – One 105 Ounce Bottle of Dijon Mustard with Chardonnay, Perfect for Creating Signature Sides and Entree Recipes
WELL BALANCED TASTE AND TEXTURE: French's Dijon Mustard delivers a well-balanced, distinctive taste and naturally thick, creamy texture to all your favorite dishes; enjoy the iconic flavor of chardonnay mustard the easy way
PREMIUM DIJON BLEND: Made using chardonnay wine, robust spices and whole mustard seeds; certified master stone millers grind high-quality mustard seeds to be mixed with other premium ingredients
MADE FOR CHEFS: Blended for culinary professionals and crafted in bulk sizes for efficiency, this 105-ounce bottle will elevate your current menu and inspire all kinds of new recipes; pour into smaller containers for easy handling
COMMERCIAL KITCHEN STAPLE: Enhances the taste of burgers, deli sandwiches, side dishes and other signature recipes when used in your commercial kitchen; complementary flavors suit fan-favorite menu items and new recipes
FEEL GOOD CONDIMENT: Kosher, vegetarian and made without gluten, dairy, high fructose corn syrup, thickeners and fillers for flavors you can feel good about; serve to all your guests with the confidence that you're accommodating their dietary needs
McCormick Ground Cinnamon, 18 oz
Deep, sweet, warm flavor and rich mahogany color
Versatile spice for sweet and savory dishes
Aged up to 15 years for rich flavor
Premium quality for pure, superior flavor; never made with added fillers
Non GMO
Note
This post contains affiliate links. Please read my full disclosure here: https://blog.zgrills.com/affiliate-disclosure/