If you've been searching for the best haddock recipe for your pellet smoker, look no further. You'll love this smoked lemon garlic haddock, especially when served with sides like brown rice, broccolini, or green beans.
You can think of haddock like chicken—it has a mild taste and will take on whatever flavor profile you want to give it.
In this case, we're using a simple lemon garlic seasoning, and we also include an easy sauce with shallots and capers to top it off.
Add a header to begin generating the table of contents
How to Select Good Haddock for Grilling
Whenever you shop for fresh fish, you want to avoid any that show these signs of spoilage:
an unpleasant smell
cloudy or sunken eyes
soft or squishy flesh
visible damage or blemishes 
Fresh haddock, whether whole or a fillet, should have firm flesh with a pearly white color. It will have a slightly fishy smell, but it should remind you of the ocean—not rotten food. If you can buy a whole haddock, make sure the eyes are bright and clear, and the gills should be a nice red.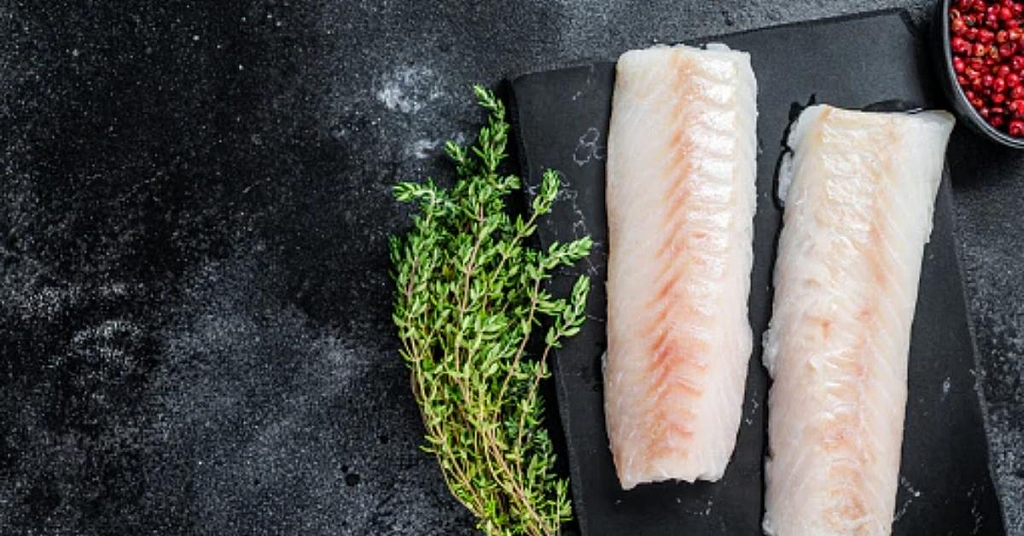 The Best Pellet Grill and Wood Pellets for Grilled Haddock
When smoking grilled haddock, use a Z Grills pellet smoker and certified Z Grills wood pellets.
Our wood pellet grills can smoke, grill, sear, roast, bake, BBQ, braise, and more. Every Z Grills model delivers precise temperature control with high-quality materials, and we have a model for everyone.
Whether you're a novice who needs a basic pellet smoker like the Pioneer 450B Pellet Grill or an expert grill master who would kill for our Powerhouse 10002B Pellet Grill, there's a great Z Grills pellet smoker with your name on it.
When you make this grilled haddock, you'll also need some high-quality wood pellets. For the best results, use:
How to Grill Haddock on the Grill
Making grilled haddock is fast and easy, and this best haddock recipe will walk you through everything you need to do to make delicious haddock on your pellet smoker.
Step 1: Prepare the Haddock
Preparing haddock for this grilled haddock recipe is simple. Simply pat the fish dry. Gently rub or brush a light layer of olive oil on it. Then, season it on both sides with a mixture of salt, pepper, and garlic powder. That's it!
Step 2: Prepare the Pellet Smoker for the Grilled Haddock
Before we throw the grilled haddock on, we need to prepare your Z Grills pellet smoker.
First, fill your smoker with your favorite Z Grills wood pellets. We generally want to stick with mild wood for fish since it's easy to develop an overpowering smokey flavor. But this haddock will only cook for 8 minutes on your pellet smoker, so it's okay to experiment if you want to. 
Preheat your pellet smoker to medium heat, about 350°F. Then, oil the grill grates with cooking spray or a paper towel soaked in olive oil. 
Instead of cooking the haddock fillets directly on the grill grates, we'll place them atop a few lemon slices.
So, envision where your fillets will lay. Then, place 2-3 lemon rounds on the grill. Finally, lay the fillets on top of the lemon slices
Step 3: Smoke the Haddock Fillets
Now it's time to close the lid and let your Z Grills pellet smoker work its magic. When the haddock fillets reach an internal temperature of 145°F, pull them out. This will only take about 8 minutes.
When you make this best haddock recipe, there's no need to flip or prod the haddock. It's fast and easy from start to finish.
Step 4: Make the Lemon Garlic Caper Sauce
This final step is optional. Your smoked haddock will taste great without it, but this buttery sauce can bring it to the next level, especially when served with more tame sides like plain rice and veggies.
Simply combine all the sauce ingredients in a saucepan and simmer it for 5 minutes. When it's ready, you can pour it directly over the haddock fillets.
What to Serve with Grilled Haddock
If you're unsure what to serve with haddock, browse our authentic wood-smoked side dishes that feature stellar sides like grilled eggplant and smoked green bean casserole.
For a more basic meal, you can always serve this haddock recipe with plain rice and your favorite vegetables.
The Best Times and Temperatures for Grilled Haddock
If you want to grill your haddock quickly and impart a subtle smokey flavor, follow this recipe that smoke the haddock at 350°F for about 8 minutes until the internal temperature of the haddock reaches 145°F.
Tips and FAQS About Grilled Haddock
Do you have questions about cooking haddock on a pellet grill? You're not the only one. Here are some FAQs about grilled haddock.
What Temperature Should You Grilled Haddock to?
Fish should be cooked to an internal temperature of 145°F before serving.
Is Haddock a Good Fish to Smoke?
Haddock is a great fish to smoke. However, if you want to skip the low and slow method, try our grilled haddock. It has a subtle smokey flavor and is ready in just 10 minutes.
Grilled Garlic Lemon Haddock With Capers
This is the best haddock recipe because it features fresh flavors that meld beautifully with the subtle smokiness of your pellet grill. Enjoy this grilled garlic lemon haddock with a simple sauce or on its own. 
Instructions
Preheat your Z Grills pellet smoker to medium heat, about 350°F, using your favorite Z Grills wood pellets. Just before cooking the haddock, grease the grill grates by rubbing a small paper towel soaked in olive oil where the fish will touch the grill.

Prepare the haddock by patting it dry with paper towels. Then, oil the fish lightly with some olive oil. You can use a basting brush, a paper towel, or your hands to apply the oil.

Season the haddock filets with salt, pepper, and garlic powder on both sides.

Place 2-3 slices of lemon for each filet on the grill. Then, place the haddock filets on top of the lemons. Leave space between each filet.

Close the grill lid and cook for about 8 minutes. When the internal temperature of the haddock reaches 145°F, remove it from your pellet smoker.

To make the sauce, combine all ingredients in a saucepan and simmer for 5 minutes. You can do this while your haddock cooks, before or after. Once the sauce is done, top the fish with the sauce immediately.

Serve your haddock with brown rice and veggies for a complete meal.