We have all been there—you put hours into marinating and seasoning the perfect chicken just to end up with skin that is soft, squishy, and anything but enjoyable. When you are making chicken, you don't want soft chicken skin, you want crispy chicken skin—the kind that is full of flavor and delicious to pull apart. Well, don't worry. With this simple approach, you can get flavorful grilled chicken with extra-crispy skin every time!
Add a header to begin generating the table of contents
How Long Does it Take to Smoke Chicken Legs?
It takes roughly 45-60 minutes at 225F to smoke chicken legs. However, cook times can vary depending on the size of the chicken legs.
How to Get Crispy Chicken Skin on a Pellet Grill (Step-By-Step Instructions)
The steps to make crispy chicken are easy. With a little prep work and a brief cooking period, you can serve up crispy chicken that is flavored with aromatic wood pellets and your favorite seasoning!
Step 1. Preparations
Preparing your chicken for that perfect crispy skin is the real trick to making delicious crispy chicken at home. You can make sure that your chicken is cooked perfectly with these simple preparation steps:
Dry the chicken with paper towels, taking care to soak up any extra moisture.
Clean up the meat to remove any imperfections.
Gently loosen the skin of the thighs and legs. If anything catches, use your knife to slowly peel it away, but be sure to leave it connected.
Evenly spreadthe baking powder mixture under the skin.
Massage the mixtureinto the thighs and legs, taking care to reach each spot. Granulated garlic is a great addition.
Stretch the skin back over the chicken, then apply the remaining ingredients. Make sure the meat looks neat.
Allow the chicken to refrigerate on a wire rack for 3 to 6 hours.
Remove the chicken, then season the chicken with your preferred seasoning. Do not lean too heavily on the salt since salt was included in the brine.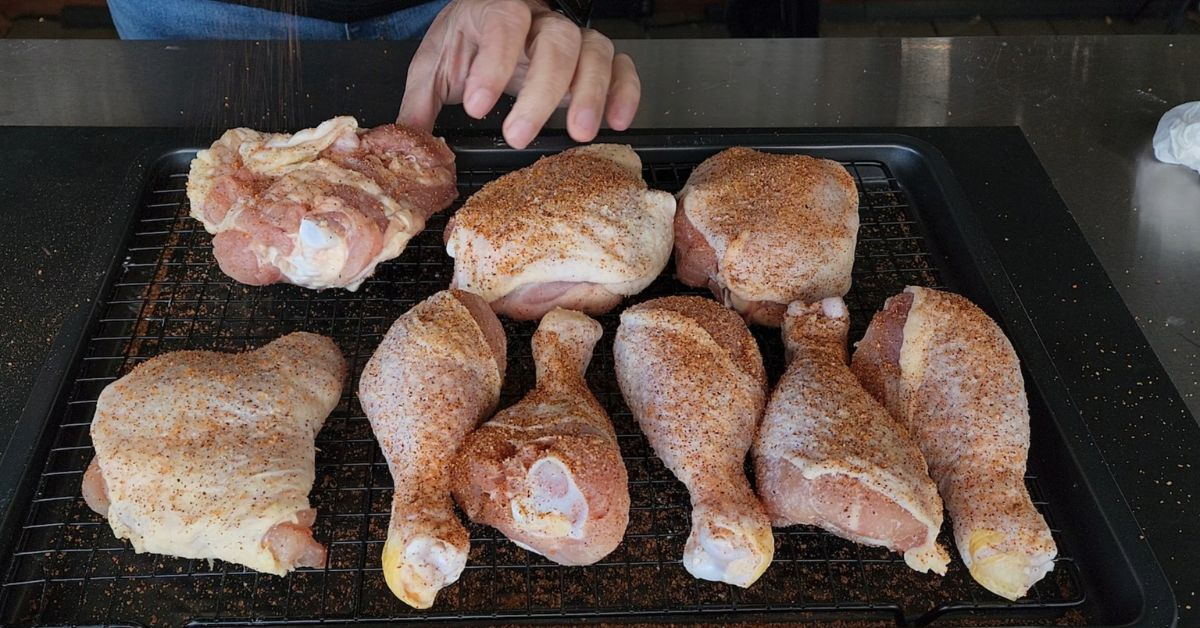 Step 2. Preheat the Z Grills Smoker to 225-230F
Set your Z Grills pellet grill to 225-300F with your favorite Z Grills pellets so it can begin to preheat. For the best taste match, we recommend our cherry wood pellets.
Leave your Z Grills pellet grill to heat, and do not open it while it heats up.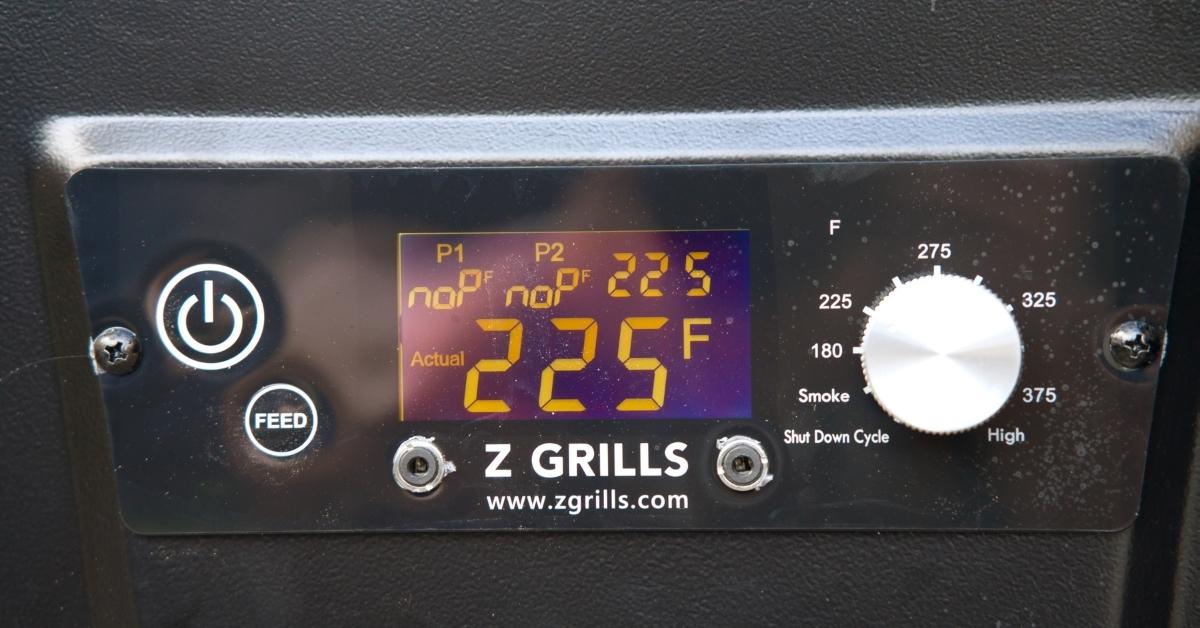 Step 3. Place the Chicken Thighs on the Grill
Once your Z Grills pellet grill reaches the target temperature, it is time to smoke your chicken. Carefully place the chicken thighs inside of the grill, and space them out evenly. Close the lid on the grill.
Allow the chicken to cook for a total of 45 minutes. Avoid peeking on the chicken while it cooks so the grill maintains the correct temperature inside.
Step 4. Remove the Chicken Thighs to a Plate
After 45 minutes have passed, you should be able to remove the chicken thighs. Before removing them, make sure they have reached 130F inside. Once you have confirmed the temperature, remove the chicken thighs and place them on a plate to avoid overcooking them.
Step 5. Raise the Temperature of the Pellet Grill to 450F
Return to the Z Grills pellet grill and increase the temperature to 450F. This will be the temperature that provides that perfect crispy skin you want to see (and taste!).
Wait for the pellet grill to reach the appropriate temperature, then you can start cooking again. Return the chicken to your grill and allow it to cook for an additional 10 to 15 minutes.
When the chicken is done cooking, it will have a crispy exterior and an internal temperature of 170F.
Step 6. Rest for Up to 10 Minutes
As soon as your chicken reaches that perfect interior temperature, it is time to remove the chicken and allow it to rest. The chicken will take about 10 minutes to rest, finishing off the cooking process and allowing the skin to get nice and crispy.
The chicken should have a nice golden, crispy exterior and a deliciously juicy interior. Depending on what seasoning you used, the flavor and smell will vary—but it should make your home smell like a fantastic batch of crispy chicken!
To get the best results, we recommend our Z Grills 700 Series Pellet Grill which maintains perfectly consistent temperatures, whether that's low and slow at 225°F, or hot and fast at 450°F. You can improve your process and make amazing recipes like this with Chef Tommy over on the Z Grills YouTube Channel! Follow along with Chef Tommy on this recipe with the video version!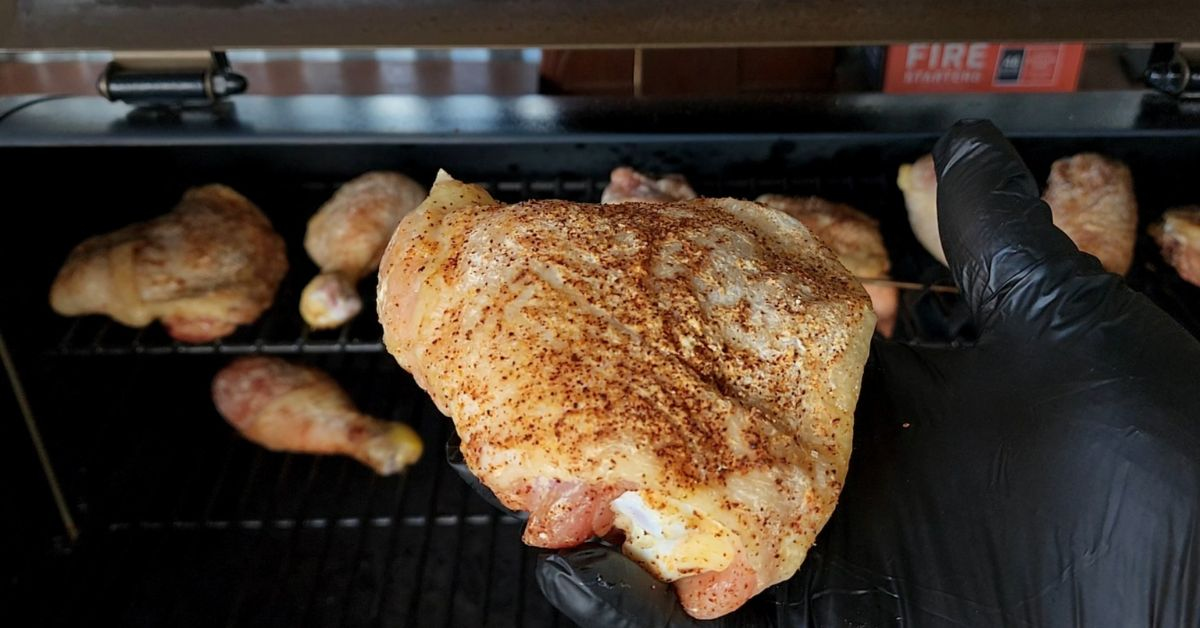 What to Avoid When Aiming for Crispy Chicken Skin
Crispy chicken is well-loved by most of us, but it is also surprisingly easy to make incorrectly. When you avoid these four common mistakes, you can rest easy knowing that your chicken is going to come out absolutely perfect!
Miss the Marinade
Although marinades are great for adding flavor, they are not the best match for crispy chicken. A marinade is best when you are cooking other types of chicken and want to fill them with flavor.
When you use a marinade on crispy chicken, you run the risk of the skin staying soft due to the additional moisture. You might end up with plenty of flavors, but you won't get that deliciously crispy chicken skin.
Delay the Baste
Basting is a wonderful practice for a lot of dishes, but to make chicken skin crispy, you need to remove a good amount of moisture. Any time you baste this chicken, you will be actively discouraging the skin from crisping. Avoid basting so your chicken skin can receive that crispy texture and flavor.
Don't Be in a Hurry
There are many delicious meals that can be made in a matter of minutes, but chicken isn't one of them. To make chicken as great as possible, you should always take your time while cooking it.
When making crispy chicken, you will want to avoid peeking at it while it cooks—and don't try to speed up the process. Allow the chicken to cook naturally until it achieves that perfect finish.
Skip the Traditional Smoker
Smoking chicken will fill it with a great smoked flavor, and it can make deliciously crispy chicken on a pellet grill with a smoker. A traditional smoker may have a different outcome on the crispness of your chicken. For this recipe, always choose Z Grills pellet grills for your smoking needs.
Final Thoughts: Get Crispy Chicken Skin on a Pellet Grill
As you can see, there are lots of different methods for cooking chicken on a pellet grill. You don't need to accept that smoked chicken will have leathery, tough skin.
Anyone can achieve delicious crispy chicken skins in their pellet grill with the knowledge here.
So, get to it, and good luck!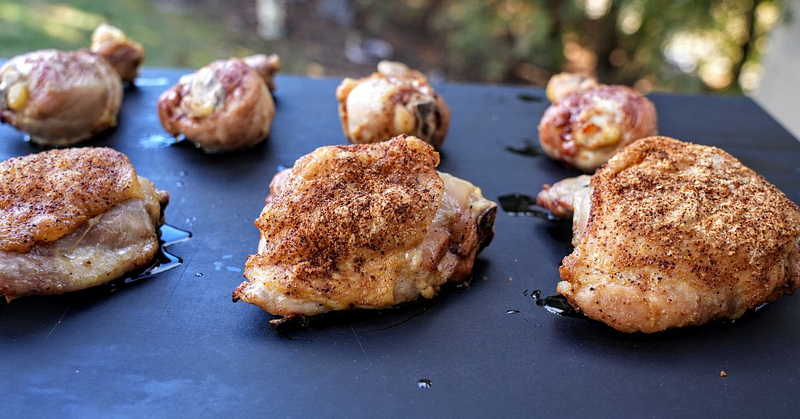 Smoked Chicken Thighs
Instructions
Thoroughly pat the chicken dry, inside and out, using paper towels.

Loosen the skin of the thighs and legs.

Evenly spread the brine mixture under the skin, massaging it into the thighs and legs.

Stretch the skin back over the chicken and apply the rest of the salt brine.

Refrigerate the food on a wire rack for 3 to 6 hours.

Remove the chicken from the refrigerator, then season the chicken. Choose a seasoning that does not have too much salt since you have rubbed the chicken down with a brine.

Preheat the pellet grill to 230F.

Smoke the chicken for 45 minutes. Avoid peeking to keep the temperature consistent. After 45 minutes, the internal temperature should be roughly 130F.

Remove the chicken and place it on a plate.

Increase the pellet grill temperature to 500F.

After the temperature has been reached, place the chicken back inside.

Cook the chicken for 10 to 15 minutes. When the chicken is done cooking, it should have an internal temperature of 170F.

Move the chicken to the board to rest for 10 minutes.

Serve up your delicious, crispy chicken!
Video