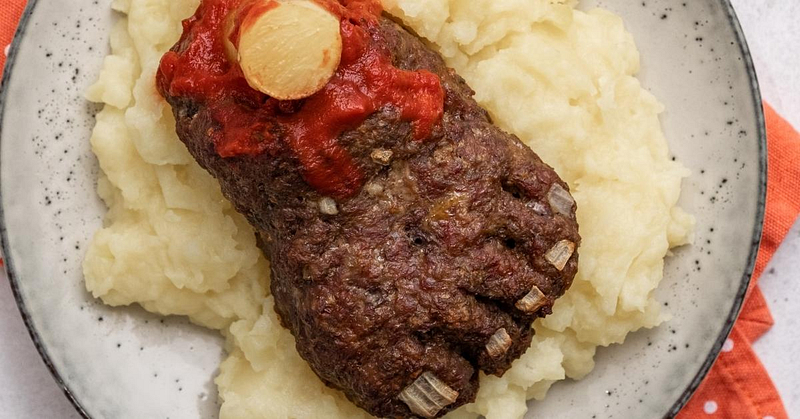 Halloween Feet Loaf
Bring a little macabre to the dinner table with a Halloween feet loaf. This spooky and delicious conversation piece is surprisingly easy to make and cleverly uses kitchen staples for an impactful presentation. Better yet, it's a great excuse to use your pellet grill. This cook calls for hickory smoke because it gives the beef a savory, hearty flavor with a hint of bacon-like sweetness.
Ingredients
3

pounds

80% lean ground beef

½

green bell pepper, finely chopped

1

medium onion, minced

3

garlic cloves, grated

1 ½

teaspoons

fine sea salt

1

teaspoon

black pepper

1

teaspoon

mustard powder

4

large eggs, beaten

2

cups

panko breadcrumbs, unseasoned

½

cup

whole milk

1/3

cup

shredded cheddar cheese

1

tablespoon

grated parmesan cheese

2

teaspoons

soy sauce

1

medium onion, halved with 10 small slivers reserved

½

cup

ketchup
Instructions
Add the ground beef to a large bowl with bell pepper, onion, garlic, salt, black pepper, mustard powder, eggs, breadcrumbs, milk, cheddar cheese, parmesan cheese, and soy sauce. Mix until well combined.

Halve the mixture and place both portions onto a parchment-lined baking sheet.

Shape each half into a foot, then press the meatloaf mixture upwards at the top to form an ankle.

Use a small knife to cut slits at the front of each meatloaf to create toes. Carefully round the ends with your hands.

Add the slivers of onion at the end of each divot to act as toenails.

Hollow out the top of the ankle-shaped portion of the loaf and place the halved onion cut side down. This will act as the severed stump.

Place the meatloaves into the refrigerator to chill for 1 hour.

Preheat your Z-Grills (preferably with branded hickory pellets) or other wood pellet grill to 225 degrees Fahrenheit.

Transfer them to the grates once hot.

Close the grill lid and smoke for 1 hour.

Uncover, brush ketchup around the ankle-shaped portion of each loaf, and increase the grill's temperature to 325 degrees Fahrenheit.

Close the lid and smoke for 35-45 minutes or until the internal temperature reaches 165 degrees Fahrenheit.

Remove the feet loaf from the grill and rest for 20 minutes before slicing.

Serve alone or atop a mound of mashed potatoes.
Notes
To slice, start at the toes and work your way up.
Nutrition
Serving:
215
g
|
Calories:
460
kcal
|
Carbohydrates:
12
g
|
Protein:
30
g
|
Fat:
31
g
|
Saturated Fat:
12
g
|
Polyunsaturated Fat:
1
g
|
Monounsaturated Fat:
13
g
|
Trans Fat:
1.5
g
|
Cholesterol:
175
mg
|
Sodium:
1200
mg
|
Potassium:
420
mg
|
Fiber:
1
g
|
Sugar:
2
g
|
Vitamin A:
400
IU
|
Vitamin C:
9
mg
|
Calcium:
90
mg
|
Iron:
3.2
mg