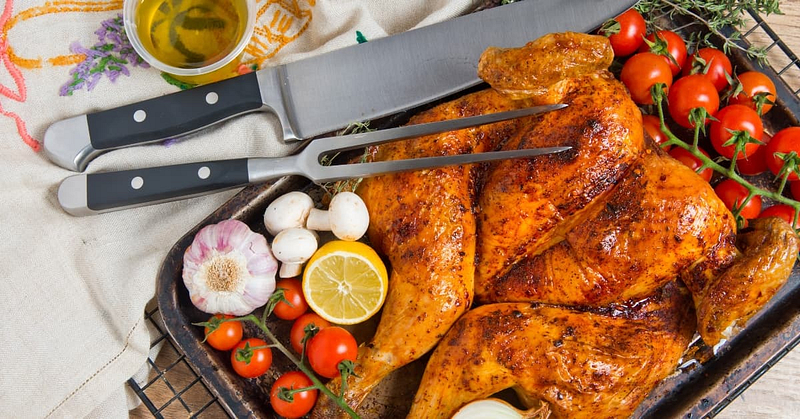 Grilled Portuguese Chicken
Grilled Portuguese chicken packs a punch! The spatchcocked chicken is coated in a chili-fueled marinade before it heads to the grill, where it's cooked to perfection with the help of fragrant apple wood smoke. The chicken is tender, juicy, and well-seasoned, with a lovely bright heat that keeps you coming back.
Ingredients
1

cup

water

2

dried ancho chilies, stems and seeds removed

1

chipotle morita, stem and seeds removed

5

garlic cloves, minced

2

tablespoons

smoked paprika

½

teaspoon

ground coriander

½

teaspoon

onion powder

½

teaspoon

black pepper

1/3

cup

fresh lemon juice

1/3

cup

olive oil

1

tablespoon

kosher salt

1

(3-4-pound) whole chicken
Instructions
Bring the water to a boil on the stovetop.

Add the ancho chilies and chipotle morita to a small bowl, then pour the water over the chilies and leave to soak for 15 minutes.

Meanwhile, pat the chicken dry with paper towels. Remove neck parts and gizzards from the chicken, if any.

Place the chicken breast side down onto a cutting board with the legs facing you.

Use poultry shears or kitchen scissors to cut along the right side of the backbone. Cut from the bottom of the chicken to the neck.

Repeat on the left side of the backbone, then remove the bone. Discard it or reserve it to make homemade chicken stock.

Flip the chicken over and firmly press down on the breastbone until you hear a crack and the chicken lays flat.

Pat the chicken dry with paper towels once again, then transfer it to a baking sheet fitted with a wire rack (if you have a wire rack on hand).

Drain the rehydrated chilies but reserve the soaking liquid. It's an excellent addition to soups and stews.

Add the rehydrated chilies to a blender or food processor with the garlic, paprika, coriander, onion powder, black pepper, lemon juice, and oil. Blend/process until smooth.

Rub the marinade all over the chicken and under the skin. Season both sides with salt and transfer the chicken to the refrigerator to marinate for 1-2 hours.

Preheat your Z-Grills (preferably with branded wood pellets) or other wood pellet grill to 375 degrees Fahrenheit.

Transfer the chicken to the grill grates, close the lid, and cook for 35-40 minutes or until the internal temperature reaches 165 degrees Fahrenheit.

Carefully remove the chicken from the grill and rest for 10-15 minutes.
Notes
Gently slide your fingers between the meat and the skin to access this space and apply the marinade. Work slowly to avoid tearing the skin. You can enter at either end of the chicken.
Nutrition
Serving:
244
g
|
Calories:
400
kcal
|
Carbohydrates:
7
g
|
Protein:
40
g
|
Fat:
24
g
|
Saturated Fat:
4.5
g
|
Polyunsaturated Fat:
4
g
|
Monounsaturated Fat:
13
g
|
Trans Fat:
1
g
|
Cholesterol:
140
mg
|
Sodium:
1650
mg
|
Potassium:
840
mg
|
Fiber:
2
g
|
Sugar:
3
g
|
Vitamin A:
1800
IU
|
Vitamin C:
10
mg
|
Calcium:
30
mg
|
Iron:
2
mg