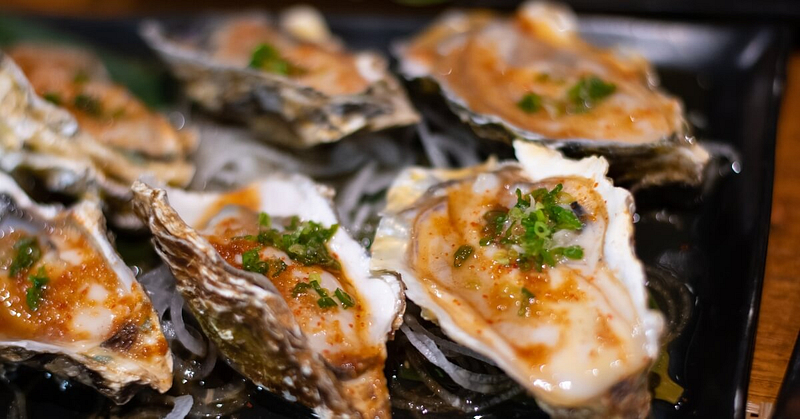 Grilled Oysters
These grilled oysters are briny and tender, plus the fragrant herb cayenne butter used in this recipe takes them up a few notches. Shuck on the half shell, arrange them on the grill to keep the juices intact, cook, and finish with butter. You'll have an eye-catching, slurp-worthy appetizer platter before you know it!
Equipment
Z Grills Wi-Fi Pellet Grill      

Z Grills Apple Wood Pellets

Parchment Paper

Oyster Knife

Tongs
Ingredients
1

cup

unsalted butter

4

garlic cloves, grated

2

tablespoons

minced fresh chives

2

tablespoons

chopped fresh parsley

½

teaspoon

cayenne pepper

¾

teaspoon

coarse sea salt, divided

24

oysters, shells about 4-5 inches across

Rock salt or thinly sliced onions, as needed

3

tablespoons

fresh lemon juice
Instructions
Combine the butter, garlic, chives, parsley, cayenne pepper, and ¼ teaspoon salt.

Transfer the butter to a sheet of parchment paper or plastic wrap, form it into a log, roll it, and chill for 2 hours or until firm.

Sort through the oysters and discard any that are open.

Wash the oysters and lightly scrub them with a brush to remove any grit.

Use an oyster knife or paring knife to shuck the oysters. To shuck, hold an oyster in your non-dominant hand with a towel underneath to protect your hand. Then, insert the knife in the oyster's hinge and push/wiggle the blade until it is wedged between the shells. Next, twist the knife to pop open the oyster. Then set the knife down, pull the top shell off until the oyster opens fully, and remove the top shell. Be careful not to cut the meat of the oyster.

Preheat your Z-Grills (preferably with branded apple wood pellets) or other wood pellet grill to 450 degrees Fahrenheit.

Arrange the oysters on the grates (balance them between the bars to prevent spills), close the lid, and grill for 6 minutes. Meanwhile, cut the log of butter into 24 equal-sized pieces.

Open the lid and add a piece of butter to each oyster.

Close the lid and grill for 4 minutes. The oysters are done when the oyster meat curls at the edges and the juices bubble.

To serve, add rock salt to a large platter so you can nestle the oysters in a salt bed or arrange sliced onions into mounds and place oysters on top to hold them in place. Drizzle oysters with lemon juice and sprinkle with the remaining salt before serving.
Notes
Feel free to prepare the butter up to 2 days in advance.