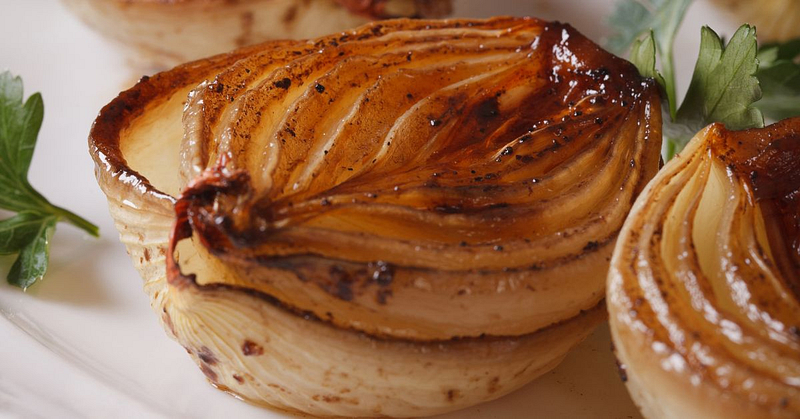 Braised Onions
It's easy to braise onions on a pellet grill. The process starts by caramelizing them in a cast iron skillet to develop their rich, sweet flavor. Once the onions are browned, the cooking liquid goes in, and they're smoke-braised. The result is soft, flavorful onions that can be served as a side dish or used as a base for other recipes.
Equipment
Z Grills 1000D3E Wood Pellet Grill

Z Grills Apple Wood Pellets

Cast Iron Skillet (with high sides)

Metal tongs
Ingredients
8

small onions, peeled and halved

3

tablespoons

bacon drippings or unsalted butter, melted

½

teaspoon

kosher salt

¼

teaspoon

black pepper

1

garlic clove, minced

1-2

sprigs fresh thyme

½

cup

vegetable broth, low-sodium
Instructions
Preheat your Z-Grills (preferably with branded apple wood pellets) or other wood pellet grill to 400 degrees Fahrenheit.

Transfer the skillet to the pellet grill, close the lid, and heat for 7-8 minutes.

Meanwhile, brush the onion halves with the melted bacon fat or butter, then sprinkle the cut sides with salt and black pepper.

Transfer the onion halves to the hot cast iron cut-side down, close the grill lid, and smoke for 10 minutes.

Remove the skillet from the grates and reduce the grill temperature to 225 degrees Fahrenheit. In the meantime, add the garlic and thyme to the skillet, along with the broth.

Return the skillet to the grill grates, close the lid, and braise for 40 minutes.

Remove from the grill, plate, and serve.
Notes
Change up the flavor of this recipe by swapping vegetable broth for another broth/stock of choice. Chicken and beef work well.