Just because summer is over doesn't mean you have to put away your pellet grill! Fall is a wonderful time to cook outdoors and continue to enjoy all the smoky-flavored goodness that only a good pellet grill can give you. So break out those warm sweaters and get out there and get into fall grilling. Hey, if it gets too cold, just come inside to eat!
Cooking outdoors in fall is actually often more comfortable than in summer, especially for those of us in the South. No more searing heat, fewer bugs, and also that feeling of making the most of it before winter hits.
To help you get the most from your pellet grill this pumpkin season, read on for our top 3 tips plus some of the best recipes to try this fall.
Add a header to begin generating the table of contents
TOP 3 Tips For Fall Grilling
Experiment & Try New Dishes
Fall is a time of transition and so is the perfect time to experiment with ingredients. One of the easiest places to spice things up this fall is in your rubs! We are familiar with cayenne, ginger, and paprika, but why not try adding:
Cardamom – common in Indian cuisine with a warm and aromatic flavor
Cinnamon – goes well with pork and beef, but be careful not to overdo it!
Cumin – another Indian and Mexican staple that's easy to get addicted to
Allspice – has the effect of adding a mix of cinnamon, cloves, and nutmeg and works so well with pork and poultry
Pumpkin spice – a blend of allspice, cinnamon, ginger, cloves, mace, and nutmeg – if you're not brave enough to try it as a rub, make sure you serve pumpkin pie for dessert!
Serve Seasonal Veggies
There are so many veggies that are at their best in the fall, especially if you get them from your local farmer's market. Corn, eggplant, potatoes, sweet potatoes, celeriac, garlic, parsnips – just buy what's fresh and give it a try! Just mix them with a little olive oil or butter, place them on the grill for 30 minutes, turning once halfway through, and serve.
Start Grilling Fish and Turkey
It's not all about the beef, pork, and chicken – fall is the perfect time of year to bring variety to the meat you cook. The staples of burgers, steaks, ribs, and so on are always sure-fire hits, but add in some fish, turkey, and duck too. Your guests will be in your debt. Or what about venison? – there isn't a more flavorful or tender red meat around, and it grills superbly. (It's also super healthy!) Hunting season is just around the corner, so why not smoke what you bring home?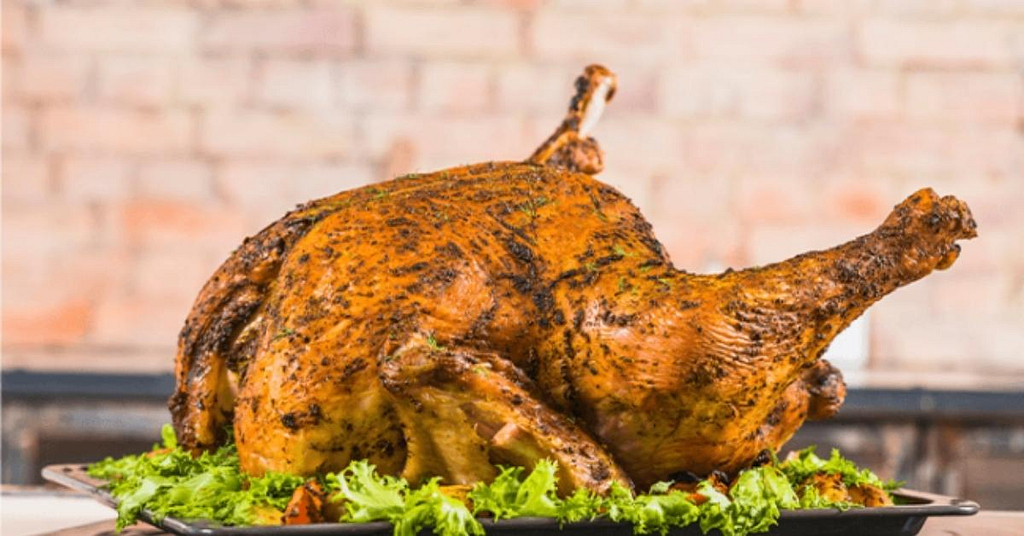 Classic smoked beef brisket is perfect for fall but makes sure you plan ahead with this one – it's up there with pulled pork for cooking time. But the wait is worth it, transforming this inexpensive cut into fall-apart lusciousness.
Smoked whole chicken provides the best flavor and succulence of any poultry recipe. It's so easy to do and you can ring the changes with the rub of your choice. 
Cauliflower is great in the fall and our grilled cauliflower steak recipe hits all the right buttons either a side or a great veggie option for any non-meat eaters. It's low carb and healthy too, so a great side for those on Keto.
If it's fall, pumpkin pie has to be on our recipe list, and smoked pumpkin pie is simply the best. Sweet and smoky, it is the perfect end to a fall party.
Fall is one of the best seasons to get outside with the grill, especially if you're in a state where you'd rather be inside in the air conditioning through the summer months! Now is the time to get outside with the changing leaves and cook up something delicious with your pellet grill. Not yet got your hands on a pellet grill? Check out our current deals on our incredible Z Grills pellet grills here.