Tender, juicy, and full of smoky flavor – the chuck roast is an indulgent cut of beef that you'll be craving every night of the week.
Nicknamed the poor man's brisket, our chuck roast recipes will have you dining like a king. It's a smaller and cheaper cut of beef than the brisket, so it's a great choice if you feel intimidated by smoking larger cuts. Yet the melt-in-your-mouth beefy flavor makes it a firm favorite for many people.
We're using a pellet grill to smoke a BBQ chuck roast, offering you two alternative ways to serve up this dish. One will be chopped up into beef sandwiches, whereas the other will be succulent slices.
To learn how to smoke a chuck roast, keep reading our foolproof recipe and expert tips that'll bring the wow factor to your weeknight meals.
Add a header to begin generating the table of contents
How Long Does it Take to Smoke Chuck Roast at 250˚F?
This recipe calls for nearly 5 pounds of beef chuck (one came in at 2 and a half pounds, whereas the other is a little over two pounds). Low and slowness are the key to success when smoking a chuck roast due to the tight connective tissue, taking a total of 7 hours at 250˚F.
The chuck roast will smoke bare on the grill for the first half of this cooking time with regular spritzing along the way. When it reaches an internal temperature of 160-170˚F, the beef chuck will then be wrapped up and cooked alongside onions and beef stock to create an indulgent au jus. For a well-done BBQ chuck roast, an internal temperature of 200-207˚F is ideal.
Smoked Chuck Roast (Step-By-Step Guide)
Preheat the smoker ready for your beef chuck
Set your smoker on the Smoke setting for 60-90 minutes. Then bump the temperature up to 250˚F. Let the grill come to temp and stabilize before you begin smoking a chuck roast. We used the Z Grills 11002b to cook our chuck roast.
Season the Chuck Roast
Liberally season the meat with a blend of kosher salt, 16 mesh black pepper, and granulated garlic, covering both sides and the edges to ensure the BBQ chuck roast has a thick bark. For the best results, let them rest for up to an hour before smoking so the meat can absorb the salt, resulting in weakened proteins for a tender finish.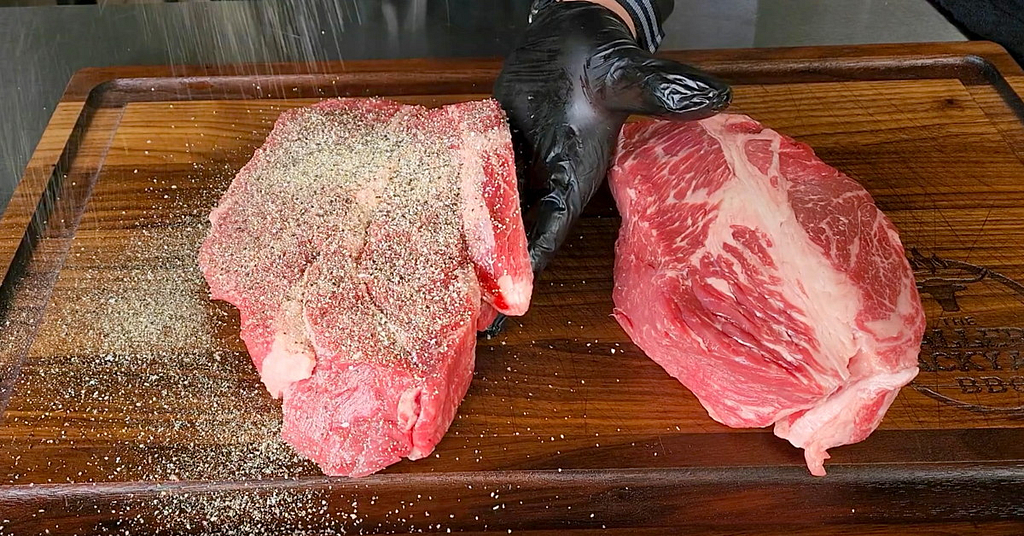 Place The Chucks On the Grill
Ensure the internal temperature of the pit is 250˚F, and then place your beef chuck onto the grill rack. We recommend placing an aluminum pan underneath the meat to catch any drippings, which will be used later to create the au jus.
Spritz the Chuck Roast at Hourly Intervals
Wait a minimum of two hours before starting to spritz the beef chuck. We want the meat to develop a nice bark, whereas spritzing too soon will disrupt that outer coating. To tell that it's ready, check that none of the seasonings comes off on your finger if you rub the meat.
Once ready to spritz, use a mixture of 50-50 water and apple juice to generously mist the chuck roast. Close the lid and allow the meat to continue cooking.
Continue to spritz the beef chuck every hour – you should do so on the 3rd and 4th hour of cooking.
Prepare the Au Jus
No chuck roast recipes are complete without a rich au jus, which we can start to prepare while waiting for the beef chucks inside the smoker. Chop onion into thick slices and measure out 500ml of room temperature water to be used later.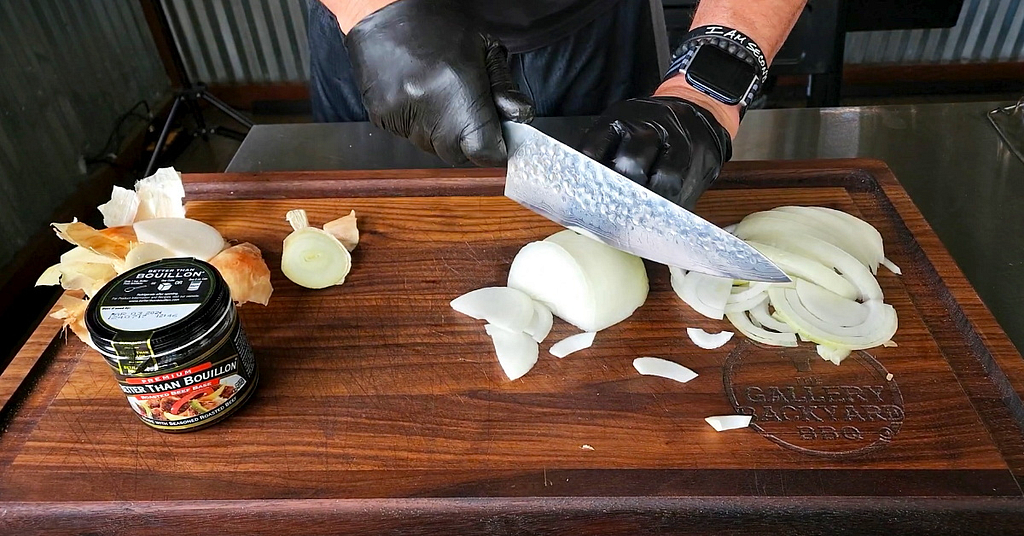 Remove the Chucks from the Grill After 5 Hours
Once the internal temperature of the beef chuck reaches the 160-170˚F stall, it's ready to remove from the grill. This will be after roughly 5 hours of smoking, and a nice bark will be forming on the chuck.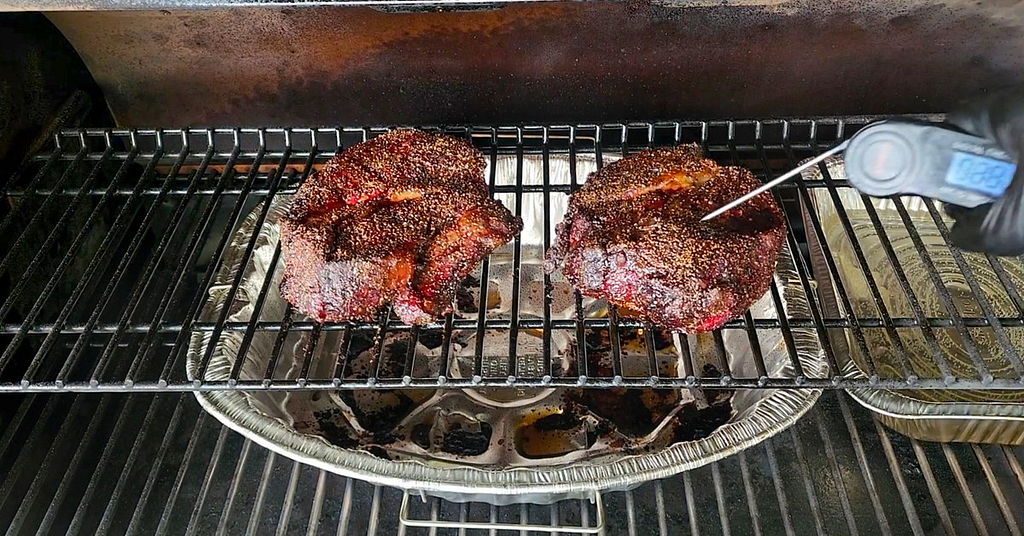 Make the Au Jus and Add the Beef Chucks
Remove the aluminum tray from the grill and add the sliced onion and 500ml of water. The secret to an elevated BBQ chuck roast is also to add 1tbsp of the Better Than Bouillon Roasted Beef Base for a rich beefy flavor.
Mix these, making sure to scrape the bottom of the pan to incorporate any beef drippings, which will add to the flavor.
Place a small rack into the aluminum tray for the chucks to sit on, allowing them to be elevated from the au jus.
Wrap and Smoke The Chucks For Another 1-2 Hours
Tightly wrap the aluminum tray in foil, so the meat doesn't dry out before placing it back on the pit at 250˚F. The aim is for the chuck roast to reach toothpick tenderness, which should take another 1-2 hours.
Check The Internal Temperature After 6 Hours
When you reach the 6-hour mark of smoking the chucks, check their internal temperature. This should be 205-210˚F, but ours was only at 190˚F, so we let it run for another hour.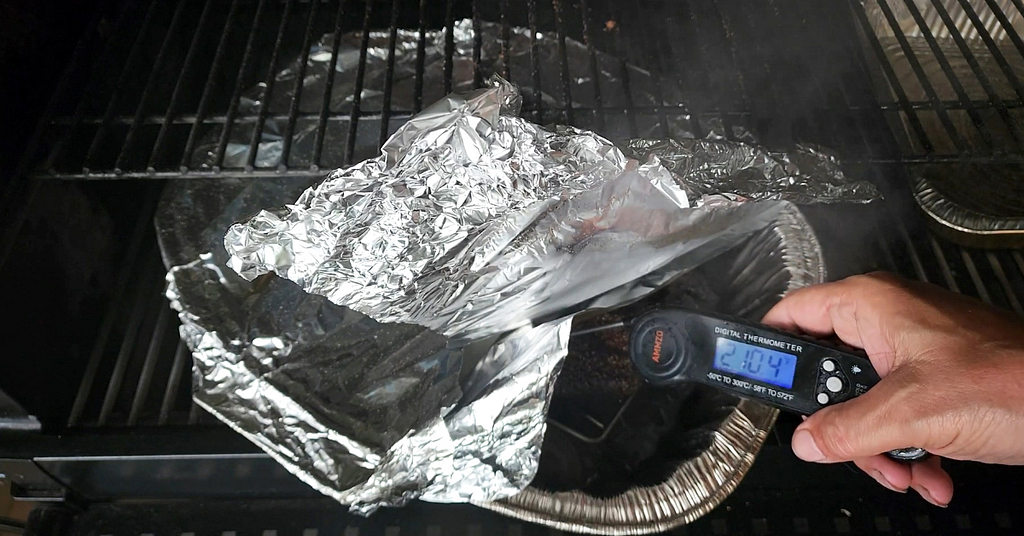 After 7 Hours, Finish Smoking Your Chuck Roast
Carefully unwrap the aluminum tray, taking extra precautions due to the hot steam trapped under the foil. Probe the chucks to ensure that they are tender and the internal temperature is at 205-210˚F, indicating that they are done.
Take the chucks out of the grill and onto a work surface, letting them rest for 20 minutes before slicing them.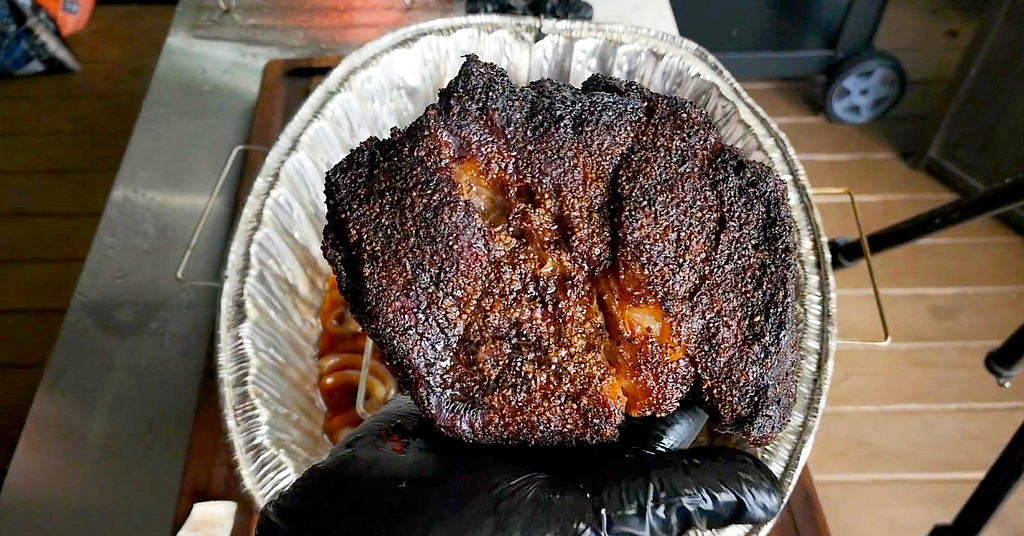 Ready To Serve Your BBQ Chuck Roast
And voila – a perfectly smoked chuck roast! They have a flavorsome outer bark and an incredibly juicy middle that melts in your mouth like butter. The pink smoke ring around the edge is a sign that you've cooked your beef chucks to perfection. The flavor is rich and delicious and paired with the au jus, you're definitely onto a winner.
One way to serve your BBQ chuck roast is to slice it, poor man's brisket style. This lets the mouth-watering burnt ends be the star of the show and would pair lovely with some mashed potato and roasted vegetables.
Alternatively, chop them into smaller chunks to build a sandwich, topped with a drizzle of the au jus and some coleslaw.
This low and slow chuck roast recipe is an absolute must-make with some tasty leftovers to dive into the following day.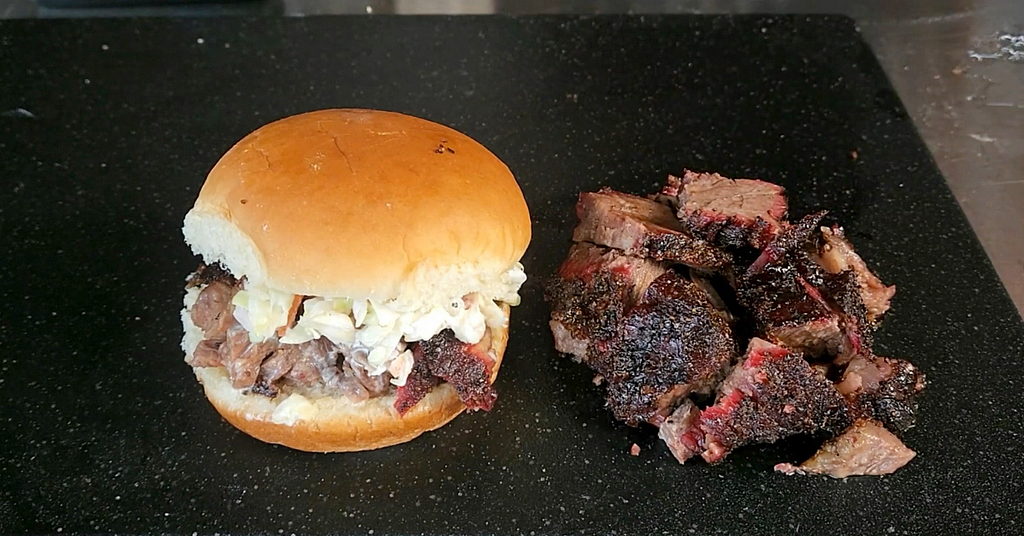 Pro Tips from Thomas Scarano
What Temperature Should I Slow Cook a Chuck Roast?
For our recipe, we smoked 5 pounds of beef chuck at 250˚F. Typically, it takes 25 minutes per pound at 350˚F, so you can work out the temperature for your quantity of meat. However, we recommend dropping the temperature for a low-and-slow method to achieve ultimate tenderness.
When Should I Spritz My Chuck Roast?
For a pro-like finish, keep smoking them for 2 hours before you start to spritz. After that, spritz the beef chuck at 1-hour intervals until it reaches an internal temperature of 160-170˚F. For us, this meant spritzing the chucks after 2, 3, and 4 hours of smoking. You shouldn't spritz them prematurely, as this will disrupt the crusty bark that we're trying to build.
How Can I Tell If the Rub Is Nice and Set Up?
To check whether the rub is set up properly, rub your finger along the seasoned meat. When smoking a chuck roast, it's important that none of the wet rubs comes off on your finger before you start to spritz. If your finger is clean, you're all clear to spritz your BBQ chuck roast.
How Much Chuck Roast Do I Need Per Person?
This depends on your portion sizes and the chucks that you're able to buy in the store. Typically, a serving size is about 3 ounces, so a 3-pound chuck roast will make around 8 servings. Our recipe uses a 2.5-pound chuck that's 2-2.25 inches thick and a second chuck that's just over 2 pounds and 3 inches thick.
Reference source: http://oaktrust.library.tamu.edu/bitstream/handle/1969.1/87006/pdf_1428.pdf?sequence=1
How Do I Make a Restaurant-Quality Chuck Roast?
Many chuck roast recipes call for beef stock cubes or granules, which will result in a weakly flavored chuck roast. To ensure restaurant quality, we recommend using the Better Than Bouillon Roasted Beef Base, which has a more rich and robust beefy flavor than other alternatives.
Reference source: https://www.betterthanbouillon.com/products/roasted-beef-base/
What Pellets and Grills Are Best for Smoking Chuck Roast?
When learning how to smoke a chuck roast, you'll need to familiarise yourself with different pellets that can enhance the flavor. In our recipe, we used Z Grills Cherry Wood Pellets which add a subtly sweet and fruity taste to meats. This comes down to personal preference, though, so choose whichever pellets are your favorite to infuse the BBQ chuck roast with flavor.
The Z Grills Wi-Fi Series are some of the best apparatus to use. They allow you to have the ultimate grilling experience with a technologically advanced grill that you can track straight from your phone. They also have a super smoke mode to boost the flavor, get hotter faster, and have a 'keep warm' feature to ensure food is always hot without being overcooked.
To learn more about this BBQ chuck roast recipe, you can watch the full video on The Gallery Backyard BBQ YouTube channel, where Tommy shares an expert selection of barbecue and griddle recipes guaranteed to leave your mouth watering.
Morton Coarse Kosher Salt 16 oz. (Тwо Расk)
2 Containers – 16 Ounces Each (Note: Canister Packaging has changed, Morton has phased out the dark blue paper canisters, the new canisters are plastic shakers. Easier to keep clean & sanitary.)
COARSE Kosher Salt
Ideal for Brining, Rimming Margarita Glasses, as Well as Roasting, Marinades & Rubs
Kosher for Passover and Any Time of Year. As noted on every Morton Kosher salt package, this salt is not a source of iodine.
McCormick Culinary Granulated Garlic, 26 oz – One 26 Ounce Container of Granulated Garlic Powder, Best in Rubs for Beef, Pork, Fish, Poultry or Sauces
ROBUST GARLICY FLAVOR: McCormick Culinary Granulated Garlic adds a robust flavor profile and craveable texture to sides and entrees; introduce irresistible tastes and textures to your dishes with garlic's iconic, aromatic presence
PREMIUM, COARSELY GROUND SEASONING: Made from premium garlic; fresh heads are carefully selected, thoroughly dried and coarsely ground to ensure a pure taste and consistent performance in any traditional or innovative recipe
MADE FOR CHEFS: Part of the culinary collection of spices, herbs and seasonings designed specifically for food service professionals; garlic pairs well with many other ingredients; save time and money compared to preparing fresh garlic
VERSATILE BULK BLEND: Enhances the taste of bread, meats, poultry and seafood and adds the perfect finishing touch to all kinds of rubs and sauces; use garlic in your favorite dishes or experiment with new savory recipes
A BRAND YOU TRUST: McCormick Culinary Granulated Garlic offers 26 ounces of garlic powder seasoning per container and contains only pure, delicious garlic;helping inspire endless menu items in your commercial kitchen