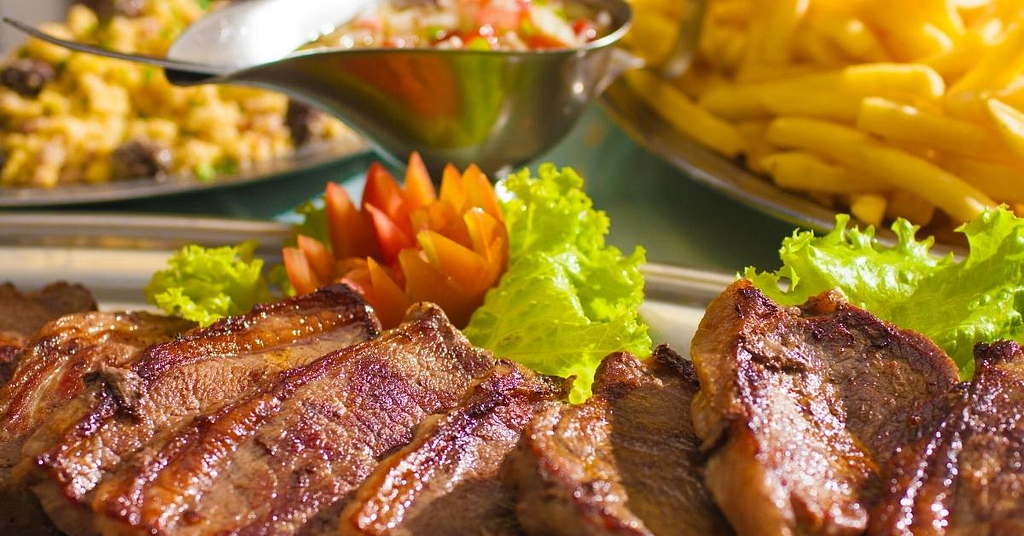 Grilling is fun, especially when done outdoors in the company of friends. Using a pellet grill scores you extra points due to its precise temperature control. You can slow smoke your steak while indulging in a good conversation.
Not only are pellet grills easier to heat than your traditional charcoal grill, but preparing your steak on pellet grill also provides safety and a fantastic smoky flavor. Everyone loves a tasty pellet grill steak. It also gives you room to make your burgers and smoke your steak all at once.
One great steak dish you can cook on your pellet grill would be Grilled Brazilian Picanha Steak. It sounds exotic, but don't worry; we've got the Picanha steak recipe here.
Add a header to begin generating the table of contents
What Is Brazilian Picanha?
The top sirloin cap, also known as Picanha steak, or rump cap, is a very tender, flavorful beef cut. It is inexpensive and can be easy to prepare. The exceptional juicy taste of the Picanha comes from its high liquid and fat content. When it comes to tender steak, Picanha steak would be your best bet.
The Picanha comes from the area on the cow called the rump. It is pretty popular in Brazil but very difficult to find at your local supermarkets. However, you can go directly to a butcher's market and ask for it. Don't worry; the stress is worth it. The Picanha is a great pellet grill steak.
What Is The Best Grilled Picanha Steak Recipe?
We're about to show you a grilled Picanha steak recipe that is guaranteed to blow your taste buds. Apart from the meat itself, which is hardly found on supermarket shelves, you can easily find all the ingredients for the Picanha steak recipe. They also won't carve holes in your pocket.
The ingredients needed to make this tender steak delight include:
Three or four pounds of Picanha beef.
Freshly ground black pepper to taste.
One and a half tablespoons of kosher salt.
Highly heated oil for greasing the grill.
Dried oregano
Garlic powder
Onion powder
Cayenne
How To Season Brazilian Picanha Steak
The first step is to make some Santa Maria seasoning. That is the bedrock of the Picanha steak on pellet grill recipe. It's a combination of garlic powder, onion powder, cayenne, salt, oregano, and sometimes minced rosemary. You can make it yourself using this combination, or you could easily buy it at your local store. Once that is done, you have to season the beef.
You'll first slice the Picanha steak in a crosshatch pattern to season this tender steak. Try preventing the slices from going too deep into the fat. Now, rub your Santa Maria seasoning all over the sliced fat cap. Properly caress the great steak with the seasoning powder, then slice it into 1-1.5 inches thick sections.
How To Grill Brazilian Picanha
To get the perfect buttery-flavored tender steak, here are some things you'll want to make sure you do right:
Preheat your pellet grill to about 400°F.
Place your already-seasoned pellet grill steak on the hottest part of the grill.
Sear both sides for 1-2 minutes before reducing to a lower temperature.
For a 1-inch steak, grill for 9-12 minutes. Thicker slices would take longer. A 1.5-inch steak should stay for 12-14 minutes. Remember to turn the meat at the halfway point for even grilling. Tender steak does burn quickly.
You should ensure the internal temperature is around 128F to 130F before taking it down.
Bring down the steak slices, and allow them to rest for about 6 minutes before you serve.
Cover it lightly with a foil paper and let the temperature increase to an extra 5°F. This period is called carryover cooking. It is important because the heat draws out the meat juices and makes the steak very succulent. Succulent steak equals great steak.
What Should You Serve With A Picanha Steak?
Generally, any roasted or pan-fried vegetable can complement the Picanha steak. Here are some other unique delicacies that can be served alongside this Picanha steak recipe:
Chimichurri Sauce: Chimichurri is a cooking sauce and a great steak side dish that can also be used as an ingredient for everyday cooking. It is made by mixing finely chopped parsley, oregano, red wine, vinegar, olive oil, and minced garlic.
Fresh Tomato Salad: As we mentioned earlier, veggies are the go-to compliments for the Picanha steak. The tomato salad is made up of diced tomatoes, Canadian hothouse gems, and cucumbers.
Potato and Egg Salad: Potato salad is an excellent choice to elevate any meal. The boiled eggs and diced potatoes are mixed with other necessary ingredients to form a tasty side dish for your Picanha steak.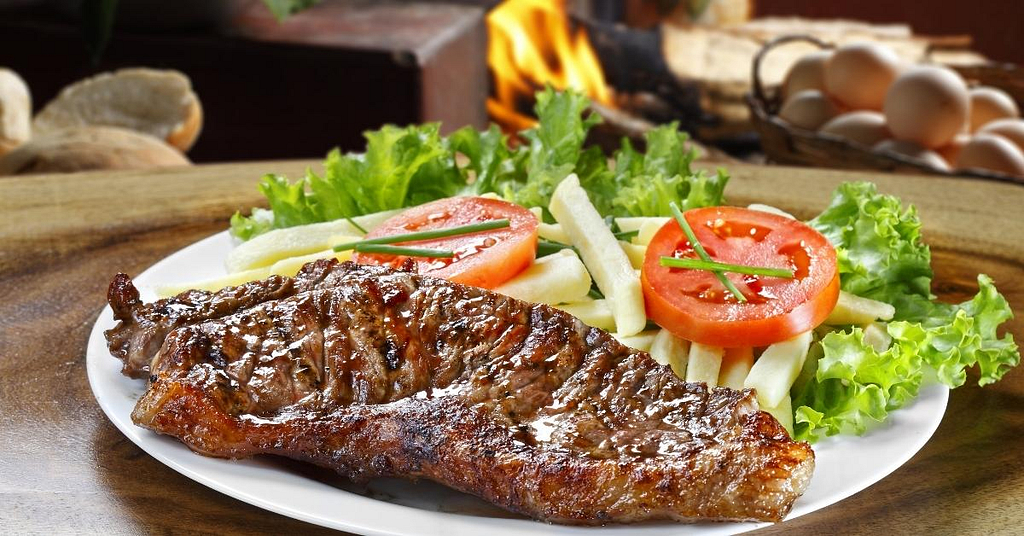 What Are The Best Pellet Grills For Picanha Steak?
A great steak isn't just about having the perfect meat cut and wood pellets; you also need the best pellet grill. There are several things to consider before getting your pellet grill. They include the size of the grill, the cost, the control system, and ease of use.
You can get some of the best pellet grills from us at Z grills. We have over 20 different models, and as such, we give you a variety, so you end up with the perfect choice for yourself. One of the perks of getting our pellet grills is their affordability. We make sure that you can get high quality at low prices.
Many people value different things when purchasing their pellet grills, and that's fine. However, if you're looking for good results for your steak on a pellet grill, here are some of the top choices.
Z Grills 7002C2E (697 sq. in. cooking space): Fire up the unbeatable wood-fired flavor with the 7002C2E pellet grill, featuring game-changing precision and griller-focused design. Grilling Picanha steak on this pellet grill is an incredible experience, especially during parties. It comes with two meat probes allowing you to easily track steak temperatures. The spacious grease bucket feature holds all the grease that exits the steak for minimal cleanup.
Z Grills 11002B(1068 sq. in. cooking space): Step into the future of grilling with the 11002B WiFi pellet grill—our largest and smartest grill yet. This pellet grill is everything luxury means. It grills your Picanha steak to perfection and gives you a premium feel. Take control of your steak from your couch, in your bedroom, or on the go with the WiFi & Bluetooth capabilities. Built like a tank, the 11002B has a PID controller, an LCD, two built-in meat probes, and a pellet clean-out function.
Z Grills 450B(459 sq. in. cooking space): This is probably one of the most convenient choices, as it is within a price range that is quite attractive. It has an 8-in-1 barbecue smoker grill and PID temperature control. Plus, it has a new pellet clean-out system.
What Is The Best Wood Pellet For Your Picanha Steak?
The best pellet woods are characterized by low ash and moisture content and no bark.
Here are some wood pellet choices for you to achieve the most flavourful and delightful taste for your Picanha steak:
Z Grills Oak BBQ Grill Pellets: It gives a smoky, smooth flavor that naturally enhances the taste of your Picanha steak. It also ignites quickly due to its low moisture content. It produces very little ash regardless of its efficient and complete burn.
Z Grills Fruitwood BBQ Grill Pellets: This all-natural fruity hardwood pellet soaks up your Picanha steak with a fruity flavor. It burns completely and has low ash output.
Cherry Hardwood Pellets: This also infuses your steak with a fruity cherry flavor, and it's made from pure flavor hardwoods.
Tips for Grilled Brazilian Picanha Steak
The grilled Brazilian Picanha steak is one meal that can serve for any occasion, be it personal grilling or for a party. Now, you can be able to whip up a mouthwatering serving of this dish simply by following our pellet grill recipes. If you need some more pro grilling tips, you can check out our blog. What are your favorite tips? Let us know in the comment below.
Morton Kosher Salt, Coarse, 16 Ounce
ON YOUR TABLE FOR GENERATIONS – Morton has been a household staple since 1848.
A FUNDAMENTAL INGREDIENT – long enjoyed by chefs for its taste, texture and ease of use, Morton Kosher Salt can be used to bring out the natural flavors of a wide variety of dishes
TEXTURE TAILORED FOR YOU – use our COARSE kosher salt for rimming drink glasses or brining poultry, it is just that versatile
FOR ALL SEASONS – No pun intended! Whether it's your next dinner party or a night in, Morton has it covered
JUST A PINCH – That's all it takes! Take your meal to the next level with Morton.
McCormick Organic Pure Ground Black Pepper, 12 oz
USDA Certified Organic; Non-GMO Project Verified
Finely ground organic black pepper for accenting flavor in your favorite meals
Easy-to-handle bottle for refilling spice jars
Add a pinch to brownies or chocolate cake batter to enhance the rich chocolate flavor
From America's #1 Herb and Spice Brand